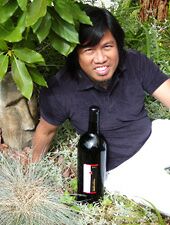 Wine & Food Advisory
from the Melting Pot of the Pacific
Reconsidering the Oyster
© Randal Caparoso and Jane Faris
While matters of science may be cut and dried, it's somewhat good to know that matters of the senses – such as food and wine – remain tolerant of knowledge passed on through lore and fiction, as much as fact.
Take oysters, for instance. Or just the idea of eating a raw oyster, sitting in its shell – blue-grey, cold, quivering. Whoever thought of eating one for the first time surely did so on a dare. Is it any wonder, given the courage necessary, that oysters have been defined as good for everything from bones and brains, to appetites and sex?
No doubt, the most literate description of oysters can be found in M.F.K. Fisher's 60 page, quasi-cookbook, Consider the Oyster; copyrighted in 1941, but as fresh as ever. In it, like a doctor of gastronomy, Fisher prescribes very dry white wine – a French Chablis, Pouilly Fuisse, or Champagne – as the "safest" matches for oysters, especially when the two are served at the same chilly temperatures.
Although this wine advice was based on Fisher's practical experience – "whether they were correctly drunk or not, I was" – there are no writers or sommeliers to my knowledge who would beg to differ. The wisdom of drinking light, puckery dry white wine with oysters is not so much accepted as assumed – like drinking water from a cup, and eating sashimi with chopsticks.
The interesting thing about Chablis, Pouilly Fuisse and Champagne is that all these wines are made from the same grape varietal, Chardonnay (although Champagne, as my sommelier friends would remind me, is usually blended from Pinot Noir, Chardonnay, and smatterings of Pinot Meunier). Knowing this, it might stand to reason that one could substitute Chardonnay made from more readily available sources such as California or Australia, but here is where logic gets screwy.
Since the grape growing regions of California and Australia are so much warmer than those of France, Chardonnays from these areas generally lack the lemony tartness and sense of lightness that make the French wines so appropriate for oysters. By the same token, the same can be said about most other white varietals associated with the warmer (Southern) parts of France -- such as Viognier, Marsanne, and Roussanne -- which tend to make lower acid, fuller alcohol wines, less than optimal matches for the blue-grey oyster.
On the other hand, white wines made from the Sauvignon Blanc grape – no matter where in the world it is grown -- tend to have a tarter edge and lighter quality than warm climate grown Chardonnays and Southern French whites. I am not certain why the original styles of French Sauvignon Blanc – sold by their place names, such as Sancerre and Pouilly Fume – did not make it into Fisher's original treatise. Neither did the simple, feathery light and lemony white wines made from Picpoul (a grape name that literally translates as "lip stinger"), which is probably the only white wine from France's Mediterranean coast that makes an enduring match with oysters. I suspect that M.F.K. drank what she liked best, which is always the best policy anyway.
Muscle Over Matter
While oysters are famously immobile – once an oyster finds its rock, there it remains – they do have a powerful muscle that opens and shut its gnarly shell.
Contrary to popular opinion, not all oysters are are created equal. First of all, there are several species. Perhaps the best known oysters are those originating from the waters off the East Coast – from Nova Scotia all the way down to the Gulf stream waters from Florida to Texas – that are often called Bluepoints (although Bluepoints technically come only from New York's Long Island). These longer shaped oysters belong to the Crassostrea virginica family.
But increasingly more popular today, especially in the western part of the U.S., are those known as Pacific oysters, belonging to Crassostrea gigas, and cultivated in the waters off Western Canada, Washington, Oregon and California. Also cultivated in Pacific Northwest are the smaller sized, native species called Olympia oysters, classified as Ostrea lurida. Europeans, however, are more familiar with flatter shelled oysters known as Belons, belonging to Ostrea edulis.
And contrary to popular opinion, not all oysters taste alike. Some are brinier, some are creamier, some are leaner, some are fatter, and some even have a "fruity" taste, vaguely suggestive of cucumber and melons. Some of the differences in taste has to do with the species, but most of it has to do with the temperature of the waters in which they are harvested; as well as the oyster's fabled muscle, which constantly opens and closes to allow a flow of water and nutrients.
It is in the warmest waters – off the East and Gulf Coasts of the U.S. – where that muscle is put most to work. As a result of all that exercise, American East and Gulf Coast oysters tend to be the leanest in meatiness, and have less of that creamy, fruity taste savored by true-blue oyster lovers. In the coldest waters – off the Western coasts of Canada and the American Northwest – oysters live a more contented life, working that muscle much less and thereby developing a plumper, juicier, fruitier taste mingling with more distinctively briny, flinty flavors.
In spite of the fact that I have never, ever passed up a plate of raw oysters anytime in my adult life, I confess that it took me years to figure out which oysters are which, and only recently have I discovered the wonderful variations of wine that the different oysters invite. Still, I'm more likely to order my oysters like this: "I'll take three of the small ones, three of the skinny ones, and six of the big, fat ones." Considering the growing number of raw bars and seafood restaurants springing up across the country, it would behoove any oyster lover to at least consider the flavor profiles associated with the shapes.
My own, rather unscholarly findings, but with somewhat well practiced wine matches:
Northeast Coast (the "Skinny") Oysters
Northeast coastal oysters tend to have a longer shaped shell, are leaner in meatiness, yet still retain a moderately briny, salty, steely flavor, delicious for eating raw or, with no more than a squeeze of lemon or splash of mignonette (a white wine vinegar/shallot dip). In restaurants and markets these oysters are commonly sold by their points of origin – such Long Islands (the original Bluepoints), Wellfleets (from Cape Cod), Delawares, and Bristols (Maine). Similar to these are the oysters off Eastern Canada, also sold by place names such as "Novys" (from Nova Scotia), Malpecques (Prince Edward Island), and Caraquets (New Brunswick).
The lean, briny oysters of the Northeast, however, are not to be confused with those of the decidedly warmer Gulf Coast (such as Florida's Apalachicolas and Mississippi's Emerald Points), which are not just lean, but also duller, flabbier, almost "muddy" or "swampy" tasting – a little better suited to cooking (i.e. oysters Rockefeller, oyster po' boys, or stuffed into "carpetbagger" steaks) than eating raw and plain.
Because of their lean and minerally taste, the easiest wine match for Northeastern oysters is probably any bone dry white with perceptively minerally or flinty qualities: ideally, the pure Sauvignon Blancs from France's Loire River, most commonly bottled as Sancerre or Pouilly Fume, and sometimes as Cheverny, Quincy, or Menetou-Salon.
While certainly acidic enough, to me the Sauvignon Blancs of New Zealand and California are not quite as ideal since they tend to be fruity in flavor, and completely void of stony, minerally, or flinty tastes. In my experience, the best alternatives to Loire River Sauvignon Blancs are the trocken ("dry") or halbtrocken ("half dry") white wines made from Germany's Riesling grape, which can retain a zesty, slaty-mineral flavor. At only 9% to 11% alcohol, German Rieslings sweep across the palate like a light, lilting, perfumey breeze, sweetening the taste of oysters with their natural lemon-lime acidity. Among the most reliable producers of this style found in America are Zilliken, Pfeffingen, von Hovel, Robert Weil, von Buhl, and Dr. Burklin-Wolf.
Other good choices for long and lean Northeastern oysters? Spain's flowery and flinty dry whites made from the Albarino grape (particularly those of Lusco, Morgadio, or Pazo de Senoran). And from France: light and crisply dry Muscadet de Sevre et Maine, as well as classic Chablis, Macon Villages, or Pouilly Fuisse from Burgundy.
Northwest Coast (the "Fat") Oysters
The waters off the Northwest coasts of Canada and the U.S. are an oyster lover's paradise, giving the broadest, roundest, fruitiest, fleshiest, and most creamy textured of bivalves. These variations of the Pacific oyster are also usually sold by their place names; such as Hama Hamas, Quilcenes, Hood Canals, Pearl Bays, Caraquets, Chef Creeks, Sinkus, and the biggest of all, Tottens (the latter, from the Totten Inlets, literally a three or four bite oyster).
For these fat styles of oysters, I actually prefer a fruitier, more aggressively aromatic dry white with the requisite acidic underpinnings. Namely: Sauvignon Blancs from New Zealand (Giesen, Nautilus, Morton, Brancott, and Villa Maria are five favorites), Sonoma County (Murphy-Goode, Simi, Iron Horse, Kenwood, and Chateau St. Jean), and even the partially oak influenced styles of Napa Valley (Robert Mondavi, Duckhorn, Spottswoode, and St. Supery), Santa Barbara (Babcock's "Eleven Oaks"), and Monterey (Carmenet and Ventana).
Other excellent Northwest oyster whites: Dry white Graves from France's Bordeaux region; dryer, chalky textured Loire River whites made from the Chenin Blanc grape (Savennieres, Saumur Blanc, and sec or "dry" styles of Vouvray and Montlouis); dryer style Rieslings from Germany or Alsace; Washington St. Semillon and Fume Blanc; moderately scaled Gruner Veltliner from Austria; and German, Oregon, or Italian Pinot Gris (the latter sold as Pinot Grigio).
Olympia & Kumamoto (the "Small") Oysters
Olympia oysters are the Pacific Northwest's only native variety – a different species from the more abundant Pacific oysters -- and they are small, mild, yet meaty, almost lushly flavorful. Always a treat!
Then there is the unique sub-species of Pacific oyster which originated from Japan, but are now farm raised in Washington State and Northern California: the dinky but pillowy plump, sweet, succulent, wildly popular Kumamotos. I can't think of a better match than dry, graceful, yeasty and crisply acidic French Champagne; although in a pinch, any of the better California sparkling wine producers (Iron Horse, Gloria Ferrer, Roederer Estate, Schramsberg, and even Korbel) would certainly do just fine, as would almost any good Prosecco Brut from Italy. There's something about the pert, palate slaking effervescence of sparkling wines that practically shouts "Kumamoto."
Olympias and Kumamotos, in turn, call for anything light, white, and more on the lemony tart than fruity style: particularly France's Picpoul and Muscadet from the Loire; the underappreciated Vinho Verde from Portugal; and from Italy, Gavi (made from the Cortese grape) from Piemonte, and Grechetto from Umbria.
January 2002; revised August 2002
To contact Randy Caparoso, write him at randycaparoso@earthlink.net.
Back to Randy's World of wine
<!- Page Contents End Here ->