GETTING STARTED | WINE NOTES | SEARCH SITE | DISCUSSION FORUMS | 30 SECOND WINE ADVISOR | CONTACT US
<!TODAY'S TEXT STARTS HERE!>
Wine & Food Advisory
from the Melting Pot of the Pacific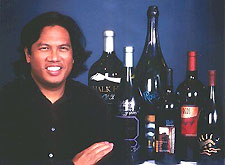 Oregon Pinots Gone Amuck
© Randal Caparoso
Red wines made from the Pinot Noir grape in Oregon are good. Pinot Noir lovers have known this for years. At least since 1979, when a 1975 Eyrie Vineyards Reserve and 1976 Knudsen Erath outscored many of the best red Burgundies from France -- the world's original Pinot Noirs -- in an enormous competition taking place in Paris, billed as the "Wine Olympics."
In fact, some of the Burgundians were so outraged by this "fluke" finish that they insisted on a rematch; which took place in Beaune -- the very heart of Burgundy -- in 1980. The result? Against the same wines but with different judges, the 1975 Eyrie finished second; and most significantly, it scored one percentage point ahead of a more mature, far more famous, and frighteningly expensive, 1959 Musigny by Joseph Drouhin.
During the nineteen years since, however, much of the hype and unrealistic expectations have died down, and wine lovers have come to realize that Oregon Pinot Noirs are very fine in their own right; but not necessarily better than, say, the best Pinot Noirs of California's Santa Barbara, Carneros, and Russian River Valley regions, nor as fine as the classic Burgundies of France.
But during the last International Pinot Noir Conference which took place this past July 28-August 1 in McMinnville, Oregon, I made a shocking rediscovery of sorts: in comparison with some of the finest Pinot Noirs from around the world, not only did Oregon Pinots show well, but they also seemed to outclass nearly all other Pinot Noirs with rather shocking ease. If the high ranking French Burgundies tasted smooth and elegant, the Oregon Pinot Noirs tasted silkier or more velvety, with a finer sense of balance. If the California Pinot Noirs were round and richly aromatic, the Oregon Pinot Noirs were even richer and more multi-faceted in the nose, with plumper, juicier flavors. If New Zealand Pinot Noirs were wild, zesty and concentrated, the Oregon Pinots had even livelier wild berry flavors, with an intensity of flavor lingering on and on in the mouth. In virtually every aspect, Oregon Pinot Noirs were simply the best!
So if anything, my conclusion is this: at the start of the new Millennium, Oregonians can be proud to say that they have truly "arrived" back to the top of the world. As least as far as the elusive Pinot Noir grape is concerned. And luckily, some of the finest are very much available to us in Hawaii. Here are seven that showed magnificently during that long weekend of Pinot madness:
1997 Beaux Freres ($75-$80) - While obviously pricey, you should think of it this way -- the top red Burgundies from France (such as Musigny, Clos Vougeot, and Echezeaux) all start easily at $150. This is the richest and fullest Oregon Pinot Noir you can possibly find; luxuriously endowed with a woodsmoky black fruit aroma, and deep, juicy, pepperminty spiced red berry flavors falling onto the palate like layers of plush, silken sheets.
1997 Bethel Heights "Southeast Block Reserve" ($25-$27) - Another lush, densely layered, velvety textured style of Pinot Noir that you can almost literally sink your teeth into; spurting out all over with juicy, perfumey Pinot spice with tobacco-like smoke and luscious, black fruit (plums and berries) qualities.
1996 Chehalem, Ridgecrest Vineyards "Rion Reserve" ($29-$32) - A complete wine, with flavors that fill the senses from top to bottom, and in between with smoky, richly oaked, luscious, almost liqueur-like blackberryish fruit, gracefully extending across the palate with sure footed sense of elegance and dried fruit concentration.
1996 Ponzi "Reserve" ($52-$55) - An almost rare occurrence of a highly regarded bottling (hence, the precious pricing) truly living up to its billing; giving a sweet, plump, just-picked black cherry intensity in the nose, following with a juicy explosion of spicy, smoky nuanced fruit within a fine, velvety, dense and harmonious texture.
1997 Archery Summit Estate ($36-$39) - By a winery that consistently hits a refined, feminine, gracefully textured style right between the eyes; starting with a rich, spicy fruit aroma enriched by smoky, vanillin oak nuances, and then firm, generous, almost meaty fruit qualities on the palate.
1996 Erath "Vintage Select" ($19-$21) - An enthrallingly lush aroma suggesting cinnamon stick spiced red berry preserves; the fruit qualities continuing on the palate with smoky, tobacco-like flavors filled out by rounded, moderate tannins.
1996 WillaKenzie "Pierre Leon" ($25-$27) - Wild, zesty raspberry and blackberry perfumes spiced up by cracked peppercorn and cardamon nuances; fairly full on the palate thickened by firm fruit and oak tannins, finishing with an exuberant smack of berryish flavors.
Sept. 1, 1999
To contact Randy Caparoso, write him at randycaparoso@earthlink.net.