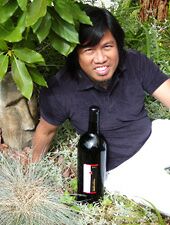 Wine & Food Advisory
from the Melting Pot of the Pacific
Napa Valley – A legacy of greatness
© Randal Caparoso
The late Andre Tchelistcheff – Beaulieu Vineyards' legendary winemaker from 1938 to 1968 - was a giant among men. Actually, he stood around 5'2", but his deep, slightly slanted Russian eyes, seemingly half serious and half bemused, nestled under thick, elvish brows, commanded military attention in every room he stood, always ramrod straight.
Late last month I attended an annual meeting of sommeliers from across the country called the Sommelier Summit, and we were treated to a symposium of other god-like figures of the California wine industry – a panel consisting of Robert and Margrit Mondavi, Justin Meyer of Silver Oak, Jamie Davies of Schramsberg, Miljenko "Mike" Grgich of Grgich Hills, and Agustin Huneeus of Franciscan and Quintessa. In baseball terms, this would be like a meeting of Ted Williams, Joe DiMaggio, Hank Aaron, Sandy Koufax and Willie Mays.
These living legends reminisced about the start of the "Golden Age" of California wine in the 1960s. But always, their memories came back to their collective mentor, Andre Tchelistcheff, the man who revolutionized California winemaking for them all. They spoke of him like a baseball aficionado would speak of Shoeless Joe, Ty Cobb, Cy Young, Casey Stengel and Babe Ruth - all rolled into one.
I first met and interviewed Tchelistcheff on Maui in 1983, and I asked him about Cabernet Sauvignon. At that time there were about 4,000 acres of that grape planted in Napa Valley (today there are more than 15,000 acres). Said Tchelistcheff in his usual convoluted terms, "California's best red wine is Napa Valley Cabernet Sauvignon. Within the 450 acres that we used to have in Beaulieu Vineyards, I had only 40 acres that was able to produce 'Private Reserve.' After 43 years of experience working in Napa Valley, I can locate just specific sections, specific physical and chemical constitutions of soil, than can create great Cabernet.
"I do not believe that technology or science alone can replace natural elements. Someday California will have an appellation of origin system similar to France that will connect grape variety with particular regimes of soil and climate."
Years later, in 1992, I sat down with Tchelisticheff again in Honolulu, and I asked him about the latest viticultural advances that I have been reading about. Particularly the new technology of trellising and vine "canopy management," resulting in claims that even better and greater quantities of Napa Valley Cabernet Sauvignon can be produced, as long as the fruit to leaf ratio on vines are kept in proper balance.
Suddenly a dark cloud seemed to roll over those glowing eyes, as he said, "That is rubbish – you should not believe everything you read! You must not forget that when it comes to the vineyard, Mother Nature is still in charge, and Mother Nature has expressed her wish that great vineyards should grow only so much great wine, and no more. There is more Cabernet Sauvignon being grown in Napa Valley than ever before, but there were never be more than a few Cabernets of true 'Private Reserve' quality."
And you know what? After tasting through three incredible lineups of contemporary style Napa Valley Cabernet Sauvignon put together for the recent Sommelier Summit, I'm inclined to believe Tchelistcheff.
In one blind tasting involving 10 Cabernet Sauvignons from the very heart of Napa Valley, known as the Rutherford Bench, the 1999 Beaulieu "Georges de Latour Private Reserve" still held sway over more recently established big names, such as Sullivan, Pine Ridge, Livingston, and Quintessa, as wonderful as they all were. Whereas the 1999 Sullivan "Reserve" was thick and brawny, the '99 Beaulieu was lush and velvety. Whereas the '99 Pine Ridge "Rutherford" was plump and round, the '99 Beaulieu was dense and ramrod straight. Whereas the '99 Quintessa seemed to epitomize a controlled elegance, the '99 Beaulieu seemed to operate on a more natural, monumental scale. In terms of my own, no-nonsense, "delicious" scale, the '99 B.V. Reserve came across as the finest California Cabernet Sauvignon that I've tasted in years!
I was also thrilled to discover, during the Legends of Napa Valley symposium, that after all these years, Schramsberg still makes probably the finest sparkling wine in California. I just could not get over how beautifully balanced, long, silky and sensuous the 1997 Schramsberg Blanc de Blancs is tasting. I was particularly enamored by Jamie Davies' reference to her sparkling wine as "Champagne" – as if to say, I don't care how incorrect it is to call a California wine by a French regional name, I've always thought of my wine as Champagne (and certainly as being as good as Champagne), so that's that. Until you can find me another sparkler in this world that is as sinewy dry yet unspeakably delicate, and with as breathtaking a scent (like hot biscuits dabbed with honey) as the '97 Schramsberg Blanc de Blancs, I'm inclined to call it Champagne, too!
There were, as you would expect, a number of other memorable wines tasted during my three days in Napa Valley. It's still a mecca, after all, in spite of the surge of great things coming out of Sonoma, Santa Barbara, Mendocino and the like. Here are five of my other favorites, all of them as red as they come:
1999 Frog's Leap, Rutherford Cabernet Sauvignon – In spite of his predilection for wines that are 100% organically grown, natural yeast fermented, and vinified without the use of sulphur, Frog's Leap's winemaker/proprietor John Williams has never made a flaky Cabernet Sauvignon. In the 1999 vintage he combines a seriously full feel and muscle bound tannin with rich, almost sweetly layered flavors of blackcurrant-like Cabernet fruit, with aromas of wild berries (fields of them), unfettered by the pungent, new oak qualities that seem to be the rule rather exception in contemporary Napa Valley style Cabernet Sauvignons.
1999 Dalla Valle, "Maya" – This is a proprietary label made up of Cabernet Sauvignon (55%) and Cabernet Franc (45%). If you assume that the large percentage of Cabernet Franc makes this a lighter, gentler style of red wine than those dominated by the classically robust Cabernet Sauvignon, guess again. The red rock encrusted soils of the Maya vineyard gives a Cabernet Franc infused wine that is every bit as big, thick and explosive as any pure Cabernet Sauvignon; the difference being the plethora of sweet, raspberry and violet-like perfumes (as opposed to the blackcurranty, minty aspects of Cabernet Sauvignons) typical of the Cabernet Franc grape. This wine is so strong, so concentrated, yet so wonderfully lush and juicy, a preponderance of smoky oak aromatics only adds to the frame. The '99 Maya practically kicks you from behind in the teeth, but you can't help smiling as you drink it down.
1999 Franciscan, Oakville "Magnificat" – This blend of Cabernet Sauvignon (68%), Merlot (13%), Cabernet Franc (17%), and Malbec (2%) is fashioned like the classic red wines of France's Bordeaux – the combination of grape varieties adding up to a dramatic and fascinating array of flavors – but epitomizes the soft, round, sun kissed qualities of Napa Valley grown red wine. I like the Magnificat's sweetly suggestive, black cherry-like tone, which comes wrapped in chocolaty nuances and rounded, harmonious (rather than tyrannical) tannins. What an immensely satisfying wine to drink even as we speak.
1999 Mount Veeder "Reserve" – Like the Magnificat, this is a multi-grape blend (Cabernet Sauvignon with Merlot, Petite Verdot and Malbec). But unlike the Magnificat, this is a mountain grown (rather than Napa Valley floor grown) style of red wine – meaning, an unrepentantly big, black, brazenly brawny structure, buoyed by wonderfully concentrated aromas and flavors resembling sweet cassis and blackberry liqueurs. The tannins are massive, but so is the intensity of fruit, giving complete balance to the wine's exaggerated scale. A big banger, with charm to boot.
2000 Rudd Vineyards, Oakville Estate Proprietary Red – This is a spanking new kid on the block – the 2000 is proprietor Leslie Rudd's first stab at Bordeaux style red (86% Cabernet Sauvignon, with Cabernet Franc and Petite Verdot) – and when it comes out this coming October I advise all Cabernet Sauvignon lovers to stand in line for it. It's a doozy – positively oozing with red, black and blue berry-like fruit, studded with smoky oak and tea-like notes in the fragrance, slapping and strapping the palate with precociously intense flavors filled out by perfectly rounded tannins. Does this estate have the makings of a 21st century classic? I couldn't say for sure, but I'm sure even Andre Tchelisticheff would approve of the sheer intelligence that is so apparent in this wine's intrinsic sense of balance, scale, harmony, and texture.
---
After I wrote this story I learned that Justin Meyer passed away on August 8, 2002. We've lost another giant, but he has left an incredible legacy. Although his wine career began in 1964 under the tutelege of the Christian Brothers' Brother Timothy (who is still with us, by the way), it was his Silver Oak Cabernet Sauvignon (beginning in 1972) that changed the way many of us think of wine. It was, and always has been, a complex wine crafted for a simple reason -- to please the palate.
Meyer never really believed in pleasing wine critics. On several occasions I heard him say that the way he could tell the highest rated wine in any tasting was by going around to see which bottle was the emptiest. Meyer was not only the most common sensible winemaker on the planet, he actually wrote the book on it (called Plain Talk About Fine Wines). He aged his Cabernet Sauvignon, for instance, for at least three years in the barrel; but not for the taste of oak, but to achieve the roundest, softest, smoothest flavor possible. My favorite line from his book was his comment on the taste of oak in wine: "Don't be fooled into thinking that a wine is elegant because you can taste oak in it... It takes more than seasoning to make a sauce."
God be with you, Justin!
August 2002
To contact Randy Caparoso, write him at randycaparoso@earthlink.net.
Back to Randy's World of wine
<!- Page Contents End Here ->