GETTING STARTED | WINE NOTES | SEARCH SITE | DISCUSSION FORUMS | 30 SECOND WINE ADVISOR | CONTACT US
<!TODAY'S TEXT STARTS HERE!>
Wine & Food Advisory
from the Melting Pot of the Pacific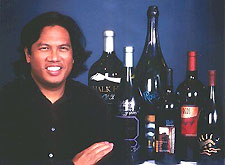 Your Mother's Son-in-Law
© Randal Caparoso
Are you a mother's son-in-law, and still wondering what to pick up for this coming Mother's Day weekend? I have two words for you: "Think red." There's nothing like a thick yet soft, sumptuous red wine to seal the deal in any relationship - not for just a minute, not for just an hour or for years, but always! Five unusually good, and varied, choices:
1997 Quinta do Crasto ($11-$13) - Although Portugal's Douro River is famous for its big, sweet Port style wines, the words that come to mind when I drink this bone dry red table wine from the same region include "irresistible," "perfectly delicious," and "what-a-deal!" Made from the same mix of grapes used in the finest Ports, this wine gives an out-of-the-ordinary spicy, smoky, fresh strawberry fruitiness in the nose, and soft, luscious flavors on the palate.
1998 Handley, Mendocino Pinot Noir ($19-$22) - You may have had good California Pinot Noir before, but have you ever had one from the Anderson Valley in Mendocino? Then you haven't lived, since this is as refined and flavorful as they come. There is a sweet, juicy fruit fragrance and pronounced peppermint spiciness in the aroma of this wine; and on the palate, it is alive and kicking with spicy red fruit flavors, tinged by a light tobacco-like smokiness and moderately firm, fine tannins.
1997 Quivira, Zinfandel "Reserve" ($28-$32) - A big, bad California red is always good to find, and this one fulfills all the yearnings of Zinfandel lovers - huge, powerful, raspberry jam fruitiness, brimming with fresh, zesty, opulent sensations. Almost guaranteed to heal the sick and raise the dead; spiritedly speaking, of course.
1998 Fox Creek, McLaren Vale "JSM" ($35-$40) - This Australian red -- blended from Shiraz (Syrah), Cabernet Franc and Cabernet Sauvignon -- kicks it up a little notch with startlingly rich, jammy, peppery, woodsmoky, black-and-blue berryish aromas, and super-concentrated fruit lashed with sinewy yet supple tannin, adding to the thick, strapping, lush, almost sweet fruitiness on the palate.
1997 Casa Lapostolle, Colchagua Valley "Clos Apalta" ($40-$45) - This nostril flaring red wine from Chile represents the summit of South American winemaking; and even in its price range, it is a terrific value by the standards of other great wines of today. An uncannily elegant blend of Merlot, Cabernet Sauvignon, and Carmenere - the latter, a French grape now grown virtually nowhere else in the world except in Chile -- is saturated with luxurious black fruit, cassis and mint; big and beautifully structured, finishing with a flourish as deep and compelling as its black ruby color.
May 10, 2000
To contact Randy Caparoso, write him at randycaparoso@earthlink.net.