GETTING STARTED | WINE NOTES | SEARCH SITE | DISCUSSION FORUMS | 30 SECOND WINE ADVISOR | CONTACT US
<!TODAY'S TEXT STARTS HERE!>
Wine & Food Advisory
from the Melting Pot of the Pacific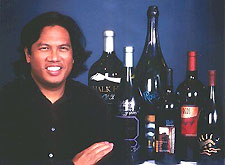 Wine Miracles by the Bucket
© Randal Caparoso
Do you believe in miracles? I do.
I was in Italy recently, which many people think of as a miracle; this land of ancient walled towns, bathed in the most golden sunlight possible, atop rolling green hills, with turquoise blue lakes shining like mirrors under the sky. The most beautiful lake of all may be the one called Albano, in the township of Marino located just 20 minutes outside of Rome. The popes must have also thought it was a miracle since they built their summer home on the bluffs above Albano, peering straight into this watery jewel. The Italian Chateauneuf du Pape, as wine lovers might say.
This area around Lake Albano is also a posh neighborhood, complete with a history (boasting its address along the old Appian Way), a wealth of moneyed and not-so-moneyed marquis, and now, even one of the most fabulous wine restaurants in the world. The latter is called Antico Ristorante Pagnanelli; and if you like sipping incredible (and incredibly reasonably priced) wines to the gentle sound of guitars and violas in deep, vaulted cellars meandering hither and yon beneath the Appian (now called Nuova Appia), you'll have a good time. I wouldn't be surprised if the pope, a next door neighbor, has his own underground entrance.
Practically across the street from the pope's palazzo and the Pagnanelli's restaurant is another miracle - the home of Paola di Mauro, one of the greatest cooks in Italy. I said cook, not "chef," since Paola's kitchen looks like anyone else's honest home kitchen - pots, pans, bottles, boxes and cutlery strewn about in purposeful fashion. Then again, there is a difference, since Paola also has a little vineyard, a grove of olive and fruit trees, and a working winery just outside her door. But you have to forgive her since this is Marino, after all; a very old neighborhood that once saw the streams of people heading for the fun and games at the Colloseum.
It seems that 34 years ago Paola bought her property from another lady, who was originally from Bordeaux in France. So Bordeaux grapes such as Cabernet Sauvignon, Cabernet Franc, Merlot, Sauvignon Blanc and Semillon are still to be found in Paola's vineyard alongside Trebbiano, Malvasia di Lazio, and other native Italian grapes. So Paola continued to make wine - both red wines and whites - first as a joke, and then for family and friends.
And wouldn't you know: the wines of Colle Picchioni, the name of Paola's estate, have become the darlings of the wine insiders' world. Gambero Rosso, Italy's equivalent to the Wine Spectator in the U.S., gave Paola's red wine (made from Merlot and the two Cabernets) one of its highest ratings (3 "glasses"). The internationally known, and feared, wine writer named Robert Parker has been most generous with his 90-plus ratings. And as little as they produce - less than 1200 cases, a mere drop in a bucket in Italy's sea of wine -- Colle Picchioni can now be found in some of the toniest restaurants in the world, in places as extant as Tokyo, Berlin, New York, and Disney World.
But the miracle is not that Paola's wines have become famous, nor the fact that she is actually better known - at least to the Italian food gastronomes who speak of her as reverently as Alice Waters does of Lulu - for her cooking. The miracle is the fact that she and her son, Armando, still actually produce wines that "they" (italics) like, not what Robert Parker likes. And this is wine that goes with their food.
Let me be a witness. The first wine Armando poured for me - at the kitchen table while Paola was pan frying with pungent rosemary and olive oil - was the 1999 Colle Picchioni Marino Bianco. This is a soft, dry, fluid white wine, rather light and almost oily on the palate. What it isn't is something big, thick, oaky, fruity or awesome - all the flag words for the most highly rated wines of today. It is, in fact, an old fashioned wine; rather square, almost boring by today's standards.
Paola brought over her white bean soup - made from a different bean, a little more fava-like, from the better known white beans of Tuscany - over which Armando drizzled olive oil and dried chile flakes, and then stirred in a tiny dollop of blood red paste made from tomatoes, bellpeppers and olive oil. The taste was smooth, soothing, yet tingley and robust; each sensation intensified by the round, easy, mildly oily texture of the Colle Picchioni white. Call it a food and wine epiphany. It often is when seemingly simple things finally begin to make sense.
Then Paola finished what she was cooking in the pan, bringing to the table in a ceramic pot her "Roman lamb." Nothing cute about the name, since she lives in Rome and this is the way she's been cooking lamb over the past 30 years: with bony morsels of lamb and, when she feels like it, chicken parts and livers, rosemary, dried anchovy, white vinegar, pepper, and the all-pervasive olive oil.
"Now we will show you why in Rome we drink white wine with everything," says Armando, "even with red meat." And indeed, what was plain as the Italian hills was how easily the oil and herbs pulled together with the soft, oozing quality of the white wine. "The dish is not a difficult one," added Paola, "but neither is the wine. Great wine and food is not always complicated."
This made me think of the words that I once heard from Riccardo Cotarella, one of Italy's most respected winemakers, who also happens to consult for Paola and Armando: "Drinking wine is a pleasure, and so you should always judge a wine by how much pleasure you feel when you drink it."
The rare wines of Colle Picchioni may fulfill this elemental advice, but you needn't look far to find other wines of the world that achieve the same thing. Italy's Frascati and Soave Classico, Spain's Albarino and Rioja reds, Malbec from Argentina, and Shiraz from Spain, Southern French reds, whites and pinks - these and zillions of other wines that impress more with food than ratings in wine magazines.
The miracle of wine is that it is not at all a pot of gold shimmering in the hills, but something as easy to find as your next good meal and bottle.
March 19, 2001
To contact Randy Caparoso, write him at randycaparoso@earthlink.net.