GETTING STARTED | WINE NOTES | SEARCH SITE | DISCUSSION FORUMS | 30 SECOND WINE ADVISOR | CONTACT US
<!TODAY'S TEXT STARTS HERE!>
Wine & Food Advisory
from the Melting Pot of the Pacific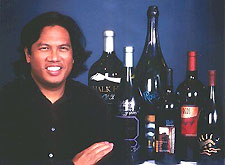 Wines That Are Rocking the New Millennium
© Randal Caparoso
Welcome to the new millennium. At least one we can all agree on. And now, of course, we can reminisce.
Let's see: 20 years ago today, what wines were most of us drinking? It wasn't really Chardonnay; even though you could buy top rated ones from Grgich Hills, Freemark Abbey, and Chateau St. Jean for less than $22. And while highly respected, Napa Valley Cabernet Sauvignon wasn't really "happening" back then either. No, the big things were Gallo's Hearty Burgundy and Chablis Blanc, Zeller Schwartz Katz, and Riunite-on-ice. Then came "wine coolers." By the six-pack. My favorite was "peach." If it was good enough for those two guys in overalls (what were their names?), it was good enough for me!
Shortly thereafter, White Zinfandels, and $5-$7 Chardonnays by Glen Ellen and Kendall-Jackson, made a huge dent on the market. At that quality and price range, we weren't really drinking "superpremium" wine. But at least we thought we were!
The onslaught of low priced California Chardonnay eventually brought the market "death" of German Riesling. We all thought it was too sweet. And besides, East-West/fusion/Pacific Rim style cooking wasn't around just yet to make us want to drink something as low in alcohol as coolers, but naturally finer and more crisply balanced. At the start of the '80s, some guy named Yamaguchi, barely old enough to grow stubble, was still fooling around with that food concept in L.A.
It wouldn't be until the mid '90s that our interest in things like RED Zinfandels, off-dry Rieslings, Pinot Noirs, and Australian Shiraz would really heat up. Which has held us in good stead until now. I don't know if it's the psychological presence of a renewed millennium, but in the year 2000 I have observed some significant changes in consumer preferences. In fact, some surprising changes, almost all for the good.
Why so good? Because when we change our wine preferences, we don't get locked into spending more for good wine than we really should. And good wine - especially with the appropriate foods - is to be found everywhere we look. In the Safeway down the street, in the corner café in Santiago, and in a smoky cavern in Singapore or Siena. Just like Bogey and Bacall, we can't resist great tasting, reasonably priced wine - as long as we are open to experience.
So here are a few observations on what we're consuming more of today, with this tangible sense of the new, and improved, millennium:
Wine & Cheese - We've all known wine and cheese goes together, but we've never really understood why. This past year, everywhere I've gone I've seen wine being eaten with cheese - especially in lieu of sweet desserts, and even "appetizers" - with a little more intelligence. French style Sauvignon Blancs (Sancerre, Pouilly-Fume, Cheverny, and Menetou-Salon) with imported chevre, or even regionally produced goat cheese. Springy Havarti and smoked mozzarella with plump, smoky California Chardonnay. Spain's buttery, nutty, crumbly Manchego with buttery smooth Cabernet Sauvignons and Spanish grown Tempranillos (from Rioja and Ribera del Duero). And my own favorites - stingingly sharp Roquefort, Gorgonzola, Danish Blue or Maytag Blue with sweet, fortified reds (15 or 20 Years Old Tawny Ports, or Banyuls from France). "Pass the cheese" never sounded so good!
Wine & Oysters - No question, the quivering, grey fleshed bivalve is making its comeback across the country. Entire restaurants are being erected, or else revived, by this flowering interest. The younger folks are slurping them in lethal, chile spiked concoctions; but the older, wiser ones are enjoying them in more civilized fashion, if slurping directly from the shell could ever be considered civil. In respect to wine, oysters are also giving us an entirely new understanding of the value of light, dry, sharply acidic wines of the world - like New Zealand or Loire River grown Sauvignon Blancs, Muscadet and Picpoul from France, Halbtrocken ("half dry") Riesling from Germany, and white Pinots (Pinot Blanc, Pinot Gris, and Pinot Grigio) from places like Northern Italy, the Baden of Germany, and Oregon's Willamette Valley. Chardonnay has its place; but with oysters, it's definitely second-rate.
South America - As Randy Newman once wrote, they "stole our name." But over the past year they've also stolen much of the thunder of West Coast and European wines. The most extraordinary wines from Chile - such as the Montes "M," Casa Lapostolle's "Clos Apalta," Errazuriz's "Don Maximiano," and the magnificently eccentric Domus Aurea - are certainly not cheap, weighing in at more than $50 retail, but they are world class.
There are also some incredible values from Chile - values because they surpass, say, comparably styled California and French wines in the same $12-$22 price range -- such as the Terra Rosa Cabernet Sauvignon, Casa Lapostolle's "Cuvee Alexandre" Merlot, the Santa Rita "Reserva" Carmenere, and Veramonte's "Primus" Carmenere/Cabernet Sauvignon. But the biggest surprise has to be the sudden impact of Malbec based red wines from Argentina; wines as big, thick, powerful, yet satiny smooth and luscious as anything from the Old World, the New World, or any other world. Look for the varietal bottlings of Malbec by brands like Tikal or Altos, and red-wine-with-beef may never be the same for you again.
Spain & Portugal - Not to be outdone, the list of world beaters from the Iberian peninsula has grown dramatically over the past year. For instance, three of the world's greatest red wine values has to be the smoky, supple Quinta do Crasto from Portugal, the sensuous, succulent Carchelo (Mourvedre/Tempranillo/Merlot) from Jumilla in Spain, and the sumptuously silken Abadia Retuerta "Rivola" (Cabernet Sauvignon/Tempranillo) from Spain's Ribera del Duero. At less than $12, better buys just don't exist!
On the other end of the price scale ($25-$75), Spain's Tinto Pesquera "Reserva," Condado de Haza "Alenza," Guelbenzu "Lautus," and Pasanau "Finca La Planeta" simply pound the palate like velvet sheathed hammers, giving almost sinful pleasures to the senses. From Portugal, red wines like the Quinta do Crasto Touriga Nacional and Quinta do Fojo "Fojo" flood and enthrall the palate. As for white wines - such as the dry, fragrant, and lemony crisp Albarinos by Spain's Lusco and Morgadio - you'll find few as friendly with fish or other-white-meats. Make no mistake - in 2000, Iberia has been It!
Jan. 4, 2001
To contact Randy Caparoso, write him at randycaparoso@earthlink.net.