GETTING STARTED | WINE NOTES | SEARCH SITE | DISCUSSION FORUMS | 30 SECOND WINE ADVISOR | CONTACT US
<!TODAY'S TEXT STARTS HERE!>
Wine & Food Advisory
from the Melting Pot of the Pacific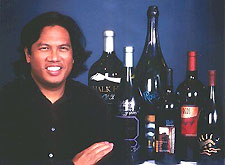 The Wines We'll Be Drinking in the Next Millennium
© Randal Caparoso
Dec. 31, 1999 will not be the last day of this millennium. I think that in our hearts, we all know that. The real crossing won't occur until 2001.
However, 2000 will be the end of a truly significant century. Heck, the past 25 years have been doozies. The end of the Cold War, the start of Cold Surveillance; the rise and fall of skirts, and the fall and rise of bell bottoms. My own biggest disappointment has been stalled development of Cold Fusion. I guess those economy class hops to nearby planets promised to us by the science fictionists of the '50s are off for now.
But here's to you, Mrs. Robinson, because at least we have... Fusion Cuisine! Which, as the East-West cooking doyen Roy Yamaguchi recently said, has gone "way beyond chop suey, chow mein, and crispy egg rolls." It may not be Cold Fusion, but these early examples of Westernized ethnic foods -- now enshrined in frozen food sections -- were certainly the beginning of the full blown, carefree, and most creative styles of fusion cooking which we now see in Hawaii, London, Sydney, Paris, New York, and seemingly every consumer society.
So what does this have to do with what wines we'll be drinking in the next Millennium? Everything. Because, for all the recent ruminations published in this venue and that, virtually all such speculations are being written by wine "experts" who live in something of a vacuum. Experts who think deeply about wine, and thus have much to say about it. But the reality of the market is that it has never really been driven by experts, but by everyday, average wine drinkers who think about wine, and make use of it, for one reason and one reason only: as something to be drunk with their next meal.
There is no doubt in my mind that it's consumers -- and the producers and importers smart enough to figure out consumer needs -- who will determine which wines we'll be drinking in the 2000s. It was that way in the earliest part of the century, when Italian immigrants arrived in droves, and found the need to plant red wine varieties to make something to compliment their tomato, macaroni and cheese cooking. It was that way following the second world war, when American servicemen came home with a modest interest in wines marketed under European place names like Chablis, Burgundy, Rhine, Moselle, Sauterne, and Champagne. It was that way after Julia Child began to whisk away, dropping whole chickens, roasts, and saddles of lamb on her television set, thereby creating a stronger need for complex French varietal wines like Cabernet Sauvignon and Sauvignon Blanc.
Americans' thirst for wine has always evolved only so far as their food culture. This explains why, during the '80s and '90s, per capita consumption of wine in the U.S. has significantly decreased; yet internationally, the wine production industry at higher quality and price levels has flourished. During the past two to three decades, our food culture has developed in two distinct ways:
1. The explosion of packaged foods and fast food restaurants, both of which are not exactly conducive to the interest in fine wine.
2. The steady increase of interest in fresher and more variable foodstuffs along with the dramatic growth of fine dining restaurants; both resulting in greater interest in the culinary arts and fine wines than ever before.
The mantra has been the same in recent years: Americans may not be drinking more wine, but they are certainly drinking "better" (italics) - basically because they are eating better. So why are they drinking smaller "quantities" (italics) of wine? Probably because they aren't sitting around the table as much. It certainly is not an uncommon observation that social values - and wine is a very social drink - are some of the first casualties of fast food. We may be "civilized," but we are basically the same animal that made its appearance on the planet some 100 millenniums ago. As Woody Allen once surmised, "Why 'does' (italics) man kill? He kills for food... and not only for food: frequently there must be a beverage."
So here are just four things which I, for one, predict Americans will be drinking more of in the earliest part of the next millennium:
1. Lower priced red wines (i.e. $5 to $15) from lower cost production countries, such as Chile, Spain, Portugal, Southern Italy (Sicily, Apulia, and Calabria), Greece, Slovenia, Russia, and even China. Why? Because during the past two years per capita consumption of wine - especially red wine -- has quietly crept up, signaling a small but significant return of wine to everyday American meals.
2. Higher priced ($100 and upwards) luxury wines, red and white. Call it the "wine geek" factor. Unfortunately, the ever increasing interest, or madness, for fine wine will continue to shrink supplies of the world's best and rarest wines, which are limited by geographic boundaries. Older vintages of French wines such as Romanee-Conti and Chateau Petrus already fetch over $1000 a bottle. You should not be surprised to see other types - such as California's Beaulieu Private Reserve, Italy's Sassicaia, Australia's Grange Hermitage, and Germany's Scharzhofberger - commanding such premiums in a decade or two.
3. An enormous range of internationally sourced wine types, driven by increased "internationalization" of food tastes. New American families are already feeding their kids a wide range of rices, breads, pasta, and potatoes - things their grandparents only knew as white, spaghetti or macaroni, baked or boiled. The fusionist culture in which mesclun and mint marigold, risotto and basmati, porcini and poblano, chervil and chevre, star anise and schichimi, and hoisin and heirloom tomatoes are part of the everyday language are bound to create a need for varietals like Pinot Gris, Sangiovese, and Semillon from places like Oregon's Willamette Valley, Italy's Emilia-Romagna, and Australia's Clare Valley. Then we'll see more Marsanne from Australia's Goulburn Valley, Tocai from California's Santa Maria Valley, Tempranillo from the Douro River, Chenin Blanc from the Loire River, Biancolella from Ischia, Rolle from Provence, Muskateller from Baden, Cabernet Franc from Chinon, Scheurebe from Pfalz, Gaglioppo from Calabria, Blaufrankisch from Austria, Tannat from Madiran, Teroldego from Trentino, Terrantez from Madeira, Malbec from Mendoza, Carmenere from Casablanca, Touriga Nacional from Dao, Fendant from Switzerland, Baroque from Tursan... which, I promise, will be just the beginning. How can I be so sure? Because you can already find such wines -- modest sellers, but selling nonetheless -- in some of the country's most cutting-edge restaurants!
4. Both handcrafted, "primitive" wines, and high-tech, even (I'm afraid) genetically altered, wines. Why not? It's in our nature to appreciate past, present and future phenomenons. The discovery of America still wows us as much as the discovery of a new star, or a new "Euro-Asian" dish. So there's no doubt in my mind that the products of "little old winemakers" from Arizona to Apulia - using time honored, heirloom varietals, organically grown, hand picked, fermented in rubber buckets or tin cans, and bottled unfiltered and even unsulphured - will find just as strong a following as the post-modern products that are 100% machine pruned, plucked, fermented, and bottled in fields and wineries located hundreds of miles from the nearest populace in the middle of, say, Australia or Argentina.
Happy Pre-Millennium!
To contact Randy Caparoso, write him at randycaparoso@earthlink.net.