GETTING STARTED | WINE NOTES | SEARCH SITE | DISCUSSION FORUMS | 30 SECOND WINE ADVISOR | CONTACT US
<!TODAY'S TEXT STARTS HERE!>
Wine & Food Advisory
from the Melting Pot of the Pacific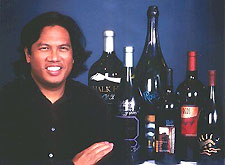 The High Spark of Low Heeled Wines
© Randal Caparoso
Wine is for drinking, not thinking. For sharing, not comparing. If this new millennium amounts to anything, it should be a whole new set of attitudes, and a broadening of latitudes, towards the enjoyment of wine.
Beginning with the concept: all wines are created equal. After that, it's all a matter of taste, or preference. No more "Cabernet Is King," "Chardonnay Is Queen," or on the flip side of the coin, the"ABCs" ("Anything But" Cabernet... or Chardonnay). What's wrong with one wine being "better" than the other? Well, the reason Cabernets and Chardonnays, and wines from France's Bordeaux and Burgundy (made predominantly from Cabernet, Chardonnay, as well as Merlot and Pinot Noir grapes), are so darned expensive is because they are considered "better" wines. It's supply-and-demand, take-it-or-leave-it, and the entire idea of some wines being more "collectable" than most others.
In recent years, wines other than those of Bordeaux and Burgundy, and Napa Valley Cabernet Sauvignons, have increased in demand. A few of them from Spain's Ribera del Duero, the Piedmont and Tuscany regions in Italy, Hungary, Chile, Austria, Australia, Oregon and even Canada are now exceeding $50, $75, and even $100 a bottle. Which is good, I guess, from the perspective of winemakers. Why should only the French and Californians be allowed to wear silk ascots, and give their wives new jaguars every year?
The point being, whenever you develop a predilection for a narrow range of wines -- and one that happens to coincide with zillions of other wine drinkers -- you just might end up spending $100 a bottle. Speaking for myself, I happen to tire of the taste of even the finest wines rather quickly, and so I often find that I prefer a $10-$20 wine over a $50-$75 wine. I also know that I'm far from the only wine drinker like this. Who else has been keeping producers of what Randall Grahm calls "ugly duckling" wines - made from Albarino and Zweigelt, Grechetto and Gaglioppo, Lemberger and Neuburger, and so many more perfectly palatable, if under-appreciated, grape varietals -- in business all these years?
There are, in fact, distinct disadvantages to not enjoying wines as democratically as you could, besides the factor of price. The other night I was in one of San Francisco's swankiest restaurants (one of those that goes by the first and last name of the chef), when I spotted a particularly attractive $45 Spatburgunder - a soft, light German style Pinot Noir -- on the wine list. However, one of my table companions moaned, "Can't you choose something grander?" Of course, I understood the concern - we're in "grand" restaurant, and so we should have a wine with some degree of grandiose. So I ordered an $85 Cornas -- a big, spicy red from France's Rhone Valley -- as a compromise (not wishing to dip into the wine list's wealth of $100-plus Pinot Noirs from France). Unfortunately, the natural tannin in the Cornas obliterated all the finely wrought details in our dishes (especially my Moroccan style squab). The lesson:
"Grander" wines are not always the grandest with your food; in fact, they may even ruin your food!

"Lesser" is often more (as I'm sure the Spatburgunder would have been with my squab).

Follow your instincts, even if democratic. Being easy-to-please also makes you more likely to be pleased, and what's wrong with that?
The good news is that this is a pattern, albeit subtle, many wine retailers and restaurateurs are already observing in the market. Sure, most consumers are still more comfortable with Chardonnay, Cabernet and Merlot. But many more of them are looking, and even asking for, the "ugling duckling" wines; particularly in relation to their broadening gastronomic experiences. And as one of our reigning queens of contemporary gastronomy often says, "it's a good thing."
So here are nine of the most wonderful things that I have discovered over the past year, all guaranteed to give your wine consciousness a raise, and your wallet somewhat of a relief:
1999 Dr. Loosen, Wehlener Sonnenuhr Riesling Spatlese ($28-$33) - Germany's Dr. Loosen has made some of the world's finest Rieslings - the most refined and fragrant of white wine grapes - of recent; and 1999 is a banner year for this producer, and for this legendary vineyard (the Sonnenuhr, overlooking the Mosel River). The wine is incredibly scented - an entire field of flowers, rather than just a bouquet - with medium sweet flavors that are fresh, juicy, almost nectar-like, suggestive of peach and apricot skin essences. But if the price of this bottling scares you, there is also a 1999 "Dr L" Riesling ($11-$14) which expresses the same, honeyed intensity of the vintage; a little lighter and easier on the palate, finishing lightly sweet and crisp as a Christmas apple, you might say. Whatever your preferred price range, you can't go wrong!
1999 ADW, "Alliance" Barossa Valley Cabernet Sauvignon/Merlot ($16-$20) - The ADW ("Australian Domaine Wines") is a brand representing a group of wine growers - mostly jolly, good ol' boys, I am told, who happen to be sitting on some of the oldest and finest grape sources in the country - and in the "Alliance," the quality of their fruit is as plain as day. It is deep, lush, and juicy; shimmering red in the glass, yet baby soft and round. But suppose you want less "soft" and more sinew? Well then, the boys of ADW are also offering the 1999 ADW "The Hattrick" ($30-$35) - a blend of McLaren Vale grown Grenache, Shiraz (they pronounce it "Shee-razz" down there), and Cabernet Sauvignon that absolutely exudes thick, pumping, black and red fruits laced with peppery, minty spice, and thick, wall-to-wall flavors wrapped in velvety textures. And the vividly purplish rivulets, or "legs," along the sides of the glass? Just think "Tina Turner," as it rips across your palate.
1999 Tikal, Altos de Mendoza Malbec ($27-$32) - The Malbec is one of the lesser known red wine grapes of Bordeaux, but in the Mendoza region of Argentina it is the "King"; and like any good king, it truly shakes, rattles and rolls across the palate with amazingly thick, juicy, massively muscled yet satin smooth qualities, suggesting smoke, scrubby herbs, and wild black fruits. This is the most intense of the contemporary style red wines coming out of Argentina today; but if you can't find the Tikal, I strongly suggest either the thick, plummy 1999 Altos "Las Hormigas" Malbec ($11-$14), or the even richer, fleshier, brightly concentrated 1999 Altos "Las Hormigas Reserva" Malbec ($22-$26).
1996 Quinta do Fojo "Vinha do Fojo" ($20-$25) - Do you enjoy Port from Portugal? Here is a red wine that comes from the very same, spectacularly terraced region along the Douro River, made from the same native grape varietals (Tinta Francesca and Tinta Roriz), projecting the same gooey-thick, lush, smoky, black fruit qualities, but without the sugar and heady alcoholic content (since it is a dry table wine, rather than a fortified sweet wine) that you find in Port. Drink this with any holiday roast (fowl or four legged), and you're in business! In fact, if your taste happens to run into the grandiose, there is also a 1996 Quinta do Fojo "Fojo" ($45-$55) -- pronounced as "fo-ho," if you're wondering - which is as powerful as dripping, rare beef on the palate, and jammed with luscious black fruit flavors. I don't have to tell you what foods to have with that... just enjoy!
Dec. 15, 2000
To contact Randy Caparoso, write him at randycaparoso@earthlink.net.