Is Lodi making California's best Zinfandels?
© by Randy Caparoso
I suppose that before I go making bold-faced statements like Lodi is making the best Zinfandels in California today, I should at least qualify it. So, if you will:
1. In recent years I simply have not found Zinfandels from anywhere else in the state that have been as consistently good, i.e. Zinfandel-ish, in the $12-$19 retail price range as those from Lodi. In the restaurant business, where I'm coming from, this means wines I can sell for $6-$9 a glass, which is where most guests are now comfortable. Ergo: as drinking wines, Lodi Zinfandels rule.
2. Even in the ultra-premium $20-$50 retail price range, during the past five, six years I can't say that there are more Zinfandels of truly exhilarating quality coming out of any other one, single AVA (i.e. American Viticultural Area) than there are in Lodi. Don't get me wrong. True, in the sub-regions of Sonoma (significantly, the Dry Creek, Sonoma, Russian River and Alexander valleys) as well as in the Napa and Contra Costa counties, producers like Ridge, Neyers, Rosenblum, Turley, Robert Biale, Carol Shelton, and Grgich Hills (just to name a few of my favorites — lord knows, there are so many more) continue to make incredible Zinfandels. But it seems that recently in every vintage, I count about five or six bottlings from each coastal AVA that I really like; whereas I usually find a good dozen and a half Lodi Zinfandels that really turn me on. Conclusion: Lodi is starting to dominate.
3. What do Zinfandel lovers really look for in great Zinfandel? After over thirty years of drinking, buying, selling and writing about the wine, I think I've got it down: they want heaps of blackberry/raspberry aromas and flavors — nice and ripe, but not too raisiny or pruney — with interesting doses of peppery spice. They don't mind big tannin and alcohol (14% to 16%) or zippy acidity, because they know that this is all part of the package; but they don't want any of that to get in the way of the varietal flavor. Many Zinfandel lovers like discernibly sweet and/or smoky oak qualities; and many more, not much oak at all — these are matters of personal taste and brand style, unrelated to regional factors. Point being: the aforementioned ideal qualities practically define Lodi grown Zinfandels across the board. To use the parlance of today, if it's all about terroir, Lodi's terroir generates the flavors most Zinfandel lovers look for with an organic ease, and almost ridiculous consistency.
4. Last but far from least, it's the fruit forward, intrinsically balanced, spice scented qualities of Lodi grown Zinfandels that make them some of the most food versatile wines in the world. As multi-food friendly as most Pinot Noirs — I kid you not. I've found few wines that are as much at home with beef and pork roasts as they are with Asian (soy marinades) and American (dry rubs) barbecues, chile spiced ethnic cuisines, and even seafoods from smoked oysters to grilled salmon. I've found delicious matches for Lodi Zinfandels in cheeses from pungent white truffled Boschetto al Tartufo and well aged Beemster Goudas, to Chili Pepper Pecorino and blue veined chèvres (like Holland's Moulin Bleu). For further thoughts on Zinfandel/food matching, please see my Not Your Daddy's Zinfandel.
Enough dissertation. What makes Lodi such a big deal as a growing region? First, the Lodi terroir — starting with its Mediterranean climate, strongly influenced as it is by direct proximity to the Sacramento-San Joaquin Delta, which draws cool air from the San Francisco Bay even in the dog days of summer. Recent research puts Lodi's U.C./Davis climate classification (a measurement of average temperatures over 50° F. during the growing season) in low Region IV, similar to the Napa Valley floor between St. Helena and Calistoga. Not conducive for Pinot Noir, less than ideal for Chardonnay, but just fine and dandy for Zinfandel and Petite Sirah (the latter, Zinfandel's most natural blending grape); not to mention, Mediterranean varieties like Syrah, Carignane, Grenache, Viognier, and even Albari–o, all thriving in Lodi today.
The second most significant aspect of the terroir where Lodi's best and oldest Zinfandel plantings are located is its alluvial deposits of deep, fertile, yet extremely well drained sand and loam. Although modern vineyard technology calls for the control of irrigation, ample rain and soil moisture retention does allow for some successful dry farming. The point being, Lodi's vines suffer neither thirst nor excess vigor (unlike vines planted in the clay loams of large sections of, say, Napa Valley and Sonoma County).
In fact, few connoisseurs of California wine are aware of the fact that Lodi's porous soils have always been an inhospitable environment for the infamous phylloxera louse that destroyed most of the world's vineyards at the end of the nineteenth century. This explains why some 5,000 acres of Lodi vines still grow on their own root stocks, representing one of the largest stands of ungrafted Vitis vinifera in the world (you find similar situations in parts of Chile and South Australia). The important thing, though, is that many of Lodi's finest Zinfandels do indeed come from ungrafted, phylloxera resistant vines fifty to over a hundred years old; and it's these kinds of thick, gnarly trunked, head pruned bushes that traditionally yield wines Zinfandel lovers love most: with colors black as night, and flavors that are ultra-rich yet balanced, even at high octane tannin and alcohol levels.
So now am I getting your attention? Let me go further by remarking that right now there are about sixty wineries operating in Lodi today (ten years ago there were only about twenty-five), and more than half of them have extremely nice tasting rooms tucked amongst those ancient vines; although you can also enjoy complimentary tastes of many of the wines made by wineries without their own tasting rooms at the Lodi Wine & Visitor Center, adjoining an incredibly romantic, cushy hotel called Wine & Roses (that song about being stuck in Lodi again? — these days you wanna be in Lodi when you're tired and worn).
What is even more remarkable is the fact that out of those sixty wineries, some forty of them are owned by families with roots in Lodi going back four, five or six generations to the nineteenth century. In fact, you can say the same thing about most of Lodi's eight hundred or so independent growers, who for decades have furnished the grapes going into "North Coast" as well as "Sonoma" and "Napa Valley" wines (and in recent years, the bulk of Robert Mondavi's Woodbridge wines).
One of the greatest of Lodi's recent success stories is that of Michael-David Winery, owned by sixth generation Lodi fruit, vegetable and grape growers, Michael and David Phillips. There's not a state or major city in this country where you cannot see Michael and David's 7 Deadly Zins or Earthquake labels in the finest restaurants, retail stores and hotels, but this has occurred only within the past five years. The brothers are fond of recalling the family history; especially during Prohibition when they used to ship fifteen different grape varieties across the country, along with the instructions, "How Not to Have the Grapes Turned Into Wine."
In fact, if you make the ninety minute drive to Lodi from the Bay Area, the first thing you need to do is stop at the Phillips Farms Fruit Stand on Hwy. 12, just east of the I-5. It's more than a local produce stand, but also a complimentary wine bar, a "farm café" (killer breakfast and lunch burritos), and source of the juiciest, plumpest fruit pies (weighing about ten pounds each) this side of the Rockies. Don't leave Lodi without one.
Then there is the Lodi ZinFest, a culinary experience taking place in a tree shaded oasis alongside Lodi Lake in May of each year. Before, during and after last month's ZinFest I had a chance to taste several dozen of Lodi's best, taking a baker's dozen home with me to Colorado to examine even further (easy as chicken pie, of course). In order of my favorites:
St. Amant, Marian's Vineyard Old Vine Zinfandel 2006 — I feel almost guilty extolling this wine, there was so little of it made (240 cases); although you'll find access on the St. Amant Web site. The Marian's Vineyard is an 8.3-acre block of the Mohr-Fry Ranch, consisting of own-rooted vines planted in 1901, and today cultivated in accordance with the strict Lodi Rules for Sustainable Winegrowing — a certification for farming practices going beyond just pest management, promoting practices enhancing biodiversity, soil and water health and human safety. There are no winemaking secrets here; just meticulous vineyard practices, and picking at peak ripeness (27.8° Brix), the 105 year old vines yielding a measly 1.5 tons/acre. An insanely purplish color gives fair warning of a perfumed, multifold concentration of berries (blackberry veering into blueberry), and an explosive, meaty presence of those jammy fruit qualities on the palate; round, succulent and mouth filling. The alcohol may seem over-the-top (16.4%,); but with nary a rough or sweet-ish edge, this wine is amazingly unPort-like, except for its phenomenally dense, layered feel.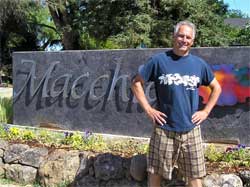 Macchia, Voluptuous — Maley Vineyard Old Vine Zinfandel 2006 — If, like me, you've always preferred a more finely textured, even keeled, "claret" style of Zinfandel (although I've always hated the reference to Bordeaux — this is Zinfandel, for Pete's sake), Tim and Lani Holdener's Lodi grown Zinfandels are the ones for you. The Maley Vineyard is one of the region's more venerated sites (a major component in Michael and David Phillips' monster Zins, for instance), and it's artisanal practices like block selection based upon clonal preference (Tim prefers smaller cluster clones), obsessive monitoring of deficit irrigation and canopies, cropping (less than 3 tons/acre), hand picking and sorting, micro-batch fermentations (strictly 4'x4' containers), hand punching, and at least 50% new wood (French/American hybrids) that add up to the differences in a Macchia. If it sounds like the Holdeners make Zinfandel like Pinot Noir, that's exactly what they're doing: handcrafting Zinfandels not just for intensity, but also for as much elegance as any other wine type. The Voluptuous blasts off with a sweet berry jam wrapped in spicy, toasted oak aromatics; and on the palate the wine is lush, full, yet silken smooth, long and buoyant. Hard to imagine a more graceful style of Zinfandel from anywhere in the state.
Valhalla Cellars, Mohr-Fry Ranches Old Vine Zinfandel 2005 — Valhalla is one of Lodi's new kids on the block (est. 2001), but they've obviously learned quickly. This is one of the more elegant renditions of the Mohr-Fry: huge nose — roasted coffee, cigar box and black pepper spices lighting up jammy blackberry aromas — and on the palate, lush flavors densely packed into a full body, amplified by rounded tannins and finely nuanced oak. Wow.
Macchia, Luxurious — Rous Vineyard Old Vine Zinfandel 2006 — If you think Lodi is all about fat, overripe wines, this is another Macchia wine that puts that myth to rest. Sourcing from one of Lodi's oldest vineyards (100+ years), Holdener coaxes a nostril tingling mélange of floral (violet-like), sweet blackberry, plump cherry and polished oak aromas out of these grapes; and on the palate, the wine is zippy and juicy (without being tart or raisiny), and satiny smooth, the vanillin oak and lush, lively fruit mingling in an extended finish.
St. Amant, Mohr-Fry Ranch Old Vine Zinfandel 2006 — The section of the Lodi Rules certified Mohr-Fry Ranch where this cuvée was culled was planted in 1944; and although the wine is as hugely round and luscious as St. Amant's Marian's Vineyard Zinfandel, the slight difference is a nose tilted more towards a raspberry/black cherry pie (a sky-high one, at that), and a more velvety, sensuous, fruit forward feel (classic "Lodi"). But make no mistake: this is an intoxicatingly full throttled style of Zinfandel by any other measure.
Earthquake, Lodi Zinfandel 2006 — Michael-David's original reserve cuvées, bottled under the Earthquake label, came from vineyards planted around the time of San Francisco's 1906 earthquake; and 40 to 100 year old plantings (including good portions of Syrah and Petite Sirah) have continued to be the major components of their yearly blends. The '06 achieves the powerful, multi-spiced, smoked/roasted meat qualities that have made the brand's reputation. In other words, there is vanillin/toasty oak aplenty, but more than compensated for by palate-saturating volumes of raspberry/blackberry fruit, infused with thick yet always supple tannins. Never for the faint of heart; but then again, you couldn't call it Earthquake if it was.
Macchia, Outrageous — Norma Ranch Old Vine Zinfandel 2006 — Another single vineyard bottling, selected from rows of 80 to 100 year old vines, meticulously managed to produce less than 2.5 tons/acre. The nose is indeed "outrageously" redolent of almost pure blackberry — wrapped in vanillin oak, penetrating the senses — and those ultra-rich flavors are polished to an uncommonly fine, silky finish. Like Angelina Jolie, a knockout in more ways than one.
m2, Soucie Vineyard Old Vine Zinfandel 2006 — m2 is Layne Montgomery and Chris Matheny, whose first crush in Lodi was in 2004. But they've started off with a bang, sourcing from the Soucie Vineyard, planted in 1916. I don't know how much of this is this vineyard's classic Lodi terroir, or how much of it is winemakers smart enough to leave well enough alone. But the wine is focused and dramatic, leading off with sweet berry fragrances highlighted by kitchen herb spices, then following through with juicy, silken textured flavors that seem to expand and intensify as it sits on the palate. For an exceptional third vintage: bravo!
Klinker Brick, Old Vine Zinfandel 2005 — Artfully blended from thirteen vineyards by this fifth generation family, who started farming in the area at the turn of the twentieth century — this wine shows the classic Lodi profile: jammy, sweet berry nose brightened by black pepper, allspice, and smoky oak fragrances; entering the palate with lush, fruit forward flavors, filling out a fleshy yet sturdy, medium-full body.
Peltier Station, Old Vine Zinfandel 2006 — Another relative newcomer (est. 2002) already producing super-charged Zinfandels; bursting out of the glass with wild blackberry, black cherry and peppery spiced aromas; medium-full, soft entry, becoming dense and velvety in the middle, the supple tannins sustaining the spiced berry flavors through a balanced finish.
Jesse's Grove, Westwind Zinfandel 2005 — Jesse's Grove is home to some of Lodi's oldest plantings (the family still cultivates 120+ year old Carignane vines, yielding fantastical wines, tasting of the essence of framboise and red licorice); and their Westwind Zinfandel, vinified from 60 to 120 year old vines, envelopes the senses with thick, viscous, raspberry/black cherry fruit, layered over pungent vanillin oak. This is big, brazen, aggressive stuff, mind you; packing more of a punch than your average Lodi Zin.
Klinker Brick, Old Ghost Old Vine Zinfandel 2005 — 93 year old vines giving up less than a ton per acre, like those of Klinker Brick's Old Ghost block, can be pretty prickly — dense to the point of obstinacy, and not at all like the lush, juicy style prevalent in Lodi. But if you can appreciate tannic muscle, you'll certainly savor the intense, sweet berry/peppery spice concentration rising from this vinous codger. In a sense, this bottling reminds me more of some of the hillside plantings from the coast (like the Zinfandels of Monte Rosso, Howell Mountain and Storybook Mountain) than Lodi; and as such, it just might be more to your liking.
Macchia, Mischievous Old Vine Zinfandel 2006 — Of the nine or ten different bottlings of Zinfandel Macchia makes each year, Mischievous is their blend of up to five different old vine sources. In fact, it has usually been one of their most attractive cuvées; the '06 being no different — an extremely bright, prettily scented wine showing deep seated, sweet berry Zinfandel aromas and flavors. It's on the palate where this wine really shines — lively, zesty, finely textured qualities within a medium to medium-full body, with artful, spiced oak touches and firm yet unobtrusively rounded tannins. Lovely.
Jesse's Grove, Earth, Zin & Fire 2006 — From vines averaging 40 years of age, this is crafted in an irresistible style, and is probably the finest $16 Zinfandel in the world. A two day cold soak prior to fermentation does the trick; front-loading gobs of blackberry jam varietal fruitiness, judiciously seasoned by grape's natural black pepper/clove-like spice. Soft and giving on the palate, but by no means a small thing (big 14.8% body), this is a quintessential, multiple food-friendly type of Zin that Lodi excels in.
June, 2008
To contact Randy Caparoso, write him at randycaparoso@earthlink. net.