<!- Page Contents Begin Here ->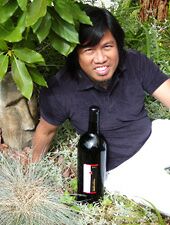 Wine & Food Advisory
from the Melting Pot of the Pacific
Oh Lord, Lodi!
© Randy Caparoso
Let's start off with a few blanket statements: If your perception of wines from Lodi, California is one of strictly bland, watery, sun raisined wines, then you're a damn fool.
If you're paying $30 to $60 for the latest blockbuster Zinfandel, Syrah, Viognier or Petite Sirah from Napa, Sonoma, or any of those new fangled coastal regions like Paso Robles and Santa Barbara, then you're a double-damned fool. Lodi is turning out wines of equal quality for half the price; and in some cases, wines even more powerfully packed with exciting, chicken-skin flavors than just about anything in Schwarzeneggerland.
Don't shoot me, I've been learning all this the hard way myself. Most memorably, a few years ago, when along with 60 or so other judges at Jerry Mead's annual New World International Wine Competition, I tasted a Syrah that was so good, so phenomenally intense and proportionate, that we all had to vote it "Best Wine" (period!) in the entire Western World. What could we say, after all the wines were unveiled, when we found out that this Syrah was grown and vinified in Lodi by Delicato Family Vineyards, and sold for a ridiculous $8 a bottle across the country? The proof was in the pudding!
Then again, this is the region associated with a John Fogerty song, and where later the Mondavi family set up a factory to churn out their lower range "Woodbridge" line. Despite these dubious distinctions, I say that Lodi is a great place to be stuck these days. Especially if you book a stay at the Wine & Roses Hotel, which reeks of wine country taste and romance; and where the Lodi Winegrape Commission has also set up an incredible Wine & Visitor Center; where they'll spell out for you all the reasons why the wily wine lover drinks Lodi, while letting you taste at least a dozen of Lodi's best for further, irrefutable proof.
Of course, it wasn't always this way. While less than a 90 minute drive east of Napa Valley and the Bay Area, and the longtime cradle of something like 20% of California's wine grapes (including 40% of the state's Zinfandel crop), the region between Stockton and Sacramento was home to only half a dozen wineries ten years ago. Apart from the plump tomatoes and heavenly, crusty apple pies found at the Phillips Farms Fruit Stand on Hwy. 12, visitors had few incentives to find Lodi.
Five years ago the number of Lodi wineries grew to 25, and today it's up to 50. The beauty of this is that out of those 50 wineries, at least 40 of them are owned and operated by the same families who have been growing grapes there since the 1880s. It's rare enough, these days in California, to be able to walk into a strange winery, sidle up to the bar and shoot the breeze with a winery owner or winemaker (as opposed to an hourly employee) over a complimentary glass or two, but that's not what gets a jaded wine palate like mine going.
It's when that winemaker or winery owner warms up to you (or in the case of Mike Phillips -- who runs the old family fruit stand as well as Michael-David Vineyards -- after you try a slice of his apple pie) and then starts opening his rarest wines, made from pre-WWII vineyards, planted on their own roots in the fashion of pre-phylloxera viticulture. Few connoisseurs of California wine are aware of this treasure within their midst: some 5,000-plus acres of original rooted vines sprinkled across Lodi's sandy loams, undoubtedly representing the largest stand of ungrafted vitis vinifera in the world.
Lodi's deep, perfectly drained, sandy soil is an inhospitable environment for the infamous phylloxera louse. The important thing, however, is the kind of wines that these ancient, gnarly trunked, largely dry-farmed, head pruned bushes produce: Zinfandels as black as night, Syrahs in purple raiment, and essence-of-blueberry Petite Sirahs, all wrapped up in wonderfully round, smooth tannins. In the case of young and old vines, the Lodi soils seem to drain all semblance of bitterness and astringency associated with big tannin, high octane wines. Lodi's reds may not smack you upside the head like a Napa Valley Cabernet, or even a well-heeled Cote Rotie; but what's wrong with just plain deliciousness?
The Lodi Winegrape Commission is made up of about 750 independent growers; and to raise the consciousness of both consumers and the rest of the California production industry as to the intrinsic quality of Lodi vineyards, they recently invited twelve judges (including myself, a handful of Master Sommeliers, professional wine educators and industry consultants) to taste through 60 Lodi grown wines, and out of that pick 12 that best represent the "Mediterranean" style of wine that the region naturally seems to give.
Although in many respects Lodi is known mostly for its Zinfandel - a varietal scientists of the vine now believe originated in Croatia - it was decided not to include Zinfandel in this selection process since to the rest of the world the grape is identified more with California than, say, Spain, Portugal, Southern France, Italy, or other Mediterranean countries. As a result of our double-blind tasting, we selected the following wines, which we all agreed were as fine as anything from other regions of the world. Including their average retail prices:
2002 Renwood, Lodi Viognier ($12)

2003 Michael-David Vineyards, Lodi "Incognito" Viognier ($18)

2003 Clay Station Vineyards, Lodi Viognier ($16)

2002 Fenestra Winery, Lodi Alvarelhao ($15)

2001 Bokisch Vineyards, Lodi Graciano ($19)

2002 Michael David Vineyards, Lodi "Icognito" Red Blend ($18)

2002 Grands Amis, Lodi Carignane ($17)

2001 Jesse's Grove, Lodi Carignane ($15)

2002 Cosentino, Lodi "The Temp" Tempranillo ($18)

2002 Clay Station Vineyards, Lodi Shiraz ($13)

2002 Van Ruiten Family Vineyards, Lodi Petite Sirah ($18)

2002 Mettler Family Vineyards, Lodi Petite Sirah ($22)
To give you a more complete idea of the outstanding work being done in Lodi, here are some of my own notes, taken by grape by grape:
PETITE SIRAH - There are several things about Petite Sirah that make little sense. For one, despite its moniker, it is not the same grape as the true Syrah from France's Rhone Valley; although up until the mid-1980s Californian vintners could barely tell the difference between Syrah and Petite Sirah in their fields and wineries.
Secondly, it is only recently that plant geneticists have been able to conclusively establish that Petite Sirah is identical to a near extinct French grape called Durif - a cross between Syrah and a variety called Peloursin, created some time in the 1880s by a Dr. Francois Durif. The fact that Californians were already cultivating something called "Petite Sirah" in the 1880s is further indication of the historically loose definition of the grape.
Although by virtue of its Syrah parentage Petite Sirah can still thought of as a "Mediterranean" variety, even this association is somewhat dubious given that

Durif was never really established in Southern France, or any other part of it, plus
Petite Sirah is as much "Mediterranean" as Pinotage (a cross between Pinot Noir and Cinsaut) is "Burgundian," and Ruby Cabernet (Carignan crossed with Cabernet Sauvignon) is of "Bordeaux" - which they ain't.
From the perspective of taste, however, Petite Sirah yields full, four-squared, densely textured, sweetly berried red wines similar to that of Syrah; which is why it was (and still is, to some extent) commonly field mixed and blended with Syrah, and even more so with Zinfandel (the other is/is-not Mediterranean varietal). On more minute sensory levels, Petite Sirahs tend to be blacker, coarser, with distinct peppercorn and blueberry-like aromatics; whereas Syrahs are finer textured, more floral in a violet sense, with roasted meat or incense-like spices. Otherwise, they're similar.
Meanwhile, back to Lodi: I'm inclined to say that the singularly most impressive wine coming out of the region today is Petite Sirah. The good news is that bolstered by their recent successes, Lodi's family wineries are starting to produce more. The bad news is only a few plantings of the grape remain; and as the older vines naturally decrease in production, the costs make it harder and harder for growers to justify keeping them in the ground. All this makes someone like me want to cry, especially after tasting the likes of the 2002 Michael-David "Earthquake" Petite Sirah ($28); a massive, inky dark freak of nature if there ever was one, positively blasting you with ceaseless amounts of red, black and blue berries, plum and roasted beef, all the while licking the palate with outwardly soft, lush, drippy flavors. To me, that's the essence of Lodi fruit: they seduce you with their easy, generous charms, and then they hammer you with their strength and muscle.
Of the Mediterranean dozen selected by the wine judges, the 2002 Van Ruiten Family Petite Sirah ($18) lays it so thick on the palate with round, fleshy, blueberry jam character that you can almost eat it with a spoon; and the black-purplish 2001 Mettler Family Petite Sirah ($22) is a little more brooding, flexing brawny, tannic muscle under its exterior of sweet oak and boysenberry jam. Yet not to be outdone, particularly in terms of value, the 2002 Clay Station Petite Sirah ($16) offers up a saturation of black toned, lusciously thick, yet soft, blueberry concentration, and the 2002 Jewel Collection California Petite Sirah ($10), an unbelievable generosity of jammy, blackpeppery, layered, juicy flavors for the price.
ZINFANDEL - Despite the word out on the street, Lodi's Sacramento Delta influenced climate and consistency of well drained soils are closer to the moderately warm coastal regions of California than to the desert-like conditions of the Central Valley. So while the typical ultra-premium style of Lodi Zinfandel easily tops 15% alcohol, it's rarely overripe or raisiny, and soft and nimble as opposed to hot and heavy. Case in point: the 2001 Jesse's Grove "West Wind" Zinfandel ($18), vinified from 66 year old vines, and letting out a full throttle of smoky oaked, chocolaty, raspberry-rich aromas, and a steely core of tannin overlain with thick, fleshy fruit flavors.
On the other hand, the 2002 Michael-David "Earthquake" Zinfandel ($25), from vines planted as far back as 1908, may not be for the faint of heart: sweetly aromatic blackberry and bing cherry fruit strapped upon to a 15.9% alcoholic structure (to no deleterious effect, mind you), coming at you in waves upon waves of enormously thick, black, viscous, velvety, musclebound fruit. Considerably more come-hithery, the 2002 Michael-David "7 Deadly Sins" Old Vine Zinfandel ($14) reaches "only" 14.8%, and is indeed much softer and buoyant with zippier acidity, its jammy raspberry qualities bouncing on a firm mattress of dense tannin and fruit.
Like Michael-David Vineyards, St Amant carries a stable of Zinfandels derived from vineyards planted as far back as 1901 that can duke it out with the best of them. If it's not enough that the immense, smoky, jammy, yet softly textured 2002 St. Amant "Mohr-Fry Ranch" Old Vine Zinfandel ($15) could make a preacher punch a hole through a panel, the 2002 St. Amant "Marian's Vineyard" Old Vine Zinfandel ($24) would drive any Zinfandel drinker mad with its beautifully layered, tobacco and vanilla-laced concentration of sumptuously sweet berries, powered by surging tannins buried under plump, bustling flavors.
My nomination for the best Zinfandel value in Lodi is Michael and David Phillips' 2002 Windmill Estate Old Vine Zinfandel ($10), which whips up cinnamon-sugared berry aromas, rounded tannins and quantities of fresh, lively, zesty fruit flavors, belying its full sized (15%) demeanor. My nomination for "most decadent" is the 2002 Van Ruiten Family "Late Harvest" Zinfandel ($20/half bottle), which fairly scrapes the sky with mildly sweet (3% residual sugar) black cherry and raspberry intensities, piled atop a densely layered 17.2% natural alcohol content, with absolutely no harsh feel at all. Although you can think of the latter as something of a mini-Port, the winery recommends it with smoked pork (better yet, luau pit roasted pig) or chocolate-raspberry tarts. I'm game!
SYRAH - Lodi now crushes almost three times more Syrah than Napa and Sonoma combined; yet if there's anything Lodi's wineries do that's grossly underrated, it's Syrah. To wit: the impenetrably colored, vividly smoked and lusciously full, long, juicy 2002 Rosenblum Cellars "Abba Vineyard" Syrah ($18), which I can't see taking a back seat to anything - French, American or Australian - in respect to dramatic scale and sheer, joyous intensity of fruit.
Delicato Family Vineyards now puts out an upper tier of gravelly hillside sourced (at the eastern edge of Lodi) wines going by a brand they call Clay Station Vineyards, and their remarkable success story continues with their amazingly well priced 2002 Clay Station Shiraz ($13): a lavishly full, fleshy wine, bolstered by thick yet finely finished tannins, and a wonderful array of violets, cracked pepper and smoky fruit in the nose. For just a few dollars more, the 2002 Grands Amis Winery Syrah ($18) combines Christmas and birthdays with plummy, chocolaty rich, floral aromas, and a lush, broad fruitiness wrapped around sturdy tannins.
But the label I love best is the one found on the back of the 2002 Michael-David "Earthquake" Syrah ($25), describing itself as a "wow" wine. To me it's more like "oh-my-god": a color as black as a moonless night followed by a head shaking armada of sweet, black colored berries embedded in toasted oak and suggestions of roasted bacon, thickened on the palate by hugely round tannins before giving way to an amazingly soft, lush, mouth-watering finish.
WILD CARD REDS & WHITES - Vintners like St. Amant's Tim Spencer and Earthquake's Mike and David Phillips epitomize the commitment to not only quality but also an inquiring, adventurous spirit; as evidenced by their plantings of a full range of grapes, from Albarino to Viognier, to Cinsault, Carignane, Tannat, Petit Verdot, and what I find most interesting of all, the Tempranillo.
Thick and richly pigmented, Tempranillo has been called Spain's answer to Cabernet Sauvignon; and indeed the best Tempranillo-based wines of Rioja and the Ribera del Duero have been known to achieve an elegance and longevity rivaling Bordeaux's greatest growths. So why has production of Tempranillo in the U.S. been so sparse; or in the case of California's prestigious coastal regions, virtually non-existent?
Well, we'd have to ask Alice that, too; considering the fact that I personally prefer a typically intense, smooth bottling of Tempranillo over, say, the one zillionth bottle of Merlot. That said, I confess to being fully enthralled by the wonderfully rich, dense, supple, roasted, lusciously cassis-like 2001 St. Amant Amador County Tempranillo ($18). What a wine for smoky rooms and raw meats!
Nor do I think I could ever resist the 2002 Cosentino "The Temp" Lodi Tempranillo ($18); if only because of its almost intellectual layering of rounded, refined, yet juicy, compacted black fruit flavors, intertwined with vanillin wood, stretched tautly across with palate with lacy silk and suggestions of leather gloves.
In among the treasure trove of ungrafted old vineyards in Lodi are those planted to Carignane; a grape that is traditionally a huge producer in Spain, Southern France as well as California's Central Valley, but falling more and more out of favor as blended domestic "jug" reds vanish into the haze. But one thing the cognoscente have always known: an old vine Carignane can be astoundingly good; in fact, great. Hence, the uncommonly intense 2001 Jesse's Grove Carignane ($15), plucked from this family estate's 104 and 115 year old vineyards (the oldest, as it were, in the region): irresistibly rich, raspberry liqueur and red licorice perfumes, followed by an explosion of plush red fruit on the palate, polished with oak and perfectly rounded tannins. Phenomenal.
But if you can't find Jesse's Grove, there is also the 2002 Grands Amis Carignane ($17): a ringingly intense, sweet, jammy convergence of black cherry and raspberry fruitiness, entering soft and easy on the palate, before expanding into dense, sturdy, tannin lined, memorably smooth impressions.
Although it's true that the Lodi of today is flush with remarkable reds, its whites are no slouches. Of particular fascination is the 2002 Bokisch Vineyards Albarino ($16); one of the handful of wines in the U.S. made from this Spanish grape. The white wines made from Spanish-grown Albarino tend to combine flowery, flinty fragrances with a citrusy dryness, and Bokisch's rendition pretty much hits the mark, with the addition of an apricot-pit fruitiness and soft, easy finish. You could say that the best Albarino is never as full flavored as a Chardonnay, nor as fruit-filled as a Riesling; but in the context of wood smoked oysters, seviche, a seafood paella or risotto, a good Albarino is always hard to beat.
The white wine Lodi has really come to specialize in, however, seems to be Viognier, the full-bodied, exotically scented varietal originating from France's Northern Rhone Valley. Among the judge's choices, the 2002 Renwood Viognier ($12) gives ripe, floral, tropical fruit perfumes and a soft, medium-full, vanillin textured dryness. Even silkier and fuller, with a pinpoint, lemony crisp balance, is the 2002 Michael-David "Icognito" White ($18), which smartly infuses a small proportion of the honey scented Roussanne grape into the lilac notes of the Viognier, finishing dry and easy. Try these whites with Chinese-style chicken, duck or steamed fish, or else mildly spiced (not too hot) curries laced with coconut milk, and you're in for a "bam!"
So if I've tweaked your interest, you can find more information at lodiwine.com or visitlodi.com. On the way in, say hello to Mike or David at the Phillips Farm Fruit Stand, and don't forget to pack one of their apple pies!
April 2004
To contact Randy Caparoso, write him at randycaparoso@earthlink.net.
Back to Randy's World of wine
<!- Page Contents End Here ->