GETTING STARTED | WINE NOTES | SEARCH SITE | DISCUSSION FORUMS | 30 SECOND WINE ADVISOR | CONTACT US
<!TODAY'S TEXT STARTS HERE!>
Wine & Food Advisory
from the Melting Pot of the Pacific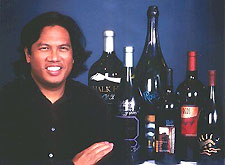 Wine Labels and Fables
© Randal Caparoso
I think we learn to crave what everyone else craves early in life. In fact, I think we are almost bludgeoned into submitting to certain socially acceptable standards.
Woody Allen had a monologue about how, like other kids, he always wanted a pet, but his parents couldn't afford one. So one year they gave him a pet ant, which he learned to love anyway.
I think it was Eddie Murphy who once talked about how his family couldn't afford to eat at McDonald's, and so the other kids would laugh at him for eating his own, mammy-made hamburgers. It's funny because we all know the feeling. There are certain things we're supposed to love and appreciate, even when our gut instincts tell us that these things are no big deal.
The other day I was presented with a couple of California grown Merlots, both proudly retailing for around $35, and both tasting perfectly awful. These were dry, coarse, tough red wines, smelling more like canned vegetables and furniture polish rather than the soft, lush, juicy, black cherry and plum fruitiness which Merlots are supposed to have. I would estimate that during the past six months alone I have probably sampled over 200 California Merlots, and out of those 200 only five or six of them actually tasted like good "Merlot." Yet the average price of California Merlots - which, according to wineries, are all selling as fast as they can be made - is somewhere in the $20 range. So who's buying them, and why?
We are, I guess, because somehow we got the message that we're supposed to love all Merlots - just like we're supposed to love Emeril's Cooking, Polo by Ralph Lauren, and the latest Jerry Bruckheimer movie. The problem with this, of course, is that not everything that we learn from Emeril actually tastes great. Polo fashions fit no better than a zillion other brands. And how often do we find ourselves in a movie theater trying hard to convince ourselves that we're having a good time, especially after dishing out $25 for two tickets, two cokes and a popcorn?
Wine drinkers are perhaps the most notorious when it comes to what I call "mass hysteria consumption." I've lost count of the number of times when I've sat in a room with as many as a thousand other people, tasting wines presented by this famous winemaker or that, watching everyone going ooh-and-ah over wines which I, myself, found bland, boring, or even just plain bad!
I have my own little theory as to why this happens: It's not that most people don't know a good, or bad, wine when they taste it. It's just that most people don't trust their own taste. They've become conditioned to believe that they, themselves, can't possibly be harbingers of good taste, and so they leave it to others to decide that for them.
The upshot: Never, never, never let anyone - be it me, the best known experts, or thousands of wine drinkers - tell you what wine tastes best for you. No matter how famous or expensive, if a wine tastes bland, boring, or just plain bad, chances are this is because the wine is bland, boring or bad. In other words, your own palate is almost never wrong. You can, however, get suckered into buying lots of bad, or badly overpriced, wine (like most of the California Merlots sold today) if you don't force yourself to trust your own taste first!
How do you discover your own taste? One way is to start by asking the type of people who are most likely to have developed their own taste - such as a wine specialist/retailer you can trust, or the managers and most experienced servers in your favorite restaurants. It's always good strategy to ask professionals what wines they like to drink. If they are able to answer with some degree of confidence, most likely they will not recommend wines which the majority of customers are buying, but rather the wines that they wish the majority of customers were buying.
Two weekends ago I was holed up in a Key West hotel, where I tasted some 200 wines for my own professional edification. Out of these 200-something wines, I was most impressed by the following ten - not so much because of their quality as the fact that their quality came as an almost complete surprise. Which would make it my favorite type of wine!
1999 Bonterrra, Mendocino Viognier ($16-$20) - Bonterra wines are organically grown; which is neither here nor there when it comes to good taste, which this white wine has in spades. And although Bonterra is not an uncommon brand, the value of this bottling makes it a rarity - it is as good or better than other California Viogniers selling for twice the price! It has a very pretty perfume - like fresh peach and honeysuckle encased in freshly whipped, airy cream - and is silky smooth on the palate. Can't wait to try this with grilled white meats, vegetables, and fruity salsas.
2000 Kim Crawford, "Unoaked" Marlborough Chardonnay ($16-$20) - One of the best examples of pure, stainless steel fermented and aged Chardonnay coming from Down Under (in this case, New Zealand). Unlike most barrel treated Chardonnays, this white wine charms, rather than attacks, the nose and front palate with mildly creamy, sweet apple/pear fruit, and sports a palate freshening crispness and lacy, silken texture before fading into a soft, dry finish.
1998 Bonterra, Mendocino Syrah ($16-$20) - The wine stores are becoming inundated with big, expensive Syrahs (called Shiraz in Australia), sold by scores of 90-plus out of 100. This particular red wine may never garner the big score; then again, the price is more than right. Especially for all its spiciness - cinnamon sticks and cracked pepper in the nose and flavor -- and blueberryish fruit rounded out by smooth yet sturdy tannins. A no-brainer with summer barbecues and marinades.
2000 Pipers Brook, Ninth Island Pinot Noir ($15-$19) - This is not "great" Pinot Noir. Most wine experts will say that great Pinot Noir only comes from Burgundy in France. Fact is, only about one out of fifty red Burgundies from France are actually great - the rest are poor to merely average. Yet no matter what, you always pay great prices ($50 to $500) for red Burgundy, since wine merchants price by name, not quality. Ergo: when you find a great priced Pinot Noir like this Pipers Brook from New Zealand, the smart thing to do is to forget names, and just enjoy - that is, its perfectly round, soft tannin flavors lit up by fresh, clean, mildly spiced red and black fruit fragrances. Should be wonderful with mildly spiced, or even sweet and sour, foods of all sorts.
1999 Griffin Creek, Rogue Valley Pinot Noir ($17-$21) - Another excellent buy, this Southern Oregon red gives velvety, fruit-forward qualities, signaled by blueberry/boysenberry aromas tinged with cinnamony/peppery spice; its easy tannins allowing the juicy fruit flavors to push all the way into a soft, gentle, palate flattering finish.
1998 Flora Springs, "Lavender Hill" Pinot Noir ($35-$45) - Okay, this Carneros/California grown Pinot Noir is not inexpensive; but if you can handle the price, it's great stuff! The fruit is genuinely "Pinot" - cinnamony, pepperminty spice highlighting lush cherry and blueberry qualities - and comes packaged in a fine, elegantly scaled package with firm tannin underpinnings. Ever wonder what to drink with wok charred vegetables and strips of beef or pork in soy and ginger? Look no further.
1999 Matanzas Creek, Sonoma Sangiovese ($25-$35) - This winery was formerly known only for Chardonnay, Sauvignon Blanc and Merlot. But since being purchased by Jess Jackson (of Kendall-Jackson) two years ago, it has branched out into other varietals -- such as the Sangiovese grape, the primary red grape of Italy's Tuscany region. This version has the typical, smoky red cherry aroma of Sangiovese, along with snappy, savory, medium weight flavors bolstered by smooth tannins, giving good length and feel. And with this, I'd feel like a good bistecca rubbed with garlic and peppercorns, with sides of roasted peppers and pasta in olive oil!
1998 Beaulieu, Napa Valley "Beauzeaux" ($24-$32) - I'm told that this red wine was originally blended by mistake - hence the name, by a "bozo" - but in the end, it was too good not to package. So what is it? Zinfandel (46%), Valdiguie (22%), Charbono (10%), Petite Sirah (7%), Primitivo (7%), and Lagrein (5%). What is the last grape? Beats me! Does it taste great? Heck, yes... a juicy rich, velvety smooth, sweetly aromatic surprise!
1998 Villa Aba, "Krizia" Cabernet Franc ($20-$25) - The bottle that this Northeast Italian red wine comes in is massively thick and heavy, but the wine is refined, almost light, boasting intense Cabernet Franc character - weedy, green pepper notes mixed with raspberry liqueur-like fruitiness - that comes across as soft round and fluid. This is a new style Italian red, geared for an international range of foods and interests.
1999 Escudo Rojo ($13-$17) - This South American red - a joint venture project by Chile's Concha y Toro and Bordeaux's Baronne Philippe de Rothschild - could very well be the best buy, ounce per ounce, in the market today. It is rich and smooth, but I also like its wild, Tabasco chile-like spiciness and whip of soft leather. It is a blend, if you have to know, of Cabernet Sauvignon, Carmenere (grown only in Chile), and Merlot. But no Merlot can touch it for the price, and no Cabernet makes you say "olé!"
June 20, 2001
To contact Randy Caparoso, write him at randycaparoso@earthlink.net.