GETTING STARTED | WINE NOTES | SEARCH SITE | DISCUSSION FORUMS | 30 SECOND WINE ADVISOR | CONTACT US
<!TODAY'S TEXT STARTS HERE!>
Wine & Food Advisory
from the Melting Pot of the Pacific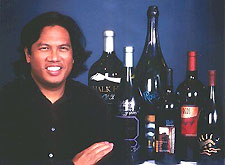 My Dinner With Kermit
© Randal Caparoso
It was 8:30 on a cold, wet San Francisco night, and I was worried. I had an 8:00 p.m. dinner date with Kermit Lynch, who was nowhere to be found as I was starting my second glass of Champagne.
Kermit Lynch is the famous Berkeley importer of unusual French wines. Unusual because his wines are largely hand crafted and 100% unfiltered - something virtually all other importers, and most winemakers, would consider unnecessarily risky in this day and age in which stability is valued more highly than quality, and predictability more than originality.
Five minutes later I was called to the phone. It was Mr. Lynch, who said, "There's a huge backup on the Bridge, and so I turned around and went home. Why don't you jump in a car and come over to my side of the Bay?"
"But I don't have a car, Kermit. Why don't you just hop on a BART? It gets you over here in less time than it takes you to drive."
"My problem is that I've never taken a BART," he confesses, "and so I'm not sure how."
"Kermit, have you ever ridden the subways in New York?" He says yes. "Well, BART is even simpler; and besides, it would be an adventure!"
And this piece of advice, I couldn't help but think, was being given to the author of Adventures on the Wine Route - Lynch's groundbreaking book, still in print after nearly 20 years, on France's most unique, and often idiosyncratic, "wines of the country."
But true to his nature, Lynch finally did arrive; via BART, albeit an hour later, but still in rare, cantankerous form. "Have you been reading that book, Fast Food Nation (by Eric Schlosser), which talks about the chemicals and artificial flavors they are putting into our food, making us think that we are eating something good when in reality we are eating ourselves to death? They're now doing that to our wine!"
Like fast food, says Lynch, modern day winemaking is all about "pop." "Big companies, and even small farmers and winemakers, are asking, 'what kind of wine is popular today?' And so they manipulate the vineyards and add chemicals to the wines to make that kind of wine. In the future they're going to be able to add a chemical called the 'Romanee-Conti' to flavor a wine... Who cares about what wine is best for a particular vineyard site? Nowadays it's all about uniformity, or else flavor descriptions like 'power' and 'explosiveness.' Somehow, Rambo has taken over the wine world."
Our dinner began with a very unRambo-like beverage - a bone dry pink wine called Bandol Rosé made by Domaine Tempier, located just down the road from Lynch's home in Provence, where he lives six months out of each year in order to maintain close contact with his producers all over France. It also happens to be practically the only wine Lynch's wife, Gail Skopf, will let pass through her lips.
Says Lynch, "There is nothing complicated about Bandol Rosé, but it is the best wine in the world to drink everyday, which is saying a lot." We enjoyed it with a velvety layered cioppino - a tomato laced, San Francisco style fish broth originated by Italian immigrants from Liguria, an extension of France's Riviera coast - studded with black cod, scallops and Manila clams. "This cioppino is a little more spicy than what I'm used to," says Lynch, "but the Bandol Rose is certainly refreshing with it."
The second course was a good chunk of roasted portobello mushroom, stuffed with pine nuts and Humbolt Fog, a goat cheese with a slight blue cheese flavor. We had selected a minerally scented, lemony dry 1999 Pouilly-Fumé by Regis Minet to go with it, which turned out to be a slight miscalculation. Although this thirst slaking white wine -- made purely from Sauvignon Blanc grapes grown along the Loire River -- was a good match for the cheese, the portobello's smoky, meaty, earthy flavor was somewhat overwhelming. We felt that it needed a red wine.
So we opened a bottle of 1988 Blagny "La Piece sous le boise" by Francois Jobard, which Kermit had cradled ("like a valuable whisky") on the way over on the BART. Blagny is a miniscule site located in the midst of a part of Burgundy known predominantly for its white wine; although the Blagny is made from the fine and delicate red wine grape called Pinot Noir. This time it was I who did the gushing. "Kermit, I can see why you brought this wine! There was probably no way, when it was first released ten years ago, that it could have rated more than a '70' (out of 100) in the wine publications - it is too light and simple for the wine critics. But now, at the age of twelve, it has become spectacularly fragrant - still very light, but so rich and expressive."
"It goes back to what I was saying," Lynch responds, "that wines should taste like where they come from. 'La Piece sous le boise' means a 'little parcel under the woods," and it is certainly little, but full of finesse and harmony. It expresses its 'terroir' - a word which many wine writers misinterpret. To the French, the taste of terroir is not 'of the soil.' Soil is just a small part of terroir. It is also the angle to the sun, the rainfall, the climate, the little breeze that tends to blow in from the next valley, and not in the least, the viticultural and winemaking traditions long associated with that particular region -- everything that contributes to the character of a wine.
"You change the way the wines are grown and vinified, and you change the terroir. That's the problem with most wines of the world and even in France these days. Everyone wants to turn wines into something they are not."
The next course consisted of thin slices of raw tuna, coated in nori (dried Japanese seaweed) and cracked peppercorns, and served with a mild garlic chile aioli. At this juncture my goal was to garner Mr. Lynch's response to wines he may had never had before - in this case a 1999 Ken Wright "Abbey Ridge" Pinot Noir from Oregon's Willamette Valley. This red wine was stunning with the tuna - its soft, penetratingly perfumed flavor, unfettered by the taste of oak (fetishly over-used by most of today's winemakers), draping itself over the buttery soft taste of the red fleshed fish. "What a surprise," says Lynch, "an American wine of finesse. No wonder they are saying that Oregon is the closest thing to Burgundy." Strong words for a man weaned on the more refined styles of original Pinot Noir sites of France.
Course No. 4 was a bludgeoning piece of meat - sinewy medallions of venison crusted by three types of peppercorns, zipped up by a reduction of natural juices, balsamic vinegar and red wine, and laced with vanilla oil. The chef's intention? To create an easy match for the 1999 Lashmar "Three Valleys" Shiraz; a classic, muscle-bound, powerhouse style of red wine from Australia with an aroma akin to sticking one's nose into a pepper grinder, enriched by pungent vanillin oak and thickened by well rounded natural grape tannin.
Mr. Lynch's reaction? "Wow, what a nose! But so much less of that overripe, alcoholic taste than other red wines I have tried from Australia... definitely not a 'Rambo.'" Would this make you want to run down and look for some great "country wines" of Australia, I asked. "Not on your life - France is plenty big enough for me right now."
We finished our meal with a three story dish constructed out of Hawaiian Vintage Chocolate - a pure and ringingly intense product, ranked by chefs as one of the Romanée-Conti's of the dessert world. The wine? Domaine La Tour Vieille's 1999 Banyuls - a raspberryish "fruit bomb" of a red wine, lusciously sweet and soft in spite of its high (17%) alcohol content. Banyuls is also one of Lynch's favorite places to visit in Southern France; its precipitously steep vineyards located just a stone's throw away from Spain, literally spilling out into the Mediterranean. "One of the easiest wine matches in the world," adds Lynch, "is Banyuls and chocolate."
And one of the easiest jobs in the world (someone, as they say, has to do it) is having dinner with Kermit Lynch -- wine merchant, adventurer, and unconquered conscience of the wine world.
March 4, 2001
To contact Randy Caparoso, write him at randycaparoso@earthlink.net.