GETTING STARTED | WINE NOTES | SEARCH SITE | DISCUSSION FORUMS | 30 SECOND WINE ADVISOR | CONTACT US
<!TODAY'S TEXT STARTS HERE!>
Wine & Food Advisory
from the Melting Pot of the Pacific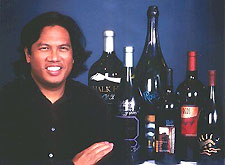 Tie Me Kangaroo,
and Other Great Wines of South Australia
© Randal Caparoso
By now, everyone who appreciates good wine is aware of the fact: South Australia produces some of the greatest red wines of the world.
Without a doubt, the Barossa Valley, McLaren Vale, and Coonawarra are the three best known regions of South Australia. Because of the fame of these districts, we are also beginning to see other wines from this state which bear less familiar regional distinctions; such as Clare Valley, Eden Valley, Langhorne Creek, Padthaway, Limestone Coast, Adelaide Hills, and the least known of all, Kangaroo Island.
But even Kangaroo Island - which has only just recently begun to be cultivated to wine grapes - is already producing wines of serious import. Meaning, Shiraz-based reds that knock your socks off, Cabernet Sauvignons of classic elegance, and blends of Shiraz and Cabernet that fuse power with elegance. And if you're assuming that I'm talking about little known "bargain" wines, think again. Not only is the 1999 Cape d'Estaing Kangaroo Island Cabernet Sauvignon, for instance, an explosion of wild, lumbering, raspberry and coffee bean spiced fruit, it is also as generously priced ($35-$45) as any great wine of the world. If you can find it - Kangaroo Island Cabernets don't exactly grow on trees.
During my most recent visit to Australia last month I did not get to cross the chilly waters south of Adelaide to Kangaroo Island, but I did get a good, hard look at what exactly makes South Australian wines the way they are.
Perhaps the biggest advantage that South Australia has over other wine regions of the world is its plethora of old vines planted on their original rootstocks. Virtually all the vineyards of Europe and the U.S., by contrast, were wiped out by phylloxera - a root louse which continues to wreak havoc even up until today - just around the turn of the 20th century, and had to be replanted on non-vinifera rootstocks. South Australia, on the other hand, was never affected by phylloxera. And so to this day, its original, ungrafted varieties of vitis vinifera -- vines of 75, 100, and even over 125 years of age -- continue to produce wines of enormous concentration, buoyed by the natural balance of low yield, moderate leaf canopy and bunch growth typical of old vine viticulture.
But what I found even more surprising was the plethora of young vines -- vineyards less than ten and even five years of age -- producing beautifully intense wines. While varied, the districts of South Australia tend to be warm and very dry. In other parts of the world this may translate into thin, overripe wines. However, South Australia's vineyards are largely made up of very shallow, gravelly, clay dominated soils situated on hard pans and hillsides -- the type of low vigor, natural conditions which wine grapes tend to love. Vines in McLaren Vale are typically grown in just 6 to 12 inches of topsoil; the vineyards located right alongside deeply carved quarries which give blue colored gravel used for concrete. No wonder McLaren Vale is known for such dense, gnarly, powerfully fruited and muscle bound reds!
The proof, as always, is in the pudding; and in the U.S. we are seeing a broader range of top quality South Australian brands than ever before. A sampling ... if you can find them:
1999 Classic McLaren, "La Testa" Grenache/Shiraz/Cabernet Sauvignon ($22-$28) - This brand is aptly named, as it demonstrates the classic South Australian blend that takes the best of the Grenache (a white peppery, sweet raspberry fruitiness), Shiraz (black pepper and violet perfumes plus strapping, meaty structure) and Cabernet Sauvignon (black licorice and blackcurrant liqueur-like concentration) grapes, and combines all of this into a big, burly, yet round and seamless structure, enthralling the senses as much as intellect.
1997 Grant Burge, "The Holy Trinity" Grenache/Shiraz/Mourvedre ($45-$55) - This bigger priced behemoth of a red offers stupendously aromatic fruit - smoky oak, plummy-sweet fruit, black leather, black pepper and star anise-like spice - as well as a deluge of thickly tannic, yet sweetly layered flavors. If you're easily undone by wine's more deleterious effects, you'd best stay clear of this; otherwise, you're likely to see angels.
1998 Dutschke, "Willow Bend" Barossa Valley Merlot/Shiraz/Cabernet Sauvignon ($35-$45) - Wayne Dutschke is such a master at layering multiple flavors, that I just might smile even if he handed me a vegemite sandwich. The Willow Bend, in fact, is a feat of levitation - wonderfully bright, dexterous, intensely oaked fruit, packing tannic sinew and fleshy, jaw dropping flavors - that simply challenges and confounds the mind. Whatever it is, it seems daring, and delicious.
1999 ADW, "The Hattrick" ($35-$45) - The Hattrick is winemaker Tony DeLisio's (who also crafts the Classic McLaren wines) vinous equivalent to a Triple Crown, combining mostly Shiraz with Grenache and Cabernet Sauvignon from three different regions, and it's a beauty - a powerful nose, spraying black pepper and lush, sweet black fruit all over the place, following up with a magnificently full, thick preponderance of Shiraz flavor, hitting the palate with both hip-hop style and classical grace.
1999 Scarpontoni, McLaren Vale "School Block" Shiraz/Cabernet Sauvignon/Merlot ($16-$22) - Not all South Australian ultra-premium wines of today are ultra-premium priced, and neither are all of them tempests in a teapot. This one, in fact, is calm, cool, and collected - a velvety textured blend of rich chocolate, brown spice, soft leather, and ringingly bright, cassis-like fruit, stretching round and effortlessly across the palate.
1999 Parson's Flat, Padthaway Shiraz/Cabernet Sauvignon ($22-$28) - The winemaker of Parson's Flat - a brilliant ball of energy named Sparky Marquis - likes to talk about a "matrix" of flavors he endeavors to achieve. That is, a wine which takes off when it hits on all cylinders; which this one does with its huge, heady nose - aromas of black and green pepper, smoke, succulent black fruit, and an entire forest of leafy, woodsy trees - plus its full, fleshy, chocolaty, black fruit and glycerol glossed flavors, lashed against thick, brawny, yet smooth, flowing tannic muscle.
1998 Henry's Drive, Padthaway Shiraz ($25-$35) - Henry's Drive is Sparky Marquis' better known label, and you can bet it's even better -- charged up with sweetly perfumed, juicy, briary, black pepper and allspice-like fruit, going full blast in the nose, and giving a layered, meaty, gripping, yet miraculously round and pliant feel on the palate.
1998 Clarendon Hills, "Hickinbotham Vineyard" Shiraz ($38-$48) - This pure Syrah, from a spectacular, higher elevation, rolling hillside estate, combines the blunt, brutish, clobbering structure associated with South Australia with a sumptuously rich, oily, satisfyingly lush taste. Does it mean that it's conflicted? No, it means that a wine lover needs to take it for what it is; and so if you can handle its fuller throttled aspects, you'll greatly appreciate the richly fruited, meaty, nostril tingling qualities that it has.
1998 Clarendon Hills, "Old Vines" Grenache ($18-$24) - In most places of the world, pure Grenache produces pure, weak, sappy wine. But old-vine South Australian Grenache is another story. Here it grows as a bush, like gnarly, somewhat oversized bonsai, and the wines it yields are etched with both the intensity and complexity of age. This one evinces strawberry and other red fruits doused in white pepper - like the "soup of fruit" so popular in restaurants not long ago - and these spicy, lush elements fill out a medium-full body, bolstered by firm yet round, fairly easy tannins.
1999 d'Arenberg, McLaren Vale "d'Arry's Original" Shiraz-Grenache ($16-$22) - Don't think of this as a masterpiece, but as a seemingly effortless two-way blend by one of South Australia's most dependable producers. Here the sweet strawberry nose is shot through with black peppercorn and black fruit perfumes, tinged by sweet dill-like, leafy-herbal notes. On the palate, the d'Arry's is fruity and round, happily supported by the taste of warm oak and smooth tannins.
August 9, 2001
To contact Randy Caparoso, write him at randycaparoso@earthlink.net.