GETTING STARTED | WINE NOTES | SEARCH SITE | DISCUSSION FORUMS | 30 SECOND WINE ADVISOR | CONTACT US
<!TODAY'S TEXT STARTS HERE!>
Wine & Food Advisory
from the Melting Pot of the Pacific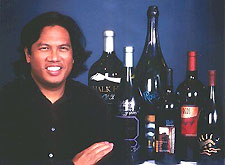 The New Variety Of "Old" Italian Wines
© Randal Caparoso
Exclusive to The Honolulu Advertiser There's a thin pocket sized book out called Jancis Robinson's Guide to Wine Grapes (Oxford University Press), which also happens to be the most authoritative book on the subject to be found. In it, Ms. Robinson gives over 800 names of grape varietals currently grown in the world today for the express purpose of producing a drink which, way back in 3rd century Greece (and that's B.C.!), Aristophanes claimed could make any man "rich, everything he touches succeed, win lawsuits, be happy and helpful to his friends."
Most wine drinkers are very familiar with Chardonnay, Cabernet Sauvignon, Merlot and Sauvignon Blanc. But have you ever heard of Airen, Ugni Blanc, Rkatsiteli, and Bobal? Maybe you should. According to Robinson's figures, these are among the world's ten most planted grapes; but in case you're wondering, in places like Spain, France's Languedoc, Bulgaria, and the Ukraine and Georgia of the Beatles' "Back in the U.S.S.R."
The point being that in spite of the growing size of its departments in grocery stores, there is a heck of a lot more wine produced in the world than what we normally see. Of course, most of the wines made from the hundreds of grapes beyond our everyday vocabulary are probably not worth bringing in. But a lot of them are!
Take Italy, for instance. I read somewhere recently that when Pompeii got smothered in A.D. 79, the town had something like 200 wine bars. If wine grapes were a happening thing then, imagine what it's like now. As a matter of fact, Italy is still very much a source of an enormous quantity of perfectly delicious, finely crafted wine (as well they should be, they've been at it for so long) made from a bewildering variety of grapes. For the average American wine drinker, it's only a matter of "discovering" them.
After all, it was some Italian who "discovered" America, despite the fact that it was already the home of several million people!
And so if you feel like rolling the dice, or rattling some ancient bones, here are some comments on six of the more unusual Italian wines -- all red -- which can be currently found in the Honolulu market:
Argiolas, Turriga 1993 ($32-$38) - According to the tragedians, the ancient Greeks drank the blood of bulls in heroic moments. If only they had the Argiolas family's thick, gooey, almost black, bloody ruby colored wine from Sardinia, made primarily from the Cannonau grape (known as Grenache in France), with a little Carignano and Malvasia Nera. Along with heady aromas of chocolaty black fruit and woodsmoky oak, this wine is strapped with tannin which, however, can barely contain a wealth of full, plump, juicy, velvety flavors. Definitely nothing to cry about!
Foradori, Teroldego Rotaliano 1997 ($16-$19) - From Northern Italy's Trentino district, the mother/daughter team of Gabriella and Elisabetta Foradori specialize in the exotic Teroldego Rotaliano grape, which makes a red wine that reminds me of crushed black cherries -- pits and all -- with a twist of black pepper and squeeze of citrusy pomegrante juice. In this bottling, the color is a rich violet hue, the aromas have a jammy sweet tone, and the flavors have a tightly grained yet soft, velvety feel; while finishing with a smack of slightly jagged, stone fruit tannins which almost seem to say, "Hey, this is not Pinot or Cabernet!"
Taurino, Notarpanaro 1990 ($12-$17) - According to Dr. Cosimo Taurino, when the Romans arrived in Apulia, the literal "heel" of the Italian peninsula, they found extensive plantings of Negroamaro -- a black juiced grape which can be a little rough around the edges, and add a little red enamel to the teeth. In the Notarpanaro, however, the grape manifests itself with a veneer of elegance; although not quite covering the big thick, chunky varietal character, and its smoky, black espresso aromatics.
Librandi, Gravello 1997 ($16-$20) - In Calabria, two Librandi brothers inherited an antiquated winery with vineyards planted with a red varietal of ancient Greek origins called Gaglioppo. "Taming" this gnarly, robust grape by blending it with Cabernet Sauvignon, the Librandi's have fashioned this marvelously rich, rounded, plush velvety wine with its full range of Italianate aromas -- soft leather, roasted peppers, and rich, pungent, roasting coffee.
Capezzana, Barco Reale di Carmignano 1997 ($12-$15) - While the red wines from the Tuscany region -- made from the originally Etruscan varietal, Sangiovese (or "Blood of Jove") -- are not nearly as obscure as others, the sheer quality and value of this bottling is too good to go unmentioned. Here you'll find the classic, sweet red cherry fragrance of Sangiovese -- glossed over by suggestions of elegantly new, suede leather -- along with gentle, round, satisfying flavors.
Dal Forno Romano, Valpolicella Superiore 1993 ($40-$45) - Although most Valpolicella is on the inexpensive side, this is a far from ordinary Valpolicella. In fact, for a wine made from grapes called Corvina and Rondinella, it's as stunningly rich and exciting as anything made from, say, Cabernet and Merlot. The "nose" is huge -- sweet, cherry liqueur-like, with slivers of toasted almond and hazelnut -- and on the palate, the flavors are thickly layered and compacted over a core of zesty, mouth watering, cherry pit intensities. Or am I dreaming? Maybe it's the bull's blood!
April 7, 1999
To contact Randy Caparoso, write him at randycaparoso@earthlink.net.