GETTING STARTED | WINE NOTES | SEARCH SITE | DISCUSSION FORUMS | 30 SECOND WINE ADVISOR | CONTACT US
<!TODAY'S TEXT STARTS HERE!>
Wine & Food Advisory
from the Melting Pot of the Pacific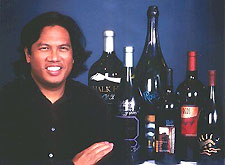 Fusion Cuisine & Wine Matching:
Over-Done or Half-Baked?
© Randal Caparoso
A few years ago a well-meaning consumer had the temerity to take some of Hawaii's new fusion chefs to task in one of our daily newspaper's editorial pages. "Pacific Rim food is over-done," he opined. "It is a ridiculous experiment gone awry... bizarre... complicated... frou frou!" And he wasn't so kind between the dots!
Although I've worked with, and actively supported, pretty much the best of Hawaii's new chefs, I can't say that I found these comments particularly hurtful. For one thing, sometimes it's true -- the new island cooking can be bizarre. For another, if this is the kind of cooking that captures the fancy of island visitors and locals alike - not to mention the lion's share of international press - it would be foolish for even the least talented chefs and restaurateurs not to incorporate these new ideas.
The ironic thing, as most food culturists observe, is that there is virtually no cuisine in this world that does not represent some kind of fusion. The Italian cooking that we know today has evolved at an incredible pace since the 19th century, influenced by foodstuffs and techniques borrowed from all over the Mediterranean, and from faraway as China and America. The various cuisines of India, China, Thailand, Vietnam, and throughout Asia result from people utilizing everything at their disposal, including all they've absorbed from neighboring countries and cultures.
In U.S. markets, sushi, spring rolls, streudel, pizza, pita, pierogi, poi and pasta are often sold side by side with nary a raised brow; and there's a good reason why they may bear little resemblance to foods of the same name in their original countries -- they've been thoroughly melted, or Americanized, into a larger pot. And it is always a matter of time before food "traditions" begin to "fuse."
What I found particularly interesting about the criticism of Hawaii's own rapidly evolving cuisine has been the degree of response to similar developments in other parts of the world. When I visited Australia a few years ago, for instance, I expected to find classy wine and maybe some classically defined foods with an Anglo-Aussie bent. No, no, what I found instead was scores of well trained chefs applying a host of East-West, North-South, cross-cultural approaches to an enviable range of meats, seafoods, and produce for a justifiably proud and appreciative populace. And why not? For a country recently known for little beyond roast lamb and a black yeast paste called vegemite, dishes like Tasmanian rock oyster in ginger black bean beurre blanc or even wallaby roulade with native warrigal spinach chips amount to exciting progressions in imagination and regional self-realization.
Even further across the globe, Californian, Asian, and Mediterranean influences have been coming together to form an even more peculiar culinary movement known as Modern British Cuisine. A recent Decanter magazine quoted one of its ringleaders, Anthony Worral Thompson, who explains: "Most Modern British chefs have trained at a serious French level and gained a good understanding of food, what works together and how it works, and when you've got that you can experiment." Basically, according to Worral Thompson, this recent movement has grown out of a "plundering" of ideas and ingredients - Thai spices, Japanese soy, Irish oysters, Italian Parmesan, French truffle oil, Old English puddings, Baltic herring, etc. - until "it's only a question of time before 'theirs' becomes 'ours.'" Call it progress, or even gastronomic plagiarism - the important thing for Worral Thompson is that "it's great to have an identity and restaurants we can be proud of."
Sound familiar? Disparate places, using different ingredients, building upon different (or indifferent) traditions, and all of this amounting to the same fortunes we have found here in Hawaii: new levels of culinary self-respect, and the commercial success that comes with it.
So is Hawaii's new regional cooking half-baked or over-done? I'm not sure if either is possible. We are, after all, the home of the mixed-plate, and our ethnic mix is one of the most homogenous in the world. We've never had to "plunder" other traditions, we live and breathe them. In Hawaii, cultural crossings beyond the previously known bounds have been the norm for such a long time, we'd be remiss if we didn't make the most of it!
From the wine perspective, these cultural and commercial needs has meant two things:
1. The need to find new and exciting wines to match this expanding culinary diversity.
2. The need to demonstrate that new Hawaiian cuisine is naturally wine "friendly," and therefore a legitimate "fine dining" venue.
Which is why, in more and more of our wine lists, we are starting to see a wider range of different wines from many, often unfamiliar, parts of the world - Marsanne from Australia's Goulburn Valley, a Teroldego from Italy's Trentino, a Spatburgunder from Germany's Pfalz, and a Cabernet Franc from France's Chinon or California's Paso Robles.
So how do we make heads or tails of some of these new fangled varietals and appellations? It's easier to understand things when we know why we need them. Fusion style cooking in Hawaii can be bewilderingly varied - utilizing Thai spices, Japanese seasonings, Chinese vegetables, Italian herbs, and French style stocks, often in one dish! Without going into excessive amount of detail, here are some observations and answers:
1. New Hawaiian cooking is often tilted towards chile and hot spices (shichimi, curries, salsas, Szechuan seasonings, et al.), as well as towards the saltiness of soy, gingered marinades, and seafood stock reductions. This orientation is more easily assimilated by either slightly sweet whites balanced by crisp acidity, or soft, round reds and pinks; as opposed to harder edged, somewhat voluminous whites such as Chardonnay and Viognier. For this example:
German Rieslings (especially Kabinett or Halbtrocken styles)

Chenin Blancs (from California, or their French counterparts from Vouvray or Savennieres)

Dry "Vin Gris" or roses made from Pinot Noir (California brands, or Marsannay from Burgundy), Cabernet Franc (Chinon), or Sangiovese (a few are now made in California)

Among reds, the softest, lightest, fruitiest styles of Pinot Noir, as well as naturally low tannin varietals such as Gamay, Grenache and Lemberger from places as far flung as California, Washington State, Australia, Southern France, Germany, and Austria
2. Mild, white Hawaiian fish set in the context of tropical fruit, coconut, milk, luau leaf, soy sauce, aggressively Asian seasonings, (kaffir, cilantro, five spice, mirin, chili pastes, fish sauces, licorice basils, etc.), slightly bitter vegetables (mesclun, eggplant, Chinese cabbages, etc.), and even traditional Mediterranean elements (balsamics, oils, tomato, basil, etc.) tend to be diametrically opposed to all but the most crisp and subtle Chardonnay based whites. There are, however, far easier matches to be found in, say,
Sauvignon Blanc (especially New Zealand and Loire River styles, as well as many from California)

Pinot Gris (also known as Pinot Grigio) from Oregon (ideal!), California, Italy, France and even Germany

Pinot Blanc (found in the same places as Pinot Gris)

Dryer style Rieslings from Germany (Trocken or Halbtrocken), Australia, New Zealand and California

Zesty, light Albarino from Spain

Semillon (especially the lime-fresh Australian bottlings)

"Rhone" style white varietals such as Marsanne, Roussanne, and some of the more moderately scaled Viogniers

Crisply balanced Italian varietals such as Arneis, Cortese and Tocai
Friulano

More moderately scaled bottlings of Gruner Veltliner from Austria, and
Fendant from Switzerland

Sleekly textured Sauvignon Blanc/Semillon or Semillon/Chardonnay blends
from Australia (there are also a few from California)

New style California blends such as Caymus' "Conundrum," the Treana
"White," and Beringer's "Alluvium Blanc."
3. The meaty, oily, fleshy qualities of all varieties of Hawaiian ahi tuna and Asian interpretations of salmon make these foods more suitable to lighter, lower tannin reds than to whites. In the home or restaurant, it's hard to go wrong with
Light, silky textured reds made from the Pinot Noir grape (especially from Oregon, and some of the finer German Spatburgunders).

Selectively lighter, smoother brands of Syrah (such as France's Domaine de Gautiere, Columbia from Washington, Qupe "Central Coast," lower range Australian Shiraz, and Carchelo from Spain)

Cabernet Franc (from California, or Chinon and Bourgueil from France)

Medium weight California Zinfandels (not the "big" ones) such as Lolonis "Redwood Valley," Edizione Penino, and Sinskey's "Adventures of Zinskey"

Lighter, zesty Italian Dolcetto, Teroldego, and some Sangioveses (such as Sangiovese di Romagna and Rosso di Montalcino)
4. The growing and more judicious use of less fatty cuts of beef, lamb, pork, and game in Asian-influenced and/or fruit oriented settings are particularly apropos with
Round, fleshy, lower tannin Merlots from California as well as Washington State, Chile, Italy, and France's Languedoc-Roussillon

Medium to full bodied Pinot Noir (obviously the most versatile red wine of all!)

New fangled California blends based upon Cabernet Franc (like Justin's "Justification" and Babcock's "Fathom")

Italian and California grown Sangioveses, and Sangiovese-based blends such as Ferrari-Carano's "Siena" and Tuscany's Carmignano

The highly underrated Tempranillo based reds of Spain (such as Rioja, Abadia and Tinto Pesquera)

Moderately tannic, brightly fruited Grenache/Syrah/Mourvedre blends from Australia, California and Southern France
The bottom line is that chefs in Hawaii and around the world are cooking up a storm, and the new types of wines that are being found to compliment their efforts certainly make our lives that much sweeter!
Updated December 1999
To contact Randy Caparoso, write him at randycaparoso@earthlink.net.