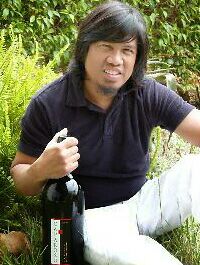 Wine & Food Advisory
from the Melting Pot of the Pacific
You Say Pinot Gris, I Say Pinot Grigio
© Randy Caparoso & Mary Ann Hardman
Wines bottled as Pinot Gris are made from the exact same grape as those bottled as Pinot Grigio. Then again, you may also see it labeled Grauburgunder, Ruländer, or Tokay d'Alsace. Confused enough? Just when you got Syrah and Shiraz down, the wine world hands you a grape variety with more names than the artist formerly known as Prince.
One thing for sure about Pinot Gris, as it is called in France as well as in Oregon and New Zealand: it has a noble bloodline. A very Burgundian heritage, in fact, as Pinot Gris - meaning "grey Pinot" in French - is a natural mutation of Pinot Noir; and in fact, ripening Pinot Gris grapes, with their reddish-grey cast and identical leaves, look very much like Pinot Noir in the fields. The pigmentation in the Pinot Gris grapes drops out during fermentation; but otherwise, Pinot Gris and Pinot Noir are very much "two Pinots in the pod." It is in Alsace, France where Pinot Gris reaches its height of glory. Crisply dry, minerally and fragrant in most vintages; and in the warmest years, huge, lush and honeyed. Just to keep you on your toes, the grape has long been called Tokay d'Alsace in this region, although Alsatian producers must now package their varietal bottlings as either "Pinot Gris" or "Tokay Pinot Gris" in accordance with recent European Community guidelines, out of deference to the famous sweet wines of Hungary often called Tokay (although usually labeled Tokaji).
For lovers of the famous, golden brown, "sticky" sweet wines of Australia bottled as Tokay, it is important to note that the "Tokay" grown there is actually made from the Muscadelle grape, completely unrelated to Pinot Gris, and originally transplanted Down Under from the Sauternes region of France. If that's not confusing enough, there is also a well known, dry white wine of Northern Italy called Tocai, which is made from a different grape altogether (don't ask). Legend has it that Pinot Gris came to be named Tokay in Alsace due to the influence of a certain sixteenth century figure named Baron de Schwendi, an Imperial general who brought back cuttings of "Tokay" as spoils of war from the Hungarian town of Tokay, which he helped liberate from the Turks. A good story, but the more likely scenario is that the grape was propagated as a favorably soft, fragrant, budded clone of Pinot Noir in France's Burgundy region, the original home of the Pinot family of grapes, as long ago as the fourteenth century; and fairly soon after, the grape found its way to Alsace along the Rhine River, and from there into Germany and Italy.
So what is the difference between the Pinot Gris of France and the Pinot Grigio of Italy's northeastern regions (notably Trentino-Alto Adige and Friuli-Venezia Giulia)? It's all in the name, boys and girls, as the grapes are of exact same lineage. The actual wines, however, are invariably different, as terroir - meaning, everything having to do with growing conditions and winemaking traditions of each region - is a major factor, just as it is with all wine grapes grown in different parts of the world. As one of the most popular, dry style white wines in the world, Italy's yearly sea of Pinot Grigio bottlings is generally a high production affair; cropped more generously and picked earlier to emphasize the lighter, more lemony crisp and floral aspects of the varietal character.
Nothing wrong with that, of course; for few wines of any sort in the world make a better match for white, flaky fish - or better yet, fleshy grilled salmon - than a typically crisp yet smoothly dry Pinot Grigio from Italy. Some commonly seen, consistently palatable brands: Kris, Zenato, Tiefenbrunner, Alois Lageder and Livio Felluga. The best part? Average retail prices range between just $9 for the Kris and $17 for the Felluga.
By way of contrast, the Alsatian Pinot Gris producers considered the best of the best - notably Zind-Humbrecht, Marcel Deiss, Domaine Weinbach, and Domaine Ostertag - are generally priced in the $18 to $30 range for "regular" bottlings, and $50 to $100 for single vineyard bottlings such as Zind-Humbrecht's exhilaratingly thick, honeyed "Clos Windsbuhl," Weinbach's superpowered "Cuvée Sainte Catherine," and Ostertag's amazingly dense, layered "Fruntholtz" and "Muenchberg" cuvées.
At such serious prices, these highfalutin wines are probably more appropriate with more serious fare like foie gras, creamy risottos, and richly sauced white meats, from pork and chicken to veal and pheasant. For the rarest and finest French Pinot Gris, think la belle cuisine française. But since we don't know anyone who eats like that everyday, sticking mostly to Italian Pinot Grigio makes all the sense in the world.
With the immense commercial success of Italian Pinot Grigio, and the critical acclaim garnered by French Pinot Gris, is it any wonder that Americans have been getting into the act for well over 20 years now? The fact that Pinot Gris is widely planted in Oregon's Willamette Valley should come as no surprise, since Oregon's cool climate has long been proven to be an ideal second home to the grape's parent grape, Pinot Noir. It was David Lett of The Eyrie Vineyards who first put Oregon-grown Pinot Gris on the map in the early 1970s, and outstanding producers like King Estate, WillaKenzie, Soléna, Rex Hill, Chehalem and Cristom have since taken the grape and run with it.
How does Oregon Pinot Gris compare to French and Italian versions of the grape? The Oregonians themselves rarely bottle their wines as Pinot Grigio, likening their style to that of France's Pinot Gris: silkier in texture, zesty without being pointedly tart, and with multiple aromatic notes of lush fruit (like melon, apple or pear), citrus (lime, lemon or orange), flowers (honeysuckle and tropical perfumes), spice (musk or white pepper), minerals (wet stone or flint), and creamy, vanillin, sometimes honeyed qualities.
Inspired by some of the more daring Alsatian winemakers such as André Ostertag, some of the Oregon Pinot Gris specialists have not been afraid to incorporate partial barrel fermentation and aging; although the prevalent style, epitomized by WillaKenzie and King's "Domaine" bottlings, favors 100% stainless steel tank fermentation and aging, capturing complexities of terroir recalling the finest of France, yet retaining a purity of grape quality much like that of Italy.
Then, of course, there is California, where interest in Pinot Gris has occurred mostly during the past decade. The Golden State has been Johnny-come-lately with this sleek, versatile grape because most of its growing regions are a tad warm, hence less than ideal for Pinot Gris. But undeterred, there are some serious, artisanal producers - such as Chalk Hill, J Wine Co., Handley and Navarro - producing California Pinot Gris every bit as complex and compelling as those of Oregon; although somewhat different, since the warmer climes make for somewhat softer, fuller bodied styles. Other Californians - notably Swanson, Luna, and Robert Mondavi's "La Famiglia" - have been making unabashed attempts to replicate the fresh, zesty, fruit scented styles of Italy; and not surprisingly, their bottlings are sold as Pinot Grigio rather than Pinot Gris.
So where in the world is the newest frontier for world class Pinot Gris? Some say it is in the Southern Hemisphere. A honeysuckle and tropical fruit scented Mount Langi Ghiran Pinot Gris from Australia's Victoria region recently gave us pause for thought. But more significantly, many of the New Zealand grown products sold in the U.S. today - especially Nautilus, Kim Crawford, Huia, and Palliser - are beautifully fresh, fruit driven expressions of the grape. Right now the prevalent style originating from New Zealand's largely cold climate growing regions seems to incorporate perceptible traces of residual sugar, rounding out palate freshening natural acidity, and amplifying pungent aromas reflecting the more tropical, lychee and white peachy qualities of the grape.
Ah, but what is being whispered by the wine "insiders" - the sommeliers, the geeks and cognoscenti - about this once and future grape? Why, Germany, of course, where variations of cooler climate terroir commonly make for white wines of dazzling perfume and lightness. While German grown Pinot Gris - traditionally labeled as either Ruländer or Grauburgunder, and mostly in the Pfalz and Baden regions not far from France - is relatively unknown in the states, German winemakers are not exactly novices when it comes to this wine. They've been cultivating Pinot Gris at least since the seventeenth century, and perhaps longer.
But if you wish to experience the sheer essence of the grape - the tingling acidity, the soaring tropical perfume, the cold steel, gripping minerality, and flowing, lingering flavors of stone fruits and honey - then we would recommend the Weinhaus Heger Pinot Gris (around $22/bottle) made by one of modern Germany's most acclaimed winemakers, Joachim Heger. Although Heger sells his wine as Grauburgunder in Germany, he adjusts to the American market by labeling it under the French nomenclature, Pinot Gris, in the U.S.
With something like Herr Heger's Pinot Gris, you need to be daring with your matching dish - a Chinese style steamed fish, truffle oil splashed white asparagus… barramundi or pink snapper in multi-colored caviar laced natural stock - and consequently you'll find yourself on a gastronomic edge, enjoying wine and food, we dare say, the way they all should be enjoyed: with levity of mind, ease over the plate, and unqualified serendipity in the glass!
May 2007
To contact Randy Caparoso, write him at randycaparoso@earthlink.net.
Back to Randy's World of wine
<!- Page Contents End Here ->