GETTING STARTED | WINE NOTES | SEARCH SITE | DISCUSSION FORUMS | 30 SECOND WINE ADVISOR | CONTACT US
<!TODAY'S TEXT STARTS HERE!>
Wine & Food Advisory
from the Melting Pot of the Pacific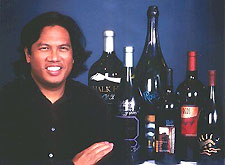 Calling All Grapes!
© Randal Caparoso
There is an easy-to-read, pocket sized guide to grapes used in winemaking called Guide to Wine Grapes (Oxford University Press), by Jancis Robinson. In it, Ms. Robinson gives details on more than 800 distinct wine varieties grown in the world today. Great book - read it!
Dr. Richard Smart - another one of the world's most respected authorities on wine growing - says there are actually between 5,000 and 10,000 grape varieties actually available.
Yet when you walk into your nearest wine or grocery store, how many different types of "varietal" (i.e. wines made predominantly from one specific grape variety) wines do you actually see? Let me see. There's Chardonnay, Cabernet Sauvignon, Merlot, and White Zinfandel. Then there's Sauvignon Blanc, Chenin Blanc, and Riesling for other whites; and for reds, Zinfandel (the red, rather than pink, versions), Pinot Noir, Syrah (called Shiraz in Australia), and Gamay. That's only ten varieties that are more or less commonly seen. What about the rest of the 5,000 to 10,000?
Obviously, the reason is commercial. These are the grape varieties that are popular, and so it makes sense for wine producers to concentrate on these wine types and ignore the thousands of others that they could possibly make. We, the wine consumers, have spoken. Either that, or the wine producers have spoken for us.
But any way you slice it, it doesn't make a lot of sense. Consumers, for instance, are certainly not satisfied with just fifteen types of cars, or fifteen types of music. We all instinctively prefer variety. If you agree, what can you do about it? The answer is to conscientiously seek out variety. Ask for it. Demand it. Look for it in restaurants, and cultivate a taste for change for change's sake.
We do that anyway - just not at a conscientiously driven pace. White Zinfandel, for instance, wasn't really "invented" until the late '60s - when flags and bras were burning -- when two California wineries (Ridge and David Bruce) made pink versions of this deep, almost black colored grape variety as decidedly noncommercial curiosity pieces. It wasn't until the mid-'70s when Sutter Home came out with sweeter versions of White Zinfandel that this wine type became popular.
The other day a close, somewhat younger, wine professional friend of mine asked me this question: what was Ma-TAY-us? It took me a few seconds to realize that she was talking about Mateus (which Americans pronounced as Ma-TOOS, although Ma-TAY-us is probably closer to the original Portuguese pronunciation), a light, fizzy, fruity pink wine from Portugal which at one time (those flag and bra burning days) was one of the top selling wines in the world. The other three probably being Blue Nun Liebfraumilch, Lancer's Rose, and Gallo Hearty Burgundy.
But when was the last time you saw one of those squat little bottles (shaped like a flat tire) of Mateus? And what about that fetchingly smiley nun? I think she's been remodeled, like Betty Crocker.
The point being, our tastes in wine do change, and almost always for the better. I'm just suggesting that if you hurry it along, your pleasure in wine will increase exponentially.
Two weeks ago I walked into a San Francisco ballroom to attend a tasting sponsored by The Wine Appreciation Guild. It was just for professional wine writers (all eleven or twelve of us, it seems), and there were some 2000 opened bottles all lined up on tables beckoning to our palates, like sweetly smiling nuns. Oh, I submitted, but after about 150 of them I cried "uncle" (the Wilt Chamberlain of wine tasters, I am decidedly not).
But I did taste a few interesting wines which I'd certainly recommend to you if you're looking to increase your pleasures exponentially. Here's six that I liked in particular:
2000 Handley, Anderson Valley Pinot Gris ($15-$20) - Handley is a grossly underrated producer from Mendocino's Anderson Valley - in my opinion, the best in the county! - which makes wines of terrifically smooth and lively qualities. This one, made from the Pinot Gris grape (the white permutation of Pinot Noir), is dry as a bone yet soft as silk; with creamy, mineral and floral perfumes that make me, for one, happy-as-a-leetle-girl.
2000 Thomas Fogarty, Monterey Gewurztraminer ($14-$18) - Love the name of this winery ("I ain't no fortunate son, ya'll"), and I'm enthralled by this lightly sweet white wine with its beautiful, on-the-money, lychee-like varietal fragrance. On the palate, it is lush and finely balanced; its off-dry character perfectly suited to things like lumpia, spring rolls, and shiu mai in sweet-spicy dipping sauces. A potential crowd pleaser!
1999 Luna, Napa Valley Sangiovese ($18-$24) - Luna has been tooling around with this red grape from Tuscany (Sangiovese) for a number of years, and I believe that it's only with this vintage that they are showing a real proficiency. I'm sure, from here on end. True to the grape, this version is round yet zesty, firmly dry yet almost sweet and succulent with black cherry flavor bolstered by rich oak qualities. Drink this up with a good grill - fish, vegetables, meat skewers and all - or within the classic Italian context of pasta, tomatoes, garlic, oils and vinegars. Can't go wrong!
1998 Sonoma "Augusta" ($18-$24) - This is a commemorative red wine bottling, made primarily from the Barbera grape, produced by Sebastiani Vineyards; and it's a dandy - chock full of blackberry, roasted meat and Italianate leather aromas, and full and fleshy with flavors, combining youthful spite with a knowing sophistication. What do you expect? Sebastiani has gone way beyond its "na´ve, domestic Burgundy" days, and red wine lovers would be foolish to pass up on their mastery - particularly of the zesty, highly food worthy Barbera grape. This is a wine you can drink everyday, with deepening appreciation.
1997 Murrieta's Well "Vendimia" ($22-$28) - This is not a varietal bottling, but a blend of four red varieties - Cabernet Sauvignon (mostly), Merlot, Cabernet Franc, and Zinfandel. Blends of Cabernet and Merlot, you've probably known and loved before; but I believe it's the dash of Zinfandel - the palate pulsating, sweetly aromatic Zinfandel -that gives this wine that extra kick, that flair and flourish, combining to make lush, smoky, herbal tinged aromas that land on the palate with rich, juicy, yet perfectly civilized aplomb. Buy, and enjoy, this beauty before it is suddenly "discovered" by the big-name wine magazines, resulting in the usual surge in price.
1998 DeLoach, "Splendo Blendo" ($30-$40) - Ignore the hokey name, because there isn't anything hokey or dopey about the taste of this red wine, blended from Cabernet Sauvignon, Sangiovese and Merlot. In fact, it is a stunningly original, and delicious, red wine, just dripping with red and black berry flavors, and aromas that emerge from the rims and grab you like a genie from a bottle. Or is it "genius" in a bottle? Whatever it is, Cecil DeLoach (who recently announced his retirement) and his winemaker, Dan Cedarquist, have come up with real winner!
May 14, 2001
To contact Randy Caparoso, write him at randycaparoso@earthlink.net.