GETTING STARTED | WINE NOTES | SEARCH SITE | DISCUSSION FORUMS | 30 SECOND WINE ADVISOR | CONTACT US
<!TODAY'S TEXT STARTS HERE!>
Wine & Food Advisory
from the Melting Pot of the Pacific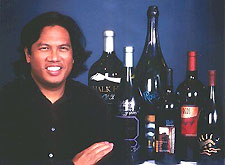 Gold in Them Hills
© Randal Caparoso
The Santa Rita Hills. Happy Canyon. Los Alamos Valley. Ballard Canyon. Santa Maria Valley. Santa Ynez Valley. What do all these place names have in common?
These are all recognized, and climatically and geographically distinctive, sub-regions of Santa Barbara County, now known for some of the richest and most elegant wines made in California. Three of these regions - Santa Rita Hills, Santa Maria Valley, and Santa Ynez Valley - are sanctioned by the U.S. Treasury Department's Bureau of Alcohol, Tobacco and Firearms (BATF), which regulates wine labeling in the U.S. - as official "AVAs," or American Viticultural Areas.
This means, of course, that no wine made from grapes grown outside of Santa Maria Valley can be labeled as such. Just as no wine grown outside of Bordeaux in France can carry a Bordeaux designation; the same goes for the Mosel-Saar-Ruwer in Germany, Toscana (Tuscany) in Italy, Ribera del Duero in Spain, Maipo Valley in Chile, McLaren Vale in Australia, and so forth. This is good for the consumer, since there are certain quality and style expectations associated with wines from these famous regions. It's good to know that some governmental body or another is looking out for our interests.
Except, of course, when you have no quality or style expectations, which is the case for most people when it comes to, say, the Santa Rita Hills. Heck, the first I heard of this newly approved Santa Barbara AVA was barely two months ago. But last week I was fortunate enough to have been given a firsthand, nook-and-cranny tour of the Santa Rita Hills by one of the region's most famous winemakers, Bryan Babcock of Babcock Vineyards.
What I learned was that the Santa Rita Hills is the coolest part of Santa Ynez Valley. This was made abundantly clear by the fact that I spent the morning in the opposite of Santa Ynez Valley in a place called Happy Canyon, which was hotter than the proverbial Hades. But I spent the afternoon in the Santa Rita Hills, which enjoys perpetual blasts of refrigerator-like winds courtesy of the Pacific Ocean, located less than 15 miles away. There is one new hillside vineyard in the region that is called Sea Smoke, in reference to the visible blanketing of saline scented air on all sides of the Santa Rita Hills even on the brightest Central California day. The upshot is that this is a superior region for grapes that excel in cooler climes, such as Pinot Noir and Chardonnay. (If you would like to read the formal petition to BATF requesting establishment of the Santa Rita Hills AVA, see http://www.clospepe.com/AVA.html. For more about the wines and wineries of the Santa Barbara region, see the Santa Barbara County Vintners' Association, http://www.sbcountywines.com/.)
.
One of Bryan Babcock's primary grape sources in the Santa Rita Hills is a vineyard called Mt. Carmel, which only five years ago was laid out by a group of nuns who also sought to build a peaceful hilltop retreat on the property. Alas, halfway through the construction of their cloister the nuns ran out of money, and they were forced to sell the property, lock, stock and, literally, wine barrels. But Bryan Babcock has continued to produce wine from these beautifully maturing vines. His 2000 Babcock "Mt. Carmel" Pinot Noir, for instance, is stunningly rich, refined, plush and juicy. A red wine which, if Raymond Chandler ever wrote on the subject, would make a priest punch a hole through a plate glass window.
But the ironic thing is that although the Babcock "Mt. Carmel" Pinot Noir is grown within the Santa Rita Hills viticultural region, Bryan Babcock has no intention of marketing it as "Babcock Santa Rita Hills Pinot Noir." Why? Because one of the largest, oldest and most popular wineries in Chile is called Vina Santa Rita. "Why take a chance of being sued?" says Babcock. "We're not big or wealthy enough to tangle with a company like Santa Rita, which distributes all over the U.S., and would probably have vested interests in protecting their brand name." According to Babcock, "I would rather wait to see what happens if another Santa Barbara winery markets a Santa Rita Hills Pinot Noir. If Santa Rita, or their American supplier, leaves them alone, then I might consider using the name."
After wandering through Happy Canyon and Santa Rita, and then up through Los Alamos, Santa Maria Valley, and finally, the Arroyo Grande and Edna Valley regions in San Luis Obispo (the county just to the north of Santa Barbara), I am happy to confirm what I have suspected for some time now: that California's Central Coast is a great, great wine region. Arguably, better than the more vaunted Napa Valley and Sonoma County, owing to its climatic and geographic advantages. The wines from Santa Barbara and neighboring San Luis Obispo not only tend to be more aromatic and flavorful, but also crisper, fresher, livelier, better balanced, and longer lasting on the palate. As anyone, from priest to hoi polloi, would say, what's not to like?
Here's what I liked best:
1999 Au Bon Climat, "Clos Pepe Vineyard" Santa Ynez Valley Chardonnay ($20-$25) - Clos Pepe is another Santa Rita Hills vineyard source, and this wine epitomizes the regional style - bone dry, taut and crisply acidic, yet silky smooth, fresh and lively on the palate, revved up by fragrantly apple-like, mineral water-like qualities, flowing like milk and honey.
1998 Babcock, "Grand Cuvee" Santa Barbara Chardonnay ($22-$28) - This wine takes the back seat to no other - it runs with the biggest bulls of Santa Barbara, Napa, Sonoma, or any other region. The nose is compelling big, lush, and creamy rich - nothing shy here! - and while full of smoky oak and dripping, almost tropical fruit flavors, the palate feel still ends up refined, almost filigreed in layer and complexity.
2000 Verdad, Santa Ynez Valley Albarino ($14-$18) - This white wine, produced by Qupe Vineyards' Bob Lindquist under his new sub-label (Verdad), represents the first successful California bottling of the Albarino grape, which originates in Spain. The wine is dry and zesty, in the tradition of the finest Spanish grown Albarinos, wonderfully light and scented, suggesting honey, wild flowers, and flinty smoke. Try this with your next shrimp cocktail or, better yet, seviche. A historical first, and a delicious one at that.
1999 Babcock, Santa Barbara "Fathom" ($25-$30) - This is Babcock's Bordeaux style red, made from most Cabernet Franc, with Merlot as well as Cabernet Sauvignon from the warmer parts of Santa Ynez Valley. There is a beautiful array of aromas - sweet anise, mint, peppermint, blackberry and roasted pepper - in the nose, and the palate is firm with medium tannin, giving a compact feel, yet velvety smooth and layered with smoky, leafy, sweet berry flavors.
1999 Andrew Murray, Santa Barbara "Esperance" ($18-$24) - This is what they call a "Rhone" style blend of the Grenache and Syrah grapes, combining the best qualities of both - come-hither roundness, with muscle bound feel and stuffing. The aromas are of sweetly ripened, almost raisiny, red and black berries, interspersed with smoky oak, peppercorn and roasted nut qualities, as substantial in the nose as it is in the mouth.
1999 Au Bon Climat, "Cuvee Isabelle" Pinot Noir ($45-$60) - Wineries such as Babcock, Costa de Oro, Lane Tanner, Arcadia, Talley, and Hitching Post have long been known for first class Central Coast Pinot Noir; and as such, the finest in the country. But this particular blend is the queen of them all; unbelievably fine, fragrant and smoky in the nose - suggesting hard spices like cinnamon, clove, vanilla bean, sandalwood and allspice -- and elegantly layered with lush, silken flavors that caress every part of the palate. Sensuously round and fluid.
July 15, 2001
To contact Randy Caparoso, write him at randycaparoso@earthlink.net.