<!- Page Contents Begin Here ->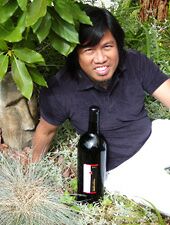 Wine & Food Advisory
from the Melting Pot of the Pacific
Holiday wine buying for tough cookies
© Randal Caparoso
When it comes to gift giving, it is the thought that counts. If that's the case, then it's also safe to say that it is almost better to give nothing - if what you give is chosen without at least some thought. I think all of us who have had our share of ugly ties, processed cheese, and cheap, smelly perfumes can agree on that.
Wine makes a fabulous gift - when it is fabulous. But take it from a wine lover who has tried almost everything: fabulous does not necessarily mean expensive, or even rare. What a wine lover really wants for Christmas is something fun, something delicious, something unique, stimulating, and above all, given with some degree of thought. If you can't do that, then you better to stick to ties, cheese and perfumes.
With that in mind, once again I've asked my friend Roberto Viernes – the gifted, young sommelier from Honolulu's Mariposa in Neiman Marcus – to help me select gifts for eight of the more common, but not exactly easy, types of people who appreciate wine. Here are our choices:
The smarmy, know-it-all/been-there-done-that brother-in law – Roberto's choice is the 1994 Chateau Musar ($35-$40) from, of all places, the ancient land of Lebanon; because, as he says, "I guarantee he hasn't tried this wine!" Roberto also says that even the smarmiest brother-in-law "would have to give into Musar's wonderfully charming personality." Personally, I've always found Chateau Musar - a powerful, aromatic red wine made mostly from the Cabernet Sauvignon grape - somewhat chewy, like shoe leather; and I don't really have a brother-in-law that I dislike enough to give that to. So my choice would be an equally unusual red wine, the 2000 Chinon "Les Varennes du Grand Clos" by Charles Joguet ($22-$28) – made from the soft and lush Cabernet Franc grape (as opposed to the harder, heavier Cabernet Sauvignon) grown in France's Loire River region. Let him eat fruit, not shoe leather!
A senior partner in a law firm – I don't know if it's high standards for wine or of themselves that big shot lawyers possess, but clearly something royally rich for them to kick back on – "with big, fat Cuban cigars," as Roberto sees it – is in order. Mr. Viernes' choice would be a classic 2000 Vintage Port from either Fonseca or Taylor Fladgate (both $90-$100). I think authentic Port from Portugal is a capital idea, but a more impressive choice might be the 2000 Quinta do Vesuvio ($60-$70). Why? Because Vesuvio is not as famous as Fonseca or Taylor; but unlike Fonseca and Taylor, it is a single vineyard selection (most Vintage Ports are multi-vineyard blends) owned by the Ferreira family (as it were, my favorite Port producer), with somewhat sweeter aromatics of violets, black licorice, and all the blackberries in the world. My choice also costs less than Mr. Viernes'; and lord knows, there's nothing lawyers like better than a good deal.
Your dentist – Roberto recommends a white wine so your dentist "can't complain about stained teeth." But dentists generally have very good tastes in wine, and Roberto's choices of either the 2000 Domaine Leflaive Puligny-Montrachet from France or the 1999 Joseph Phelps "Ovation" Chardonnay from Napa Valley (both wines, $45-$55) are excellent. If you play golf with your dentist, you may as well buy one of each. My choice would also be a clear colored wine that is best served cool and refreshing; but one made from rice, rather than grapes: the Yaegaki Mu "Nothingness" ($45-$55), an authentic "daiginjo" (highest quality) sake from Japan. In fact, I think this dry style sake (my favorite in the world) is finer than most white wines, with intense fragrances of white peach, mango, and icy mountain streams flowing over smooth stones. Wouldn't that, for once, blow your dentist's mind?
Your favorite soccer mom or dad – For severely time strapped people like soccer moms and dads, Roberto recommends an entire case of 2000 Tormaresco Chardonnay (12 bt./$120-$135) because it is "a perfect everyday wine that is versatile and exuberant." Me? I think a single bottle of one of my favorite German Rieslings – the 2001 Robert Weil Estate Riesling Kabinett ($18-$22) – is perfectly appropriate, plus clean as a whistle, smooth as silk, and as sweetly crisp as an apple on a Christmas day.
A girlfriend who makes three times more than you – This is a guy's predicament, and I've known some who've been there. Roberto says that "a woman who makes that much money won't be impressed with anything less than a great bottle of the finest vintaged French Champagne, such as the 1990 Salon ($155-$195)." Ye gads, I think Roberto forgot that it's the girlfriend, not the guy, who is pulling down 150K. But still, I'd have to go along with Viernes' choice of Champagne, since I've known women who practically like to bathe in the stuff. My choice would be a nonvintaged Champagne that I consider to be just as good – in fact, many connoisseurs would say better! – as any vintaged one: the Krug "Grand Cuvee" ($105-$135). Never mind the fact that the bubbles in the Krug are so fine that you'd swear they were put there by tweezer twirling Keebler elves, note the price. This might leave the poor boy enough to buy some perfume from the Neiman Marcus counter.
If your boss is a Republican – Roberto wisely recommends the super powered 1998 Lokoya Diamond Mountain Cabernet Sauvignon ($110-$130) because right now "the Republicans are sky high atop the political mountain." If you can't find the Lokoya, look for my choices of the finest mountain grown red wines: either the huge, black, explosively spicy 1999 Jade Mountain Mount Veeder "Paras Vineyard" Syrah ($50-$60), or the more suave and elegant, yet equally luxurious 1999 Laurel Glen "Sonoma Mountain" ($85-$95).
If your boss is a Democrat – Roberto suggests that the best way to cheer up a member of a losing party is a bottle of the lush, fruity, gently effevescent Michele Chiarlo "Nivole" Moscato d'Asti ($10-$12/half bt.). I don't think Democrats need cheering up, they just need to find their cajones, if you'll pardon the expression; and there are no better wines for that than a selection of rude, wild, rustic, thick, gnarly yet soulful red wines imported from France by the famous Kermit Lynch. I'd recommend a combination of the 2000 Saint-Joseph "Offerus," the 1999 Madiran "Chateau de Perron," the 1998 Domaine de Trevallon, the 2001 Morgon by Marcel Lapierre, the 2000 Vieux Telegraphe Chateauneuf-du-Pape, and the 2000 Banyuls by Domaine La Tour Vieille. Black, bootstrap reds, each and every one of them, retailing for between $25 and $55 apiece.
If your friend already has a great cellar full of classics – What do you give to the wine lover who has everything? Roberto would choose the 1997 Castello Banfi Brunello di Montalcino ($40-$45) because many collectors consider the Brunellos from this vintage to be so good and reasonably priced (for them) that they are drinking them up like "house wine." But for me, Brunello di Montalcino is still a traditional choice, while there are always plenty of new, fascinating, cutting-edge, high quality wines being produced all over the world – more than the most serious wine lovers can shake a stick at. These are eight of the most unique and notable wines I've tasted during the past year: the huge, lusciously flavorful 1999 L'Adventure "Optimus" ($45-$55) from California's Paso Robles, the intricately layered, Tempranillo based 1998 Dehesa la Granja ($25-$30) from Spain, the scintillatingly scented 2000 Blue Mountain Pinot Noir ($20-$25) from Canada's British Columbia, the sensuously textured 2000 Campion Santa Lucia Highlands Pinot Noir ($35-$45) and 1999 Domaine Alfred "Califa" Pinot Noir ($35-$45) from California's Central Coast, the essence-of-velvet 2000 D-Cubed "Howell Mountain" Zinfandel ($28-$33) from Napa Valley, and the resoundingly rich, regal, musclebound 2000 Tikal "Jubilo" ($45-$55) from Argentina.
December 2002
To contact Randy Caparoso, write him at randycaparoso@earthlink.net.
Back to Randy's World of wine
<!- Page Contents End Here ->