GETTING STARTED | WINE NOTES | SEARCH SITE | DISCUSSION FORUMS | 30 SECOND WINE ADVISOR | CONTACT US
<!TODAY'S TEXT STARTS HERE!>
Wine & Food Advisory
from the Melting Pot of the Pacific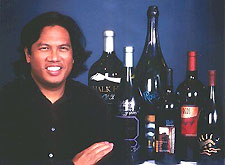 Highlights from Germany
© Randal Caparoso
Excursions through the Baden, Pfalz, Rheingau & Mosel-Saar-Ruwer Regions in July 18-29, 1999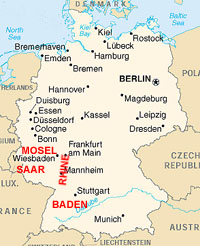 This tour of Germany was a great opportunity to experience a number of alternative varietals and wine types from this part of the world not normally seen in the U.S.; particularly Scheurebe, Muskateller (a very exotic and flowery variation of Muscat) and Silvaner; extensively planted white hybrids like Muller-Thurgau (Riesling x Gutedel, often bottled as Rivaner), Bacchus (Silvaner/Riesling x Muller-Thurgau), Kerner (Trollinger x Riesling); and even some surprising Chardonnay. Of particular curiosity were red varieties like Portugieser and Dornfelder (an easy, fruity Helfensteiner x Heroldrebe crossing); plus all the noble varietals and variations derived from the increasingly popular Spatburgunder (Pinot Noir), such as Grauburgunder (Pinot Gris, also known as Rulander), Weissburgunder (Pinot Blanc), and Weissherbst (blanc de noirs from the Pinot Noir, ranging anywhere from light pink to pale white in color).
But as you would expect, our interest focused primarily on the enormous range of wines produced by the Riesling grape. Luckily in July, we were able to concentrate mostly on 1998s - a clean, fresh, highly representative vintage of generally intense fruit extract and lively, balancing acidity - which were decently settled after bottling in April.
Also as you would expect, there was some degree of expectation in regards to Riesling's vaunted ability to compliment contemporary style foods. Or, as one New York wine consultant (who dubs himself, the "Wine Avenger") blithely puts it: "Nothing, I repeat, nothing marries better with more foods than Riesling." My own findings after twelve days of deliberate food xperimentation? No, I cannot say that Riesling is able to leap tall buildings (or at least, tall orders of foods from the most classic to the most exotic) in a single bound. I found it to be predictably great with fatty foods like German style blood sausages, liver dumplings and sausages, and saumagen (pork sausage stuffed in stomach lining and served thinly sliced in rounds roughly the size of manhole covers); the ubiquitous sauerkraut, fresh or smoked trout, and not to mention the traditional German methods of brutally overcooked roast pork and beef (from which juicy, off-dry Rieslings can offer some relief).
But with more universal food types that we tried -- like roasted duck, veal with morels, sweet tomato and greens in herb infused vinaigrettes, scallops with chanterelles, trout in buttery almond sauce, chicken curry, pasta in cream sauce, puff pastry stuffed with blue cheese, and even roasted lamb -- the question was never so much the ability of the lithe, cutting, acid and fruit driven dimensions of the grape to smooth over a dish, but more of the intrinsic balance within a particular given wine. Whether finished with a trocken dryness or anything up to an Auslese sweetness, I generally found that the finer and more balanced the wine, the more apt it is to compliment the dish. Conversely, the finer and better balanced the dish, the more apt it is to find a match with a Riesling. Then again, this is a phenomenon common to nearly all foods and all wines. So whether or not Riesling holds the answer to wine related gastronomy as we know it, to my mind such a debate shall rage on.
But one thing for sure: Riesling is not a grape to be trifled with. As Randall Grahm - head cheese of the modern Riesling Manifesto movement - puts it, "Riesling is perceived to be the nerdiest possible grape, but is in fact the very hippest... the Jerry Lewis in the Nutty Professor, the Buddy Love of all grape varieties."
Well then, let's celebrate the Love!
SPECIAL NOTE
The following represents the wines that I found to be the most significant within each category and region. Not coincidentally - as the co-coordinator of this tour (along with the German Wine Information Bureau) -- Rudi Wiest's Cellars International imports the bulk of these standouts into the U.S. Although companies like Valckenberg, Epic, and Terry Thiese are also significant, Rudi is unquestionably the most dependable, accessible, not to mention the most tireless and conscientious promoter of high quality German wine in this country. Therefore I have placed an asterisk (*) in front of each wine whose producer he represents. Not every wine mentioned here will necessarily be available in the U.S., since the range of wines put out by the best producers can be staggering. Nevertheless, these notes could be considered pretty much indicative of the extraordinary quality level at which each respective producer works.
RIESLING TROCKEN
Generally speaking, we found trocken style Riesling to be Germany's most curious, and troublesome, category. With few exceptions in Mosel-Saar-Ruwer, dry styles currently represent some 50% to 80% of every winery's production -reflecting the demands of the German market -- although they clearly do not represent the best of what German Riesling is capable of giving. It is not just a question of balance --wines lacking sugar and thus leaning towards the thin, sharply acidic side -- but also of higher alcohol. At the 11% to 12% alcohol levels typical of wines fermented all the way to dryness, German style Rieslings are likely to loose the fine, graceful, delicate qualities which make them so unique in this world.
At Schloss Vollrads -- one of the pioneers of the modern dry style -director Dr. Rowald Hepp shared this interesting observation: "Riesling expresses itself best in the presence of sugar. You can discover this yourself by taking any trocken and just adding a dash of plain sugar. The sugar mobilizes the aromatic effect to the nostrils, which communicates a fruitier, richer quality to the brain. Unquestionably, the best Rieslings are made in the fruity, or what we call 'classic,' style, especially at the Qualitatswein mit Pradikat level."
With all this in mind, it is quite a feat indeed for any German producer to achieve depth and elegance in spite of this handicap, known as trocken:
1998 Schloss Vollrads, Kabinett Trocken (Rheingau) Fine, leafy green and unusually floral (for trocken style Riesling) perfumes, with a trace of petrol; light-medium body carrying surprising melony, silken textured fruitiness, and gently tart, refreshing acidity, in spite of lack of sweetness.
* 1998 Hochheimer Holle, Auslese Trocken, Weingut Kunstler (Rheingau) Light spritz; floral, slightly creamy aroma with a drop of fusel oil; not heavy at all on the palate, but rather gentle, well balanced, and extended by a silky smooth texture.
* 1998 Hocheimer Kirchenstuck, Auslese Trocken, Weingut Kunstler (Rheingau) As with the Hocheimer Holle, Franz Kunstler harvests clean, healthy, unbotrytized grapes for his trocken style Auslese. The Kirchenstuck is particularly successful, giving light, dried apricot and peach pit toned fragrances, with flowery nuances; the dried fruit qualities continue on the palate, with lively acidity amplifying long, lovely, silky flavors.
Weingut Dr. von Bassermann-Jordan (Pfalz): 1998 Ruppertsberger Hoheburg, Kabinett Trocken 1998 Forster Jesuitengarten, Spatlese Trocken 1998 Deidesheimer Kalkofen, Spatlese Trocken Bassermann-Jordan's stable of dry Rieslings in 1998 is of uniformly smooth, finely balanced quality, and light towards medium in weight -- starting with the floral fresh Hoheburg Kabinett, whose creamy fragrance is punctuated by a fresh peach fruitiness, with soft, round, easy, flavors livened up by a light, lemony crispness. Among the Spatlesen, the Jesuitengarten shows lemony citrus, cream and minerally chalk in the nose; zesty on the palate, finishing firmly dry, yet fresh and easy. There's even more minerality in the Kalkofen to go with a creamy, floral fragrance; on the palate, the dry and lemony fruit flavors come across as light, fresh, surprisingly fine and gentle, belying the aggressively fruity, minerally nose.
1997 Kanzemer Altenberg, Qualitatswein Trocken, Weingut von Othegraven (Saar) Perfumey peach concentration -- very generous for a trocken -- in the nose; good, crisp, dry, lean but fresh, zesty qualities on the palate, carrying light mineral and stone fruit subtleties.
* 1998 Weinhaus Heger, Riesling (Baden) Not bottled as a Trocken, but listed here because I think of this as a dry style, achieving a dominating presence similar to that of Alsatian grown Rieslings, but with a Germanic sense of moderation and refinement; floral fresh nose with hints of peach blossom and peach juiciness; a sweet entry in the mouth turning bone dry in the middle and finish, with medium, palate freshening acidity.
RIESLING HALBTROCKEN
For all intents and purposes, halbtrocken style Rieslings taste "dry," even given allowances for up to 18 grams of sugar (not much, considering the naturally high acid levels). In fact, the difference between a trocken (up to 9 grams sugar allowed) and halbtrocken seems so subtle -- certainly beyond the apprehension of the vast majority of consumers (German or otherwise) -- that it makes you wonder why the distinction even exists. So much for simplification of German wine laws!
* 1998 Brauneberger Juffer, Halbtrocken, Weingut Fritz Haag (Mosel) Clear, fresh, floral rose petal-and-leaf scent; lightly tart, green appley taste; refreshingly dry, minerally nuanced finish
* 1998 S.A. Prum, Halbtrocken, Qualitatswein (Mosel) Light spritz; soft, floral, citrus, flint and melon fragrances; finely balanced, barely perceptable sweetness with citrusy feel and uncomplicated lightness and freshness.
* 1998 Dr. F. Weins-Prum, Halbtrocken, Qualitatswein (Mosel) Very juicy, intense, tropical fruit, nectarine, almost peach-like qualities in the nose; leaner on the palate, with citrusy fresh but balanced dryness giving a slightly steely edged sense of fruitiness.
* 1998 Balduin von Hovel, Halbtrocken, Qualitatswein (Saar) Flowery and flinty qualities mingling in the nose with lemony fruit; crisp, lemony qualities on the palate; dry, light, and refreshing.
* 1998 Saarburger Rausch, Halbtrocken, Weingut Forstmeister Geltz Zilliken (Saar) Besides this, Hanno Zilliken produced a Kabinett level Saarburger Rausch Halbtrocken with distinctively more mineral and nervy acidity that this QbA level halbtrocken; but the slightly fuller (chapitalized to 11% alcohol) and fruitier qualities of this particular bottling gives it an edge in attractiveness. The nose is fragrant, filled with honey and peaches, with light tropical fruit and slaty minerality; on the palate, a silky, minerally, fruity feel balances out its tight, crisp, slightly lean dryness.
RIESLING KABINETT
The Pradikatswein range is where German Riesling really begins to shine --unchapitalized fruit allowed to finish at more delicate levels of alcohol (7%-10%) and with the benefit of moderate, natural residual sugar.
1998 Johannisberger Goldatzel, Kabinett, Weingut Johannishof (Rheingau) A classic Rheingau; elegantly defined and focused lemon/lime fragrance with green leafy nuances; soft, tender light-medium body, fresh and very finely balanced, finishing long and off-dry.
* 1998 Weingut Robert Weil, Kabinett (Rheingau) Chalky/minerally notes mingling with exceptionally intense, penetrating flowery and lemony citrus perfumes; very fine, feathery light, precision balance on the palate, giving suggestions rather than sensations of sweetness.
1998 Deidesheimer Leinhohle, Kabinett, Weingut Dr. von Basserman-Jordan (Pfalz) More hedonistic sensations of tropical, pineappley-rich fruit in the aroma with faint minerally qualities; lightly tart fruit with an elegant, mineral toned profile, evolving into an expansive, rather dramatic richness on palate.
1998 Forster Jesuitengarten, Kabinett, Weingut Dr. von Bassermann-Jordan (Pfalz) More flowery scented nose with a light, flinty minerality; delicate, easy qualities on the palate, finishing with fresh, zesty fruit impressions.
* 1998 Oberemmleler Hutte, Kabinett, Weingut von Hovel (Saar) Lighly honeyed, lemony floral fragrance; fresh, lithe crisply balanced fruit, with subtle, cutting acidity revving up a moderately sweet finish.
* 1998 Wehlener Sonnenuhr, Kabinett, Dr. F. Weins-Prum (Mosel) Juicy melon, flint, citrus, peach and floral spice -- virtually "everything" here in this aromatic profile -- continuing on with a vibrant, lively, lush, creamy textured feel on the palate; off-dry with just hints of sugar; finishing citrusy fresh, yet long and silky/lacy.
RIESLING SPATLESE
As in the better years, the great growths appear to have achieved a full fledged expression of the grape at the Spatlese level; meaning, not so much high kicking, over-the-top fruit concentration as in the decadently rich 1998 Auslesen, and not so spare as the 1998s at the Kabinett and QbA levels. The high fruit extraction combined with healthy doses of acidity in the 1998 Spatlesen can also be explained by the fact that in both the Rheingau and Mosel-Saar-Ruwer, clean, relatively uniform, unblemished fruit picked at Auslese range sugars were regularly downgraded to Spatlese, while Auslese grades were reserved for fruit picked at upper must weight ranges for Auslese, overlapping into Beerenauslese.
* 1998 Graacher Domprobst, Spatlese, Dr. F. Weins-Prum (Mosel) Exactingly fine concentration of melony fruit with with citrusy, fragrant qualities; zesty fresh fruit entry, becoming long, honeyed, almost viscous; finishing with a mildly citrusy freshness.
* 1998 Urziger Wurzgarten, Spatlese, Weingut Monchhof (Mosel) Creamy, airy fresh, flowery fruit fragrance with hints of melon and flintiness; lithe, flowing, airy soft qualities on the palate; zesty, mouth watering fruit of great clarity, underlined by a subtle minerality.
1998 Urziger Wurzgarten, Spatlese, Weingut Joh. Jos. Christoffel Erben (Mosel) Flowery and crushed leaf fragrance; lush, light, lively fruit concentration at the center of the palate, bound together by lemony zest and creamy texture, skipping lightly away towards a smooth, effortlessy balanced finish.
* 1998 Trittenheimer Apotheke, Spatlese, Weingut Milz (Mosel) An aggressively fruited aroma with flowers and minerals; following up on the palate with luscious, zesty, almost beefy fruit qualities; deep, juicy fruit, soft in the center, but enlivened by taut, electrical acidity and stony minerality. Amazing fullness and muscle for an 8% alcohol wine.
1998 Bernkasteler Doctor, Spatlese, Weingut Wwe Dr. H. Thanisch Erben (Mosel) The famous Doctor is typically tight and elegant in 1998; floral fresh, creamy, slightly spicy fragrance emanating from a kiwi/peach-toned center; small, compact, but filled with citrusy acidity mobilizing the juicy melon, medium sweet fruit towards a creamy smooth finish.
1997 Wehlener Sonnenuhr, Spatlese, Weingut Selbach-Oster (Mosel) A juicy, "fruit bomb" masterpiece; extraordinarily fragrant, citrus, melony, flowery bouquet, leaping from the glass; the high toned, zesty fruit continuing on the palate; vibrant, tingling, succulent sensations, unfolding with head shaking elegance and perfection of balance towards a long, seamless finish.
1998 Zeltinger Schlossberg, Spatlese, Weingut Selbach-Oster (Mosel) While not as dramatic a growth for Selbach-Oster, the Schlossberg gives lively green melon and citrus fragrances with sweet pea nuances; bracingly crisp, zesty, citrusy medium sweetness, effecting a spare but mouth watering juiciness on the palate.
1997 Kaseler Nies'chen, Spatlese, Weingut Karlsmuhle (Ruwer) A small, tight, floral nose with earthy, fusel-like nuances; after a softly sweet, rounded entry, suddenly exploding on the palate with flavors almost dripping with peaches and spicy minerality.
1998 Maximin Grunhauser Abtsberg, Spatlese, Carl von Schubert'sche Gutsverwaltung (Ruwer) Slightly fuller nose for this famous Ruwer estate -- grapefruity, flowery, hinting at petrol and flinty, spicy earthiness. Very delicate and harmonious on the palate; flavors of zesty, juicy peach and slightly oily, petrol qualities, lingering on and on.
* 1998 Saarburger Rausch, "Auction" Spatlese, Weingut Forstmeister Geltz Zilliken (Saar) This wine was picked frozen solid on November 19 at 100 oechsle; but in accordance with the law, is labeled as Spatlese rather than Eiswein. The nose is incredibly juicy -- luscious with sweet melon, citrus and honey -- yet tightly concentrated at the same time. On the palate, a zesty, luscious, tautly concentrated high wire balancing act of honeyed fruit and palate tingling acidity, finishing with scintillating lime and medium sweet, apricot pit suggestions.
1998 Forster Jesuitengarten, Spatlese, Weingut Dr. von Bassermann-Jordan (Pfalz) A powerful, penetrating nose of tropical fruit (hinting at pineapple), minerals and flowery perfume; medium sweet and outwardly refined (deceptive delicacy) on the palate, but charged with bell ringing intensity -- luscious, lively, concentrated fruit in multiple layers and of extraordinary length.
1998 Ruppertsberger Nussbien, Spatlese, Weingut Dr. von Bassermann-Jordan (Pfalz) A gripping, forward style, even for Bassermann-Jordan; giving tremendous, smoky flintiness tinging rich, lush, floral fruit aromas; densely layered, high toned, luscious fruit qualities on the palate, with a lively, medium sweetness filled out by leafy green and minerally complexities.
* 1998 Forster Kirchenstuck, Spatlese, Weingut Reichsrat von Buhl (Pfalz) Sumptuous fruit perfume; medium sweet qualities starting off in tense balance with citrusy acidity on the palate, but finishing soft, round, rather plushly fruited, with nuances of smoky minerality running from beginning to end.
* 1998 Kiedrich Grafenberg, Spatlese, Weingut Robert Weil (Rheingau) Picked at 125 oechsle (Auslese level) with partial botrytis, giving exceptionally fragrant, floral, airy fresh fruit with slightly honeyed touches of peach and apricot; light, easy, soft and luscious fruit on the palate, picked up by razor sharp, snappy acidity effecting a long, lively, medium sweet finish.
1998 Assmannshausen, Spatlese, Weingut August Kesseler (Rheingau) A classic beauty of a Rheingau nose, portraying a clean, compelling array of flowery, citrusy, spicy flint, and fusel nuanced fragrances; fresh, airy fruit qualities continue on the palate, snappy and lean at the center, but moving relentlessly towards a fine, long, elegant finish.
RIESLING AUSLESE
As with the best Spatlesen, the balance portrayed by the finest 1998 Auslesen demonstrates the hallmark Germanic style: residual sugars manifested as a subtle part of the wines -- like any other nuance of fruit or minerality -- to such a extent as to be barely noticeable; playing its part, as Dr. Hepp put it, as a mobilizing, rather than dominant, flavor element.
* 1998 Trittenheimer Felsenkopf, Auslese, Weingut Milz (Mosel) Classic, dramatically expansive Mosel nose unfettered by botrytis -minerally slate qualities running through flower and citrus perfumes. Soft, delicate, yet strong and luscious on the palate; sweet qualities tightened by zesty, citrusy acidity in the middle, the fruit evolving into something large and luscious in the mouth.
* 1998 Wehlener Sonnenuhr, Auslese, Dr. F. Weins-Prum (Mosel) A masterpiece of Mosel finesse; tight, pure Riesling aroma of melony freshness, tinged by flinty/smoky nuances; extremely fine, delicate, buoyant, fresh, sweet qualities (7 grams residual sugar) in the mouth, finishing with an extraordinary sense of grace and balance
* 1998 Brauneberger Juffer Sonnenuhr, "Goldkapsel" Auslese, Weingut Fritz Haag Tight, green leafy fragrance encasing fresh peach and nectarine (partial botrytis) aromas; on the palate, a fine, delicate entry, with citrusy sharp acidity bolstering deep, silken, peachy flavors, finishing with great length, refinement, and a rather feminine sense of grace.
* 1998 Erdener Pralat, Auslese, Dr. F. Weins-Prum (Mosel) Citrus and stone fruit -- a tangerine and nectarine-like fruitiness -- to go with a slightly honeyed, flowery Riesling perfume; luscious, juicy entry -wonderfully viscous and nectar-like -- balancing out into a long, feathery finish.
* 1998 Lieser Niederberg Helden, Auslese ** ("Fuder 12"), Weingut Schoss Lieser, Mosel Flinty, creamy qualities defining a subtle, flowery scent; dried fruit (apricot and peach botrytis tones) and pineapple fruit qualities on the palate, coming across with a plush, silky, long and easy sense of balance and finesse.
* 1997 Lieser Niederberg Helden, Auslese*** ("Selection"), Weingut Schloss Lieser, Mosel A fine example of the full range of late picked Riesling qualities that are possible when picked free of botrytis. Tight, green leafy nuances turn into concentrated apricot and cinnamon spiced apple aromas. Luscious, juicy, viscously sweet qualities on the palate -- dried apricot and crème brulee --lit up by electrical acidity, finishing with snappy freshness.
1998 Graacher Domprobst, Auslese, Weingut Willi Schaefer (Mosel) Another example of botrytis free complexities; flinty minerality flowing through flowery, melony, strawberry centered fruit in the nose; flinty and a well defined delicacy in the mouth, framing luscious fruit, tightly harmonized with zesty acidity.
* 1997 Urziger Wurzgarten, Auslese, Weingut Monchhof (Mosel) * 1990 Urziger Wurzgarten, Auslese, Weingut Monchof (Mosel) * 1975 Erdener Treppchen, Auslese, Weingut Monchhof (Mosel) An academic exercise illustrating the Mosel at its most delicately defined peak, almost providing something of a vinous picture of the way such vertiginous, pure slate encrusted vineyards fall spectacularly into this winding, snake-like river. The '97 Urziger gives the minerally/flinty "spice garden" aroma for which the Wurzgarten is named, tinged with mildly tropical fruit with citrusy, pineappley flavors that finish soft and finely balanced. The '90 Urziger has evolved into something even oilier in texture, sinewy in its solidity, with a nectarine/orange peel sparkle at the center of the palate, unfolding with a soft, slinky, incredibly delicate richness. The '75 Erdener seemed perfect in every respect - a deep, honeyed, creamy nose with nuances (rather than an overriding quality) of petrol, and on the palate is tasting extraordinarily honeyed and expansive, combining a soft, juicy balance with inconceivable power, concentration and silkiness.
1998 Kaseler Kehrnagel, "Goldkapsel" Auslese, Weingut Karlsmuhle (Saar) Quietly intense, tight nose; giving slightly exotic fruit and minerally, earthy tones plus an orange peel spice. On the palate, a delicate, incredibly soft structure (just 7% alcohol) filled out with fine, round, juicy, peach nectar-like fruit, alive and kicking through a long, emphatically rich finish.
* 1998 Oberemmeler Hutte, "Goldkapsel" Auslese, Weingut von Hovel (Saar) Zingy, lemony sweet perfume with nuances of dried apricot and flinty minerals; on the palate, sharply defined, slightly puckery fruitiness at the start, evolving into a slightly honeyed, fleshy, electrical intensity while maintaining a steely knife edge all the way through a long, rich finish.
* 1998 Nackenheimer Rothenberg, "Goldkapsel" Auslese, Weingut Gunderloch (Rheinhessen) Aromatic complexity going beyond simple fruitiness; flinty/saline minerality and sausage (fennel-like) spice coloring a richly honeyed peach pit intensity, with petrol undertones. The lusciously honeyed sweetness is buoyed by lip smacking, grapefruity acidity; lean in the entry, but giving a long, powerful, tautly balanced impact and length.
* 1997 Kiedrich Grafenberg, Auslese, Weingut Robert Weil (Rheingau) Intense, snappy, nostril tingling dried apricot nose with soft, chalky nuances; crisply balanced, juicy, wildflower fresh Riesling fruit, big, round, relentlessly lush and lively on the palate.
* 1998 Kiedrich Grafenberg, "Goldkapsel" Auslese, Weingut Robert Weil (Rheingau) Harvested on December 15 well within the Beerenauslese range (153 oechsle), this wine sustains a huge botrytis influenced nose of apricot and peach enlarged by smoky/chalky/flinty aromatics; lusciously concentrated, dried apricot flavors on the palate carried by a slightly oily glycerol texture and tight, snappy natural acidity. A powerful, wholly artistic achievement.
* 1998 Hochheimer Holle, "Goldkapsel" Auslese, Weingut Kunstler (Rheingau) Deep, sweetly honeyed, concentrated, powerful apricot nose. On the palate, layer upon layer of thick, succulent, nectar-like fruit; perfectly balanced, extending into a wonderfully long, lively finish.
1997 Hochheimer Dom'dechaney, Auslese, Weingut Domdechant Weiner'sches (Rheingau) Spring fresh, clean, flowery perfume with citrusy fruit intensity; zesty, citrusy balance of fruit, floating along with a fine, viscous feel.
* 1998 Ungsteiner Weilberg, Auslese, Weingut Pfeffingen (Pfalz) Overtly fruity nose, dripping with honeyed stone fruits (plum and apricot), with an almost watermelony juiciness; a distinctively Pfalz style impact on the palate -- starting off with a big, luscious, sweet apricot fruitiness, smoothing out into a fine, long, delicately tapering finish.
1998 Forster Ungeheuer, Auslese, Weingut Dr. von Bassermann-Jordan (Pfalz) Lusciously peach-like botrytis tinged tropical fruitiness (juicy pineapple) in the nose; continuing onto the palate with the same features, but of incredibly deep, sweet, juicy intensity, with a rush of mineral and electrical acidity, creating wave upon wave lush, rounded flavors.
* 1998 Achkarren Schlossberg, Auslese, Weingut Dr. Heger (Baden) * 1998 Freiburger Schlossberg, Auslese, Weingut Dr. Heger (Baden) Joachim Heger's Auslesen are just medium sweet, but hardly noticeable as that. Both of these hugely successful cuvees pose stony, oil of lemon fragrances -- the Freiburger with rich, floral, apricot-like aromas, and a dramatically full, long, lovely fruitiness on the palate, landing cleanly and perfectly balanced. The Achkarrer is just as honeyed in the nose, and silky smooth on the palate, its lush, tightly balanced fruit framed by an oily texture and lemony crisp dynamics.
RIESLING QUALITATSWEIN
While even the best producers take advantage of the leeways (such as chapitalization and use of sussreserve) allowed for Rieslings classified as QbA (Qualitatswein bestimmter Anbaugebiete) to achieve a softly sweet, accessible fruitiness, at all my stops I found a discernible quality gap between this level and even the dryer, leaner styles of Kabinett. My conclussion? QbA Rieslings may be as fine as any other Riesling in the world; but a cut below within the context of Germany's own lofty standards. One lone standout:
* 1998 Weingut Monchhof, Estate Riesling (Mosel) A declassified Zeltinger Himmelreich, showing nuanced qualities beyond its classification; flowery and tropical, mango-like fruit aroma; lightly sweet, clean, fresh, gently acidic balance of fruit, finishing fine and easy.
RIESLING EISWEIN
Although like Beerenauslese and Trockenbeerenauslese, the chances of our seeing, and being able to sell, wines of this level are limited to say the least, I can't resist some academic notations. Eiswein is produced as a point of pride by the best wineries. To be technically an "ice wine," the grapes must be frozen solid, and thus are usually picked from 4:00 to 6:00 a.m. in the morning by crews standing by for that perfect moment - which can occur anywhere from mid-November to the winter of the following year - to brave the numbing cold. For the '98 harvest, for instance, Zilliken in the Saar picked on November 19, while in the Rheingau Robert Weil waited until February 14, 1999!
Although German Eiswein must be competely natural, the "game" now also involves some degree of human intervention. Producers like Weil and von Schubert in the Ruwer make use of "foil" - long, industrial sheets of plastic with small holes to prevent buildup of humidity - to protect pre-selected rows (based upon quality as much as potential frost) from the elements (especially birds). But the work is still laborious, as for weeks on end pickers must go through the covered vines every few days to pick off botrytized grapes, since the ideal Eiswein is considered to be clean and botrytis-free.
Others, like Hanno Zilliken and von Hovel's Eberhard von Kunow, completely shun the practice of foiling. "No plastic wine for me!" von Kunow jovially exclaims. In fact, producers like Zilliken and von Hovel are so inclined to let nature take its course that even a little botrytis has never deterred them from producing perfectly fresh, scintillating results. But oh, what a game!
* 1998 Saarburger Rausch, Eiswein, Weingut Forstmeister Geltz Zilliken (Saar) Picked with some botrytis at a Trockenbeerenauslese level. Starting off with an extraordinarily huge nose, dripping with honeyed apricot pit and pineapple; beyond luscious on the palate - sweet, viscous citrus and pineapple fruit with powerful, lip smacking, animatingly nervy acidity giving a sinewy, almost lean and electrical quality concentration. What Zilliken calls a "meditation" wine -- "one that speaks to you with each drop."
* 1989 Saarburger Rausch, "Long Goldkapsel" (Beerenauslese/Eiswein blend), Weingut Forstmeister Geltz Zilliken (Saar) As is Hanno Zilliken's wont, this "composition" (as he calls it) goes beyond accepted procedures and into a different stratosphere - a blend of a Beerenauslese which did not have quite enough acid for him, and an Eiswein with not quite enough fruit intensity. The result, as it stands near the end of its first decade in the bottle, is a pale green straw defining its "forever" character. Flinty, smoky aromas tinge its apricot perfume, with faint fusel and eucalyptic complexities. On the palate, the feel is intense, juicy, incredibly sweet, lively yet fine, tight, and sleek, with a sharp, steely pinpoint balance.
* 1993 Oberemmeler Hutte, Eiswein, Weingut von Hovel (Saar) Lusciously honeyed (some botrytis) nose with flinty/minerally complexities; huge, sweet, with nervy citrus acidity, the flavors cascading and ripping across the palate with an almost unbelievable, piercing fruit concentration.
* 1998 Piesporter Goldtropfchen, Eiswein, Weingut Reinhold Haart (Mosel) While Theo Haart does not prefer botrytis, he accepts it as an occasional eventuality in his Eiswein. Half of his crop picked on November 22 were affected by the noble rot, but the result is still a clean, luscious nose with an apricot-like concentration. The highlight is in the mouth - not a muscle bound style of Eiswein, but one that is sweet, yet fresh, zesty, light as a feather, almost ethereal in its refinement and silkiness.
* 1998 Bernkasteler Johannisbrunchen, Eiswein, Dr. F. Weins-Prum (Mosel) This is more of the traditional powerhouse, picked sans foil, resulting in a creamy, concentrated, rather quiet nose; but on the palate, gushing with huge, whopping flavors - sweet, juicy, tart edged, marvelously nervy and balanced.
* 1998 Trittenheimer Felsenkopf, Eiswein, Weingut Milz (Mosel) Another November picking; starting with a zesty, quietly intense fruit concentration in the nose; on the palate, incredibly thick, juicy, viscous, lively, yet beautifully delicate and round in the feel. Its sweetness barely noticable, a perfectly harmonious, fresh, lithe style of Eiswein (as opposed to the more common, heavy, kick 'em-in-the-teeth style).
1998 Kaseler Kehrnagel, Eiswein. Weingut Karlsmuhle (Ruwer) A wonderfully complex, exotic style; suggesting citrus, honey, toffee, burnt orange and pineapple in the nose; thick and juicy in the mouth, with sharply defined acidity lighting up sweet, oily, creamy textured flavors, slipping and sliding into an extraordinary finish.
* 1998 Kiedrich Grafenberg, Eiswein, Weingut Robert Weil (Rheingau) The concentration in the nose here is sweetly clean and fruity, with licoricey edges; crystal clear, fresh, incredibly juicy qualities in the mouth, with powerful acidic zest in the middle, finishing huge, almost endlessly.
1998 Deidesheimer Hohenmorgen, Eiswein, Weingut Dr. von Bassermann-Jordan (Pfalz) Sweet, lusciously concentrated dried apricot aroma; on the palate, a kick-down-the-door intensity, defined by thick, oily, incredibly juicy fruitiness punctuated by searing acidity, giving power and lift through a palate ringing finish.
* 1998 Nierstein Oelberg, Eiswein, Weingut Balbach (Rheinhessen) Vinified by Gunderlach's Fritz Hasselbach; tight, juicy aroma, kicking in on the palate -- extraordinarily silken, oily, luscious "fruit bomb" intensity, magnified by a rapier acidity.
MISCELLANEOUS WHITES
* 1998 Ungsteiner Honigsackel, Gewurztraminer Spatlese, Weingut Pfeffingen (Pfalz) An enthrallingly huge bouquet of spicy carnation and rose petal perfumes -- more floral than lychee-like -- with nuances of cinnamon, sandalwood, and orange peel. On the palate, just as huge, round and spicy, with its balanced, medium sweetness playing up the juicy, lychee-like qualities.
* 1998 Ungsteiner Herrenberg, Scheurebe Spatlese, Weingut Pfeffingen (Pfalz) Outwardly floral, but also grapefruity aromas with honeyed fig and stony fruit (peach/apricot pits) aromas. Lightly sweet, but opulently fruity on the palate; soft, pliant, slightly oily qualities on the palate, underlined by mineral and dried apricot/pineappley zest.
* 1998 Ungsteiner Herrenberg, Scheurebe Auslese, Weingut Pfeffingen (Pfalz) At this level, the Scheurebe becomes something very serious; leading off in the nose with smoky, slate/minerally qualities, then picking up peachy, grapefruity, apricot-like nuances, with smatterings of citrus (orange peel) and tea. Finely balanced, yet big, round and juicy on the palate; apricots and honeysuckle, with a citrus fruit freshness in the finish.
1998 Kallstadter Saumagen, Muskateller Auslese, Weingut Koehler-Ruprecht (Pfalz) Huge but finely scented nose - flowery, mildly musky, rose petals, minerals and lychee-like fruit - followed by medium sweet, balanced fruit, wonderfully juicy, almost explosive in the mouth. An unusual Muscat - far from just musky, with great dimension and sense of proportion.
* 1998 Weinhaus Heger, Grauburgunder (Pinot Gris), Baden Delicately honeyed, stony/minerally tones and faintly musk-like spice in the nose; crisp, steely dry entry, somewhat austere, yet fresh and fine; finishing dry, but with a flowery, almost filigreed fruitiness.
* 1998 Dr. Heger, Pinot Gris*** ("Selection"), Spatlese Trocken, Baden * 1998 Dr. Heger "Winklerberg," Pinot Gris *** ("Selection"), Baden Serious, barrel fermented, dry styles that go way beyond what is done on either side of the Rhine (Alsace and Baden). The Spatlese Trocken is hugely aromatic -- honeyed, luscious, juicy pear, with minerally spice mingling with creamy oak -- with a creamy smooth, moderately full body, filled with juicy, layered fruit qualities. The Winklerberg has even creamier, more luscious, smoky, tropical fruit concentration, powered by an aggressive minerality. On the palate, layers of luscious fruit -- huge, oily -- lightened by lively acidity, giving an extraordinary sense of balance and elegance. A veritable "mountain" of a wine.
* 1998 Dr. Heger "Vitus," Pinot Blanc Auslese *** ("Selection"), Baden Creamy barrel fermented richness expanding on honeyed, citrus edged, stony fruit; on the palate, big, smoky, viscous, luscious fruit qualities sharpened by lively acidity; finishing dry, with a layered, creamy feel.
* 1997 Weingut Fischer, "Barrique" Chardonnay Spatlese Trocken, Baden A huge surprise, also vinified by Joachim Heger. Luscious, peachy, tropical fruit (mango-like) aroma laden with creamy, barrel fermented oak qualities, with lightly leafy, herbal nuances. On the palate, firmly dry with an crisp, elegant feel; smoky, yeasty/leesy complexities; finishing light, lively yet intense and filling.
SPATBURGUNDER
Tasting through the '97s and '98s (from French barriques) of master winemakers like Gunter Kunstler and Joachim Heger, one could see the serious love and ambition with which Pinot Noir is now being handled in Germany. My exposure to these efforts, unfortunately, was severely limited. Having said that, from a limited perspective I can say that I generally found Spatburgunders to be either light, friendly but somewhat weak, or else intensely perfumed, extracted, but overly sharp and hard with tannin.
So my initial impression is that if anything, it is tannin management and equipment (allowing for methods such open top fermentation and remontage) as much as viticultural progress which are Germany's greatest challenge in the production of world class Pinot. All of which certainly seem to be well within reach; especially given the current ceaseless demand for the product from both within and outside the country.
1996 Assmannshhauser Hollenberg, Spatburgunder Trocken, Staatsweinguter (Rheingau) A relative rarity on this tour -- a red Pinot Noir with texture, spice and something of a finish, in spite of modest proportions. Perfumey red cherry and peppermint in the nose; zesty, steely acid fruit on the palate, turning soft, gentle, with moderately fruity, balanced finish.
1996 Grosskarlbarcher Burweg, "Barrique" Spatburgunder, Weingut Lingenfelder (Pfalz) An open, fruity style. Spicy strawberry nose -- luscious, juicy, almost jammy fruitiness -- with a trace of sweetening volatile acidity; soft, rounded, easy entry into the mouth; juicy fruit flavors, with a silky smooth middle and finish.
* 1997 Dr. Heger, Pinot Noir*** ("Selection"), Auslese Trocken, Baden A rare and successful shot at a serious, big style. Tightly concentrated varietal fruit in the nose -- sweet, liqueur-like, wild blackberry aroma -- with a dense, smoky, tobacco-like richness that forms a bridge to the palate; hardened in the middle by muscular tannin and slightly steely acidity, giving way to the concentrated, silken textured fruit qualities in the finish.
To contact Randy Caparoso, write him at randycaparoso@earthlink.net.