GETTING STARTED | WINE NOTES | SEARCH SITE | DISCUSSION FORUMS | 30 SECOND WINE ADVISOR | CONTACT US
<!TODAY'S TEXT STARTS HERE!>
Wine & Food Advisory
from the Melting Pot of the Pacific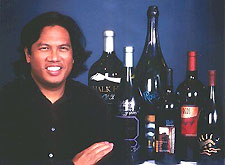 The Fusion Of Food and Wine
© Randal Caparoso
When it comes to wine, there is nothing so constant as the need to eat food with it.
When in Southern France last week I found myself thoroughly enthralled by a simple white wine - made from the Picpoul grape -- which I would normally never think twice about. Why? Because I happened to be staying in a seaside town known for its oysters. So oysters I dutifully ate -- dozens at a sitting! -- and there seemed nothing so refreshing with them as this feathery light, lemony wine whose name is translated from the French as "lip-stinger" (for the grape's high natural acid content).
In Mendocino, the wine you may be drinking may be Chardonnay - a big and lush white wine for lush and meaty abalone. In South Australia, it may thick and wild Shiraz with thick and chewy kangaroo. In Tuscany, sharp and earthy Chianti with earthen, herb and olive oil infused Tuscan roasts and beans. Life can be good!
Here in Hawaii, we've always been inundated with foodstuffs like sashimi, cilantro, mango, miso, mahimahi, shichimi, shiitake, taro, tobiko, ponzu, pickled ginger, passion fruit and poke. No big deal for us, but strange, exotic, or even daring for people elsewhere in the world. Island cooking, when you think of it, is in reality one big "plate lunch." How do I know this? I recently read this in the biblical sized The Oxford Companion to Food - pages 373 and 374 to be exact, a hefty section elaborating on how Hawaii's food is "a confusing mixture, a palimpsest of the foods of a dozen different ethnic groups."
Then, of course, I had to look up palimpsest, which in the American Heritage Dictionary is "a literary work of classic antiquity... typically on vellum or parchment, that has been written upon several times." Like the Odyssey and Iliad, the Dead Sea Scrolls and Epic of Gilgamesh? Whodathunk?
One thing I know, and that is that our island cooking is certainly not dead. In fact, it is a crackling fresh mixed plate which seems to be evolving at a speed of light that has been heaven sent for many - especially the new "Hawaii Regional Cuisine" chefs - but a tempest in a teapot for others. A few years ago a guest contributor in The Honolulu Advertiser opined that "Pacific Rim food is over-done," he opined. "It is a ridiculous experiment gone awry... bizarre... complicated... frou-frou!"
As bizarre as this palpitating palimpsest can be, the ironic thing, as most food culturists observe, is that there is virtually no cuisine in this world that does not represent some kind of fusion. The Italian cooking that we know today has evolved at an incredible pace since the 16th century, influenced by foodstuffs and techniques borrowed from all over the Mediterranean, and from faraway as China and America. This is just as true in the East as it is in the West. The various cuisines of India, China, Thailand, Vietnam, and throughout Asia have resulted from people utilizing everything at their disposal, including all they've absorbed from neighboring countries and cultures.
In the modern day U.S., we see sushi, spring rolls, streudel, pizza, pasta, and pierogi sold side by side with nary a raised brow; and there's a good reason why these dishes may bear little resemblance to things of the same name in their original countries -- they've been thoroughly melted, or Americanized, into a larger pot. It is always a matter of time before food "traditions" begin to "fuse."
Or con-fuse. So where is our Picpoul-and-oysters; our Shiraz-and-roo? You may have never been to Spain or born in Oklahoma, but it is very possible to take your taste buds on a whirlwind tour with one visit to a Roy's or Alan Wong's restaurant, or one of our leading wine stores. You'll find that our wine selections have become as global as our food. Here are five variantly sourced wines that can turn even frou-frou into pure, unadulterated fun:
1998 Charles Melton, Barossa Valley "Rose of Virginia" Grenache ($14-$17) - I recently had this South Australian wine in Costa Mesa with chef Joachim Splichal's foie gras in rhubarb and strawberries, and let me tell you - its luscious, cherry-bright fruitiness made this succulent dish even better! But this is no ordinary pink wine, since it is dry as a bone and seriously well structured. Therefore, I suspect that it could do just as well as with grilled fish with chutney, squab with figs, or duck in plum sauce - anything meaty with natural fruit flavors, particularly on a summer deck!
1999 Villa Maria, "Private Bin" Sauvignon Blanc ($12-$14) - You can never find enough light, cool dry white wines for summer, and this one from New Zealand is more than that - infused with flowery and citrusy fruit, with leafy, sweet pea-like qualities underlined by crisp and silky qualities. A perfect poolside refresher.
1998 Zilliken, Saarburger Rausch Riesling Kabinett ($15-$18) - This white wine sweeps in from Germany like a lilting, chilling, sweetly scented breeze. Weighing in at barely 8% alcohol, it still braces the palate with zesty, succulent yet just off-dry fruit flavors. Suckle that with sweet shellfish or tender white filets in lemon caper butter.
1998 Josef Umathum, Zweigelt ($16-$19) - Don't worry about the fact that you may never have heard of Zweigelt. I had to look it up, too! It's an Austrian red hybrid grape developed by a Dr. Zweigelt back in 1922. Could have been worse - imagine if his name was Wong or Wright, Mud or Crow. Nothing wrong about this Austrian red - it is bright and jammy with zesty blackberry/raspberry fruit; soft and easy in the middle, firmly dry in the finish. A smooth red wine that can enhance anything from halibut to hamburger.
1998 Domaine Alfred, "Califa" Pinot Noir ($30-$35) - This, to me, is the prettiest California Pinot Noir on the market today. From a little winery in the cool San Luis Obispo region, it is intensely perfumed with brown spices and red fruit, zesty in the center, long, sumptuous and silken in the finish. My perfect dish for this would be a hibachi charred salmon or butterfish (cod) in miso sauce with wasabi potatoes, or else in a fruit or herb tinged vinaigrette.
June 6, 2000
To contact Randy Caparoso, write him at randycaparoso@earthlink.net.