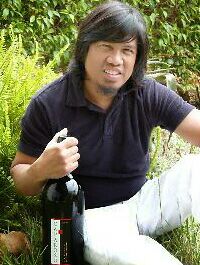 Wine & Food Advisory
from the Melting Pot of the Pacific
F Is for Flavor, G for Grapes
© Randy Caparoso
In 2001 I read in Business Week magazine about some Hindu nationalists who trashed a couple of dozen McDonald's locations in India. This, in spite of the fact that out of respect for Hindu dietary restrictions, McDonald's sells no beef products in India; only vegetable and lamb burgers. So what raised the Hindus' ire? They had heard about a lawsuit in the U.S. brought by a group of vegetarians against McDonald's for flavoring their fries with a "natural flavor" derived from beef extract, which they unknowingly consumed.
Here's what I found interesting about this: The actual percentage of beef extract in a super-sized package of fries is reportedly just 0.000000000003%, but it was put into the fries precisely because the average person can perceive this tiny amount of flavor. The vegetarians and Hindus may have been upset because there was a negligible percent of beef in the fries, but they were also angry because McDonald's was getting them to eat them by appealing to their raw, unconscious desire to enjoy the taste of beef!
In his book, Fast Food Nation, Eric Schlosser describes "flavorists" - scientists who develop the miniscule chemical compounds used to flavor fast foods such as McDonald's fries, and virtually all the processed foods we consume today - as "discreet, charming, cosmopolitan, and ironic." According to Schlosser, these are the sort of people "who not only enjoy fine wine, but who can also tell you the chemicals that give each vintage its unique aroma."
Like Schlosser's flavorists, oenologists - scientists who make wine - have long been aware of the fact that the aromas and flavors which distinguish a Cabernet Sauvignon from a Merlot can be attributed to natural chemical compounds amounting to barely a few parts per trillion. For instance, the minty, often herbaceous character of Cabernet Sauvignon has been isolated to a flavor component also found in bell peppers that the human palate can easily detect at approximately .02 parts per billion.
Ask an oenologist what gives the Chardonnay grape its recognizable "apple" taste, and his answer might be ethyl-2-methyl butyrate. The taste of Chardonnay after it goes through its natural malolactic fermentation and is barrel aged on its lees (spent yeast cells) probably derives its current popularity from minuscule portions of diacetyl (the taste of "butter") combined with methyl-2-peridylketone ("popcorn"). This, in fact, is how many of the world's Chardonnays taste (albeit naturally as opposed to being developed in the lab), and probably why so many people like it.
Whatever the case may be, even with little or no experience with given wine types, anyone who can enjoy the taste of McDonald's fries can learn to distinguish the various tastes of wines. All it takes is a nose, a decent memory and an interest fueled simply by your growing pleasure.
Fine wines are primarily distinguished by the particular type of wine grapes they are made from. Where a grape is grown, of course, and how it is fermented, aged and bottled also plays an important part, especially when it comes to quality and value. But by and large, wines made from Chardonnay or Cabernet Sauvignon pretty much smell and taste like other wines made from Chardonnay or Cabernet Sauvignon no matter where they are grown and how they are made, in the same way that a peach or mango tend to taste the same wherever they are grown.
The following is by no means the most complete catalogue of varietal types, fragrances and taste sensations. But it is to the point, and touches upon the most essential things to remember about the wine grapes most pertinent to our concern with contemporary food compatibilities.
THE BASIC TASTE OF WHITE WINE GRAPES
Chardonnay
Nose: The original white grape of Burgundy in France (now planted everywhere fine wine is made), Chardonnay is apple-like, but can also be pear-like or pineapplely; and when fermented and aged in white oak barrels (as commonly done), having the addition of creamy, vanillin, sometimes buttery, and often charred or "toasty" aromas.
Palate: Grown in its native France, the Chardonnay grape makes dry whites, medium to medium-full in body, with moderately crisp acidity. In the warmer regions of the U.S., Australia and other parts of the New World, however, Chardonnay based whites tend to be more aggressively full in body (13% to 14% alcohol is a norm), relatively low in acidity, with a heavier, softer, sweetly fruit-forward, "fat" feel. The big plus wherever it is grown is its texture - unlike other white varieties, coming across as dense, rounded, viscous, almost oily in richness, especially when enhanced by higher alcohol components like glycerol, and combined with the the creamy or buttery qualities derived from white oak barrel fermentation and aging. Finally, it's worth mentioning that there are a few, small, cooler climate growing regions in the U.S. (like Oregon and parts of the Central California coast), New Zealand and even Australia, where Chardonnay comes out a little crisper and more moderately weighted, although ultimately still a little heavier than the traditional styles of France..
Sauvignon Blanc

Nose: Green melon aromas, often tinged by noticeably herbaceous (like cut grass, weeds, bell pepper, jalapeno, sweet pea, and other herbal associations) qualities, with quieter notes of minerals or flint (mildly "smoky" minerality more typical of French than New World grown Sauvignon Blancs, which in the U.S. are sometimes labeled "Fumé Blanc"), citrus fruits (especially lemon) and wildflowers. In New Zealand, a common descriptor is "gooseberry" (essentially, a green/tart melony perfume).

Palate: Usually dry and medium bodied; tends to have high acid (lemony tartness), although varies somewhat dependent upon varieties blended with it (in the Graves region of Bordeaux, California, and much of Australia, for instance, Sauvignon Blanc is often blended with the softer, rounder Sémillon; in California, usage of the low acid Viognier is also becoming a popular blending grape for Sauvignon Blanc). The purest examples of the world are the 100% varietal bottlings of France's Loire River (Sancerre, Pouilly-Fumé, and the lesser known Quincy, Cheverny and Menetou-Salon); and perhaps the most peculiar (yet attractive), the almost sharp edged, lush yet aggressively herbaceous varietal bottlings of New Zealand.

Riesling

Nose: Sweet, intensely flowery perfumes - as fragrant as a white wine gets - usually overshadowing citrus (lemon and orange peel) and stone fruit (such as peach and apricot) aromas; when grown in Germany, often picking up subtle mineral or flint-like undertones.

Palate: Ranges from bone dry to extraordinarily sweet, although the typical German style, duplicated around the world, is off-dry to medium sweet (the classic style of Alsace in France, however, is dry). Body also varies, from extremely light (as low as 7%-8% alcohol in Germany's Mosel-Saar-Ruwer) to moderately full (12%-13% alcohol in Alsace as well as in the medium sweet styles of California and Washington St., and the dry to off-dry styles of Australia and New Zealand).

Riesling is also a high acid grape; a factor not so obvious to the taste when balanced by the residual sugars most common to the wine (which is why trocken or "dry" style German Rieslings can be mouth puckeringly tart, while the extremely sweet styles of Germany are breathtakingly fine, harmonious, and rarely cloying).

Pinot Gris (Pinot Grigio in Italy; Grauburgunder or Rülander in German-speaking wine regions)

Nose: Interesting mix of floral (often like honeysuckle), fruity (sweet melon, apple or pear), and often minerally (like wet stones) aromas, sometimes with spice (musk with white pepper) and citrus (lime or tangerine) nuances; and when aged partially in oak (not an uncommon practice in France, Oregon and California, but unusual in Italy), enhanced by creamy/vanillin or honeyed qualities.

Palate: A wonderful, medium to full bodied varietal (12%-13% alcohol), usually finished close to bone dry (although rare, late picked - Vendange Tardive - styles of Alsace can have perceptible sweetness). Acidity is usually medium (a lightly crisp tartness), definitely higher than Chardonnay but lower than Sauvignon Blanc. Italian Pinot Grigios tend to be the lightest; and many extremely underrated bottlings come from Germany's Baden region (bottled as Grauburgunder or Rülander).

Pinot Blanc (Pinot Bianco in Italy; Weissburgunder in Germany)

Melon (Pinot Blanc in California)

Special Note: Although Pinot Blanc and Melon are two, distinctive grape varieties, for practical purposes we will discuss the two together as "Pinot Blanc" for the simple reason that most Melon grown and bottled in California is labeled as Pinot Blanc, thus representing most of what is sold commercially in the U.S. Melon is the grape cultivated to exclusivity in France's Muscadet region. Pinot Blanc - a "white" clonal mutation of the black skinned Pinot Noir (just as Pinot Gris is a "grey" skinned mutation) - is grown and bottled as a varietal in Alsace, France, in Italy as Pinot Bianco, and in Germany as Weissburgunder.

Nose: The misidentification of Melon grown and bottled in California as Pinot Blanc was not discovered by vine scientists until the early 1980s; but because Melon produces a similar wine to true Pinot Blanc (grown to a lesser extent in California as well as Oregon), producers continue to use the name for both grapes. Aromas of both grapes are similar, pear and/or apple-like, and not particularly intense. Because of the low-key or "neutral" quality of the varietal scent, vintners in the U.S. (but not in France, Italy or Germany) tend to treat the wine in similar fashion as Chardonnay, utilizing oak aging and partial or even full barrel fermentation to add vanillin, toasty, and sometimes yeasty complexities to the nose.

Palate: Again, moderate acidity and apple-like flavors similar to Chardonnay lead vintners to aspire towards a white wine that is round with a smooth, viscous texture like Chardonnay, but almost never without the heavy, full, expansive feel of typical Chardonnay, nor with quite the complexity. European Pinot Blancs are more typically light-medium in body and acidity, while in Muscadet the classic Melon taste is closer to light in its light-medium body, showing a zesty medium acidity (makes a good oyster white) that disappears when planted in California's warmer growing regions. It is also worth mentioning that true clonal selections of Pinot Blanc grown in Oregon's cool climate regions tend to have a more focused, crisper edged quality than the Melons bottled as Pinot Blanc in California, but still of light-medium weight and intensity.

Viognier

Nose: Violet, honeysuckle, and sometimes lilac-like flower perfumes - typically striking in intensity - underscored by a mildly peppery spiciness, and lower levels of apricot, peach or tropical (like mango) fruitiness.

Palate: Classically a dry white of full body (13% alcohol or more) and low acidity. The traditional, stand-alone white grape of France's Northern Rhône (Condrieu), now growing extensively in California (just a few bottlings in Australia). Very mild tannin dryness (bitter in the worst examples) is not uncommon.

Gewürztraminer

Nose: One of the most strongly perfumed varieties of the world (only Muscat is as emphatic); giving a powerful lychee-like fruitiness along with floral, peppery, and sometimes musky fragrances.

Palate: Classic style of Gewürztraminer grown in Alsace, France is dry, low in acid, and medium to full bodied (except in rare, late picked bottlings with an edge of sweetness). Classic style of Germany is light to medium bodied, and slightly to medium sweet, but again moderate in acidity. Most California and Washington State bottlings are at least a little sweet, although a few go for the full, dry style. Also grown in Northern Italy (sometimes bottled as Traminer), where it tends to be dry and light. In any case, a slight sweetness certainly helps cover up the mild (but in worst cases, distinctly bitter) taste of tannin also typical of this grape, which ripens in the fields to a light, rosy pigmentation.

Chenin Blanc

Nose: Has become less and less significant in much of the U.S. and bottled as a varietal wine by just a handful of wineries today, although it's showing some strength in the Clarksburg appellation of California's Sacramento Delta), but it remains very significant in France under its appellations of origin (such as Vouvray and Montlouis). As such, Chenin Blanc is almost never without a distinctive charm; giving sweetly honeyed and floral fragrances alongside apple or pear-like aromas of lush quality.

Palate: A medium-bodied variety (around 12% alcohol) in France's Loire region as well as in California. The classic style is slightly sweet to medium sweet (denoted as demi-sec on French labels); although bone dry styles are made in the Savennières (where it also tastes quite minerally) and Saumur regions of the Loire, and occasionally in California (when sold as "Dry Chenin Blanc"). Bottlings of Vouvray moelleux ("mellow") are even sweeter, and rare ones from the Loire's Bonnezeaux and Quarts de Chaume regions can be extremely sweet (honeyed, apricot-and-peach botrytis styles) and thus more suitable for dessert. Acidity in California Chenin Blanc tends to be low (very soft taste), but in the cooler climate Loire it is medium to high (noticeably tart).

Muscat Blanc (sometimes called Muscat di Canelli; Moscato in Italy)

Nose: Muscat Blanc à Petits Grains - the full name of the most widely planted of the many varieties of Muscat - is easily identified by its aggressively perfumed, grapey "Muscat" scent, with fruity qualities often suggesting peach, apricot, and other stone fruits. Occasionally California producers blend touches of other mutations of the grape, such as Orange Muscat (resulting in musky/citrusy/orange blossomy fragrances) or Black Muscat (black cherry or boysenberry nuances)

Palate: The quintessential "Moscato" (in Italy as well as California) is very light, almost airy in weight (alcohol levels closer to 7% than 10%), leaving residual sugars in the medium to fairly high range. A good indication of sweetness is on the labels, as Muscats between 10% and 12% alcohol tend to be just slightly sweet, and sometimes dry (the latter, typical of Alsace, France). Acidity is low to moderate; and accentuating a soft quality, lush fruitiness tends to be fresh and clear of the drying bitterness common to other "spice" varietals (Gewürztraminer and Viognier).

Special Note: Table wine style Muscat Blancs are not to be confused with fortified (addition of brandy increasing alcohol to 16%-18%), sweeter "dessert" style Muscats that are the specialty in parts of France (Muscat de Beaumes-de-Venise), Australia, Southern Italy, Spain, and the U.S.

Albariño

Nose: Although not extensively planted even in its native Spain, Albariño is one of the few Spanish whites bottled as a varietal wine (and now meagerly cultivated in California); as Alvarinho, it also appears in many Portuguese whites including the refreshing Vinho Verde. It's included here for its increasing culinary value as a prettily floral scented variety (at times reminiscent of Viognier, and sometimes of Riesling) with its own chalky-minerally or flinty accents.

Palate: Medium body and usually vinified dry with medium/crisp to sometimes sharp acidity; refreshing sense of balance without weight, and fine texture that holds the grape's floral fruitiness well.

Grüner Veltliner

Nose: The most widely planted grape of Austria, grown virtually nowhere else in the world; and correspondingly unique with its sharp, citrus fruit aroma (grapefruit, lime or lemongrass), often with spicy, white peppery notes, with flinty nuances. In regions where it ripens fully, the perfume can become quite tropical (flowery, honeyed or pineapple-like); and in other regions, can retain green vegetable notes suggesting peas or lima beans.

Palate: Acidity driven - typically, grapefruity tart - to an extent almost unique unto itself (although the razor sharp, little-known Picpoul and Petit Manseng grapes of Southwest France may give it a run for the money). Body and structure can range from modestly light-medium, to big (over 14% alcohol), steely, even massive (latter examples, invariably the most expensive, also tend to be the most exotically perfumed, with complex fruit and mineral qualities).

THE BASIC TASTE OF RED WINE GRAPES

Pinot Noir

Nose: While somewhat elusive, the nose picks up this red varietal as a mix of flower (like the scent of violet and rose petal), perfumed fruit (both red fruits similar to, but not exactly like, strawberry or dried cherry, and darker fruits ranging from blackberry to blueberry), and herbs (often pepperminty, and sometimes black peppery); usually combined with smoky, white French oak qualities to create varying degrees of complexity, almost always refined and haunting.

Palate: Body ranges from light to medium-full, but is usually in the middle; especially when factoring in the light to medium tannin structure of this thinner skinned, lightly pigmented grape. Classic French Burgundies, as well as German (labeled as Spätburgunder) bottlings, can have a light snap of acidity; elsewhere, acidity tends to be moderate, although slightly elevated when compared to Bordeaux grapes like Merlot and the Cabernets. But the most distinctive quality of the finest Pinot Noir, wherever it is grown, is in the texture - usually described as velvety, silky, satiny, and even sensual in feel - derived from the rare sense of balance filled by fragrantly spiced fruit intrinsic to the grape (which is also why, different from most black skinned grapes, it is almost never blended with other varieties).

Cabernet Sauvignon

Nose: Multi-dimensional "black" fruit aromas such as blackberry, blackcurrant and cassis (blackcurrant liqueur), tinged with minty and herbaceous (weedy, bell peppery, and even olive-like) complexities; almost always aged in white oak barrels, which add vanillin, smoky (like cigar boxes), often dill-like or even buttery elements.

Palate: Often a full-bodied variety, low in acidity, medium to very strong in tannin, and very dark, vividly pigmented in youth. Often blended with softer tannin grapes (usually Merlot and Cabernet Franc, and sometimes Malbec and/or Petit Verdot as well), and so sense of body and tannin varies somewhat, especially when factoring in the element of terroir or growing regimes (Bordeaux, California, Washington State, Australia, Chile, and most other moderate to warm grape growing regions of the world).

Merlot

Nose: Well known for its compelling "juicy" black cherry-like aroma with complexing qualities of darker fruits (blackberry, plum, blackcurrant) and an occasional herbaceousness similar to (but perhaps more tea leafy than herbal) Cabernet Sauvignon; usually enriched by vanillin and smoky/toasty oak aged complexities.

Palate: Full bodied varietal of generous alcohol (around 13%), low acidity, and vivid purplish ruby color; not unlike Cabernet Sauvignon in these respects. But unlike Cabernet Sauvignon, typically softer in tannin, giving an attractively round, sometimes fat or fleshy feel that is accentuated all the more by the generously aromatic nature of its varietal character. As the traditional base of Bordeaux style blends, truly the workhorse grape of that region (where it is the most widely planted grape); but today, more strongly identified by the ubiquitous varietal bottlings of California, Washington State, and Chile (in the latter, largely a green/weedy, herbaceous tasting red).

Cabernet Franc

Nose: One of the natural parent grapes of Cabernet Sauvignon (at least according to recent DNA studies), and thus giving similar weedy or herbaceous qualities (green pepper, mint, olives, cut grass, etc.); but if well ripened, delivers less greenery and more distinctive, attractively sweet raspberry-like fruitiness, sometimes verging on framboise (raspberry liqueur).

Palate: Tends to be medium-bodied, lighter than both Cabernet Sauvignon and Merlot, and also low in acid. Tannin structure is similar to Merlot - soft and easy - although the aroma related flavor impressions are not quite so lush. It is a dominant grape in Bordeaux's St. Emilion region, where like most California varietal bottlings it is usually blended with Merlot and sometimes some Cabernet Sauvignon. Interesting, and sometimes great, pure versions come from the Chinon, Bourgueil and Saumur-Champigny appellations of France's Loire River.

Malbec

Nose: While utilized very sparingly as a fourth or fifth component in Bordeaux style blends (in France as well as the U.S.), a truly significant grape in Argentina where it is bottled as a varietal wine. Aromas are almost implosive - not as expansively scented as Merlot or the two Cabernets - but in the best bottlings, there is a discernible concentration of blackberryish or plummy fruit, while super-ripe examples start to become tarry, almost liqueur-like in their intensity, especially when combined with generous oak spices.

Palate: Another underrated, highly food-worthy varietal by nature of its typically compact (medium to medium full body) yet concentrated, velvety feel, unmitigated by dry or bitter excesses of tannin, even when the grape is thoroughly extracted (in Bordeaux the grape is prized precisely because of its combination of dark color and soft tannin - qualities that in Argentina's altitude vineyards allow the grape to achieve a muscle-bound intensity without an oppressive weight).

Zinfandel

Nose: Bramble fruit - blackberry, raspberry or a combination - fruitiness often intensified to the point of jamminess alongside distinctive black peppery and hard spice (especially cinnamon and clove) aromas; when picked overripe (not uncommon in California's warmer climate vineyards), becomes raisiny or prune-like; and when underripe, closer to cranberry or cherry.

Palate: A fun varietal, varying from light and easy to medium bodied, straight on up to big, black and powerful. Body (commonly 12.5% -14.5% alcohol, but over 16% not unheard of), tannin and overall weight run the same gamut, from light to overwhelmingly full. Checking price points and alcohol levels on the label is a good way of ascertaining what you'll get (since bigger is usually "better" in the U.S., you usually pay more for fuller bodied 14%-15% Zinfandels). A good thing about this small to medium berry sized varietal is that it also tends to retain a moderate, yet notably zesty, acidity that brightens the jammy fruit characteristics on the palate, no matter what the size of the wine.

Syrah (called Shiraz in Australia)

Nose: Somewhat exotic mix of sweet, rather floral (suggesting violet) perfumes, dark fruits (from blackberry to plum), and peppery spices; often enriched by pungently vanillin, smoky, or even dill-like oak-derived aromas, sometimes combining with the intense fruit aromas to give "roasting meat" qualities. In Australia (there, a national treasure) aromas tend to veer towards concentrated fruit, while in its native France (particularly the Northern Rhône) the Syrah qualities are more of perfumed spices (approaching sandalwood when merged with heavy toasted oak). In California - possibly because of its use of more contemporary French clones (Australia's vines were transplanted in the 19th century) - Syrahs also tend to be floral; and a similar identity is being developed in Washington State and Oregon.

Palate: Like Zinfandel (although not nearly to extremes), Syrahs vary from medium in body to big or astoundingly robust, while almost always deeply pigmented. Tannin can be soft and round, but thick and muscle-bound at its fullest extent. Generally, the bigger the richer as well as oakier, with the commensurate rising prices. Acidity is moderate across the board (although can be mildly zesty in France).

Grenache (Garnacha in Spain; Cannonau in Sardinia)

Nose: When bottled as a red variety, this classic Southern French grape is capable of sweet, lush raspberry aromas with subtle black peppery spice, characteristics typically manifested in French rosés (as in those of Tavel and Bandol). Although a workhorse grape in France, it is rarely a stand-alone as a red wine, but these aromatic qualities are in evidence in typical Southern French blends (usually in combination with spicier, violet-like Syrah and meaty/leathery Mourvèdre).

In this regard, Grenache is most definitely the dominant grape, and aromatic ingredient, in the Rhône Valley's Châteauneuf-du-Pape, Gigondas and Vacqueyras appellations and the Côtes du Rhone; and most recently, in the low yield (resulting in higher alcohol and color extraction) bottlings from Spain's Priorat (often with ultra-ripe doses of Carignan), and in similar fashion in Sardinia (where Grenache is bottled as Cannonau).

Palate: Soft textured, lower acid, moderate to medium tannin grape; rarely going beyond medium weight or body, with rare exceptions derived from old-vine plantings in South Australia, Southern Italy and Spain that are saturated with the grape's red "fruit bomb" qualities.

Petite Sirah (rarely known by its French ancestral name, Durif)

Nose: Not to be confused with Syrah, Petite Sirah is a red wine crossing of two varieties of Vitis vinifera, propagated by a Dr. Durif in 19th century France (where it is not in commercial use). In California the Petite Sirah nose is intensely spicy, suggesting cracked black peppercorn, with sometimes powerful, well ripened black and blue berry aromatics.

Palate: Very full bodied almost as a rule, and significantly thickened with high tannin (in this sense, like many Syrahs) and phenolics (impenetrably black to purplish-blue pigmentations are not unusual); low in acid, but the sense of rich, peppery sweet fruitiness suggested in the nose can be more than enough to fill out.

Sangiovese

Nose: The classic red grape of Tuscany (Chianti, Brunello and Vino Nobile), now also cultivated in California; giving a red cherry-like fruitiness, often tinged with crushed, dried leafy, woodsy, licorice and occasionally tea-like nuances.

Palate: A thin skinned variety that is often closer to brick than ruby in color; light to medium in body owing primarily to light to medium tannin (with rare exceptions in the more deeply extracted Italian "Super Tuscans"). At its best, a wonderfully textured wine - velvety smooth, often plush on the palate - almost always buoyed by a moderate, but perceptively zesty, acidity (especially when compared to low acid varietals like Merlot and the Cabernets), which is why it is so classic with tomato and olive oil-based cuisines.

Nebbiolo

Nose: Few books venture to define the heady characteristics of an emerging Nebbiolo - most famously, bottled as Barolo and Barbaresco in Italy's Piemonte region, where this black skinned grape is "king" - due to its elusive nature during the first ten or so years in the bottle. But think of a concentration of sweet and sour black cherry or red berries suckled to the bitter pit. Toasty, vanillin or nutty oak tones are typical in pricier versions (great Barolos "start" at $50 to $100), and tarry, "rubber boot" notes are not uncommon in the wine's youth. Such excesses are usually shed as bottlings mature, when dried fruit, flower, fraise and woodsmoke complexities emerge in often memorable abundance.

Palate: From youth to middle age, a big, black, muscular wine, teeming with tannin and sharpened with perceptible acidity. The feel is densely robust, broad, often quite hard, verging on harsh; becoming round, meaty, alive and inundating as the requisite cellaring process starts to unwrap the bouquet within.

Barbera

Nose: Aromas ranging from red (raspberry and cherry) to blackberries (without the jamminess of, say, Zinfandel) in both its native Piemonte (where it is bottled as a varietal) and in California, where it has been long favored (yet underrated) for its savory food versatility (especially Italian/Mediterranean foods). In best examples of Italy, nuances of violet, meat, suede and licorice are not uncommon; and use of oak (vanillin tones) is variable everywhere.

Palate: Typically dark colored and medium in body (only sometimes "big"), but more distinctly identifiable by its high, elevated acidity (downright sharp when out of control, but still a good match with a freshly halved, dripping, sun ripened tomato). Tannins can be moderate to fairly high (in both Italy and California), and so overall textures range from mildly zesty to hard, dry and angular.

Tempranillo

Nose: For such a noble grape, not the easiest aroma to describe - I think of black fruits tinged with tar and red licorice, and tobacco leaf verging on smoked meats - which is why in its native Spain Tempranillo is so often blended with other grapes (Grenache, for instance, adds complimenting peppery/strawberry notes, Cabernet Sauvignon some green leafy/blackcurrant qualities, and Merlot some redder berry/cherry perfumes). American white oak (French oak to a lesser degree) is also common component, filling out the nose with pungent vanilla, minty/dill, and/or smoky qualities.

Palate: Typically lower acid combined with sappy fruit, medium to full bodies, and characteristically rounded tannins (even at strong levels) help Tempranillo and Tempranillo-based reds perform the neat trick of coming across as concentrated, even power-packed, yet invariably soft, almost succulent - classic "food" structures. In Spain, many examples (like in Rioja) can be fairly moderate, straightforward and easy, while better examples (especially in Ribera del Duero) are as dense and elegant as any wines in the world. Some varietal bottlings in California have been excellent, and there is some experimentation right now in Oregon.

Gamay

Nose: Of all black skinned grapes, this grape is the most exuberant insofar as red fruity aromatic qualities (suggesting lush strawberry or raspberry) of an almost flowery, sweet nature, but without much complexity. Full name of grape is Gamay Noir à Jus Blanc, and is planted to exclusivity of other grapes in France's vast Beaujolais region. Beaujolais Nouveau - or the "new" wines from each vintage that undergo a special maceration process (carbononique) making them drinkable within weeks after the harvest - is probably the best known as well as the softest, lightest, fruitiest style of red wine coming from this region.

Palate: Feeble, almost negligible tannin combined with medium weight, low acidity and ultra-fruitiness make the Gamay Noir based reds of France's Beaujolais just about the softest red wine in the world (with exceptions of more richly extracted, but still fairly soft and fruity, grand crus de Beaujolais bottlings sold under individual village names). Hence, most Beaujolais is enjoyable slightly chilled (although not quite as cold as white wine, as the wine is still weighted down with some red wine phenolics) and with foods that traditionally are thought of as better for white wines (such as fish and lower fat "other white" meats).

Special Note: Beaujolais' Gamay Noir based reds are not to be confused with what used to be bottled in California as Gamay Beaujolais or Napa Gamay (the latter two varieties totally are unrelated to the true Gamay Noir). Many California plantings of so-called Gamay Beaujolais and Napa Gamay now go into a few wineries' yearly fall bottlings of "Nouveau," which are usually fairly faithful replicas of the super-light, soft, fruity style of authentic Beaujolais Nouveau. Otherwise, there are a few varietal bottlings made from the authentic Gamay Noir grape coming out of Oregon today.

March 2007

To contact Randy Caparoso, write him at randycaparoso@earthlink.net.

Back to Randy's World of wine

<!- Page Contents End Here ->