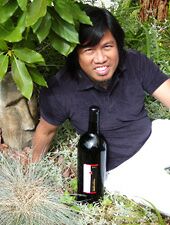 Wine & Food Advisory
from the Melting Pot of the Pacific
California's Family Winemakers
© Randal Caparoso
Hundreds of cats, thousands of cats, millions and billions and trillions of cats. What's a wine lover's nightmare? Well, imagine walking into a room where 234 great winemakers await you, each asking you to taste all four or five of their wines over the next three hours.
This was precisely what happened at a tasting event put on by the Family Winemakers of California in Santa Monica last month. Of course, no human can taste over 1,000 different wines within that space of time, and live to remember the tale. So I had to be content with a select few – say, about a 100 – but it still pains me to think of all the good ones I probably missed!
The number of dues-paying members belonging to Family Winemakers of California is actually 525. It is not just a trade association dedicated to the perpetuation of finely crafted wine, but also a political action group dedicated to protecting both the production industry and consumers from legislation that discourages the free and responsible appreciation of table wine.
Family owned California wineries come in all sizes – from Sonoma County's tiny Dutch Bill Creek Winery (yearly production of around 500 cases), to the giant Kendall-Jackson Vineyards & Winery (gazillions of cases). Most of us are well aware of the fact that Kendall-Jackson produces a host of nifty Chardonnays; but if not for Family Winemakers of California, I probably would have lived the rest of my life in tragic ignorance of Dutch Bill Creek's lovely, luscious, mouth watering 1999 Russian River Valley Chardonnay – one of the finest I have ever tasted! You can find direct links to Dutch Bill Creek and many other producers of relatively unknown gems on www.familywinemakers.org.
So here are eight of my favorite wines from this monumental tasting; discoveries that also happen to have fairly good distribution across the country:
1999 Clos la Chance, Santa Cruz Mountains Chardonnay ($18-$22) – Cheryl Murphy Durzy, the daughter of owners Brenda and Bill Murphy, poured me this soft, round, juicy, yet full bodied Chardonnay, its hazelnut and apple-like fruit qualities polished by a fine veneer of smoky oak. If the essence of California style Chardonnay is a certain, compelling, sun-kissed character, this one is a classic.
2001 "J," Russian River Valley Pinot Gris ($16-$22) – Proprietor Judy Jordan needs to take a bow for this beautiful dry white wine; one of the most refined, yet ebulliently fresh styles of Pinot Gris that I've tasted from anywhere – from California, Oregon, France, or Italy (from the latter, bottled as Pinot Grigio). Like golden drops of honey and vanilla on crisp, silky, pear-like fruit, shimmering brilliantly in the glass -- imagine this refresher on your summer deck!
2001 Thomas Fogarty, Monterey Gewurztraminer ($14-$18) – When is the last time you've had a really good Gewurztraminer – something brimming with airy fresh, fragrant, lychee-like fruitiness, soft and mouth-wateringly rich on the palate? Proprietor Dr. Thomas Fogarty hits it right on the money, with a mildly sweet, balanced, yet explosively fruity rendering of this grape, translated from the German language as "spicy" (or more accurately, "scented") Traminer.
2000 Laurel Glen, Lodi "Old Vines Za Zin" ($10-$14) – Winemaker/owner Patrick Campbell sources this pure, blood-red Zinfandel from 100-plus year old vines, planted amidst cherry and plum orchards. The nose, in fact, is like an entire forest of trees bursting with plump, drippy plums and cherries; the flavors, hugely full, yet soft and inviting. Campbell says this is definitely a "drinking" wine, but what really makes it "zing" are simply grilled meats, unfussy pastas, and hard, nutty cheeses. I can do that!
1999 Swanson, Napa Valley Merlot ($28-$34) – For some time now, owner Clarke Swanson has been fashioning some of the classiest wines in the world. This is a seriously fine, richly layered style of red wine that also doesn't forget that it's a "Merlot" – that is, something soft and ecstatically easy to drink. Its black cherry-like fruitiness seems to bounce across the palate, rounded out by subtle oak and perfectly rounded tannins.
2000 Justin, Paso Robles "Justification" ($30-$35) – While lately Deborah and Justin Baldwin's sleek and sumptuously aromatic "Justification" is more likely to be found in restaurants than in retail stores, either way it's not to be missed. A blend of the raspberryish Cabernet Franc (57%) and the black cherry-like Merlot grapes, which combine to produce long, gentle, richly fluid qualities on the palate. One of the most elegant red wines ever conceived in California.
2000 Williams Selyem, Russian River Valley Pinot Noir ($35-$45) – John and Kathe Dyson purchased this widely respected winery from two guys named Williams and Selyem a few years ago, and so far their Pinot Noirs have been just as good or better than before. In fact, this is a beauty: intense red berry fragrances tinged with smoky, burnt leaf aromatics; on the palate, a soft, easy entry followed by rich, round gobs of velvety fruit, finishing with a lip smacking succulence. An ultimate style of California Pinot!
1998 Corison, Napa Valley "Kronos" Cabernet Sauvignon ($60-$70) – Great Cabernet Sauvignon doesn't come cheap these days, and there's a slew of them out there. But you haven't lived until you've tried one-man-band Cathy Corison's relentlessly rich, meaty, concentrated, yet unbelievably refined, almost femininely structured bottling from her Kronos Vineyard. The flavor is pure Napa Valley with a deft sense of style and balance, but without the plodding dryness of most others. In this world of sameness, definitely something to write home about!
July 2002
To contact Randy Caparoso, write him at randycaparoso@earthlink.net.
Back to Randy's World of wine
<!- Page Contents End Here ->