GETTING STARTED | WINE NOTES | SEARCH SITE | DISCUSSION FORUMS | 30 SECOND WINE ADVISOR | CONTACT US
<!TODAY'S TEXT STARTS HERE!>
Wine & Food Advisory
from the Melting Pot of the Pacific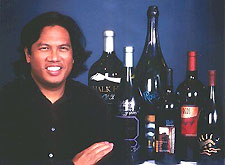 What-the-Cotton-Pickin' Wines for Summer
© Randal Caparoso
It's summertime and the living is easy. Fish are jumping and the cotton is high.
For many years I wondered about the cotton-is-high part. In all the pictures of cotton fields I'd ever seen, the cotton always grew on these knee-high bushes. Then about five years ago I got hold of some authentic white cotton seeds, which I nursed into little sprouts and then popped into the ground. Within a year under the warm Hawaiian sun they had grown into five, six, nearly ten foot trees, throwing their soft, white, fluffy balls all over the yard!
So last year, a little tired of the snowy look, I decided to end it. Cut them down to the bare roots and threw some dirt over them. But wouldn't you know - within weeks they were back up, almost refreshed from their underground respite.
So this summer we'll be back out on the picnic table, enjoying the sky-high cotton. We recently special-ordered a paella pan and an excellent book on the fine art of backyard Spanish cookery called Paella!, by Penelope Casas. We'll drink some those lovely, light, lemony dry whites made from Spain's Albarino grape, and pop in some new CDs by the Buena Vista Social Club. I recommend the ones by the beautiful Omara Portuondo or the impassioned guitarist, Eliade Ochoa (Y el Cuarteto Patria). Oh, the Albarinos? One of those made by Morgadio ($14-$18) or Lusco ($16-$20).
But to tell you the truth, we're more likely to pop something in the oven that we can forget about for an hour; like a whole roaster chicken. Maybe stuff it with some rolled and prickled sweet Meyer lemon from our little bush-like tree (sitting next to elongating cottons), or tuck some twigs of thyme or rosemary underneath the oiled and crackling skin.
These are our versions of "chicken-everybody-loves"; or as the famous Cajun cook, Justin Wilson, calls them, "chicken-I-don't-know." I suspect that most everyone has them - dishes that don't need a fancy name to be good - and the choice of wines to drink with them should be equally natural, besides cold, dry and crackling fresh. No question about, California Chardonnay should do just fine. The commonly seen $8-$13 brands -- such as J. Lohr, Fetzer, Kendall-Jackson, or (my favorites) Heron and Murphy-Goode -- are all plenty soft and fruity enough to freshen the palate and bounce off the juicy, natural oils of the roasted, broiled, basted, or any easy-to-do chickens.
But when the temperature starts to approach 90 even where it's cool and shady, the lighter, easier choice would be a dry California Sauvignon Blanc (also often sold as Fumé Blanc), which does better in the heat because it tends to be around a couple of percentage points lower in alcohol than the average Chardonnay. The Murphy-Goode Fumé Blanc ($9-$13) can always be depended upon for fresh, melony fruit flavors with smooth yet crisply acidic qualities.
If you roast your chicken in an outdoor smoker, the lightly smoky-oaked, aromatic Dry Creek Vineyards Fumé Blanc ($12-$15) might be even better. Slightly higher in price ($13-$16) as well as in refinement and rich, almost wildflowery fragrances are the Sauvignon Blancs by St. Supery, Frog's Leap, Kunde, and Iron Horse. The music? I recommend something equally easy, and which swings with the faintest breeze; like some Hawaiian slack key, some original Bob Wills (and his Texas Playboys), or Asleep at the Wheel's recent "Ride with Bob."
The choices aren't mysterious or particularly difficult. Good food and wine never should be. In fact, like the summer heat and cotton trees with minds of their own, it's usually better to just sit back and enjoy them as they come!
June 12, 2000
To contact Randy Caparoso, write him at randycaparoso@earthlink.net.