GETTING STARTED | WINE NOTES | SEARCH SITE | DISCUSSION FORUMS | 30 SECOND WINE ADVISOR | CONTACT US
<!TODAY'S TEXT STARTS HERE!>
Wine & Food Advisory
from the Melting Pot of the Pacific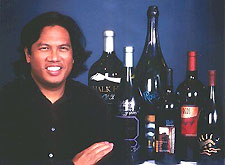 Good Corks, Bad Corks
© Randal Caparoso
It was six years ago when Dick Erath, the proprietor of Erath Vineyards in Oregon, was proudly showing off a vintage of his Reserve Pinot Noir to about 130 wine enthusiasts in Roy's Restaurant here in Honolulu.
Unbeknownst to him, two of the bottles being circulated around the room were badly "corked" - that is, tasting more like a moldy, damp closet than fresh, fruity Pinot Noir. Unfortunately, it wasn't until later during the event that Erath discovered this mishap.
It wasn't the first time that this happened, but Erath immediately decided it would be the last: the next week, upon returning home, he ordered his winemaker Rob Stuart to bottle all future Erath wines - from the $8 "regular" bottlings to the $28 reserves - under synthetic, plastic stoppers. No more dirty natural corks for Erath!
For more years than many would care to admit, the international wine industry has been plagued by this problem: the incidence of natural corks tainted with a chemical compound called TCA -- short for 2,4,6-Trichloroanisole -- which causes wines to be "corked." TCA not only manifests itself as musty or moldy smells, but also causes wine to taste as unpleasant as soured milk on the palate.
As recently as ten years ago, estimates of the percentage of corked wines on the commercial market have ranged from 5% to 10%. While the problem appeared to be rampant, the fact is that corked wines have probably been with us for 200 years; ever since winemakers first discovered that the best and most effective stopper for wine bottles came from the bark of the Quercus suber, a species of oak appropriately known as the "cork tree." Strips of cork bark, like any other piece of wood, can pick up TCA simply by lying around. All it takes is 30 parts per trillion of it in a cork to contaminate a wine!
Be that as it may, in the early 1990s the entire cork industry - including growers, factories, suppliers, and quality control alliances such as the Natural Cork Quality Council and the European Cork Federation - began to take a good, hard look at ways of improving the processing, shipping, and testing of their product in order to minimize TCA. Most industry observers say that their measures have been so effective that in recent years incidence of corked wines has been reduced to 2%-4%.
But is this enough? On any given night, a busy restaurant can easily serve over a hundred bottles of wine. Is it acceptable that out of this, 2 to 4 of those bottles taste more like damp wood or spoiled milk? Is this any way to promote appreciation of wine and food?
In the opinion of an increasing percentage of the industry, the answer is a resounding "no!" It has not been surprising that more and more wines are now bottled with synthetic polymer corks which duplicate both the elasticity and impermeable quality of natural cork. Most importantly, they are virtually 100% free of TCA. At the moment, the most successful producer has been SupremeCorq, a Washington State company which claims to supply its multi-colored stoppers to more than 230 wineries around the world. Less flashy, companies such as Neocork and Nomacorc are supplying synthetic "corks" that are designed to perform and look closer to the real thing, even to the point of absorbing the "stain" of whatever color of wine they are bottled with!
Industry usage of synthetic stoppers is now said to be over 5%; but because it is so new, information on the effectiveness of synthetics in comparison to natural corks is still scant, and sometimes conflicting. The popular Murphy-Goode Winery in Sonoma County, for instance, utilized SupremeCorq products for several vintages in the late '90s, but recently stopped because side-by-side trials indicated that there was less "seal" in their synthetic bottlings than their natural cork bottlings, thereby causing less acceptable levels of oxidation. However, Murphy-Goode's winemaker, Christina Benz, freely admits that the problem may have been caused more by inadequate adjustments made in their bottling machinery rather than the actual quality of SupremeCorq's seals.
This would explain the different findings at Rex Hill Vineyards in Oregon, where winemaker Lynn Penner-Ash has found that SupremeCorq bottlings have a better seal, and thus show less oxidation, than natural cork bottlings. In Rex Hill's side-by-side trials, wines with synthetic stoppers have proven to be slower to evolve, hence fresher, more youthful, and ultimately preferable to wines bottled under natural corks.
Perhaps more surprising to Penner-Ash has been her discovery that various brands of natural cork actually add distinctive -- although not necessarily attractive -- tastes of their own, ranging from menthol or mint to bark or cardboard; whereas the exact same wines bottled under synthetics tend to be cleaner, fruitier, and basically untainted by foreign smells. She adds, "I know some winemakers feel that plastic adds a plastic taint to the wine, but I have not seen it. Rob Stuart (at Erath Vineyards) has used even more plastic 'corq,' and he doesn't seem to have issues with it."
So if synthetic stoppers are so much cleaner, and possibly better, than natural corks, why aren't more producers using them? Says Justin Meyer, the owner of the highly prestigious Silver Oak Wine Cellars in Napa Valley: "I think it (the reason his winery doesn't use synthetic stoppers) is mostly a marketing problem, not a quality problem. I jokingly tell people that the week after Chateau Latour does it, we'll do it!"
April 1, 2000
To contact Randy Caparoso, write him at randycaparoso@earthlink.net.