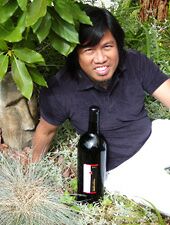 Wine & Food Advisory
from the Melting Pot of the Pacific
Wine, food & redefining cool
© Randal Caparoso
Last month I was standing in a Berkeley wine store, when a woman burst through the door, marched straight to the counter and asked, "Can you help me pick out a white wine to drink right now?"
In his best, calming, Al Franken voice, the store manager said, "Okay ... may I ask what food you would be having with your wine?" The woman's reply was, "I'm not having any food ... all I'm asking for is a very good white wine, preferably very dry - not something fruity or from California - and it has to have alcohol."
And I thought to myself, here's a wine lover who knows exactly what a wine needs to do for her. How cool is that? She eventually walked out with a good bottle of Sancerre - a lemony crisp, dry and stony Sauvignon Blanc based white from France's Loire River. More coolness.
I don't think many of us start out that way. For me, it began with Madria Madria Sangria Sangria. A terrible wine. Rather low alcohol. But what the hey, I was 18 - of legal drinking age at that time, in the mid-1970s.
It wasn't so much the wine, but the attitude. When I unscrewed and drank from my fat bottomed bottle of Sangria I became, say, Zorba the Greek, challenging God to a fight. A Don Quixote hacking at the wine-skins. Sometimes even a coyote ugly Mick Jagger. Thank you for your wine, California ... thank you for your sweet and bitter fruit.
But I soon found myself reading the back labels, like cereal boxes, of finer bottlings such as Sebastiani Zinfandel, Almaden Grenache Rose, and Robert Mondavi Fume Blanc, and I learned to use a corkscrew and sip from stemmed glasses. And since I was working my way through college in pursuit of a degree in philosophy, the approach became academic. I devoured books on Cabernet and Pinot with as much zeal, and yellow markers, as books on Kierkegaard and Plato.
Learning about wine was easy enough. That's why everyone has an uncle who is an expert. Over the years I've found that the most perplexing task is learning how wine fits in with what, to me, matters most: food. You see, information on how wine interacts with food is not really found in books and magazines. It's something you have to discover for yourself - bottle by bottle, dish by dish. Don't look for help from the wine experts. For one thing, most of them could care less about how a wine tastes with food, but only about its region of origin, the terroir and microclimate, the temperature of its fermentation, the type of oak it's been aged in, the winemaker's dog's name, ad nauseum. For another, learning about how wine goes with food is a process of discovering your own tastes and predilections, real or imagined.
And it's still about attitude.
Most recent case: I was sitting at a bustling new restaurant's exhibition kitchen counter, pondering a plate of scallops dolled up in a pungently truffled lobster sauce, with a glass of slightly sweet German Riesling. But the combination wasn't ringing any bells. Shall I try a fuller, richer white wine, I thought, like an Alsatian Pinot Gris? Do I dare to eat a peach, walk along the beach with my trousers rolled up past my feet? This is what happens when you forget to bring a book when you dine out alone.
Fortunately, the restaurant manager (who knows me well) came to my rescue with a glass of Pinot Noir - a red rather than another white. The thing about Pinot Noir, however, is that it is a red wine that tends to be as soft and easy drinking as any white wine. Think of Pinot Noir as a cross-dresser - a red wine that "thinks" it is a white. But because Pinot Noir is actually equipped like a red wine - with aromas of pepperminty spice and berries, as opposed to the floral or tropical fruit perfumes of most white wines - it connected with soft, pliant, earthy taste of my truffle laced scallops like Bogey and Bacall. An unreasonable but obscenely great match!
Many experts still say: drink white wine with fish and red wine with meat, and light wines before heavy. Like the moral mandate of priests and presidents, most of us stopped believing in these things long ago. But there's also such a thing as anti-snob snobbery. I recently learned from a coffee merchant that true coffee connoisseurs don't drink French or Italian roasts because the "carbon" taste obliterates the flavor of the bean. I happen to prefer the smoky taste of French or Italian roasts, and I drink it every day. Does that mean I'm not really a coffee lover?
In the same way, in some of today's camps wines such as Chardonnay and Merlot are considered overrated, tired ... uncool. Are Riesling and Barbera drinkers that much cooler than Chardonnay and Merlot drinkers? Depends upon the attitude.
Coolness as originally defined by, say, Miles and McQueen, long ago by Gertrude Stein, or today by Samuel L. Jackson, has everything to do with a there-ness. If you know what's there in your heart and mind, and you know very well how to express it by what you do and - in the case of wine, food, fashion, and any of the arts - what you consume, then you're as cool as anyone.
In more laconic lingo, coolness involves obeying your thirst. If a feathery light, zesty Riesling rocks your world, so be it. But if you know that you like a California Chardonnay for its big, heavy, lusciously fruity flavor - especially with a dinner of drippingly juicy, roasted chicken, or even a breakfast of sweet Alaskan king crab and avocado omelette - then no Marlboro Man, or effete lover of Riesling, has anything over you.
Then again, if you're drinking bone dry Champagne with super-sweet chocolate - a gustatory equivalent to fingernails on a chalkboard - because some wise, older man, or a charming, younger woman, says it's the thing to do, then you're not only trespassing against your own sense of good taste, you're probably defiling one of the laws of nature. It's easy to tell when a wine is lousy, or a wine and food combination is stupid - it tastes bad!
In retrospect, my taste for Madria Madria Sangria Sangria was decidedly uncool; and the sight of a skinny, 50-something year old British rocker prancing on a stage is not turning me on either. Ah, but the young, rugged, charred sandalwood scented Chateauneuf du Pape with the green peppercorn sauced steak I had in New York last July - that was something else. Not terribly original, but good and right just the same. Just like the foie gras with caramelized onions and huckleberries I recently washed down in Chicago with a sweet, nectar-like Canadian Ice Wine; and the smoked buffalo mozzarella and outrageously fresh, succulent heirloom tomatoes popped between cold drafts of silky smooth, licoricey dry Japanese sake (the "wine" of the East) in Marin just last month. Didn't have to think or analyze any of this - the "there" was all there.
So how can you go about finding it? I recommend keeping an open mind, trusting in your own taste, and taking it from there: reveling in as many new wines and different combinations with food as possible, in the same way that you vary your clothes, the books you read, the plants you cultivate, or the music you listen to. The naked pleasures wrought by unclouded intelligence, to paraphrase Gertrude Stein, are sure to be the best.
And how cool is that?
Aug. 31, 2002
To contact Randy Caparoso, write him at randycaparoso@earthlink.net.
Back to Randy's World of wine
<!- Page Contents End Here ->