GETTING STARTED | WINE NOTES | SEARCH SITE | DISCUSSION FORUMS | 30 SECOND WINE ADVISOR | CONTACT US
<!TODAY'S TEXT STARTS HERE!>
Wine & Food Advisory
from the Melting Pot of the Pacific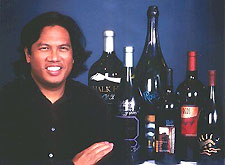 Does "Fusion" Equal Wine-Confusion?
© Randal Caparoso
Everyone agrees that new island style, or "fusion," cooking can sometimes be bizarre. Like raw tuna in gingery soy and sesame butter over potatoes and crispy pan fried lilikoi. I live in Hawaii, and even I would wince at the idea. But with plain steamed white rice, I'd take that gingery raw tuna anytime!
But is it wine compatible? No more and no less, in my opinion, then the dishes typifying any other style of cuisine. For instance, with a French cassoulet with confit of game, a South-Western French red wine such as Cahors or Madiran makes a classic match. But with a classic French Champagne or Alsatian Riesling? Even the French would wince.
How about pasta in a simple tomato marinara? Chianti or Barbera from Italy is perfectly natural. But a red, Cabernet based red wine from Bordeaux? Too thick and blunt. A German Riesling? Too light and sweet. Not everything coming out of traditional "wine" cultures, in other words, makes a good match.
And so not everything coming out of new Hawaii regional cuisine -- or any other type of modern day fusion cooking, for that matter -- goes with any kind of wine. There is, however, an enormous range of wine styles from around the world; and so for virtually any type of cooking, fusion or otherwise, there is a surprising number of perfectly delicious wine matches to be found.
It is a total myth, however, that spicy Asian influenced styles of cooking - especially the sort found in Hawaii - are only compatible with Gewurztraminer, a spicy, lychee-like white wine. In fact, I usually can't think of a worse match, since Gewurztraminer tends to be an overly alcoholic, low acid and/or bitter tasting wine - quite incompatible with vinegary, hot, sour or sweet Asian ingredients. So why is it that in a recent Wine Spectator magazine one of Hawaii's own chefs is quoted to say, "When you go too far with Pacific Rim food, you're into beer... you can't have Gewurz all the time?" Beats me. I would suggest that this chef just doesn't do his homework. Or else has simply been deprived of imaginative wine advisory.
The fact is that sweet/sour/spicy Asian influenced Pacific Rim food goes wonderfully with light, fragrant, off-dry or even dry Rieslings from Germany, the U.S., Australia, New Zealand, and places as far flung as South Africa and the Finger Lakes of New York. It also goes great with Spanish Albariño, Grüner Veltliner from Austria, and often with sparkling wines of all sorts from around the world. But no, Asian spiced cooking does not do too well with red Bordeaux, white Burgundy, Napa Valley Chardonnay or Cabernet, or worse yet, Alsatian Gewurztraminer. But just because it does not go with everything, it is not necessarily a "beer" cuisine. If you think that, you're just depriving yourself of the pleasures of the great, natural variety of wine!
So this is my suggestion the next time you are thinking about what to drink with a meal that features, say, Chinese vegetables, Japanese seasonings, Thai spices, Italian herbs, French sauces, Filipino vinaigrettes, or even a combination of all of the above and more: Do not automatically shy away from wine! In fact, the stronger and more varied the ingredients in your foods, the more important it is to stick to wines that are not so predictable as Cabernet Sauvignon or Chardonnay, French Bordeaux or Burgundy. These types of wines are great for more predictable, European styles of cooking, but are chancy with more adventurous foods.
Adventurous foods, however, give you the perfect opportunity to have fun with more adventurous wines; which are unusual by nature, and not nearly as uncommon as you may think, given the adventurous spirit of wine buyers in many of today's wine stores, and even supermarkets. Wine professionals like to have their fun, too. So here's a modest selection of some of the finer examples of highly food versatile wines that this particular buyer has discovered in recent weeks:
1999 Barbolini, Lambrusco ($12-$15) - If you're thinking Riunite-on-ice, you are sadly underestimating the quality, and serious food worthiness, of the traditional style of Lambrusco from Italy. This particular red wine is a delight - and what's wrong with being delightful? - not so much because of its light, effusively bubbley, strawberryish fruitiness, but also because of the sheer ease with which it cuddles up to the spiciest, sweet/sour foods. So the next time you're having, say, a Chinese dish in black bean sauce, think Lambrusco. In this context, it could very well be the finest red wine in the world!
1999 Babcock, "Tri-County Cuvee" Pinot Noir ($18-$22) - Some gastronomes say that red wines made from the Pinot Noir grape are the food friendliest in the world, period. I can't disagree, based upon the inherent lightness, soft tannins, and crisp edged, spicy, fragrant qualities of the grape. In the 1999 vintage, winemaker Bryan Babcock found that his Santa Barbara plantings of Pinot Noir were not quite good enough to stand on its own; and so what he did was blend some fruit grown in Mendocino and Sonoma into his bottlings, and the result is this wonderfully soft, smooth red wine with a hugely spicy perfume, suggesting red berries, smoke, cinnamon, peppermint and peppercorn. It's this combination of intense flavor and softness that makes this wine merge effortlessly with soy and ginger sauced dishes, laying to waste any assumption that Asian style foods are good only for beer.
Albert Boxler, Riesling 1998 ($16-$19) - Gewurztraminers from the Alsace, France may be a disaster with Asian spiced foods, but the dry style Rieslings from the same region are a different story. They can be amazing; such as this flowery scented white wine, which gives off honeyed, minerally nuances, and drapes across the palate with an easy, almost sensuously fluid, crisp quality. With sushi, it's a cinch; and with the sweet and citrus infused sensations of Chinese, Thai and even Vietnamese foods, it's a revelation!
1999 Fox Creek, "JSM" Shiraz/Cabernet Franc ($28-$34) - Beef or pork ribs in sweet/sour, peppery, vinegary, spicy hot, and even downright sticky sauces can be problematic for wines. You want a red wine to help digest the fats; but it can't be too strong in tannin since it might taste too bitter in relation to the sauce, and it can't be so weak that it is overwhelmed by the sheer flavor of the dish.
The solution? An Australian Shiraz based red, which is plenty powerful in body, tannin and spicy, perfumed flavors, yet soft, pliant and juicy enough for even the most extreme seasonings and spices. The "JSM" offers all this and more - a luxurious texture and depth given by the Cabernet Franc grape. There are a number of other Australian style red wine blends - such as the Charles Melton "Nine Popes," the Torbreck "Woodcutter's Red," Rosemount's "GSM," and Australian Domaine Wines' "The Hattrick" - which offer this same, incredible combination of size, power, and softness that goes beautifully with Asian spiced meats. Try them, and you'll never again be swayed by the conventional thinking that certain foods were never meant for wine!
Dec. 2, 2000
To contact Randy Caparoso, write him at randycaparoso@earthlink.net.