<!- Page Contents Begin Here ->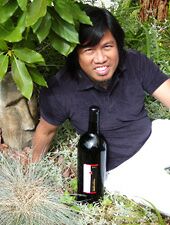 Wine & Food Advisory
from the Melting Pot of the Pacific
Classic wines for everyday prices
© Randal Caparoso
I recently saw a documentary on Jimi Hendrix and I thought: Surely, no musician, then or now, has come even close to expressing as much passion and creativity with the rock guitar. Then again, I think the same sort of thing when I listen to Louis Armstrong and Ella Fitzgerald collaborating on They Can't Take That Away From Me. The young Billie Holiday slipping and sliding on I'll Get By, or Patsy Cline tearing the country ballad apart and seamlessly putting it back together again in Leavin' On Your Mind. All monumental works; never to be duplicated again by anyone, no matter how good.
That's how I think of the great wines of the world, which come from monumental vineyards. Like artistic geniuses, the great vineyards of the world are forces of nature that can never really be duplicated. No matter how hard anyone in, say, California or Australia may try, you just can't equal the incredible combination of power and sumptuousness found in the Cabernet Sauvignon based red wines from Chateau Mouton-Rothschild in France's Bordeaux region. The same thing for the Merlot based wine from Bordeaux's Chateau Petrus, and the Pinot Noir based red from Burgundy's Romanée-Conti. These are originals, like Louis, Ella, and Patsy.
Among white wines, connoisseurs swear that Burgundy's Montrachet, planted exclusively to Chardonnay grapes, is like no other; and it is a similar, natural (or almost supernatural) convergence of slope, soil, climate and countless other factors that make the Bernkasteler Doktor on Germany's Mosel River the finest Riesling vineyard in the world.
Ah, but there lies the rub: only so much is produced from each of these great vineyards each year, and it is the connoisseurs who have driven up the prices of single bottles of these wines - $100, $200, and often well over $300, even when brand new - for something so wonderfully intense yet smooth that it could easily be drunk up within minutes. If you can even find them.
This doesn't mean, however, that you can't find fairly reasonably priced wines that come close to the originals in respect to power, elegance, balance, intensity, and everything else adding up to pure, wicked deliciousness. The fact is, you can. Just like the fact that Clapton and Stevie Ray have often made us forget Hendrix, and a Diana Krall or even the fledgling Norah Jones can tickle our fancy in lieu of Billie and Ella.
So what I did was ask a young, bright Honolulu sommelier named Roberto Viernes, of Neiman Marcus's Mariposa, to help me come up with a list of wines that come closest to recalling the greatest wines of the world; figuring that his taste would provide a good counterpoint to my more jaded (and admittedly, somewhat saturated) palate. My only stipulation was that Roberto help me choose only wines that retail under $35. In fact, most of the following are priced between $20 and $30. Here are our choices:
Best Montrachet-like White Wine: Roberto thinks of Montrachet as exacting the purest, most concentrated – not necessarily the biggest and most opulent - expression of the Chardonnay grape, and so his choice of the most Montrachet-like white wine under $35 is the Robert Talbott "Sleepy Vineyard" Chardonnay from California's Monterey County. Roberto also likes the note of terroir, or earth-toned, quality in the Talbott, distinguishing it from other California grown Chardonnays.
My choice of the most Montrachet-like white wine under $35 would be the Au Bon Climat "Le Bouge D'a cote" Chardonnay from Santa Maria Valley in Santa Barbara. The Chardonnays by ABC are often misunderstood (and therefore underrated) by American wine critics precisely because they are so tightly crisp and stony, suggesting a subtle strength and silky concentration more akin to a Montrachet than the usual pack of ripe, heavy, oak-laden styles of Chardonnay produced in California.
Best Bernkasteler Doktor-like White Wine: Both Roberto and I agree that there are no Rieslings grown outside of Germany that come close to the great, lusciously perfumed and silken textured white wines of Doktor, which are at their best when vinified with some degree of sweetness (especially when bottled as Spätlese or "late picked," or as Auslese or "special picked").
We also agree that elsewhere along Germany's Mosel river there are some highly underrated vineyards producing wines nearly equal to the Doktor in quality and stature. Roberto's choice would be the Brauneberger Juffer Riesling produced by Reichsgraff von Kesselstatt, which he describes as having the raciness, generosity of sweet fruit and slate-like, minerally quality of great German Riesling. My own predilection runs towards the Urziger Würzgarten by Weingut Monchhof; which to me, defines the incredibly lithe and delicate (like little girls dancing), yet powerfully fruity, flinty, tropical, almost amorous "spice garden" qualities (like women of sophistication) of these harrowingly steep riverside vineyards.
Best Chateau Petrus-like Red Wine: Everyone loves Chateau Petrus – the juicy essence of Merlot - like everyone loves J. Lo, but only the rich and/or famous seem to have the inside track on the two of them. Roberto's poor-man substitute for Petrus would be the Luna Vineyards Merlot from Napa Valley, which he cites for its plush, smooth, luscious taste that never seems to be overbearing. Me, I'll take the phenomenally and consistently deep, lush, satiny smooth St. Francis "Reserve" Merlot from Sonoma – always, like liquid Billie!
Best Chateau Mouton-Rothschild-like Red Wine: Here, Roberto and I diverge somewhat. His choice is the Mouton-Clos du Marquis from St. Julien in Bordeaux; which is the "second wine" (i.e. less expensive/not-as-good) of the famous Chateau Leoville Las Cases. Mr. Viernes likes the Mouton-Clos du Marquis' true "breed," and I respect him for that. But I would still take him to task because the one, distinctive characteristic of Mouton-Rothschild among all other Bordeaux reds is its unabashedly strong, masculine, blackcurranty concentration of Cabernet Sauvignon flavor; and neither Leoville Las Cases nor its second wine are as emphatically "varietal" in this sense.
However, when you go to California's Napa Valley, you find lots of Chateau Mouton-Rothschild wannabes, reveling in the sheer power of the Cabernet Sauvignon grape. In my mind, the most worthy of these has always been the Beaulieu Vineyard "Georges de Latour Private Reserve" Cabernet Sauvignon: deep, strong, decidedly masculine, but always with a sense of balance and textured elegance recalling classic Bordeaux.
Best Romanée-Conti-like Red Wine: Roberto is as brash as he is original, and so he chooses the Felton Road Pinot Noir from Central Otago in New Zealand as having an intensity of berried fruit and lush palate feel recalling the fabled $300 bottlings of Domaine de la Romanée-Conti.
I agree that New Zealand has recently come a long way towards producing a Burgundy-like red wine, but "close" can be a mile or a foot. To me, the Kiwis are closer to a mile, whereas in California Pinot Noir specialists are at least within putting range. My choice would be the Costa de Oro "Gold Coast" Pinot Noir from Santa Maria Valley in Santa Barbara – the best possible Pinot under $35 because it is so smooth, so round, almost decadently rich in smoky-spicy red fruit flavors and perfumes.
November 2002
To contact Randy Caparoso, write him at randycaparoso@earthlink.net.
Back to Randy's World of wine
<!- Page Contents End Here ->