GETTING STARTED | WINE NOTES | SEARCH SITE | DISCUSSION FORUMS | 30 SECOND WINE ADVISOR | CONTACT US
<!TODAY'S TEXT STARTS HERE!>
Wine & Food Advisory
from the Melting Pot of the Pacific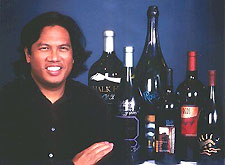 Food and Wine in the "City"
© Randal Caparoso
You push the button, we do the rest. Modern restaurant dining has always been something of a barometer of society's expectations of food standards, and perhaps nowhere has it evolved into such an automation than in San Francisco, where I've spent almost three of the past four weeks.
"Simple food made from the freshest ingredients" is how a recent San Francisco magazine described its city's basic philosophy, and San Francisco's restaurateurs have certainly raised it to a fine art -- at $75 per person, which is what it costs to sample the "chef's menu" at the Fifth Floor, one of the country's more serious temples of gastronomy. Here chef George Morrone presents a "deconstructed suckling pig a l'orange," which is little more than three 2 inch clumps of other-white-meat touched by smidgens of orange nuanced natural juices, draped lonesomely across a manhole sized, lunar white Villeroy & Boch plate. Nothing more, nothing less. The flavors, of course, are stunningly distinct and delicious, and they are accentuated further by an utterly rare, tender and handsome Spanish red wine, called Alion, craftily chosen by super-sommelier Rajat Parr.
In fact, the entire City -- to San Franciscans, they are the "City" the way New Yorkers are the "Big Apple" -- revels in a simplicity which, if anything, is dripping with good taste. At Delfina, located in a more rambunctious neighborhood well south of Market St., the pork comes in a single oversized slab with barely a sauce to speak of; but is so juicy that it tastes sweet, almost like chocolate -- like buttah, you can say, is to Barbara. The duly noted lineage of Delfina's pork -- Niman Ranch, known for its organically raised pigs and cattle -- is as correct and tasteful as chef/owner Greg Stoll's culinary sensibility. "It took me a really long time to grow up," he says in the aforementioned San Francisco magazine, "but now I'm a perfectionist." Would Bay Area foodies accept anything less?
Then again, what do you expect in a town that sports signs beseeching the populace to "Think Deeply," and where dot-commers imprint stationery that advises, to wit, "Life is a Perpetual State of Transformation?" But thank goodness, there are still restaurants like Zuni Café, operated by the same chef/owner (Judy Rodgers) since 1972; because there is nothing too deep to think about when it comes to her succulent roasted chicken, her feathery light gnocchi, and her incredibly fresh and varied array of oysters. When you order mussels at LuLu, you can hear it arriving from 20 feet away, sizzling on an iron skillet heated by the open kitchen's roaring fires, a dish of melted lemon butter at the center alerting the senses. And it was at LuLu where I experienced my best food and wine combination of the month -- the 1997 WillaKenzie Gamay Noir, a plump, lusciously fruity red from Oregon, with an equally plump, luscious quail wrapped with pancetta and stuffed with figs.
Of course, the throngs of instant, twenty-something dot-com millionaires also make hipness an embarassing inevitability. The screwcapped Plumpjack Cabernet Sauvignon is eagerly gobbled up for $175 a bottle, and North Beach leather-wrapped girls sip $10 cosmopolitans made with blood orange infused vodkas from Napa Valley. At the French-Asian styled Azie -- a variant of en l'Asie or "in Asia" (get it?) -- a live DJ spins glorified elevator music off old fashioned wax at the entrance. A current fave-rave at late-night hangouts like Globe? Spaghetti and tomato sauce -- plenty good for the unvirtual reality challenged, but not exactly Medici Kitchen material.
But enough about kitchens and kitsch, what about wine? By virtue of their proximity to the wine country, San Franciscans consider themselves the most wine savvy gastronomes in the world. Even so, restaurant wine lists tend to be stacked with Chardonnays, Cabernet Sauvignons, red Bordeauxs and white Burgundies, no matter what kind of food is served -- French, Italian, Chinese, Japanese, fusion, "new American," et al.
But still, the Bay Area's core of sommeliers and professional wine buyers are just about the most knowedgeable and conscientious in the country. So if you are unafraid of putting yourself into a server's hands -- asking for, say, a $25-$35 red wine to match the chef's signature foie-gras-and-tuna, you're quite likely to get a perfectly unusual, and appropriate, recommendation such as a Spanish Ribera del Duero or a smooth, earthy French Coteaux de Languedoc. My advice? Since you're surrounded by experts, use them.
Better yet, you should ask for them by name. Besides Rajat Parr of the Fifth Floor, San Francisco's best, brightest, most affable sommeliers include:
Larry Stone M.S. - Rubicon
John Lancaster - Boulevard
William Sherer M.S. - Aqua
Renee Nicole-Kubin - Gary Danko
Peter Palmer - Farallon

And at the soon-to-open Bacar (mid-September), you should expect great things from Debbie Zachareas, who had previously made an impact at the fusion style EOS in collaboration with chef Arnold Wong.
But do not, however, think too deeply. Interesting foods and wines are too good to be spoiled by too much thought!
August 2000
To contact Randy Caparoso, write him at randycaparoso@earthlink.net.