GETTING STARTED | WINE NOTES | SEARCH SITE | DISCUSSION FORUMS | 30 SECOND WINE ADVISOR | CONTACT US
<!TODAY'S TEXT STARTS HERE!>
Wine & Food Advisory
from the Melting Pot of the Pacific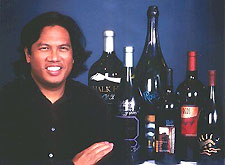 The Happening Wines of Chile
© Randal Caparoso

Traveling through Chile's endless stretch of valley vineyards between the Andes and the Pacific coastal hills brings to mind the spectacular high desert scenes in The Good, the Bad and the Ugly. In fact, the wines are somewhat like that - anywhere from mediocre to magnificent.
It is the best of times and worst of times for the Chilean wine industry. On one hand, many of Chile's wines are simple, awkward, dusty/dirty, and all too often vegetal - anything but vinous. On the other, there are an amazing number of astoundingly elegant, immensely fruited wines that easily compare, and even surpass, much of the grand crus of France's Bordeaux, and certainly California's vaunted Cabernet Sauvignons and Merlots. As you would expect, retail prices in the U.S. for these wines range from $5 to $75; and in Chile's own wine stores and wine bars - many of them very chic, shiny, new, and sophisticated - the disparity is the same.
Will the circle ever be unbroken? Not in this world.
Why? Because wine is big business in Chile. While pallets are exported with pride, the 5 million people in Chile's sprawling capital of Santiago consume enough of their own. And although the climate is Mediterranean and the soil fertility properly spare, there is nothing sparse about the production. With water flowing freely from the Andes, vineyards are often so productive that the resulting whites and reds are likely to taste more like bell peppers than apples or berries. Cheapness has its price.
Then there is the Carmenere factor. In the early 1990s, resurging corporate and foreign interests powered a huge expansion of Merlot, Cabernet Sauvignon, Chardonnay, and Sauvignon Blanc plantings. By the mid '90s, however, visitng French ampelographers - scientists of the vine - established a slight discrepancy: anywhere from a third to two-thirds (estimates vary) of what was planted as Merlot was in actuality a red grape called Carmenere, an old French varietal originally transplanted to Chile 150 years ago, and virtually defunct in modern day France.
It was an honest mistake. In the field, Merlot and Carmenere certainly look alike; and so even today the Chilean government allows 100% Carmenere reds to be bottled and sold as Merlot. The difference is that real Merlot grapes tend to yield a deep, round, red berry/black cherryish wine; whereas Carmenere has a tendency to produce sweetly perfumed, green chile spiced reds, verging on green pea, dried tobacco twists and citrus peel -- depending upon your perspective, either an intriguingly exotic, or an annoyingly odd, mix of flavors.
As you might imagine, five days of tasting with Chile's vintners gave me an educated, if fleeting, glimpse of this emerging mountain of a wine country. What I see is almost limitless potential - potential to produce the finest wines in the world, the best bargain priced wines in the world, and even to turn an ugly duckling like Carmenere into an aristocrat. The hurdles - such as over-production, identification of terroir, and oak and tannin management - are far from insurmountable. In fact, not much different than what we are seeing in Italy, Australia, California, and other major wine regions. Chile, you can say, is happening!
The following notes reflect some of the benchmarks which I found particularly significant; with estimated U.S. retail prices where noted:
Chardonnays
1998 Veramonte, Casablanca Valley Chardonnay - Many of Chile's Chardonnays are more herbaceous than their Sauvignon Blancs; and all too commonly, tasting more of oak than the varietal's apple/pear qualities. The Veramonte, on the other hand, is purely and crisply "Chardonnay"; dry, lightly creamy, medium in weight, with a refreshing drop of lemon. In one blind tasting, we compared it with three superpremium Chardonnays from France, Australia and California; and at $9-$11, the Veramonte was an overwhelming winner - at least in terms of quality per price and ounce!
1998 Di Martino, Maipo Valley "Prima" Chardonnay - A reflection of an unusually difficult vintage for Chile - unseasonably cool, wet harvest conditions making green, herbaceous wines a rule rather than exception - this is an example of one of the few producers who eked out a finely scaled bottling in spite of the dearth of fruit extract. The nose here is herby and lightly oaked - fresh vanilla and whiffs of leafy mint - which is followed up by a good, crisp, silky feel on the palate, packaging modestly intense varietal fruit flavors.
Sauvignon Blancs
1999 Francisco de Aguirre Palo Alto, Limari Valley Sauvignon Blanc - While evidently an important commercial crop for the industry, I found it difficult to distinguish qualities apart from sheer value in Chilean style Sauvignon Blanc. But mind you, this bottling is an exception - giving an intense pineapple and citrus fruitiness, enhanced by light chalky/minerally complexities. Crisp edged with moderate acidity, giving a light-medium bodied, easy dryness on the palate. Lovely.
1999 Santa Isabel, Casablanca Valley Sauvignon - There are some typically Chilean excesses in this wine - namely, a pungent, green bell peppery center - but there is also an enticingly juicy, green melony fruitiness, carried by an airy-light medium body, finishing with a gently bitter, albeit mouth-watering, phenolic edge.
Merlots
1997 Veramonte, Casablanca Valley Merlot - As with Veramonte's Chardonnay, this authentic Merlot (just $9-$11) makes similarly priced California Merlots taste shabby; its plump, plummy, juicy fruit aroma lavished with sweet-buttery oak, and on the palate, soft, rounded, and moderately thick. A barrel sample of the 1999 Veramonte Merlot, by the way, promises markedly greater breadth, charm and intensity - a fulfillment of founder Agustin Huneeus's tireless work and vision.
1998 Casa Lapostolle, "Cuvee Alexander" Merlot - From Rapel Valley, this is one of those Chilean Merlots that is really only partially Merlot, since it is blended with a larger proportion of Carmenere. No matter, since the aromas and texture are positively Merlot-ish - seductively lush, sweet red and black fruit - with underlying green leafy/herbal qualities rounded out by a smoky oak, pipe-tobacco-like richness, anchored by a firm, broad tannin base.
1998 Santa Rita, "Reserva Especial" Maipo Valley Merlot - One of the few real successes in this difficult vintage, this Merlot/Carmenere blend projects sweet, plummy, blackcurrant liqueur-like aromas; and while strapped by some leathery tones, the flavors on the palate are rich, round, and lively, finishing with some smoky meat and tobacco-like qualities.
CARMENERES
1997 Veramonte, Casablanca Valley "Primus" - Although in most vintages Veramonte's Primus is a blend of Carmenere and Cabernet Sauvignon, the '97 is 100% Carmenere; and thus a good introduction to the charms, and some of the excesses, of the grape. The nose is ultra-ripe and scented, suggesting black plums and berries, merged with cedary oak and weedy/leafy edges. On the palate, a firmly dry, densely textured feel, at once full and round.
1998 Canepa, Colchagua Valley Carmenere - In spite of the varietal tendencies showing up in the nose - intense chile and red bell pepper aromatics - this is a finely textured, medium weight Carmenere that develops nicely on the palate; giving attractively fresh, lively, peppery spice, flowing smoothly over firm but moderate tannin.
1999 Chateau La Joya, "Gran Reserva" Colchagua Valley Carmenere - While just barrel sampling, this bottling by the Bisquerrt Family Vineyards was the most charming Carmenere tasted on this trip; giving sweet, fruity, cassis-like fruit, blessedly free of weedy, green characteristics of the grape; with new French oak showing up more on the palate, which is round, fleshy, moderate in tannin, filled out with tobacco-like oak/fruit intensities.
Cabernet Sauvignons and Superpremium Blends
1995 Concha y Toro, "Don Melchor - Private Reserve" Cabernet Sauvignon - While Merlot has become the bread-and-butter, Cabernet Sauvignon is really Chile's forte. This $24-$28 wine is charged with seriously rich, sumptuous Cabernet character -- with minty black fruit verging on roasting peppers - lavished with sweet buttery oak and pungently earthy game and leather. The textures juxtapose silk and hard tannin muscle - like dancing with Madonna - which combine with the leathery qualities in a lean, tightening finish that is suggestive more of French Bordeaux than, say, New World Cabernet in style.
1997 Calina, Rapel Valley "Seleccion de Las Lomas" Cabernet Sauvignon - Masterminded by owner Kendall-Jackson's winemaker-in-chief, Randy Ullom, this wine shows the best and not-so-best parts of Chilean grown Cabernet - sweetly intense, blackberryish fruit with a pervasive weediness, glossed over by slightly charred, tobacco-like French oak. The intense qualities are packed into a good, strong, medium-weight structure, finishing with firm, if palate-drying, tannin.
1997 Morande, Maipo Valley Cabernet Sauvignon - There's an Old World-ish quality to the nose in this bottling - light, gingery/soy-like, earthy nuances punctuating a sweet blackcurrant liqueur-like aroma. Then on the palate, the wine becomes more New World - rounded, smoky, firm yet buoyant - finishing with a soft, fruit-forward yet satisfying simplicity.
1996 Cousina Macul, Maipo Valley "Finis Terrae" - While a French oak finished Merlot/Cabernet Sauvignon blend, this is a somewhat old fashioned (for Chile, that of only a decade ago) style, giving slightly shriveled, sun ripened fruit, licorice, dried herb, and slightly caramelized, roasted nut notes in the nose. The round fruit gives a velvety entry into the palate, but is augmented by a somewhat lean, slightly herbal, medium weight feel hardened by youthful tannin, leading to a leathery dry, walnut-toned finish.
1997 Montes, Colchagua Valley Alpha "M" - Like Macul's "Finis Terrae," a classically configured, finesse style blend (80% Cabernet Sauvignon/10% Cabernet Franc/10% Merlot); only less leathery and lusher in fruit - the sweet, ripe toned berry qualities pure and penetrating in the nose - leading into an easy, silky, medium weight body carrying a nice, long, savory and seamlessly knit interplay of fruit, French oak, and breathy, woodsmoky terroir.
1997 Carmen, Maipo Valley "Gold Reserve" - This daringly black, flamboyant 100% Cabernet Sauvignon exudes both pungent oak and lush, herbal-edged, blackcurrant-like fruit, resulting in a sweetly dill-like, green pepper laced intensity. Whopping, chewy tannins on the palate steal a little bit of the thunder, exacting something of a tough love over the wine's pound of fleshy, sweet fruit qualities.
1997 Errazuriz, Aconcagua Valley "Don Maximiano" - Up, up, up we go on the quality and price ($40-$50) scale. This Cabernet Sauvignon (blended with 13% Cabernet Franc) is multi-faceted and flashy; powerfully concentrated, sweet blackcurrant fruit packed into a medium-full body of sheer, plush velvet, seamlessly knit, finishing with a smack of tannin and tobacco. Impeccable, and wildly promising, superpremium quality.
1997 Quebrada de Macul, Maipo Valley "Domus Aurea" - The ultra-cool art label and six-pack wooden case packaging make a strong enough statement. In respect to the wine inside, it's predictably tricky to distinguish between the self generated bravado and externally driven hype behind this prestige bottling, crafted by the much revered Ignacio Recabarren. Recabarren seems comfortable enough with the status (his and Domus's) - he's a winemaker who always take half an hour to make a few "brief comments." Whatever the case, there is power aplenty in the Domus - densely packed, tannic muscle-bound layers of sweet cassis and plummy fruit infused with the herbaceous, dill-like qualities which happen when new oak collides with green/eucalyptus-like Cabernet Sauvignon fruit. A velvety texture smooths over a medium-full, tannin throttled middle, and the wine finishes tight, smoky and tobacco-like. The sum total is another uniquely Chilean expression of serious, state-of-the-art Bordeaux style wine.
1997 Errazuriz, Aconcagua Valley "Sena" - The Sena represents a bold joint venture partnership of Errazuriz and Robert Mondavi; with Tim Mondavi contributing much of the direction of this Cabernet Sauvignon/Carmenere (16%) super-selection. In our tasting, there were new leather and game-like qualities -- which some Chilean vintners perplexingly attribute to terroir rather than brettanomyces -- dominating an otherwise explosive, deeply concentrated, smoky oaked blackcurrant aroma. The wine is unabashedly big, but also lush, fleshy, and of course, leather-bound on the palate; before full, gripping tannins begin to dry and harden over a smoky finish.
1997 Almaviva, Maipo Valley - Is this the be-all and end-all of Chilean wine? Almaviva's joint partners, Concha y Toro and Baronne Philippe de Rothschild (of Chateau Mouton-Rothschild fame), have certainly positioned and priced ($65-$75) it that way. All the elements are in place - the finest selections of Cabernet Sauvignon, Cabernet Franc and Carmenere from Concha y Toro's vast acreage, and a stunningly beautiful winery designed with all the accouterments representing a culmination of Rothschild's winemaking wisdom. The wine? Powerful, sweetly concentrated, yet also unmercifully gamy; suggesting sexy lace under blackstrap leather. A keeper, if such exotica is ever meant to be kept.
1997 Casa Lapostolle, Colchagua Valley "Clos Apalta" - As brilliant as the work of Errazuriz and Almaviva has been, for me the Apalta represents a lofty summit of modern South American winemaking, and a relatively great value ($40-$50) by international standards of today. It is an inimitably Chilean, uncannily balanced blend of 50% Merlot, 30% Carmenere, and 20% Cabernet Sauvignon; saturated with luxurious black fruit, cassis and mint; big and beautifully structured, finishing with a flourish as deep and ceaseless as its black ruby color. Now, that's something to write home about!
March 21, 2000
To contact Randy Caparoso, write him at randycaparoso@earthlink.net.