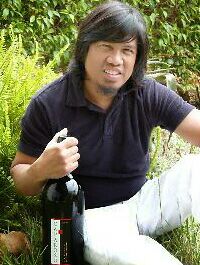 Wine & Food Advisory
from the Melting Pot of the Pacific
Chicken Everybody Loves
© Randal Caparoso
My jobs have always taken me to the skies; and I think that most people, like me, who live their life out of a suitcase usually try to take a little bit of home everywhere they go. I've known frequent flyers who pack their favorite pillow, who eschew the hotel freebies in favor of their own soaps and sponges, bath oils and creams. Super-deluxe hotels will pamper them further by having their favorite scented candles, wines, whiskeys or even color schemes waiting for them when they arrive - anything to get you to feel less of a stranger in strange lands.
As for myself, I eat chicken ... everywhere I go. Can't help it, my mother said I was born an orally fixated child. In this city or that, chicken sandwich for lunch, roasted chicken for dinner, and lots of Colonel or Boston's in between - I feel pretty much "at home" if I've found some decent chicken.
Which doesn't necessarily make me the world's greatest expert on chicken. However, there are two things I do know:
Ordering chicken in every restaurant gives you a pretty good idea of how good or bad, and detail oriented the chef is. I know why, as a result, Daniel's in New York, Zuni Café in San Francisco, and Wildwood in Portland are considered three of the country's top restaurants: they do chicken right.
Chicken loves wine, and picking a good one is not one of life's most difficult tasks. The great thing about chicken, of course, is that there are 1,001 ways (or so it seems) to cook it; and undoubtedly 1,001 different wines to go with it. For someone with as catholic a taste as mine, this is heaven, plain and simple.
And it must be eaten with wine. No one really says, "This is the perfect tea for Chinese beggar's chicken"; or that "the classic drink for Creole fried chicken is a Big Gulp." But they do say that Bourgogne (a Pinot Noir from France) is the perfect match for coq au vin (chicken cooked in red wine); and that Chianti Classico (the red wine of Tuscany) is a natural with cacciatore (chicken braised with tomatoes and mushrooms). A good wine, in other words, can elevate the most pedestrian of chickens to aesthetic levels. That's why they call it "fine wine."
So here's some wine for thought with some of the more familiar variations of chicken you may find, at home or far away ...
• Coq au Vin Blanc
Chicken simmered in red wine, bacon, pearl onions, mushrooms and garlic cloves is wonderful with red Pinot Noir from France, California, Oregon, or any place you can find soft, silky examples of this naturally earthy-spicy red wine. But for coq au "vin blanc" - substituting white wine for red in the cooking - I've found that the better match is a dry white wine with a modicum of stony earthiness, without the weighty fruitiness that is more typical of California's popular Chardonnays, without the lemony sharp edge of typical Sauvignon (or Fume) Blancs, and without the perfumey fruitiness of, say, Riesling or Moscato.
And these kinds of whites are not exactly rare, especially in France: the round, smoky nuanced whites of Burgundy's Macon and Cote de Beaune regions, and the stony dry, smooth bottlings of Pinot Blanc and Pinot d'Alsace in Alsace - any of these will do.
In California, not all Chardonnays are distractingly fruity. In the cooler climates like Santa Barbara, there are some crisp styles with mineral qualities being produced (especially by Au Bon Climat); and you'll find similar, moderately scaled Chardonnays in Oregon (by Argyle, Eola Hills and King Estate) as well as in Washington State (you won't have to look far for any by Chateau Ste. Michelle).
But who says the world of coq au vin blanc turns around Chardonnay? The Pinot Blancs of California (Murphy-Goode's and Chalone's, for starters) as well as Oregon (WillaKenzie's and Ken Wright's are as good as it gets) fulfill the same culinary need when it calls for a white wine that's not too heavy, not too light, not too tart, and not too soft or fruity. Just walk into a store (or restaurant) and say "Pinot Blanc."
• Chicken Cacciatore
The familial Italian chicken is cooked either with tomatoes, herbs and white wine, or braised with black olives and anchovy. Sometimes all of it. Tuscany's Chianti Classico and Brunello di Montalcino, which are made from the red Sangiovese grape, have the natural acidity and cherry tomato-like fruitiness to strike the perfect balance with this style of chicken. But it doesn't have to be something chichi from Tuscany.
Other excellent, and often lower priced, Sangiovese-based red wines from Italy include Carmignano, Sangiovese di Romagna, and Rosso di Montalcino. But from across the ocean, some of the new California grown Sangioveses - like those of Luna, Robert Pepi, Ferrari-Carano, Seghesio, and Robert Mondavi's La Famiglia label - have more than enough zip and fruitiness to fit the bill.
Barring that, there are other red wine grapes - notably Barbera and Dolcetto - cultivated in both Italy and California (and bottled by the names of the grape in both places) that offer soft, zesty edged fruit qualities similar to Sangiovese, making as effortless a match with cacciatore style chicken.
• Chicken Paprikas
The late Roy Andries de Groot once proclaimed his recipe for Hungarian style of chicken - browned with goose fat, then braised with onions, garlic and, finally, a sauce pigmented by the mildly spiced paprika chile before thickened with sour cream - as one of the most glorious dishes in the world, and I can't say I disagree. I've tested it, time and time again.
For paprika laced chicken, de Groot's classic choice was always a lovingly cellared, old French Bordeaux or California Cabernet Sauvignon - soft, yet rich enough to absorb the avalanche of sweet, spicy, succulent flavors in paprikas style chicken. The problem being, de Groot's idea of "cellaring" was a vintage at least 20 or 25 years old. Most of us zip down to the nearest wine store to pick up our wine to drink tonight.
So in lieu of that, I recommend a soft, lushly fruited, California grown red wine made from the Merlot grape (my favorites include Voss, Swanson, de Lorimier, and Echelon, but there are plenty more where that comes from); or one of California's elegant yet dense, juicy "Bordeaux" style blends of Merlot, Cabernet Sauvignon and Cabernet Franc (some examples include de Lorimier's "Mosaic," Justin's "Justification," the Murrieta's Well, and the powerfully rich and composed Quintessa of Napa Valley).
Luscious Merlots = luscious chicken paprikas. The simplicity of this formula is matched only by the beauty of its predictability.
• Lemon or Ginger Chicken
The familiar Chinese style dishes - in sweet /sour lemon sauces, or steamed with ginger and garlic - call for more exotically perfumed white wines that combine both acidity and traces of residual sugar. But this does not mean, as often assumed, that the best choice is Gewurztraminer - a lychee scented white wine that has a tendency towards low acid and slightly bitter qualities (as commonly found in the Gewurztraminers of France's Alsace, and many of the dryer styles of California). Heavy, bitter styles of Gewurztraminer have a tendency to taste unbearably harsh with sweet/sour dishes, and the dishes sweeter and more sour than necessary.
The best white wine for strongly flavored Chinese styles of chicken is Riesling; lush enough to merge seamlessly with gingery spices, and feathery fine, gentle and balanced enough to echo sweet/sour notes. The lightest yet most intensely scented and refined Rieslings in the world come from Germany; particularly the Kabinett quality styles from the Mosel-Saar-Ruwer, Rheingau and Pfalz regions. In Washington St., Chateau Ste. Michelle has been turning out fresh, balanced, lusciously fruited Rieslings since the '70s; and in the Southern Hemisphere, the Rieslings by Leeuwin Estate in Western Australia and Villa Maria in New Zealand are both wonderful, tropical-scented wines with just hints of sweetness, balanced by enough zesty acidity to harmonize with sweet/spicy/gingery Asian style chickens.
• Chicken Etoufée
In North America, and around the world for that matter, the Cajun-Creole style of casserole chicken may very well reign supreme. Versions such as Paul Prudhomme's - given great volume (but not overly thickened) by roux, the "holy trinity" of onions, bell peppers and celery, and a dozen or so other spices and seasonings - are both complex and mercilessly intense. For something so good, the only thing to drink with it is a great wine!
Etoufee likes wines equal to it in depth, strength, and layers of spice. This would mean a good red wine, but not one with a dry, hard taste that would deaden the palate; and the wine that best fits this description is California's Zinfandel - especially the velvety, peppery-cinnamon-and-clove, berry jam-like scented Zinfandels produced in Sonoma by the likes of Quivira, De Loach, Ravenswood, Ferrari-Carano, Ridge, or Dry Creek Vineyards.
Of those from Napa Valley, Zinfandel connoisseurs swear by Robert Biale and Turley Wine Cellars, although a lower range Blockheadia Ringnosii is just as bright and juicy. In other parts of the state, producers like Rosenblum, Cosentino, and Michael-David (the latter with labels like "7 Deadly Sins" and "Earthquake") makes outstanding all-American styles - big, brash, unabashedly fruity - for this all-American style of chicken.
Revised and updated, March 2005
To contact Randy Caparoso, write him at randycaparoso@earthlink.net.
Back to Randy's World of wine
<!- Page Contents End Here ->