GETTING STARTED | WINE NOTES | SEARCH SITE | DISCUSSION FORUMS | 30 SECOND WINE ADVISOR | CONTACT US
<!TODAY'S TEXT STARTS HERE!>
Wine & Food Advisory
from the Melting Pot of the Pacific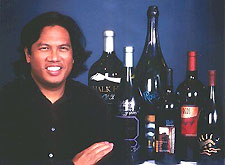 Great Wines Make for Great Chicken
© Randal Caparoso
I'm a traveling man. Haven't always been like that; but in recent years it hasn't been uncommon for me to be away from home one, two, even four weeks at a time. "Come fly with me, let's fly away," I sing, "if you can use ... some exotic booze ... there's a bar in far Bombay ..." Although I'm quite a bit more of a "wining boy" than a booze hound.
It's funny, though, when you get to know and observe fellow travelers, and the lengths they go to retain some of the creature comforts of home. I know people who tote around their favorite pillow, light up scented candles, and bathe with their special soaps to feel less of a stranger in strange places. As for myself, I eat chicken. Everywhere I go. This restaurant or that - chicken sandwich for lunch, roasted chicken for dinner, chicken 'n eggs for breakfast - I feel pretty much "at home" anywhere, as long as I'm eating chicken.
Which doesn't necessarily make me the world's greatest expert on chicken. However, there are two things I do know:
Ordering chicken in every restaurant gives you a pretty good idea of how good, bad, or detail oriented every restaurant's chef is. I understand, for instance, why Daniel's in New York, Zuni Café in San Francisco, and Wildwood in Portland are considered three of the country's top restaurants. They do some incredible chicken.

I'm pretty good at choosing the best wine for a wide range of chicken dishes.
For every chicken, I say, there is probably a great wine to match. Think of it. No one really says, "this is the perfect tea, or coffee, for Chinese style chicken. Or, "the classic beverage for fried chicken is this carbonated beverage." But they do say that Bourgogne (a Pinot Noir from France) is the perfect match for French coq au vin (chicken cooked in red wine); and that Chianti Classico (the red wine of Tuscany) is a natural with Italian cacciatore (chicken braised with tomatoes and mushrooms). A good wine, in other words, can elevate the most pedestrian of chickens to a higher level. That's why they call it "fine wine."
So, "come fly with me, let's float down to Peru... in llama land... there's a one man band... he'll toot his flute for you." Me? I'll provide some wine for thought with some of the more familiar variations of chicken you may find, at home or faraway:
Coq au vin blanc - Chicken simmered in red wine, bacon, pearl onions, mushrooms and garlic cloves is wonderful with red Pinot Noir from France, California, Oregon, or any place you can find soft, silky examples of this naturally earthy-spicy red wine. But for coq au "vin blanc" -- substituting white wine for red wine in the cooking -- the better match is a dry white wine with either a modicum of stony earthiness (such as a Chardonnay based white from Macon Villages in France, or from California's Santa Barbara region), or with a suggestion of floral sweetness in the scent (such as a dry style Riesling from Alsace in France, or a German "halbtrocken" Riesling). In California, Trefethen and Bonny Doon (their "Pacific Rim" bottling) make very fine, dry style Rieslings. Among other Chardonnay types, the Oregon grown Argyle brand is wonderfully crisp, creamy yet mineral toned; and from South America, I like the smooth stoniness - not to mention, the great price! -- of the Veramonte and Catena brands of Chardonnay.
Cacciatora - The common Italian chicken is cooked either with tomatoes, herbs and white wine, or braised with black olives and anchovy. Sometimes all of it. Chianti Classico, which is made from the red Sangiovese grape, has the natural acidity and cherry tomato-like fruitiness to match. But it doesn't have to be Chianti. Other excellent, and often lower priced, Sangiovese-based red wines from Italy include Carmignano and Sangiovese di Romagna. Some of the new California grown Sangioveses - such as those of Robert Pepi, Swanson, and Seghesio - have enough zip and fruitiness to do the job. From Italy's Piemonte region, red wines made from Dolcetto grape offer similar qualities, with more black than red cherry fruitiness, along with a nut-toned zinginess.
Paprikas - The late Roy Andries de Groot once described the Hungarian style of chicken - browned with goose fat, then braised with onions, garlic and, finally, a sauce pigmented by the mildly spiced paprika chile (I recommend the Hungarian brands!) before thickened with sour cream - as one of the world's most glorious dishes. For that, de Groot would recommend a lovingly cellared, old French Bordeaux or California Cabernet Sauvignon - soft, yet rich enough to absorb the avalanche of flavors. Since most of us do not age our red wines, let alone own a cellar, I recommend a very soft, dry yet fruity red wine made either from the Merlot grape, or a combination of the Merlot, Cabernet Sauvignon and Cabernet Franc grapes. Some of the softest, and hence my favorite, brands of California Merlot include de Lorimier, Voss, and Swanson.
Of the blended reds, the de Lorimier "Mosaic," the Justin "Justification," and Quintessa are fine examples of the type of the thick and juicy style of wine needed to round out the luscious, decadently rich style of paprika chicken.Lemon or ginger chicken - The familiar Chinese style dishes - in sweet /sour lemon sauces, or steamed with ginger and garlic - call for more exotically perfumed white wines that combine both acidity and some residual sugar. But this does not mean, as often thought, Gewurztraminer - a lychee scented white wine which has a tendency towards low acid and slightly bitter or bittersweet qualities. The best whites of this type are actually the more commonly found Rieslings from Germany, or from California or Washington St. The finest, lightest and crispest come from Germany - especially the Kabinett quality styles from the Mosel-Saar-Ruwer or Rhine River regions (Rheingau or Pfalz). There is a wonderful new Washington St. grown Riesling call "Eroica," which is made by a joint partnership of Chateau Ste. Michelle and Dr. Loosen of the Mosel. From Australia, I highly recommend the Leeuwin Estate Riesling - a wonderfully tropical-scented wine with just a hint of sweetness, and the zesty acidity to harmonize with sweet/spicy/gingery Asian style chickens.
Etoufée - In North America, and around the world for that matter, the Cajun-Creole style of casseroled chicken may very well be supreme. Versions such as Paul Prudhomme's - given great volume (but not overly thickened) by roux, the "holy trinity" of onions, bell peppers and celery, and more than a dozen other spices and flavoring ingredients - are both complex and intense. Indubitably, dishes best suited for red wine. My personal favorite match is California Zinfandel - especially the velvety, peppery-cinnamon-and-clove, berry jam-like scented Zinfandels produced in Sonoma, such as Nalle, Quivira, De Loach, Ravenswood, Ferrari-Carano, Ridge (their "Sonoma Station," "Geyserville," and "Lytton Springs" bottlings) and Dry Creek Vineyards. Of those from Napa Valley, Zinfandel connoisseurs swear by Robert Biale and Turley Wine Cellars. In Paso Robles, Peachy Canyon is outstanding. All-American style wine - big, bold and brash - for an all-American style of chicken.
What more do you want? Let's fly!
Oct. 14, 2000
To contact Randy Caparoso, write him at randycaparoso@earthlink.net.