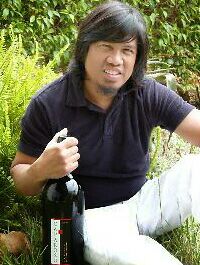 Wine & Food Advisory
from the Melting Pot of the Pacific
Chianti: as old as the hills, as high as fashion
© Randy Caparoso & Mary Ann Hardman
When many people think of Chianti today, they think of Anthony Hopkins playing Hannibal Lecter in The Silence of the Lambs, telling Clarice Starling how he had once eaten the liver of a census taker with "some fava beans ... and a nice Chianti."
Thirty, forty years ago when most Americans thought of Chianti, they thought of large, squat-bottomed, straw-covered bottles, found on every red-checked tablecloth in Italian-American restaurants. This bottle - called a fiasco("flask") in Italian - contained light, dry, tart, inexpensive "spaghetti reds," often recycled as candle holders.
Today, the fiasco has all but disappeared from American tables - the cost of straw and labor going into such imports made such packaging unfeasible long ago - and even in Italy Chianti is no longer thought of as simply an inexpensive, everyday wine. It is true that in Tuscany, the region of Italy north of Rome where Chianti originated, the wine is still drunk every day, and is largely affordable. But in the eyes of many - Italians, Americans, and wine drinkers around the world - Chianti now also enjoys an ultra-premium image: sleek, intense, high fashion (i.e. "high priced") red wine bottled in tall, narrow, "Bordeaux" shaped bottles. Wines worthy of the most fickle gourmets, like the fictional Hannibal Lecter.
Chianti as a wine takes its name from a sub-region of Tuscany called Chianti, just like French wine called Bordeaux comes from a region of France named Bordeaux. Like Bordeaux, Chianti is not of insignificant size - it is roughly six times larger than, say, California's Napa Valley, and produces about that much more wine. There are historical references to wines of the "Chianti" region dating back to the 13th century; and not only that, but also multiple regions within the Chianti zone - the most famous and reputable being its central, delimited district called Chianti Classico.
All the world's great, classic wine regions are defined by their topography and types of grapes grown there. First, about the region: when you think of Chianti you think of medieval towns perched precipitously atop rolling hills, with stunningly painted and stainglassed churches along narrow, winding cobblestone streets. All around, green pastures, verdant woodlands, vineyards and olive trees, and impossibly golden sunsets.
Not much may grow in the sparse, rocky soils of these endless slopes, but if you add it all up - the famous wines, the green olive oil just as good enough to drink, the mushrooms and truffles from the forests, succulent bistecca all Fiorentina from the Tuscany's pampered breed of cattle called Chianina, and all those impassioned, handsome men or gorgeous women who talk with their hands and wear eternally fashionable, autumn colors - and you have the perfect English holiday, a Hollywood or Lifetime movie setting ... in other words, a more than complete, and enviable, way of life.
Although both white wine and red wine grapes have been cultivated in Chianti since the days before the Roman Empire, and perhaps before the Etruscans who preceded the Romans, for the past three hundred years Chianti has been pretty much synonymous with a certain style of red wine. In 1738 an Italian named Cosimo Trinci wrote about a black skinned grape grown in Tuscany called Sangiovese, or "blood of Jove," which according to Trinci yielded intense but hard, acidic red wines. Another black skinned grape, called Canaiolo, was also widely grown in Chianti; and in fact, despite the prestige of Sangiovese, Chianti was probably made mostly from the softer but more deeply pigmented Canaiolo up until a hundred years ago.
But notwithstanding the efforts of a 19th century Tuscan Baron named Bettino Ricasoli, a wine producer and powerful political figure (at one time, the Prime Minister of the "Kingdom of Italy"). Baron Ricasoli combined centuries of empirical knowledge to devise an ideal, but mythical, formula for the production of the finest Chianti: calling for a predominance of Sangiovese (because of the grape's sturdiness and intense, cherry-like fruit), blended with smaller but necessary proportions of Canaiolo (adding color and softer tannin), and two types of white wine grapes, Trebbiano and Malvasia Bianca (to further soften and round out the rough edges of the red wine grapes).
Although not all Chianti producers followed the Baron's guidelines, his influence was strong enough - particularly within the prestigious Chianti Classico zone - to become the basis of the first government enforced laws in Italy, implemented in 1967 and called Denominazione di Origine Controllata (in short, "DOC"). Alas, the 1967 DOC laws proved to be a classic example of "good intentions/bad idea," as basically absurd rules such as the required use of 10% to 30% white wines in the blends of all wines labeled Chianti did not take into account the fact that this does not necessarily make for a better wine. In fact, growing demand for more intense, deeper colored, ultimately higher quality styles of Chianti called for much lower or zero percentages of white wine in the blend.
Worst yet, in efforts to comply with the 1967 DOC accords, growers and producers began wholesale replanting of vineyards in Chianti with little regard for clonal selection, appropriate rootstocks and other enlightened viticultural practices, and as a result the quality of Chianti steadily plummeted. If Chianti was known as light, easy fiasco wine up until the 1960s, in the 1970s and most of the 1980s it became known for even weaker colored, sour or oxidized wine, despite new packaging in Bordeaux shaped bottles.
Consequently a number of Chianti's most prestigious producers - led by Piero Antinori of the house of Antinori, producing wine in the region since at least the 14th century - openly rebelled in two ways: by blithely ignoring DOC laws (bottling Chianti Classico, for instance, with as little as 3% white wine in the blend), and also by bottling their finest wines, from their best vineyards, totally without the designations Chianti or Chianti Classico on the label.
Thus was born an unofficial, but internationally acclaimed, style of red wine called "Super Tuscan": wines like Antinori's "Tignanello" (beginning in 1971, made from Sangiovese with no Canaiolo or white wine grapes, but rather with smaller portions of French grapes, Cabernet Sauvignon and Cabernet Franc); Antinori's "Solaia" (blends of Cabernet Sauvignon, Sangiovese and Cabernet Franc); Isole e Olena's "Cepparello" (100% Sangiovese); Badia a Coltibuono's "Sangioveto" (100% Sangiovese); Tenuta dell Ornellaia's "Ornellaia" (Cabernet Sauvignon and Merlot), and Tenuta San Guido's "Sassicaia" (Cabernet Sauvignon and Cabernet Franc); and many more such variations.
Besides the use of unsanctioned grapes or grape proportions, the Super Tuscans have been distinguished by a number of other positive factors. Not only do they come from producers' finest vineyards, Super Tuscans are also commonly aged in smaller, French oak barrels as opposed to larger, oval shaped wood containers (usually Slovenian) traditionally used in Chianti, further intensifying flavor and complexity. And while eligible only for more "lowly" Vino di Tavola ("table wine") classification, Super Tuscans have proven far more successful than Chianti or Chianti Classico bottlings for these producers; selling for two, three, sometimes more than five times more per bottle (well over $100 for wines like Ornellaia and Sassicaia).
Thank goodness, seasons change and so do laws and commonsense. In 1984 DOC laws were relaxed to lower minimum use of white wine grapes in Chianti to a more cosmetic 2%, plus allowing for up to 10% use of "nontraditional" grapes such as Cabernet Sauvignon, Merlot, and even Syrah. In further attempt to lure Super Tuscans back into the DOC "Chianti" fold, recent changes now permit wines made 100% from Sangiovese; and in 1996 both Chianti and its prestigious sub-zone Chianti Classico were "elevated" to the highest official rank of Italian wine, Denominazione di Origine Controllata Garantita ("DOCG").
But the dye has been cast, and most of the producers who enjoyed success with their Super Tuscan labels continue to bottle their best wines under names other than Chianti. Why mess with it? Still, today most of these same producers also bottle wines labeled Chianti, Chianti Classico, and/or Chianti Classico Riserva (the latter meeting stringent aging requirements - at least 27 months in wood and bottle - before released for sale) of higher quality than ever before.
However, as in all wine regions of the world, there is good, bad and ugly, and higher pricing does not always equate higher quality or, more importantly, increased pleasure. Tasted "blind," without being influenced by the label, you or any "expert" may very well prefer a $35 Castello di Ama Chianti over a $65 Ruffino Chianti Classico Riserva, or even over a $250 Ornellaia. I know we have.
So what do you look for in a good Chianti or Chianti Classico? Most offerings sold under $15 deliver what you pay for: dry, pale colored reds with lightly tart edges, soft tannins and a modicum of woodsy, smoky, cherry-like fruit aromas and flavors. But before going off on these modest styles of Chianti because they do not look or taste like Cabernet Sauvignon or Merlot, remember that these very same light, zesty qualities are what make them superior to Cabernet Sauvignon or Merlot as food matches to dishes like pastas in tomato based sauces with dabs of pungent pesto, ribbons of duck, herb roasted pork, juniper berried red game, strips of beef dribbled with olive oil, rock salt and peppercorns, or even Mr. Lecter's fah-va beans. The Tuscans themselves still drink far more Chianti than anyone else, and it is precisely for these culinary reasons.
Higher quality bottlings of Chianti and Chianti Classico, priced anywhere from $16 to $65, offer these same lightly tart edges and cherry-like, woodsy fruit qualities, but tend to be deeper in color, meatier in texture, often quite thick with tannin (making them good bets for aging, although not necessarily requiring it), yet still with polished, smooth, flowing flavors that make them absolutely credible as "fine wine," and even more delicious with food. Here are a few of the most reliable, critically acclaimed brands seen in specialty stores across the U.S.; in order of our favorites:
Castello di Ama
Castello di Fonterutoli
Fontodi
La Massa (including La Massa's Super Tuscan style "Toscana")
Fattoria di Felsina
Casa Emma
Monte Vertine
Badia a Coltibuono
Badia a Passignano (by Antinori)
Villa Antinori
And once you have cultivated a taste for fuller bodied styles of Chianti and Chianti Classico, you might also begin to enjoy the red wines from another DOCG district of Tuscany: the more dearly priced, and more sturdily structured, Brunello di Montalcino. By law all reds from Montalcino are 100% Sangiovese (Brunello being the local name of the larger berried Sangiovese Grosso clone grown in Montalcino). Some of our favorite Brunello di Montalcino estates:
La Magia
Fattoria dei Barbi
Casanova di Neri
Altesino
Then there are two other DOCG regions in Tuscany where the Sangiovese grape is the dominant factor in red wines of classic elegance: Vino Nobile di Montepulciano (look for the outstanding Poliziano brand); and Carmignano (where Capezzana produces a number of fabulous wines in various styles and price ranges, most of them artfully blended with smaller proportions of Cabernet Sauvignon).
At its spiritual and geographical heart - between the historic cities of Florence and Siena - Chianti remains the most famous region of Tuscany. It has come a long ways from the days of fiascos, and the fiasco of the 1967 DOC laws; and will undoubtedly evolve well beyond today's Hannibal association. It is a wine that has had to make numerous "comebacks" over the past few decades, lo centuries, but has retained a timelessness as rich and rewarding as the hills of Tuscany themselves.
May 2007
To contact Randy Caparoso, write him at randycaparoso@earthlink.net.
Back to Randy's World of wine
<!- Page Contents End Here ->