<!- Page Contents Begin Here ->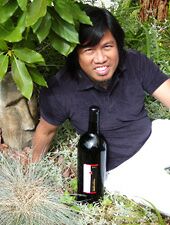 Wine & Food Advisory
from the Melting Pot of the Pacific
Blessed Are the Cheesemakers
© Randy Caparoso
Cheese is often called "the wine of foods," and for good reason: the partnership of cheese and wine goes back a long way. The earliest records of winemaking, for instance, has been unearthed on cuneiforms dating back to 4000 B.C. It's been theorized that cheesemaking goes back as far as 9000 B.C., when animals were first domesticated for their milk.
Not only have cheese and wine had a chance to share at least five millenniums of history together, the two products of human ingenuity share a few things in common:
Both are the result of natural fermentation - grapes turned into wine by yeast spores on the skin, and milk turned into cheese by the enzymes known as rennet, which were originally found in the lining of calves' stomachs
As food by-products, both last a lot longer, and even improve in flavor, as a result of highly varied fermentation and aging processes.
The taste of both is highly dependent upon specific origins - wine a product of grape type, micro-climate, soil and surrounding flora, and cheese a product of milk type (i.e. cow's, goat's, or sheep), soil, regional climate and surrounding flora.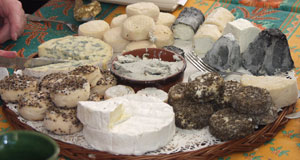 Cheese plate at La Pitchoune in Maussane-les-Alpilles in Provence in 2002. (Photo by Robin Garr)
So it's also no surprise that the greatest wines in the world, such as Bordeaux and St. Emilion, are identified by their region and township; just as the great cheeses of the world, such as Parmigiano and Reggiano, are known by their original region and township. Wines and cheeses are as unique and varied as the places they come from.
The relationship, in this sense, is historical, spiritual and more. Wine - a liquefied, mildly alcoholic essence of grape flavors, acids and tannins - is likely to taste better when consumed with the lush, solidified combination of milky flavors, amino acids and fatty acids known as cheese. And vice versa - a good wine not only helps the palate break down and digest the components of cheese, a well chosen wine can also bring out the distinctive, sometimes subtle flavors of specific cheeses. More to the point, the reason why wine and cheese are consumed together: pure, satisfying pleasure… the mark of civilization.
So what are the best wine and cheese combinations? I don't think anything is "best," but there certainly are a lot of good, fun, practical matches. The subject of wine and cheese, of course, has been tackled in many places, and my own conclusions are based upon tastings upon tastings over the years, with small groups of friends, Romans and countrymen.
So rather going by the cheese, let's look at this matter from the perspective of choosing the best cheeses for a wine you may have already selected or purchased:
Sauvignon Blanc from France, New Zealand or the U.S.
(bone dry, higher acid, medium bodied white)
Best match: Chevre (French or American)
2nd choice: Brie (French or American)
The classic qualities of lightness, elevated citrus-like acidity, and aromas of minerals, grass and/or herbs describes the white wines vinified purely from the Sauvignon Blanc grape in France - bottled under appellation names such as Sancerre, Pouilly Fume, as well as Cheverny, Quincy and Menetou-Salon - as well as to a certain extent, the intensely scented Sauvignon Blancs of New Zealand. To a lesser degree, the mildly crisp Sauvignon Blancs of the U.S. (where it is also called Fumé Blanc) fit this profile, although riper, melony fruit aromas and creamy oak qualities often differentiate American grown Sauvignon Blancs somewhat.
In any case, the classic cheese for Sauvignon Blanc for almost everyone is a Chevre or goat cheese, whether coming from California's Sonoma County or the Big Island of Hawaii, or from the traditional regions of France. The match works on two levels: the earthy taste of Chevre is enhanced by the herbal, sometimes minerally/earthy, as well as natural fruit qualities of pure Sauvignon Blanc; and the lemony crispness of Sauvignon Blanc balances virtually all the variations of Chevre, from the mildly tart styles (domestically produced Chevres, or France's Montrachet) to the more sharply acidic styles (French Valencay and Crottin de Chavignol).
But in opposite fashion, I have also found that crisp edged Sauvignon Blancs are surprisingly good with decidedly untangy, mild and buttery textured cheeses such as Brie (both French and American brands), with the creamy, buttery/nutty taste of a good Gouda from Holland, and even with the softly sweet, round taste of Danish Havarti.
But perhaps the most unexpectedly enjoyable match that I have found for lean, dry Sauvignon Blanc has been with the soft, milky textured Smoked Mozzarella cheeses of Italy - the distinctive smokiness of the cheese always seeming to mix and mingle with the flinty qualities of the wine.
Good, dry Sauvignon Blanc is one of the most versatile of wines for cheese; and as such, the perfect excuse for bringing out a variety of cheeses, and enjoying the conversation it stimulates.
Chardonnay from California
(full bodied, dry, lower acid, oak aged white)
Best match: Havarti (Denmark)
2nd choice: Smoked Mozzarella (Italy)
The Chardonnay grape is native of Burgundy, France, where it makes wonderfully complex, dry, elegant white wines such as Puligny-Montrachet, Meursault, Pouilly-Fuisse, and Chablis. These refined and crisp-edged wines could be considered "Chardonnays" since they are made from that grape; but I think that in the minds of most Americans, Chardonnay is the type of lush yet dry, big, creamy, tropical-fruit and smoky scented white wine that comes out of California's warmer climates.
So what are the best choices of cheese for this popular wine? Because the acidity of California grown Chardonnay is fairly low (at least when compared to, say, the citrusy acidity of Sauvignon Blanc), it makes a natural match with softer, more lactic cheeses. My absolute favorite? The meltingly soft, luscious, springy textured taste of Danish Havarti seems almost tailor made for Chardonnay's fat, bouncy qualities.
My second favorite match for California style Chardonnay? Since many of these wines are aged or even fermented in oak barrels that are charred (or "toasted") on the inside, the wines have smoky nuances that play beautifully with Italy's Smoked Mozzarella, which in turn contributes a soft feel and fresh, milky qualities that reflect the soft, creamy texture of Chardonnay to ecstatic results.
The most decadent choice? At times I have been enthralled by how well some of the biggest, oakiest, and correspondingly expensive California Chardonnays match with the richest of soft ripened cheeses - Triple Cremes such as the high octane Boursault, or the lush, sensual Explorateur of France. In this case, these over-the-top cheeses (defined by its having at least 75% butterfat) merely share the similar excess of rich, fat creaminess that make Chardonnays so attractive, yet are just mild enough in flavor to allow the sweet apple-like fruitiness of the grape shine on through. Sinful, yet satisfying.
Pinot Noir from California or Oregon
(zesty, medium bodied, spicy red)
Best match: Boursin (France)
2nd choice: Young Chevre (French or American; pure, peppered or herbed)
This black-skinned grape, native of Burgundy in France, typically produces soft, silky red wines with sweet, spicy (like sandalwood and peppermint), smoky (when aged in toasted white-oak barrels) fragrances, with soft tannins and a mildly zesty acidity. It's these qualities that make this one of the most food versatile wines in the world; but curiously enough, I have not always found Pinot Noirs from California and Oregon to be the most versatile match for cheese.
It is the tannin in Pinot Noir, as polished as it may be, that I have often found to be a tad too hard for, say, softer cheeses such as Brie, Chevre, and Havarti; and at the same time, the moderate weight of Pinot Noir is often too light for the firmer, deeper flavored aged cheeses like Cheddar, Gouda and Gruyere.
The intrinsic spiciness of Pinot Noir, however, is absolute dynamite with one of the most flavorful of world's seasoned cheeses, the Boursin of France's Normandy region, which comes in two flavors - "Garlic & Fine Herbs," and "Pepper." In fact, the lush yet sharply defined, spicy, sweetly perfumed Pinot Noirs of the U.S. are practically the only wines I know that truly tame the pungently herbed and peppery tastes of ultra-creamy, snowy white Boursin; while Boursin is the only cheese I know with the softness to match the silky texture of American grown Pinot Noirs, yet the intensity of flavor to consistently smooth out the wines' excesses of tannin while amplifying their fragrant complexities.
Otherwise, my other favorite Pinot Noir matches have been any one of many young, fresh, creamy styles of goat cheese (as opposed to more mature, sharper ones). The key is selecting a Chevre of less tang and earthiness that can balance out a young Pinot Noir's mild acidity without obliterating its spice. Fresh herb and peppery flavors also help soften young Pinot Noir tannins, and you can find this in places as far flung as the Big Island of Hawaii (Puna Goat Cheese's Herbed Chevre), Sonoma (Laura Chenel's classic Peppered Chevre), Vermont (Vermont Butter & Cheese's Vermont Chevre and Creamy Goat Cheese), and two personal favorites, Montrachet and the Couturier brand of Chevre Log Pepper from France.
Bordeaux Style Cabernet Sauvignon & Merlot from the U.S. or France
(firmly dry, velvety, deep, richly flavored red)
Best match: Manchego (Spain)
2nd choice: Parmigiano-Reggiano (Italy)
In classic wine regions like Bordeaux and Napa Valley, the Cabernet Sauvignon grape produces the deepest and sturdiest of red wines. When blended with other Bordeaux varieties (usually Merlot, but also Cabernet Franc, Malbec and Petit Verdot) and matured in oak barrels, the result is elegantly textured, yet deeply rich and full tannin wines.
In this wine context, cheeses possessing firmer, harder, but also deeper, well aged and caramelized butter flavors such as Cheddars (English Farmhouse, Canadian Diamond, and domestics like Tillamook Sharp are all brands that work), Italy's Parmigiano-Reggiano (wow!), and Spain's Manchego all achieve a seamlessly elegant match time after time. In fact, if you've never had a Manchego with a Cabernet Sauvignon based red, you're in for something special. I'm always amazed by how smooth and sumptuous a young, boisterous Napa Valley Cabernet Sauvignon becomes when sipped with this lush, butter/nut oily, yet firm, crumbly textured cheese from Spain.
Sauternes from France or Late Harvest Semillon/Sauvignon Blanc from the U.S.
(naturally sweet dessert style white)
Best match: Maytag Blue Cheese (Iowa)
2nd choice: Roquefort from France
The extraordinarily rare, honeyed, preciously priced, golden sweet wines of the world made from Semillon and/or Sauvignon Blanc result from the "noble rot" - a mold that naturally concentrates the grape sugars and flavors on the vine while preserving high, balancing acidity. The taste is one of sweet, dried fig, peach and apricot - perfect for the classic collision of sweet Sauternes or Sauternes-style wines with blue veined cheeses.
It is the basic concept of sugar balancing salt (like pineapple sauce on a ham) that makes golden sweet wines sing with the famously sharp, salty, pungently sweet-creamy flavors of Roquefort from France, which is produced from sheep's milk; and better yet, with the rounder, nevertheless rich and tangy Maytag Blue from Iowa (the smoother quality of this domestic blue cheese owing to its origin from cow's milk).
Vintage or Aged Tawny Port from Portugal
(sweet dessert style fortified red)
Best match: Stilton (England)
2nd choice: Roquefort from France
Almost nothing beats authentic Port from Portugal when it comes to reds fortified to 18% alcohol. "Vintage" Ports are the fullest and long lived, but I'm particularly partial to 10, 20 or 30 year old "Aged Tawny" Ports - incredibly smooth (the tannins reduced from long term aging in barrels), walnuty, sumptuously sweet, and autumnal spiced.
The same principle of balancing high sugar with high salt cheeses makes Port a wonderful match with England's Stilton - a blue veined cheese defined by its uniquely deep, mellow undertone of Cheddar, lending its famous affinity with Port - although authentic Roquefort from France is also richly textured enough to make a match with classic, sweet fortified reds.
Updated and fully revised in October 2004
To contact Randy Caparoso, write him at randycaparoso@earthlink.net.
Back to Randy's World of wine
<!- Page Contents End Here ->