GETTING STARTED | WINE NOTES | SEARCH SITE | DISCUSSION FORUMS | 30 SECOND WINE ADVISOR | CONTACT US
<!TODAY'S TEXT STARTS HERE!>
Wine & Food Advisory
from the Melting Pot of the Pacific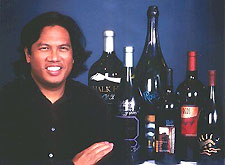 Champagne or Nothing
© Randal Caparoso
Although Champagne has been described as an "elegant extra" by people like Charles Dickens, during the holidays it is considered practically indispensable.
Real Champagne, that is - spelled with a capital C. Not to hammer anyone over the head with semantics, but only the sparkling wines grown and produced in the region of Champagne in France can truly be called Champagne. Call the bubblies from everywhere else in the world what you want - mousseaux in the Loire region, spumante in Italy, cava in Spain, and champagne according to the more sacrilegious Californians. But Champagne is Champagne is Champagne, like a rose is a rose is a rose. Never duplicated, unless you can move the entire region -- rocks, stocks and barrels -- to another country.
Because make no mistake about it: it's the growing conditions in Champagne which makes Champagne the best sparkling wines in the world. The proof? How about the fact that a number of the best Champagne houses - like Moet & Chandon, Roederer, Mumm, and Taittinger - have all established vineyards and sparkling wine facilities in the beautiful state of California, bringing their best people to apply all the skill and experience they have to make the closest thing to Champagne possible. The result? Strikingly Champagne-like wines - fresh, light, yeasty, and zesty. But ultimately, not nearly as deep and flavorful, not nearly as fine and delicate, and not nearly as pure and penetrating as the original stuff. Why? Because it's grapes that make wine, and the grapes grown in California for sparklers will never be as fine as the grapes grown in Champagne.
So in spite of the fact that even the lowest priced Champagne retails for $30 to $40 -- the price range reached by only the finest California sparkling wines --it's real Champagne that outsells the California copies by over 10 to 1. Ain't nothing like the real thing, baby.
So that's what it has boiled down to for consumers over the past ten, twenty years. If you want fresh, decent sparkling wine for $5 to $15, you can always get a lovely Prosecco from Italy, a steely dry cava from Spain, or a soft, aromatic Korbel from California. For $20 to $30 you can get great drinking "methode Champenoise" style wines from California. The best brands are no secret: Iron Horse for creamy smoothness, "J" for intensely scented yeastiness, Roederer Estate for sheer richness, and Chandon, Domaine Mumm, Domaine Carneros, Schramsberg or Gloria Ferrer for very Champagne-like finesse. But if you want the richest and finest stuff in the world to share with, say, just a few of your closest friends, or the people you love most or hold in the highest esteem --then it must be Champagne. With a capital C.
So here's the million dollar question, especially for the millions of us who don't have the millions spend here at the end of a millennium: What are the best Champagnes? The answer is that when it comes to Champagne, there really are no "best" bottlings. There are, however, some fairly cut-and-dried styles of Champagnes followed by each major brand. So that's the way to shop: by the style of Champagne that you prefer, or which at least sound the best to you.
Since there really are many wonderful Champagnes to choose from, I'm going to offer you a quick review of just some of the major brands that you are most likely to see, defined by their respective styles which I'm going to divide into three basic categories - Light and Lovely, Richly Medium, and Bodaciously Full. Prices will vary widely during the holidays since individual stores always run their own featured specials. Here we go:
Light and Lovely Champagnes
The light, lovely Champagnes are definitely the easiest to drink; marked by silky smooth textures and fragrances that suggest sweetness, and flavors that are often perceptively, but oh-so-delicately, sweet. For me, the classic example is the Moet & Chandon Brut "Imperial" ($34-$44), which is always frothy and fresh; its edge of sweetness contributing to its gentle yet vibrant, lingering flavor. The ultimate example is Moet & Chandon's famous "Cuvee Dom Perignon" ($85-$125); which, although significantly drier than the Brut "Imperial," practically defines Champenoise delicacy and finesse - luxuriously rich qualities of yeastiness (like freshly rising bread), minerals, vanilla, and floral fruit, all packaged in seamlessly smooth, lively, lingering sensations on the palate
In my book, the second most perfect example of the light, lovely style come out of the beautifully hand etched bottles of Perrier-Jouet's "Fleur de Champagne" ($90-$115), with its airy light, creamy textured length, almost startling in its sensuousness. You drink it, and you say, "Oh, goodness." Then once enthralled by its wispy, yeasty fragrances, you think, "Goodness has nothing to do with how I'm feeling now!" For just a slightly abbreviated experience of this phenomenon, there is also a Perrier-Jouet "Grand" Brut ($35-$45).
Failing that - since wines like the Fleur de Champagne and Dom Perignon will not exactly be the easiest to find at this time - you should definitely turn to the Taittinger "Comtes de Champagne" Brut Blanc de Blancs "Millesime" ($75-$99); a wine that packs a stunning intensity of creamy, smoky, lemony richness into a perfectly proportioned, waif-like body. A "supermodel" of the light style? "Runway" favorite? Don't get me started!
Richly Medium Champagnes
Many of the top quality Champagne houses - such as G.H. Mumm, Pol Roger, Charles Heidsieck, and J. Lassalle - make wines that achieve richness with elegance. But according to the cognoscenti, the most perfect Champagne of all is probably the Krug Brut "Grande Cuvee" ($145-$165); which is neither light nor heavy, delicate nor thick, brutal nor subtle -- but in fact, all of the above! How owner Remi Krug and chef de cave ("master blender") do this is anyone's guess. Perhaps they sleep peacefully, their Audi A8s locked safely in the garage, while elves merrily manufacture bubbles, bead by bead, with magic tweezers. But every bottle of Krug Champagne is most certainly a miracle of power and finesse!
But Krug, alas, does not make low priced Champagne. However, Veuve Clicquot does (relatively speaking). I have always thought that the nonvintaged Veuve Clicquot ("Yellow Label") Brut ($35-$50) is a near-perfect example of dry, Medium-full Champagne - its yeastiness subtle and toasty (wood char mixed with roasting nuts), and the flavors lemony crisp, winey, almost meaty textured. One step up is the Veuve Clicquot "Vintage Reserve" ("Gold Label") Brut ($55-$75); which is deeper and dryer in the feel, with a greater concentration of smoky yeastiness. Thirdly, there is a top-of-the-line - the Veuve Clicquot "La Grande Dame" ($135-$155) - which pushes the envelope towards a strong, almost austere dryness, its vividly defined medium body saturated with concentrated fruit and almost tobacco-like smokiness. What a way to go!
Bodaciously Full Champagnes
This style of Champagne pretty much puts sheer strength above delicacy; although the best examples are not exactly without refinements. The legendary Louis Roederer "Cristal" ($135-$185), for instance, has pinpoint balance -- beneath a roaringly rich , broad, fleshy feel, and deep, vibrant notes suggesting roasting, honeyed nuts and whole rows of baking breads. Full, viscous, yeast indundated qualities are typical of all the cuvees from this house; including the zesty, yet cushiony rounded Louis Roederer Brut "Premier" ($35-$55), and the nostril tingling vintaged Louis Roederer Brut ($55-$65).
With the house of Bollinger, on the other hand, it's almost pure, unadulterated aggression, plain and simple; beginning with the thick yet lushly fruited Bollinger "Special Cuvee" ($40-$60), which is layered with spicy, creamy/vanillin, toasty oak flavors, and an unsubtle yeastiness. The vintaged Bollinger "R.D." ($125-$145) is even more deeply honeyed, yeastier, and smokier in flavor; big, broad, and brazenly buxom on the palate. Like all the great, and imitable, Champagnes, an "all or nothing at all" proposition!
Dec. 15, 1999
To contact Randy Caparoso, write him at randycaparoso@earthlink.net.