Central Otago Pinot Noir: Our Latest, Greatest, Most Cinematic Wine Frontier
© by Randy Caparoso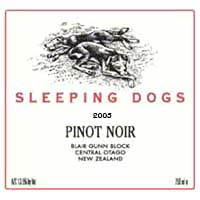 Eight years ago, when Andy and Penny Loving left Colorado looking for the fishing lodge of their dreams on New Zealand's South Island, they found instead a world-class Pinot vineyard to invest in; which led to the founding of their U.S. based import company - Station Imports - representing a small contingent of emphatically the finest Pinot Noirs made in New Zealand.
And how "fine" is that? At this point in time, I'd put them just a nose ahead of Oregon's finest Pinot Noirs, which would place them a head above the best made in California. This is personal, of course, but it's an assessment based upon what I look for in great Pinot Noir. Re in order of my Pinot priorities:
1. Real delicacy of finesse and balance
2. Silkiness - fine, lacy and smooth - in the texture
3. Red, black and/or blue berry perfumes
4. Variations of Pinot Noir spice (peppermint, pepper, etc.) and floral (violet to rose petal) qualities
5. Persistent, underlying acidity (essential towards mobilizing fruitiness, particularly in the finish)
6. Tannins that are equally supportive but never obtrusive (i.e. not hard, rough or drying)
7. Subtle yet perceptive nuances of smoky French oak.
All of which adds up to the qualities I find most important for myself: extreme food versatility. Yes, a lot of the recent popularity of Pinot Noir can be attributed to a movie called Sideways. But since the mid-1990s in my own restaurants (over two dozen), from Kaua'i to New York, I'd already experienced a huge explosion of Pinot Noir (to the point where it began dominating sales in my restaurants) due to essentially one reason: the ease in which our people could fit it into multiple variations of dishes sitting on one table, or with multiple courses in one meal. Hence, the quality factors I look for in the grape.
For the third time in the last three years I recently had an opportunity to examine a part of the Lovings' portfolio, which consists six of the currently seventy-plus producing estates in New Zealand's Central Otago. Each time I've come away even more impressed.
But first, some pertinent points of reference:
Central Otago qualifies as a cold climate grape growing region, located on New Zealand's southernmost island at the 45th South Parallel (France's Rhône Valley intersects the 45th North Parallel), which would make it the southernmost wine region in the world.
How cold is Central Otago's climate? Cold enough to produce white wines with natural acidities that are sharper than most of France's Loire River whites, and on the par with the trocken style Saars of Germany. You like razor edge acidity? Sip on any of Central Otago's Sauvignon Blanc and Pinot Gris bottlings.
Central Otago's best Pinot Noir growths are tucked along the lower, largely steep slopes (around 700 ft. elevations) on the dry, western side of the South Island's Southern Alps mountain range, towering above as high as 12,000 ft. Most of the plantings overlook spectacular lakes or deep river gorges; and in fact, in all likelihood you already know this terrain very well, whether you've been to South Island or not, since this is the part of New Zealand most used in popular films (The Chronicles of Narnia, The Lord of the Rings, the recent 10,000 BC, etc.).
Central Otago is, in fact, New Zealand's only true continental climate zone (as lovely as it is, the famous Marlborough region of New Zealand's North Island does not experience seasonal variations like Central Otago and the grape growing regions of the Northern Hemisphere, where Vitis vinifera originated).
The glacial soils on Central Otago's slopes - exceptionally porous, schistous, sandy and silty loams - are ideally suited to natural production of optimal canopy/fruit ratios, and hence optimal flavor production.
Yes, the predominant industry in Central Otago, like that of most of the South Island, is still sheep, outnumbering people a zillion to one.
If Central Otago Pinot Noirs are so hot, why aren't they famous? Give them a break. While Central Otago's "pioneers" (re Rippon and Sleeping Dogs) broke ground in the mid-1970s, their crop was not utilized for commercial bottlings until the late 1980s, which did not make their appearance in the states until the Lovings came around in the 21st century. The timing - a period when we've been experiencing a huge crush of wines from everywhere in the world (including from all fifty of our own states) - plus the fact that, as low yield, handcrafted wines (what ultra-premium Pinot Noirs aren't?) these are not exactly inexpensive ($25-$40 retail, $50-$90 in restaurants), it's been easy for Central Otago Pinot Noirs to be overlooked by even the most adventurous retailers and sommeliers in the U.S.
Okay, the Pinots just tasted, in order of my preference:
2006 Sleeping Dogs, Pinot Noir (Central Otago) - While not indicated on the label, Sleeping Dogs' tiny estate falls within a valley sub-region called Gibbston; one of the newest, and also the coldest, section of Central Otago. The nose: incredibly huge, billowing from my Riedel balloon with perfumes of red berries; honeyed, almost creamy in sweetness, against a quiet backdrop of crushed herbs and a smoky veneer of French oak. Really - the sheer intensity of such a Pinot nose is so startling, so new to one's experience, it's almost disconcerting. On the palate, everything is lush and round, like waves of airy silk; lightly tart (but far from sharp), luscious red fruit flavors lingering long and zesty. Whew. The bad news: Sleeping Dogs' annual single vineyard production barely makes 1,000 cases. But could this, as Miles in Sideways might ask, be Pinot Noir's real "Holy Grail?" You find it, and you decide.
2002 Nevis Bluff, Pinot Noir (Gibbston, Central Otago) - This older vintage is still available in the states because of the significant quantity originally imported by the Lovings, who held a principal stake in this winery (producing a half-way merciful 3,500 cases/year of Pinot Noir and some Pinot Gris) until 2005. The Lovings don't believe their Pinot Noirs were ever meant for cellaring beyond ten years; but going on six years, all I could taste in their 2002 (a "warm" vintage, at that) was completely compact and intricately layered Pinot sensations, explosive in the glass but holding back for more. The nose is ripe with black cherry, amplified by a red rose perfume, and subtle oak and roasted meat spices. Deep, layered and juicy on the palate; the classic Central Otago crispness and moderated tannin.are so seamlessly integrated that they are almost overlooked. And when you think about it: when something is obviously there but not really perceived, how much better of a definition of classic wine "harmony" do you need?
2005 Nevis Bluff, Pinot Noir (Gibbston & Cromwell Basin, Central Otago) - The current release, from a much colder, exasperatingly lower yielding vintage than the 2002; yet ending up just as hugely successful, albeit in a considerably more refined, almost feminine way: brilliant, well defined Pinot perfume, on the cranberry/cherry side of the grape; remarkable silk and textured layers of fruit and oak on the palate, extending long, with provocative sensuality, like Manet's woman at the picnic. I'm going to end this before I get carried away…
2003 Shaky Bridge, Pinot Noir (Central Otago) - From the driest and usually the warmest sub-region of Central Otago, called Alexandra - a Pinot oozing with wild berry perfume with almost gingery floral notes wrapped in smoky, roasted coffee-like subtleties. Again, par for Central Otago: seamlessly round, supple, soft yet snappy, juicy berry flavors deepened by oak and buttressed by fully ripened, hence harmonious, tannins. Yearly production (including Pinot Gris), 2,500 cases.
2006 Kawarau Estate, Pinot Noir (Central Otago) - This certified organic vineyard is located in the Cromwell Basin of Central Otago, planted in 1992 by descendents of families arriving as part of the region's 1860s gold rush. They do everything "right" - biodynamic inspired viticulture, open top/natural yeast fermentation, and minimal fining and filtration - and the resulting nose is expansive and sweet, of crushed cherries. On the palate, the tannins are hard and youthful, slightly blurring a broad, medium weight of beefy red fruit qualities. The intensity is there, but this was the one wine in this tasting that I felt was tilted towards the high tannin/extract style that I associate more with other parts of the New World (like Oregon and California) than with Central Otago. So you may like it more than me, and it may very well garner higher magazine "scores" from the usual yahoos. As they say, we may all have good taste, but not the same.
A CENTRAL OTAGO WHITE
2006 Kawarau Estate, "Reserve" Chardonnay (Central Otago) - Although it's Central Otago grown Pinot Noir that enthralls me, this particular Chardonnay absolutely bowls me over: a totally unique combination of the intense, generously oaked, broad, tropical fruit style similar to, say, Western Australia and California's Sonoma Coast, but with downright tart, deliciously mouthwatering natural acidity recalling the minerally whites of France's Chablis. The nose is lush with sweet apple/pineapple, and the barrel fermented qualities are more of sweet butter and cream than toast or char. Stony underpinnings are perceived more towards the middle taste of this lively, full flavored wine; stunning by any standard in the world.
In short: if you truly prize cold climate winemaking and seriously refined, food worthy styles of Pinot Noir, Central Otago needs to be on your shopping list.
(April, 2008)
To contact Randy Caparoso, write him at randycaparoso@earthlink.net. Read Randy's blog, Culinary Wine & Food Adventures,