GETTING STARTED | WINE NOTES | SEARCH SITE | DISCUSSION FORUMS | 30 SECOND WINE ADVISOR | CONTACT US
<!TODAY'S TEXT STARTS HERE!>
Wine & Food Advisory
from the Melting Pot of the Pacific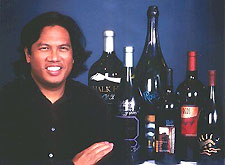 Big California Chardonnays Make a Splash With Food
© Randal Caparoso
Exclusive to The Honolulu Advertiser In the most recent issue of Decanter -- a UK publication which bills itself as "The World's Best Wine Magazine" -- there is an interesting story done on two separate tastings involving the exact same brands of California and French grown Chardonnays. One was done by a panel of American experts in New York, and the other by a panel of British experts in London.
The two tastings were held at the exact same time (well, actually five hours apart due to the time difference), but the results were rather predictably divergent. The British experts, who are accustomed to the taste of French wines, rated the 1996 Beaune Clos des Mouches by Joseph Drouhin -- a full but tart edged, smoky, minerally, lemony tasting wine -- first. The American experts, who are more accustomed to California wines, rated the Beaune Clos des Mouches 9th out of the group of 10 wines.
On the other hand, the Americans' #1 Chardonnay was Napa Valley's 1997 Shafer "Red Shoulder Ranch" ($44) -- a big, thick, opulent wine, with almost a tropical fruit intensity -- which the British masters rated a ho-hum 7th out of 10. The Americans described the Shafer as "exotic, but not over the top"; whereas the Brits described it as having "no subtlety, too much of everything... a Pamela Anderson wine." Ouch! So much for international appeal -- of both the golden toned wines and thespians of California.
That two groups of people should have different tastes in wine comes as no surprise -- heck, I can hardly agree with my neighbors down the street --but what I found surprising was a somewhat narrow perspective evident in some comments from both sides, which I always find disappointing when it comes to "experts." One of the British tasters, for instance, commented that he'd hoped to find a range of California Chardonnays "which have moved on since the old days of no acidity or zip." Well, who's to say that having more, or even less, acidity is a good thing? Acidity, shmidity. What about broader, simpler, yet more meaningful standards -- like how smooth, flattering or just plain "delicious" is the wine to the palate?
In another instance, one American taster, reflecting on the British opinion that these big, lush California Chardonnays are not particularly food-friendly, exclaimed "Hey, I don't think any of us want to go home and drink these either!" Well, of course -- not if you're going to have spaghetti, a grilled tuna, or roast beef. California Sauvignon Blancs don't go with everything either; and neither does German Riesling, Chilean Merlot, or Burgundy and Bordeaux from France. There is, in fact, an endless variety of foods that go perfectly well with the biggest Chardonnay. But to dismiss this or any other type of wine's value on the table on the basis of some sort of unattainable standard is, as the Brits might put it, daft.
Personally, I would probably be hard pressed to find any fault in some of the other Chardonnays selected for this tasting; including the full, fleshy 1996 Robert Mondavi "Reserve" ($38), the lusciously high toned 1996 Matanzas Creek ($32), and the firm, muscular, smoky oaked 1997 Saintsbury "Unfiltered" ($22) -- all available in Hawaii retail stores.
The point being: like it or not, great California Chardonnay is now, almost by definition, something very full in alcohol (at least 13% and over 14%), and filled out with enormously intense, juicy, appley, pear-like, sometimes even pineappley fruitiness (belying the varietal's dryness), enriched by creamy, vanillin and/or smoky oak harmonics. You're almost guaranteed to find these qualities across the board in the top brands; such as the 1997 Landmark "Overlook" (about $26), the 1997 Murphy-Goode "Island Block" ($27), the 1997 Chalk Hill ($36), the 1997 Beringer "Private Reserve" ($40), the 1997 Byron "Reserve" ($25), and the 1997 De Loach "Russian River Valley" ($25).
So what do you eat with such "big, fat mamas" (as David Rosengarten once put it)? I have my own list of tried-and-true "Top 10 Chardonnay Dishes." Listed along with their primary sources or inspirations, these should give you plenty of ideas of your own:
1. Roasted Chicken with Tarragon (Julia Child)
2. Veal Osso Buco in Dill Chardonnay Jus (The Wine Spectator's Harvey Steiman)
3. Wild Mushrooms in Fennel Butter Sauce (John Ash)
4. Sweetbreads Sauteed in Butter (Julia Child)
5. Seared Opakapaka in Sea Urchin Chardonnay Butter Sauce (Roy Yamaguchi)
6. Roasted Poblanos with Spicy Carnitas & Mexican Mint Marigold (Jacqueline Lau)
7. Truffled White Sausage with Pistachios & Court-Bouillon (Richard Olney)
8. Seared Salmon in Corn Broth with Leeks & Chanterelles (Wildwood's Cory Schreiber)
9. Grilled White Fish with Roasted Sweet Pepper, Tropical Fruit & Cilantro Salsa (David Rosengarten & Joshua Wesson)
10. Chilled Cream of Mushroom Soup (Dick Arrowood)
So let's crack some Chardonnay and get cooking!
May 19, 1999
To contact Randy Caparoso, write him at randycaparoso@earthlink.net.