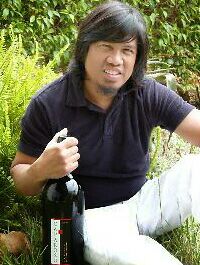 Wine & Food Advisory
from the Melting Pot of the Pacific
Big Chardonnays Make a Splash with Food
© Randal Caparoso
The popularity of California Chardonnays exploded with the emergence of sensibly priced bottlings by Glen Ellen, Kendall-Jackson, De Loach and other wineries in the late 1980s. But as if proving the maxim that no good deed shall go unpunished, connoisseurs and critics soon began to pooh-pooh the onslaught of perfectly delicious Chardonnay at the American wine drinker's disposal.
In a 1999 issue of Decanter - a UK publication that bills itself as "The World's Best Wine Magazine" - there was an interesting story done on two separate tastings involving the exact same lineup of California and French-grown Chardonnays. One tasting took place in New York City with a panel of American experts, and the other in London with some well-known British experts.
The two panels met at the exact same time (although the Brits tasted five hours earlier due to the time difference), but the results were, not surprisingly, divergent. The British experts, who are accustomed to the taste of French wines, rated a 1996 Beaune Clos des Mouches by Joseph Drouhin - a full, refined, smoky, minerally, lemony edged wine - first. The American experts, who are more accustomed to the taste of California wines, rated the Beaune Clos des Mouches ninth out of 10.
The Americans' top choice, on the other hand, was a 1997 Shafer "Red Shoulder Ranch" from Napa Valley - a big, thick, opulent Chardonnay, with almost a tropical fruit intensity. The British experts rated the Shafer a mere seventh out of 10. One American judge described the Shafer as "exotic, but not over the top," whereas a Brit described it as having "no subtlety, too much of everything ... a Pamela Anderson wine."
That two groups of people should have different tastes in wine comes as no surprise. But as an observer on the sideline, what I found surprising was the somewhat narrow perspective evident in comments from both sides, which I always find disappointing when it comes to "experts."
One of the British judges, for instance, commented that he'd hoped to find a range of California Chardonnays that "have moved on since the old days of no acidity or zip." Acidity, schmidity - who cares? Everyone knows that warm-climate California Chardonnay is never about acidity, but about rich, round, opulent fruitiness. What about more catholic, simpler, meaningful standards, like: does the wine taste good? Is it pleasingly smooth, impressively flavorful? This is, after all, how people who actually enjoy Chardonnay would rate them.
In another instance, one American taster, reflecting on the British opinion that these full-sized California Chardonnays are not particularly food-friendly, exclaimed: "Hey, I don't think any of us want to go home and drink these either!" Of course, if I was going home to eat spaghetti and meatballs, I wouldn't want to drink Chardonnay. Then again, tart-edged New Zealand Sauvignon Blanc doesn't go with every dish; and neither does German Riesling, grand cru Bordeaux, Italy's Brunello di Montalcino, and any other "great" wines of the world. There are wonderful food matches for every wine, and many bad ones, too. But to dismiss any wine's value on the table on the basis of personal taste, arbitrary expectations or gastronomic predilection is, as the Brits might put it, daft.
Personally, I would probably be hard-pressed to find fault in some of the other California Chardonnays selected for that Decanter tasting; including the full, fleshy Robert Mondavi "Reserve," the lusciously aromatic Matanzas Creek, and the firm, muscular, smoky oaked Saintsbury "Unfiltered." First-rate, each and every one of them. The point being: like it or not, great California Chardonnay is now, almost by definition, something very full in alcohol (at least 13 percent or even 14 percent), and filled out with enormously intense, juicy apple or pineapplely fruitiness. Neither are they shy in the creamy, vanillin and/or smoky oak department. This may be hard for judges of continental taste to swallow, but it certainly isn't for the huge number of Chardonnay drinkers around the world!
The Ideal Chardonnay Food Matches
As full and sumptuous as a California grown Chardonnay gets, there are a number of foods that it works very well with. Some useful guidelines:
Fleshier white meats (from deep sea fish and lobster to game birds, pork, veal and sweetbreads) with use of butter, oils (ever try it with truffled popcorn?), cream, mild aiolis, or when the dish is replete with its own natural fats and juices
Balancing these meats with moderate use of contrasting ingredients such as lemon (acidity), mustards, garlic, and all varieties of mushroom (earth tones), and fresh vegetables (like corn and carrot), fruit (peach and apple), or caramelized onions (touches of sweetness) and perhaps smoked white sausages or bacon
Playing up smoky oak qualities by wood grilling, smoking or slow roasting, and use of toasted nuts (like pistachio, sesame seeds and pine nuts)
Accenting Chardonnay fruitiness with flatteringly scented herbs (especially chives, sweet basil, parsley, and more moderately, dill, sage, tarragon and rosemary)
Moderately soft, milky cheeses like Havarti, most Mozzarella and Bricks
On the other hand, just as orange juice is not ideal with a scoop of ice cream, use of sharp ingredients like vinegars, sauerkraut or raw tomato, more lethally scented seasonings like ginger, cilantro, kaffir lime or raw garlic, salty tastes like shoyu and salted fish, and hot tastes like curries and chili pastes, are all likely to take the stuffing right out of an expensive Chardonnay's well oaked, high alcohol fruitiness, making the wine taste flabby, paper-dry or bitter, and the dishes themselves too acidic, salty, fiery, or just plain weird.
In other words, aggressive fusion-style dishes, or even traditionally soured, salted or chili spiced foods, are not Chardonnay's forte, and you shouldn't ask it to be.
Finally, although Chardonnay falls fabulously into the realm of "other white meat," I see nothing wrong with the enjoyment of this wine with leaner cuts of beef (like filet sizzling rare in a heart-stopping pool of butter), or with use of thin strips of beef or even lamb in the Asian tradition (like classic tataki with cucumbers and chiso).
Especially if that is what you like.
My Top 10 Favorite Chardonnay Dishes
Over the years I have compiled a list of favorite, tried-and-true matches for Chardonnay; dishes that harness the wine's gleeful girth of fruit, smoke, and creamy or buttery textures to delicious effect. Not surprisingly, many of these dishes involve butter and other ingredients that play up the grape's positively lush qualities. If only for that reason, you gotta love 'em even if you don't normally drink Chardonnay.
Listed along with their original sources or inspirations, the following should give you plenty enough ammunition to do your own thing in the kitchen:
Julia Child's roasted chicken with tarragon
Harvey Steiman's veal ossobuco in dill Chardonnay jus
John Ash's wild mushrooms sautéed in fennel butter sauce
Julia Child's sweetbreads sautéed in butter
Chris Gesualdi's herb crusted moonfish with summer vegetables in lobster coral butter
Roy Yamaguchi's seared mahi mahi (dolphinfish) in roasted macadamia nut lobster butter sauce
Richard Olney's truffled white sausage with pistachios & court-bouillon
Cory Schreiber's seared salmon in sweet corn broth with leeks & chanterelles
David Rosengarten's grilled white fish with roasted sweet pepper, tropical fruit and cilantro salsa
Charles Saunders' white fish tamale in banana husk with quebrada masa harina and mildly spicy mango salsa
Yours truly's smoked mozzarella pizza with kalua (Hawaiian smoked) pig and lomi lomi (chopped) tomatoes
Whoops, that adds up to 11 - just couldn't stop. This goes to show that there is a lot more to Chardonnay as a classic "food" wine than many people might think.
Revised and updated, Jan. 28, 2005
To contact Randy Caparoso, write him at randycaparoso@earthlink.net.
Back to Randy's World of wine
<!- Page Contents End Here ->