<!- Page Contents Begin Here ->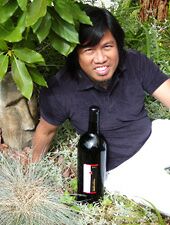 Wine & Food Advisory
from the Melting Pot of the Pacific
Big California wines: Through the past brightly
© Randal Caparoso
"Vins des Cowboys," is how I once heard California wines described by a British Master of Wine back in 1981. How ironic, now that we have a Texan in the White House. I feel for his former alcoholism, but there are times (like right now!) that I also wish he could have learned to appreciate the civilizing qualities of wine.
Dusting off one of my wine journals from the early 1980s, I recently read how one night we sat down at a wine bar to sample two well known California white wines - a big, blustery Napa Valley Chardonnay, and a pungent, oak-aged Sonoma-style Fumé Blanc. By themselves, the wines were exceptional; complex, as you say in wine talk, and intensely "varietal." But with the food we had soon afterwards… well, let's say that we didn't exactly hear bells.
We had ordered opakapaka (Hawaii's delicate pink snapper), slightly charred with sizzling butter, and garnished with no more than fresh lemon. The dish was delightful, as a matter of fact, in its plainness. But in spite of its dryness, the Chardonnay did not seem to add more to the taste than what the simple squeeze of lemon already did. In fact, the delicacy of the fish seemed to make the wine taste harsh in alcohol; and its richly oaked flavors seemed almost inappropriately lavish for the dish.
So we turned to the Fumé Blanc, a crisper, lower-alcohol wine that we were sure would do the trick. However, both the wine's herbaceousness - weedy, almost hay-like flavors – and vanillin oak edge seemed to come across so strong that they nearly blotted out the delicate, flaky qualities of the fish that the chef had taken pains to preserve. What was really needed, we decided, was a much plainer, neutral tasting, lemony dry white; something along the lines of a French Chablis, Macon, or even the totally unfashionable (at least in those days) Pouilly-Fuissé. Where had you gone, Joe DiMaggio?
The question that rose from that experience – and really has been nagging us ever since - is how good, really, are California wines, if they can't do the most basic thing, which is to compliment our meals?
Twenty years ago the syndicated wine columnist Frank Prial seized upon this issue with malice. A repugnant "snobbism," as he called it, had been spawned by the emergence of California wines into the ranks of the finest in the world. This has also sprung armies of "cultists" who spout esoteric jargon, and for whom wine appreciation is more like "wearing clothes with someone else's name on them."
This new breed of wine lovers is especially into Chardonnay - California's "macho" wine, as Prial dubbed them. These are aggressive, overpowering wines that, unlike the subtle white wines of France, tend to "obliterate" food and are designed to "outchard" other Chardonnays, particularly in wine competitions.
While as harsh as he was being fair, Prial had also lost sight of a point that even the subtle Europeans have often repeated: California wines, no matter how similar, are simply not meant to be compared to French wines. If, because of distinctively different growing conditions, French and California wines do not taste the same, how can they be compared even in the context of food?
In their quest for ultimate quality, California wine producers have always aimed high. With Chardonnnay, for instance, they have never seemed content to duplicate standard white Macon or Pouilly-Fuissé; but rather, the "awesome" qualities (as Robert Parker would put it) of grands crus like Montrachet, Burgundy's rarest and greatest white wine. Hey, isn't Montrachet the white wine which the French consider so divine, so intense, that you shouldn't even drink it with food, but rather on one's knees and with hat off? No one demands that these macho-style California Chardonnays be drunk in the same way. But if Montrachet is considered too big and important for food, why aren't the top California Chardonnays given the same leeway?
After all is said and done, only one meaningful point remains: California wines demand different food contexts; an understanding, as it were, going beyond the formulas of "old Europe" (don't you love the insinuation?). And besides, Americans have always mixed and matched as they pleased. To heck with wine columnists, and to heck with classic food and wine matches – who can remember them?
Another one of my experiences in mid '80s involved two 10-year-old reds - a classic Stag's Leap Cabernet Sauvignon from Napa Valley, and a Chianti Classico Riserva by Castello di Uzzano in Italy - that were both opened and tasted an hour before dinner. Initially, the Stag's Leap was much more attractive, full of generous, multiple, minted berry flavors; whereas the Chianti was decidedly unfruity, thin, even disagreeably sharp by comparison.
Therefore we had every reason to believe that the richer wine would go with our rich dish - a plate of linguine swimming in a freshly mortared pesto sauce, revved up by extra doses of garlic and Parmigiano-Reggiano. The big surprise was discovering that the flaws that we found in the Chianti - the thin flavors, and excessive acidity - were exactly the characteristics that seemed to pull together the pasta's aggressive, oily flavors, allowing us to savor the fruity taste of the olive oil mixed with nuts and basil. The Stag's Leap, on the other hand, did exactly zilch, nada, with the dish. A stranger in a strange land.
A few months later we gave the Stag's Leap a better role, serving it with a rack of spring lamb in natural jus and sweet butter, finished with freshly chopped mint. In this case, the wine's big, smoky, green leafy and sweet black fruitiness became all the richer when mingling with the buttery-sweet, slightly charred and minty taste of the lamb. Big, fruity Napa Valley Cabernet and lamb – can't beat it!
Speaking of big and fruity, my dusty, trusty wine journal from the '80s shows that one of the best combinations that I've ever had was a dense, dominant Chateau Montelena Chardonnay with Julia Child's Ris de Veau a la Creme et au Champignon - a nice way to say sweetbreads in a sauce enriched by decadent, fresh whipping cream and mushrooms. With this dish, even the most lumbering California Chardonnay becomes light on its toes; the textured richness of the dish providing the grip these wines need to show their luscious fruitiness and hard-hitting oakiness.
But big wines do not have to be matched with big dishes. If anyone knows their Chardonnay, it would be Chateau St. Jean's original winemaker, Richard Arrowood, who once suggested that the heaviest Chardonnays go best with a simple fresh mushroom soup. In this case, the dish may be no more than a foil, but it certainly helps to bring out the layers of fruit, oak, and earth-toned flavors in the wine; and if you're spending $30 for a bottle of Arrowood Chardonnay, every bit certainly helps!
Exploring a similar, earthy theme, we once tried a rich but distinctively herbal edged Chateau St. Jean's "Belle Terre" Chardonnay with veal chops braised with mushrooms. The effect was like a reflection upon a reflection: the precisely balanced, faintly acidic, crystal clear Chardonnay underlining the intriguing earthiness of the mushrooms, the mushrooms amplifying the flavor of the mild and fleshy veal, and both the veal and mushrooms fleshing out the outrageously herbaceous, smoky oak flavors that we have always expected from Chardonnays made from that particular vineyard. Chardonnay, veal, mushrooms? Don't ask why… it works!
But wherefore art California Sauvignon, or "Fumé" Blanc? The fuller, herbal, often oak-tinged style of this variety coming out of California are often too assertive for things like plain oysters, clams and mussels in natural broths, and delicately sauced seafood dishes.
Fortunately, we never have to look far for a type of food that works quite easily for this wine: chicken. The ideal birds for us are the fresh, plump, relatively low fat roasters that we find in alternative food stores, and more often in ethnic markets (the Chinatowns and Little Saigons). Roasted simply with lots of butter, chicken gives Sauvignon Blanc plenty to highlight its crisp, fruity qualities. A classic twist is Julia Child's (bless that woman!) Poulet Poele a l'Estragon - the chicken rubbed inside with butter and a generous dose of tarragon, and served in its own aromatic juices. The lavish use of ripe lemons as well as aromatic, green, anise-like herbs is also a wonderful way to highlight the airy fresh, lemony and green leafy aspects of most California Sauvignon Blancs.
A "perfect marriage?" For wine, food, people ... never heard of it. You may not think of California wines as being the best in the world. But as big, wild, rough and tumble as they may be, they invariably set an upbeat tone in any home; and with right dishes and right frame of mind, you don't have to think twice to know that life can be good ... to very good!
April 2003
To contact Randy Caparoso, write him at randycaparoso@earthlink.net.
Back to Randy's World of wine
<!- Page Contents End Here ->