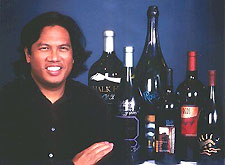 Wine & Food Advisory
from the Melting Pot of the Pacific
The beef is back!
© Randal Caparoso
Remember that '80s expression, "where's the beef?" Do you want to?
In the early '80s, the famous Robert M. Parker Jr. ruffled a few feathers by declaring in his Wine Advocate magazine: "The wonderful excitement of California Cabernet Sauvignons that existed in the '70s, largely as a result of daringly bold, interesting, individualistic, rich and flavorful wines, has been replaced by blandness and dull uniformity ..."
"A major problem," according to Parker, "is that everyone wants to make a 'food wine,'" which are "nothing more than lean, boring wines with little flavor interest or character."
Well, the California wine industry being the way it is - as Parker observed early on, generally a horde of followers, timidly producing wine according to the latest trend - quickly veered away from that style of Cabernet Sauvignon aimed towards balance rather than intensity, finesse rather than weight, and food compatibility as opposed to high scores in magazines like The Wine Advocate.
By the early '90s the prevailing style at the ultra-premium level entailed all the heft and aggressive, uniquely Californian personality that critics like Parker crave. Beefcake Cabernets like Caymus "Special Selection," Beringer "Private Reserve," Dunn "Howell Mountain," and La Jota "Anniversary" were consistently rated higher than earlier classics like Beaulieu "Georges de Latour," Mondavi "Reserve," and Stag's Leap Wine Cellars.
Most recently, the name of the game for connoisseurs - a nice way of describing the horde of spendthrift collectors eager to buy wines that follow the latest trend -- has been "cult" Cabernets: $100-plus brands like Dalla Valle "Maya," Bryant Family, Harlan, Colgin, and Araujo, that you are guaranteed never to see floor stacked in your nearest drugstore.
But whatever happened to Cabernet Sauvignons more suitable for food -- in other words, for the everyday consumer? Fortunately, or unfortunately, there is still a large number of ubiquitous commercial brands made in the lean, light style Parker was decrying twenty years ago. Hundreds of them. But to me, this does not necessarily imply that these are better for food. If a wine is lean and boring by itself, chances are it will be lean and boring with food.
I have always found that the best tasting Cabernet Sauvignons with food are not just soft and friendly, but also retain the rich, ripe, smoky, berry and cassis-like characteristics that are the hallmark of the California style. There are a few of them. They may not be huge and muscular, and chalk up 100 point scores, like the super-expensive "cult" Cabernets. But to me, their versatility with food makes them that much better. And when you're sitting at the table with family and friends, the number of points given by Parker or the Wine Spectator really doesn't matter, doesn't it?
The following are five of the more consistent, and consistently food compatible, California Cabernet Sauvignons that I've had the most fun with in recent years. Snooty connoisseurs may flinch with horror when I say this, but don't worry about specific vintages when it comes to these wines because they are finely crafted in virtually every year:
Carmenet, "Dynamite" North Coast Cabernet Sauvignon ($14-$19) - Although the normal retail price of this wine is closer to $19, aggressive discounting offered by the Chalone Wine Group (who owns Carmenet) in recent months has brought it down to as little as $12 in certain stores. A price in which it is definitely becomes the best of its class. The "Dynamite" taste is invariably dense but plump, round and juicy, with mildly green peppery flavors merged into moderate tannins and meltingly rich, soft vanillin oak. Parker may not approve of its easiness, but I've found this wine to be plainly compatible with straightforward, grilled beef or tuna steaks, yet has enough complexity to match slightly elaborate preparations. Try wok frying beef strips with green peppers, soy and onions; or take a typically lean London Broil, and finish it with a Cabernet flavored brown sauce. Plump, fresh red tuna easily handles a charcoal or wood grill, or is great pan seared (preferably rare inside) with onions, red wine, butter and beef stock - either way, an easy match for this soft, luscious, fruit forward style of Cabernet.
Simi Winery, Alexander Valley Cabernet Sauvignon ($22-$27) - The enormous volume of this widely distributed brand has not kept it from being one of the finest examples of the soft edged, medium bodied Sonoma style that you can find. There is usually a deep, fleshy, mildly herbaceous (suggesting roasted peppers) fruit quality in the flavor, enriched by sweet oak and supported by rounded tannin. I like this with the well marbled, high flavor cuts of beef - striploin or ribeye pressed with cracked peppercorn and brushed with olive oil. Even simpler, a chuck roast chopped into kebabs, or even glorified in a pan with a deglaze of Cabernet and butter.
Laurel Glen "Counterpoint," Sonoma Mountain Cabernet Sauvignon ($19-$24) - One of my all-time favorite "drinking" Cabernets - one that combines a taut, classical structure with wonderously layered, sleek, invigorating flavors of sweet black berries, cedar, smoked tobacco and leafy green mint, flowing and extending beyond a core of finely honed tannins. While just fine for red meats, an elegantly composed Cabernet like this doesn't require high fat. Try sauteeing veal stuffed with cheese, a filet mignon ladled with bearnaise or in a thyme laced brown sauce, a loin of pork in rosemary jus, ribbons of duck breast with fettucine, or a board of contrasting soft, young (Brie, Camembert, or Bufala Mozzarella) and hard, aged (Parmigiano, Cheddars or Manchego) cheeses.
Shafer, Stag's Leap District Cabernet Sauvignon ($45-$55) - One of the class acts of Napa Valley during the past ten years (and now priced like that, too!), this deep, concentrated, sensuously smooth yet solidly structured Cabernet typically comes with lush, plummy, black and red berry flavors, and aromatic notes suggesting scrubby herbs, soft leather and mint. Pungent, sturdy yet finely balanced Cabernets like this are definitely suited to carnivores. I hear lamb -- chops dripping with oil or butter and charred around the edges, or better yet, a whole leg rubbed with garlic and herbs, and roasted while you polish off the first bottle.
Beringer, Napa Valley "Private Reserve," Cabernet Sauvignon ($90-$120) - Beringer produces a bewildering array of Cabernet Sauvignons each year, but this is the top-of-the-line, and the be-all and end-all for many Napa Valley Cabernet lovers. The more special the wine, according to many of them, the simpler the dish. I concur, with certain exceptions (like when you're in the hands of a talented chef).
Two big factors are this wine's enormous concentration of fruit and unabashedly intense oakiness; although it is always just as round, fleshy and well balanced - never a problem with food. At less than five years old (when most of us are drinking it anyway), a Beringer Reserve has a youthful excess of tannin, thick and gripping, topped by an opulence of sweet toned black fruit; and one way to round all of this out is to match it with some lush, soft ripened cheese -- Double or Triple Crème - slightly melted over French bread, and served with some bitter edged walnuts or simple twists of cracked peppercorn (which help take the edge off the hard tannins in young reds).
I once saw Madeleine Kamman - who for years presided over Beringer's School for American Chefs - whip up some breasts of chicken, stuffed with green peppers, chicken sausage, and (of all things) pineapple, serving this in a Cabernet shallot deglaze with a five year old Beringer Reserve. I had no idea how even tropical fruit, merged cunningly with bell peppers (a flavor element found in super powered Cabernets), could play up a young Cabernet's fruitiness, but it did. But not everyone can cook like Kamman. A safer bet for the home chef might be a well marbled, rock salt crusted roasted prime rib of beef; allowing the rosy red meat at the center to play up to the full scaled, fleshy flavors of the wine.
March 8, 2002
To contact Randy Caparoso, write him at randycaparoso@earthlink.net.
Back to Randy's World of wine