GETTING STARTED | WINE NOTES | SEARCH SITE | DISCUSSION FORUMS | 30 SECOND WINE ADVISOR | CONTACT US
<!TODAY'S TEXT STARTS HERE!>
Wine & Food Advisory
from the Melting Pot of the Pacific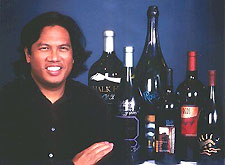 Great Plonk - and New Classic Reds - From Down Under
© Randal Caparoso
"If the Olympics encourage 1 percent of Americans to try a bottle of Australian wine," winemaker Charles Melton recently told USA Today, "then we (the Australian wine industry) would triple ourselves."
As if Aussie wine isn't big enough already. There doesn't seem to be a supermarket or wine retail shelf in the U.S. that isn't already stocked to the gills with wines made by Lindemans, Wynns, Penfolds, Rosemount, Wolf Blass, and a host of other popular brands from Down Under. Is it because the Aussies are such good marketers? I really don't think so. I think it's because they offer the kind of thing that right-thinking wine lovers around the world cherish the most: a great taste for an even better price.
No matter how you slice it, wines like the Lindemans "Bin 65" Chardonnay and Rosemount "Diamond" Shiraz, both selling for around $7, easily beat out 99% of similarly priced wines from anywhere else in the world in terms of sheer, unadulterated flavor. It is, as they say over there, the dinkie die ("whole truth") of it. The Aussies flog ("sell") some bang-on ("on the money") plonk ("lower priced drink"). And anyone who hasn't any brine demmage ("brain damage") or isn't one brick short of a load ("none too bright") can easily see, or rather taste, this.
So what else is new? How about the fact that Australia is now also producing a number of exclusive, hand crafted, and thus appropriately high priced wines that compete with, and often even surpass, the world's greatest wines in any price category. For instance, their red wines marketed as Shiraz (from a grape known as Syrah elsewhere around the world) now retail for $35, $55, $75 and sometimes as much as $175 (i.e. the Penfolds "Grange Hermitage"). This may sound like a lot, but when you compare these with the best Syrah based reds from France today - such as Cote Rotie and Hermitage, which often retail from $100 to $300! - a $75 Deutschke "St Jacobi" Shiraz from Barossa Valley doesn't seem so steep. Especially considering that for a Shiraz, or Syrah by any other name, it's just as good or better. Australians are now definitely the tall poppies ("overachievers") of the wine world!
So enough of this 'strine yabber ("Aussie talk"). What counts is the liquid in the bottle. Here are twelve of the most impressive Australian red wines that I have tasted during the past year:
1998 Burge Family, Barossa Valley Grenache ($22-$28) - In most parts of France and Spain, the Grenache grape makes a fairly innocent, soft, strawberry fresh wine. In Australia, old vines and desert-like landscapes conspire to produce mutations - full of pumped up muscle and pent up energy. As in this wine, with its red fruit veering into raspberry liqueur qualities, filling the palate with big, solid, velvety textured flavors, stretching out long and languorously.
1999 Torbreck, Barossa Valley "Woodcutter's Red" ($25-$30) - A sweetly oaked and concentrated (yet perfectly big and dry), juicy rich blend of three classic Southern French grapes -- Grenache (60%), Shiraz (20%) and Mourvedre (20%). Thick and chunky on the palate, with cassis-like flavors that slip and slide easily across the palate.
1996 Charles Melton, "Nine Popes" (Grenache/Syrah/Mourvedre; $65-$75) - This rare, New World classic hums like a street symphony - sweet raspberry, breathy oak, and soft yet muscular textures - which gel into a thick, powerful, heady finish. A show stopper, for sure.
1996 St. Hallet, "Blackwell" Barossa Valley Shiraz ($25-$30) - To the Aussies, everything is bloody this and bloody that, the first drink of the day is a heart-starter, and when it's a good one it's good-on-ya. I'm beginning to see the pattern; as this bloody red, sinewy wine certainly gets your heart pumping with sweet and lush aromatic qualities that later dive bomb onto the palate like raspberry napalm. Like their "footy" (football), such winemaking is strictly "Australian Rules."
1994 Peter Lehmann, "Stonewell" Barossa Valley Shiraz ($35-$40) - Typical of the Australian style, the Stonewell is not shy in the oak department. Yet the immensely rich, sweet pepper and violet-on-leafy-green fruit fragrances seem to suck in smoky/vanillin wood like a black hole; in the same way that the wine's brawny, tannic structure is absorbed by layers of juicy, concentrated fruit flavors.
1998 Deutschke, "St. Jacobi" Barossa Valley Shiraz ($65-$75) - This wine epitomizes the compelling strengths of South Australian style Syrah - luscious, smoky oaked fruit aromas punctuated with spice steeped plums and cracked peppercorn nuances, followed by full, almost fat, yet massively structured, velvety flavors that go long into the black night.
1998 Wild Duck Creek, Victoria Shiraz ($35-$40) - Another ultra-ripe, almost raisiny black and plummy aromatic style, with strapping tannins lending a mouth watering note to a thick, round, juiciness on the palate.
1998 Fox Creek, McLaren Vale "Reserve" Shiraz ($45-$55) - Is it any wonder that the most extreme style of Australian Syrah is now considered the finest? Praise the lord and pass the toothbrush, as this wine is black as a dungeon, with purple stained tones. The nose is huge - a sweet, billowing concentration practically sensed by the eyelids - followed by opulent flavors bursting through a powerful, iron clad structure bolstered by gripping tannins.
1996 Wolf Blass, "Black Label" South Australian Cabernet Sauvignon/Shiraz ($45-$55) - While dominated by vanillin and charred oak aromas, this classic brand delivers a sumptuously round and intense harmony of Cabernet (blackberry liqueur) and Syrah (peppery spice) flavors; stuffed to overflowing, yet coming across as fine and elegant on the palate.
Yarra Yerring, Yarra Valley Dry Red #1 (Cabernet Sauvignon/Merlot/Malbec/Cabernet Franc; $55-$65) - The label tells it like it is - it's just one of Yarra Yerring's ultra-fine reds. It is also a multi-varietal blend infused with tightly concentrated sensations; blackcurrant in the nose and cassis-like syrup in the north-and-south (Aussie for "mouth") with an uncommon silkiness, and charged by an electrical acidic zip.
1996 d'Arenberg, "Coppermine" McLaren Vale Cabernet Sauvignon ($50-$60) - d'Arenberg alone adds significantly to the embarrassment of red wine riches now coming from Down Under. The nose here is filled with intensely sweet, focused cassis berry polished by smoky oak; big, lush and alive on the palate, the thick and sinewy fruit qualities coming across as wall-to-wall, lit up by zesty, upbeat qualities.
1998 Henry's Drive, Padthaway Cabernet Sauvignon ($55-$65) - A larger-than-life "beaut" (as they say) of a bruiser - purplish in color, with intense, smoky, concentrated blackcurrant aromas manifested in powerful, fleshy waves on the palate, flowing steadily with a luscious focus of black fruit ingrained with thick, sturdy tannins.
Oct. 2, 2000
To contact Randy Caparoso, write him at randycaparoso@earthlink.net.