GETTING STARTED | WINE NOTES | SEARCH SITE | DISCUSSION FORUMS | 30 SECOND WINE ADVISOR | CONTACT US
<!TODAY'S TEXT STARTS HERE!>
Wine & Food Advisory
from the Melting Pot of the Pacific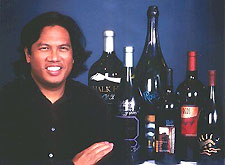 Matching the Hot-Sour-Salty-Sweet Foods of Asia
© Randal Caparoso
It always amazes me when people compare matching wine with Asian cuisines to matching wine with European cuisines. The obvious difference is that traditional wine styles evolved alongside European cuisines in indigenous settings, and so the match is considerably easier.
In Asian food settings, wine is not a natural or traditional match; nor is it an impossible one. What it takes is a little more imagination.
Asian style cooking, after all, is classic and traditional in its right, and in a different way from European cuisines. There are differences in ingredients, of course, and also differences in the sense of balance and harmony in the cooking style. Whereas, say, classic Italian cooking relies on a certain purity and freshness of ingredients, and French cooking on depth of flavor in sauces and natural stocks, in Asia the emphasis is on the constant balancing and contrasting of tastes and textures. A perfect introduction to this way of thinking can be found in Jeffrey Alford and Naomi Duguid's excellent (and gorgeously photographed) new book called Hot Sour Salty Sweet, a "Culinary Journey Through Southeast Asia."
According to Alford and Duguid, "The basic (Southeast Asian) palate is hot, sour, salty, sweet, and sometimes bitter. If you order a green papaya salad from a street vendor in Thailand, the last thing the vendor will do before serving the salad is to give you a small spoonful of the salad, asking for your opinion. If you'd like it hotter, more chiles will be added; if you want it saltier, more fish sauce; more sour, lime juice will be added; sweeter, more palm sugar... And while this balancing act takes place in an individual dish like a green papaya salad, it also shapes a meal, determining what dishes should be served alongside others..."
Not that this emphasis on contrast, balance, and varying textures is exclusive to Southeast Asian and Chinese cooking. In Germany, for instance, there is a lot of balancing of sweet, sour, salty, and fatty/meaty textures (sauerkraut, wurst, sauerbrauten, etc.); which is why the Germans are more apt to drink off-dry to medium sweet Rieslings, or else beer, with their foods, as opposed to the bone dry styles of wines predominant in France, Italy and Spain. Not surprisingly, many of today's food and wine consultants strongly recommend German Rieslings or beer with Southeast Asian and Chinese foods as well. The natural sugar/acid balance of Rieslings is quite compatible with the hot, sour, salty, sweet elements of Asian foods; and beer provides a slightly bitter undertone that adds further to the equation. It's a question of harmony and balance. If it works for German foods, it certainly works in Asian food settings.
The trick to matching wine with Asian style cooking is to start with the premise that we need wines that emphasize a balance, as opposed to sheer power, of taste sensations. This is why the classic "power" wines of the world - made from grapes like Cabernet Sauvignon and Chardonnay - are not an easy match for Asian foods. Although there is nothing wrong with intensity, the difficulty with these types of wines is that they tend to be high in alcohol, low in acid, and (in the case of Cabernet) excessively hard in tannin. The best wines for Asian foods are those with moderate levels of alcohol, softer tannin, crisper acidity, and sometimes (not always) a judicious amount of residual sugar. A question of harmony and balance with hot, sour, salty and sweet food sensations.
And these wines certainly exist in abundance. Here are a few good ones that I have recently enjoyed:
1999 Robert Weil, Riesling Kabinett ($14-$18) - German Rieslings are usually the first wines cited for Asian foods, and this bottling from the Rhine River is a quintessential German style wine - penetratingly scented, juicy rich, light as a feather, fine as silk, and with a light sweetness balanced perfectly by zesty acidity. Think of how you would make a healthy stir fry - balancing thin strips of meat with at least equal amounts of crisp vegetables, a trace of an oil balanced with soy, lemon or rice vinegar, salt and cracked pepper, a touch of a chili sauce or multi-spice seasonings, and served with fragrant jasmine rice. You can't go wrong when you figure in a fragrant, deftly balanced German Riesling. It's understandable why someone would say Asian cooking is not good for wine - it's only because that person does not apply principles of harmony and balance to both cooking and wine selection.
1999 Freemark Abbey, "Carpy Ranch" Napa Valley Viognier ($18-$24) - White wines made from the Viognier are an unorthodox choice for Asian style foods for two reasons - they tend to be low in acid and full in alcohol, somewhat like Chardonnay. But unlike Chardonnay, Viogniers tend to be extremely fragrant - billowing with honeysuckle-ish perfumes, with suggestions of violet and white peppery aromas - and this version by Freemark Abbey is amplified by plush, mouthwatering, silken textured flavors. Chinese cooking in particular - such as duck in hoisin plum sauces, and chicken in gingery or citrusy syrups, often served with napa cabbage, choi sum, mustard greens, and other toothsome vegetables - can be tilted towards sweetness balanced by a mild bitterness. In Southeast Asia, fish is often coated with curries with coconut milk, strong pastes made from coriander root and peppercorns, or stuffed with things like scallions, fatty pork, garlic cloves and even mildly hot Serrano chilies. In such contexts, the aggressively full, hefty, peppery qualities of a Viognier are often preferable to the lighter, more acidic qualities of a Riesling. Viognier doesn't work, however, in cases where dishes are overly sweet, or numbingly hot (in other words, bad Asian cooking). But when full flavored Asian dishes are balanced, a good, balanced Viognier can contribute an exotic note of its own to the overall experience.
1999 Blockheadia Ringnosi, Napa Valley Zinfandel ($28-$24) - The jammy, lusciously raspberryish, black peppery spiced aromas and flavors of first rate California Zinfandel - such as this Blockheadia - are a sensible pick with barbecued pork or beef ribs coated in sweet/spicy marinades (especially when Szechuan chili spices are used). A proper Zinfandel has the red wine tannin to handle the fat and char, yet the roundness and fruitiness to enhance, rather than fight, the hot spices. But wines like the Blockheadia are also surprising with pure forms of Southeast Asian cooking, such as grilled coriander chicken served with sweet/salty/spicy dipping sauces (nam jeem), raw beef with pepper salt, beef stir fried with spicy ginger, and hot pot dishes such as eggplant (cooked with ground pork, coriander, dried shrimp, garlic, and shallots) served with fried beef jerky. Whenever there's a presence of peppercorns, some vinegary zest, or slightly hot garlic, chile and gingery sensations, a zesty, peppery, fruity Zinfandel finds another food element.
1997 Erich Russell, California "Piemontese" ($22-$28) - There are a number of unique and imaginative red wines produced in California today; this one by winemaker Erich Russell fashioned from the mildly acidic Barbera grape, the densely textured Nebbiolo grape, and the rich, elegant Cabernet Sauvignon. The result is a thick, yet not heavy, smoky edged red wine with a markedly zesty edge, and long, almost sticky rich, licorice and black fruit flavors. I can't think of a better wine with Chinese or Southeast Asian style hot pots of beef or pork; especially when punctuated by peppercorns, garlic, scallions, and especially the licoricey tastes of star anise, cilantro or coriander. The thinking is like this: if Asian cooking is untraditional with wine, the best wines for Asian foods may very well be the most untraditional. When you find such a wine, like this "Piemontese," don't be afraid to let your food and wine matching imagination go!
Jan. 17, 2001
To contact Randy Caparoso, write him at randycaparoso@earthlink.net.