GETTING STARTED | WINE NOTES | SEARCH SITE | DISCUSSION FORUMS | 30 SECOND WINE ADVISOR | CONTACT US
<!TODAY'S TEXT STARTS HERE!>
Wine & Food Advisory
from the Melting Pot of the Pacific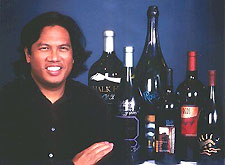 2002: A New Wine Odyssey
© Randal Caparoso
It's a real nice way to spend the day in Dayton, Ohio on a lazy Sunday afternoon in nineteen hundred and three, goes that old Randy Newman song.
Can you believe that it's 2002? Although by 1903 all the great vineyards in France and Germany had long been mapped out and ranked according to quality, most Americans at that time would just as soon drink whiskey, which has much more alcohol (thus, presumably, more bang for the buck).
But just as we've come a long way since horseless carriages, we've come a long way since James Thurber's devastating dismissal of wine snobs with his cartoon depicting a host at a dinner table holding a glass and telling his guests, "It's a na´ve domestic burgundy, but I think you'll be amused by its presumption."
When I first began to enjoy wine, it was still available in any restaurant - from the most casual spaghetti house to the finest French restaurant - in three flavors: "burgundy," "chablis," and rosé. Brand didn't matter much back in the early '70s, because each was as good, or bad, as the other. So you ordered "burgundy," "chablis," or rosé, by a thick-lipped six-ounce glass filled to the top, or by a carafe (1 liter) or half-carafe. It was easy to get these carafes for your own "fancy" home service, since Paul Masson sold wine in these bottles, which could be reused. And no less than Orson Welles would come on television to tell us that at Paul Masson, "We will sell no wine before its time."
When you think of it, it's only been about fifteen years since most Americans first began to order Chardonnay rather than chablis, Cabernet Sauvignon or Merlot rather than burgundy, and White Zinfandel rather than rose. We've also become much more comfortable with the role of food as it relates to wine in their lives. In the '70s you may not have heard of risotto or arugula, much less Viognier and Weissburgunder. But now you're rattling off the names of Mediterranean herbs and Chinese cabbages like there's no tomorrow, and wines such as Le Cigare and Tempranillo like the names of cars and cigarettes.
But have you reached the point where Merlot and Chardonnay no longer excites you? Join the crowd. And as you might expect, wine producers, retailers and restaurants around the world have been rushing to fulfill your need for something new, different, and better than what you enjoyed before. Why not? What's the use of having a 21st century if not for doing better than what we did in the 20th?
The following is a description of 21 wines that are already defining, for me at least, the 21st century. Wines that are changing the way we think of fine wine as we speak. Some of these wines are rare, but you will be able to find suitable substitutes if you look hard enough; or if you do the simplest thing, which is to ask your retailer for recommendations.
White Wines
Bonny Doon, "Critique of Pure Riesling" (Washington State) - The goal of Santa Cruz's Randall Grahm is a 100percent Riesling that takes you somewhere between the Yakima Valley, Alsace and the Mosel: a wine of complete dryness, capturing an exhilirating acidity with perfect roundness (abetted by finishing fermentation in the barrel) and sense of fullness, plus the grape's natural wildflower perfume lit up by a minerally spark. Does he achieve it? Amazingly, yes; and in doing so, creating one of the most food versatile white wines you'll ever find.
Anselmi, "Capitel Croce" Soave Classico (Veneto, Italy) - The knee-jerk "terroirist" (those who hold traditional treatment of vineyards and winemaking practices most sacred) would say that white wines from Soave should not see French oak. But what's wrong with that if it expands the flavor of the grape (the native Garganega) and makes it that much more of a delicious wine? There is, of course, no resemblance between this single vineyard bottling and the sea of ordinary Soaves except for the ease of drinking. This is a "Big Ease," for all its toasty, richly creamy flavors (resulting from the barrel fermentation) that compliment round, stony, crisp pear and appley qualities that flatter and freshen the palate.
Weinhaus Heger, Pinot Gris (Baden, Germany) - Joachim Heger is not the only winemaker crafting beautiful Pinot Gris these days. There is a legion of them across the river from him in Alsace, France, and certainly the number of great Oregon producers has grown in leaps and bounds. But Heger is one of the few who throws 99percent of his efforts into meticulous vineyard practices; and once the grapes are in the winery, wise enough to leave well enough alone. Here, the distinctive varietal spice and minerality sings and whistles clear as a bell - you begin to truly sense the grape's long ago origin as a mutation of the Pinot Noir grape - and the puristic, no-oak treatment gives vibrantly fresh, floral qualities, and lush, lively flavors of full intensity but incredibly nimble, airy, silken lightness.
My all-time favorite dish for this wine - one that expands its fruity minerality - is Chinese style steamed white fish (Chilean sea bass, snapper or mahimahi), finished with sizzling hot peanut oil laced with garlic, ginger, fresh cilantro and soy sauce. Will Pinot Gris be the "Chardonnay" of the 21st century? Perhaps not. But irresistibly fine versions like this are bound to make it a wine of great and enduring significance.
Verdad, Santa Ynez Valley Albarino - This white wine, produced by Qupé Vineyards' Bob Lindquist under his new sub-label (Verdad), represents the first successful California bottling of the Albarino grape, which originates in Spain. The wine is dry and zesty, in the tradition of the finest Spanish grown Albarinos (such as those of Paso de Senoran, Lusco, and Albarino), wonderfully light and scented, suggesting honey, wild flowers, and flinty smoke. Try this with your next shrimp cocktail, bucket of clams, plate of ceviche, oysters and sashimi - foods that we'll be always be eating while food fashions come and go. Because it is so fresh, light, fine and zingy, California grown Albarino may very well become our first choice of white wines of the future.
Au Bon Climat, Santa Maria Valley "Nuits Blanches" Chardonnay (California) - Sinewy, narrowly defined Santa Barbara grown Chardonnays may be slightly unfashionable at the moment. The critics - whose idea of objective reporting is judging wines on the basis of "varietal character" as opposed to regional distinctions - can't seem to get a grip on them, and consumers, God bless 'em, will come around to them once they're weaned from the the big, fat, fruity styles of Napa Valley and Sonoma. But for me, this is the perfect bridge between overdone California style and the underdone (and overly priced) Burgundian style: elegant, quietly composed, with crisp, lemony underpinnings, encompassing an uncommonly meaty, bouncy, multi-veiled intensity at the core. Like a rich cream, as opposed to the "milk" of the vast majority of wines made from this grape around the world.
Kim Crawford, "Unoaked" Marlborough Chardonnay (New Zealand) - New Zealanders are quite proud of their unrepentantly herbaceous Sauvignon Blancs, and they are now tooling about with Pinot Noir. But where their cold climate conditions really excel are in Chardonnays, which are intensely fruity enough to stand completely alone, without the benefit of oak barrel fermentation or aging. Outside of Chablis in France - known for steely, unfruity Chardonnay based wines -- nowhere else in the world is this truly possible except in New Zealand. The Kim Crawford is one of the better examples of this uniquely pure, stainless steel fermented styles; a white wine that charms rather than attacks the nose and palate, entering with a naturally creamy, sweet apple/pear fruitiness, and finishing with palate freshening crispness, a lacy texture, and soft, easy finish.
Pojer e Sandri, Trentino Traminer (Italy) - Few wines fell as far out of fashion in the 1990s as Gewurztraminer, which is a shame. Perhaps it's because the top Alsatian producers, greedy for 95 point scores from Robert Parker, began to make the type of thick, honeyed, bitter edged high alcohol Gewurztraminers that taste no good with anything but themselves, or plates of German style sausage. But Gewurztraminer doesn't have to be like that. This version from Northern Italy is neither sweet nor alcoholic; just light, easy, full of grace and all the positive things about the varietal fragrance - the white peppery, peach and lychee-like fruitiness, blossoming in the glass. Despite its dryness and soft acidity (also the nature of the grape) the wine is smooth and silky enough to handle any Asian, Pacific Rim or even Indian seasoned dishes with aplomb, even when punctuated by chutneys or fruit infused sauces. At some point, more producers around the world will feel the urge to highlight the grape's fresh, friendly, fruity exuberance, rather than sheer, raw power. A number of California producers (such as Handley, Storrs and Thomas Fogarty) are already doing it, and the Germans (especially in the Pfalz) are certainly capable. Hope it's soon!
Red Wines
Duckhorn, Napa Valley "Paraduxx" (California) - Bold, delicious blends that defy tradition and demand to be judged by their own standards. This, I hope, will be a hallmark of 21st century winemaking. The "Paraduxx" is a luxurious "Super Napa" merger of Zinfandel, Cabernet Sauvignon and Merlot, adding up to incredibly full, juicy, perfectly balanced and buoyant fruit qualities that run the entire range from deep, dark chocolaty blackberry to sweet, perfumey raspberry. Above all, a totally delicious red wine!
Qupé, Santa Maria Valley "Bien Nacido Hillside Estate" Syrah (California) - Qupé proprietor Bob Lindquist has labored long and hard since 1982 to bring respectability to California grown varietals native to Southern France. Not too long ago, even the most optimistic Syrah lovers seriously doubted that California could ever reach the quality level of the Northern Rhone. The Bien Nacido Hillside Estate bottlings of the late '90s have been breakthroughs; and for the first time ever, we are enjoying the true spicy/peppery/violet-like perfume of the grape without a hint of flab or overripeness; something inundating the senses with big, dense, sinewy yet sensuously textured flavors.
Lindquist has built it, and now many more are bound to come. Where else in the U.S.? The key to it will be hillside slopes dominated by fractured rock where even mountain scrub has difficulty growing -- but where the Syrah really shines (as it does on France's "roasted" slopes). Exciting sites like this are being developed as we speak in the Santa Rita Hills and Santa Ynez Valley of Santa Barbara, Paso Robles, and in the higher elevations of Mendocino. Then there are the hillsides of Southern Oregon's Umqua and Rogue Valleys. The potential is staggering; as, no doubt, the wines will be.
Rex Hill, Willamette Valley "Reserve" Pinot Noir (Oregon) - In tasting after tasting, I can't help but be impressed by the Oregon style of Pinot Noir - so much more graceful, and less crudely defined, than the vast majority of California Pinots (especially those of the Russian River Valley), and so much more consistently well fruited than the majority of red Burgundies (at least those that go for less than $50). This meticulously crafted series by Rex Hill's president/winemaker, Lynn Penner-Ash, represents one giant leap after another for this innovative viticultural community; capturing the pure, fragrant, wild berry Pinot fruit along with a sumptuous, finely knit elegance; all fully expressed in unbelievably smooth, yet long, lively, almost sweet and sexy, silken-lacy flavors.
D'Arenberg, "The Custodian" McLaren Vale Grenache (South Australia) - The Osborn family's d'Arenberg Cellars specializes in old-vine Shiraz, but it is their Grenache that inspires me most. Who else in the world creates such nostril tingling, full, viscous, palate gripping, and at the same time soft and succulent, Grenache? Chateau Rayas in the Northern Rhone? Yes, but do you have $150 to pluck down for a bottle? This grape may have found its true home in the shallow, hard pan soils of South Australia - shattering the mystique of the French - as evidenced by this exceptionally well priced, powerful, peppery, "raspberry fruit bombs" of growers like d'Arenbeg.
Tinto Pesquera "Riserva," Bodegas Alejandro Fernandez (Ribera del Duero, Spain) - This estate has been doing so well for so long, it's easy to forget the fact that it has almost single handedly thrust the Tempranillo into the pantheon of great red wine varietals of the world. Where it truly belongs. For a taste of where the rest of Spain (and hopefully soon, places like Oregon and California) will be taking this grape, look to Bodegas Alejandro Fernandez. To give you a sense of it, think of the sensuous, silken texture of Pinot Noir combined with the dense, sturdy, leather glovey elegance of Cabernet Sauvignon, and throw in the wild, rambunctious, uncontained character of Syrah. This goes a long ways towards describing the Tinto Pesquera, which defines itself with a voluminously aromatic nose suggestive of black tea, tobacco, and black cherries steeped in brandy and liqueur. On the palate, the feel is thick and dense -- beefed up by slightly chewy tannin -- yet the flavors are so intense and juicy that the wine finishes full and voluptuous. It will be a great day when a Tempranillo-by-the glass becomes as common as Merlot and Cabernet today.
Beaulieu, Napa Valley "Beauzeaux" (California) - They said that this was wine originally began as a very expensive mistake - a newbie cellar rat accidentally routing a one large vat into another - and hence the name, conceived by a "bozo." I have a feeling that a great many more wines of the future will begin as accidents, but have happy endings like this. So what is it? Zinfandel (46percent), Valdiguie (22percent), Charbono (10percent), Petite Sirah (7percent), Primitivo (7percent), and Lagrein (5percent). Never mind what the last grape is. The important thing is how it all comes together; and it is, indeed, a juicy rich, velvety smooth, sweetly aromatic surprise!
Babcock, Santa Barbara "Fathom" (California) - This is Bryan Babcock's Bordeaux style red, made from mostly Cabernet Franc, with smatterings of Merlot and sometimes Cabernet Sauvignon, from the warmer parts of Santa Ynez Valley. But unlike Bordeaux, the fruit in here is more effusive, the structure doesn't get in the way of its pure deliciousness, and the result is a wine of exceptional food versatility. Beautiful arrays of aromas -- sweet anise, mint, peppermint, blackberry and roasted pepper - arranged in the nose, and the tannins tend to be moderate, adding to a compact, velvety feel, and the layering of smoky, leafy, sweet berry flavors.
Villa Aba, "Krizia" Cabernet Franc (Italy) - The bottle that this Northern Italian red wine comes in is massively thick and heavy, but the wine is refined, almost light, boasting intense Cabernet Franc character - weedy, green pepper notes mixed with raspberry liqueur-like fruitiness - that comes across as soft round and fluid. A brazenly novel style of Italian red, made from a French varietal, and geared for an international range of foods and interests.
Escudo Rojo (Chile) - This South American red - a joint venture by Chile's Concha y Toro and Bordeaux's Baron Philippe de Rothschild - is what I have in mind when I talk about the need for more decently priced (about $12), good tasting wine for future generations. The Escudo is undeniably rich and smooth, but I also like its wild, Tabasco chile-like spiciness, and whip of soft leather. It is a Chilean style blend of Cabernet Sauvignon, Carmenere, and Merlot. But few Merlots can touch it for the price, and no Cabernet makes you want to say ole!
Villa di Capezzana, Carmignano (Tuscany, Italy) - Somewhere along the line someone decided that all Tuscan red wines made from Sangiovese and Cabernet Sauvignon must be "Super Tuscan" - hence, something selling for $50 or $100. This is too bad, because although these grapes go perfectly well together, the cost of production does not necessarily need to go through the roof. In Carmignano, a small pocket of Tuscany northeast of Chianti Classico, growers have been specializing in Sangioveses blended with small measures of Cabernet Sauvignon since the 19th century. Carmignano may not be as sexy as Sassicaia and Ornellaia, but what it is is something that tastes of plump cherries, licorice, and smoky leaves, coming across as soft, dense, smooth, and inviting as slowly rising bread - all for under $20. Now, if we can only see more of this from Italy and the rest of the world.
Ferrari-Carano, Sonoma "Siena" (California) - Winemaker George Bursick has been perfecting this Sangiovese based red - usually blended with Cabernet Sauvignon, and occasionally Malbec and Merlot - through most of '90s. It completely smashes many a prevailing thought from wine geeks and critics: that Californians have no business trying to grow Sangiovese. How can you argue with a wine so deep, round and intense? It combines a velvety smooth, easy feel with dense, smoky red cherryish concentration, backed up by exotic, almost black licoricy nuances. This is a seamless "food wine," which is no insult to its singularity of refinements. But you certainly cannot go wrong with a wine that effortlessly improves everything from fish to meat and rice to pasta dishes. I only wish it was so easy for most other reds.
ADW, "Alliance" Barossa Valley Cabernet Sauvignon/Merlot (South Australia) - If the Italians and Americans don't pick up the cause for wines as well priced as they are made, the Aussies surely will. They have long been sitting on some great old vines, and the quality of blends like this are as as plain as day. It is deep, lush, and juicy; shimmering red in the glass, yet baby soft and round. And at $12 to $14 retail, it makes most of the other Cabernets and Merlots of the world look grotesquely overpriced.
1999 Tikal, Altos de Mendoza "Amorio" Malbec (Argentina) - Malbec is one of the lesser known red wine grapes of Bordeaux, but in the high elevation vineyards of Mendoza it is "king"; and like any good king, it truly shakes, rattles and rolls across the palate with amazingly thick, juicy, massively muscled yet satin smooth qualities, suggesting smoke, scrubby herbs, and wild black fruits. This is the most intense of the contemporary style reds coming out of Argentina today; and perhaps a harbinger of other great Malbec based wines to come - from not only Argentina, but also from the U.S. as well as some of the forgotten pockets of France. Fingers crossed.
Quinta do Fojo "Vinha do Fojo" (Portugal) - Out of all the great new red wines of the world, the ones from Portugal's Rio Douro excite me the most. Here is a red wine that comes from the very same, spectacularly terraced vineyards, and from some of the same native grape varietals (Tinta Francesca and Tinta Roriz) that go into the great fortified red wines known as Port. This table wine is nearly as powerful as Port; but of course, without the heady, high alcohol and sweetness, projecting gooey-thick, lush, smoky, black fruit qualities within a delicious sense of roundness. On the pricier side ($45-$50), Quinta do Fojo also makes a "Fojo," which takes this same flavor profile and drives it to the hilt - powerfully structured, dripping like rare beef on the palate, and jammed with luscious black fruit flavors. With food or without food, these and other wines of Portugal are bound to make everyone sit up and pay attention in the years to come.
January 2002
To contact Randy Caparoso, write him at randycaparoso@earthlink.net.