GETTING STARTED | WINE NOTES | SEARCH SITE | DISCUSSION FORUMS | 30 SECOND WINE ADVISOR | CONTACT US
<!TODAY'S TEXT STARTS HERE!>
Wine & Food Advisory
from the Melting Pot of the Pacific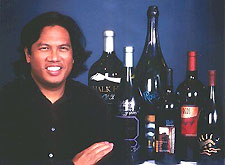 Bests and Worsts of 1999
© Randal Caparoso
It's time to take stock. I have a colleague named Jerry Mead, publisher of the Wine Trader magazine (which can previewed on www.wines.com), who gives out virtual medals for the outstanding achievements of each passing year, plus what he calls "Dregs" (re, yucky bottom-of-the-barrel wishes) for the most negative achievements.
So if you will, I'd like to borrow a little from Mr. Mead while sharing my own list of the bests and worsts of 1999:
THREE CHEERS to my "Winery of the Year" - Justin Vineyards of California's Paso Robles - which is on a roll most wineries can only dream about. Virtually everything Justin produces rates gold or platinum. The Justin Chardonnay and Cabernet Sauvignon are epitomes of elegance. The Justin "Justification (a blend of Cabernet Franc and Merlot) is simply sumptuous; the Justin "Isosceles" (Cabernet Sauvignon with Cabernet Franc and Merlot) is all silk and sinew; and there is even a killer fortified red called Justin "Obtuse" which rivals the great Ports of the world.
BANZAI to my "Winemaker of the Year" - Chester Osborn of South Australia's d'Arenberg - who, at the moment, is spinning everything he touches into gold. Osborn's "The Custodian," for starters, is the finest pure Grenache outside of France's Chateau Rayas. His Shiraz (Syrah) and Shiraz/Grenache blends make the red wines of California's "Rhone Rangers" look amateurish. Even his Chardonnays and Cabernet Sauvignons pack uncommon power and voluptuousness. Chester is "majester!"
HIP HIP to my "Wine Varietal of the Year" - Syrah - which is now being made by producers as far flung as Australia, California, France and even Spain into stupendously rich, succulent, enormously aromatic wines, taking a rightful place among the greatest red wines in the world.
DREGS to Beringer Vineyards for coming out with a line of "Founder's Estate" wines sourced primarily from California's Central Coast - hundreds of miles from Napa Valley, where Frederick and Jacob Beringer originally founded their estate in 1876. Not that duplicity has never been part of the California tradition. Beringer's nefariousness is no different from the numerous "Mountain" and "Coastal" California bottlings made from vineyards as flat as a pancake and far, far from the nearest ocean.
CHEERS to my "Comeback Red Wine of the Year" - Oregon's Pinot Noir - which not so long ago was thought to be overrated. But lately, in both good (1996 and 1998) and even ho-hum (1995 and 1997) years, Oregon Pinots have achieved a level of elegance a cut above that of California grown Pinot Noirs; outperforming even the red wines of Burgundy in France in terms of consistency, and certainly intensity. In most cases, at far more reasonable price points!
CHEERS to my "Comeback White Wine of the Year" - German Riesling - which has been hitting a near-perfect mark of off-dryness, with a finesse, delicacy, and scintillatingly crisp freshness unrivaled in the world today. It is these qualities which have made German grown Rieslings the single most food versatile (especially for today's fresh, and highly varied, fusion cuisines) wines you can buy today.
DREGS UP to those I call the "Cigar Cultists" of the wine world. As far as I'm concerned, the single biggest impediment to the realization of Thomas Jefferson's dream of a great American "wine drinking nation" is the influence of the snobs who somehow connect stinky stogies with wine appreciation; and whose idea of a wine drinking culture is the mindless worship of a precious few of the actually endless number of great wines of the world, to the point at which these few wines become so hideously expensive that many consumers are simply turned off by all this phony-baloney. As well they should!
SKOAL to my choice of "Wine Book of the Year" - the second edition of The Oxford Companion to Wine, edited by Jancis Robinson. There is almost nothing you need to know about wine that isn't in this multi-authored opus. It is a wine book for the ages; at least until the Oxford University Press comes out with a third edition.
A hearty HAIL, HAIL to my "Wine of the Year," which needs to be shared among all the top producers of California Zinfandel; which in its true form, performs what many consider the first task of good wine, which is to be red. And there are no wines as voluminously red -- or greater tributes to Keats' purple-stained lips -- than the great Zinfandels made by producers such as Ridge, Robert Biale, Nalle, Ravenswood, De Loach, Turley, and Edizione Pennino (seven of my favorites).
And finally, here's DREGS IN THE EYE to the lot of highly vocal wine geeks known as "terroirists," who believe that the only duty of good wine is to be a 100% reflection of the terroir, or respective growing region. Think of it. If these taste tyrants had their way in centuries past, there would never be such wonderful things as Champagne, Porto, Eiswein, Tokaji Aszu, Rutherglen Tokay, Grange Hermitage, Recioto di Valpolicella, Brunello di Montalcino, Tinto Pesquera, Domaine Tempier, Chateau Mouton-Rothschild, Opus One, and countless other wines which originated as highly individualistic attempts to go far beyond what nature's vineyards want to produce. As Kermit Lynch once said, "There is so much contained in a glass of good wine. It is a gift of nature that tastes of man's foibles, his sense of the beautiful, his idealism and virtuousity."
'Nuff said. Onwards to another century of deliciously beautiful foibles!
To contact Randy Caparoso, write him at randycaparoso@earthlink.net.