For The Love of Port
Tour of Duty: The Dynamic Douro - Part III
Article and photos © 2006 by Roy Hersh
Just in case you have not read the other installments of this travelogue:
Earlier in the year, Mario R. Ferreira and I had talked about a collaboration to bring small groups of wine enthusiasts to Portugal to discover the Port region. After lots of planning, in October we led our first tour group to experience Port. As much as I enjoy visiting Oporto and Vila Nova de Gaia, I couldn't wait for the opportunity to introduce this savvy group of Port lovers to the awe-inspiring Upper Douro River Valley. Being able to share in their overwhelming excitement was as purely joyful as watching my young daughter's delight from jumping in a puddle. It was indescribably satisfying, and the fact that our guests had never been to Portugal before made it even more exciting for all of us.
We took the funtastic train ride from the beautifully tiled São Bento train station in the heart of Oporto to Régua about 2 1/2 hours away. Much of the first hour is spent looking into backyards and gardens while passing through small rural villages. Then suddenly appearing just beyond the window is the beauty of the Baixo Corgo, (translates to: below the Corgo River ... but most know it as the Lower Douro) and the vistas just keep getting ever more spectacular as we advance into the Alto Douro (Upper Douro). The Douro region really begins at the Serra do Marão, a mountain range approximately 40 miles east of Oporto, which continues all the way to the border with Spain. The train meanders along the North bank of the Douro River, and vineyards stretch as far as the eye can see, from the river's edge to the very hill tops. The sheer incline of the precipitously terraced slopes (often 35-70% inclination) is an impressive sight, and pictures just never seem to capture their true grace or steep gradation. The river itself was dammed decades ago and is now just a tame, slow moving waterway compared to the white water wildness of yesteryear.
Upon disembarking we were met by the very affable young man, Jorge Alves, the winemaker and vineyard manager at Quinta do Tedo and we crossed the river to get to the well-appointed Quinta.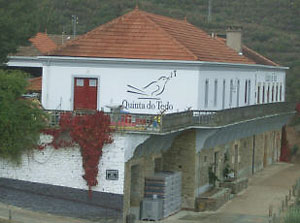 Quinta do Tedo
Quinta do Tedo:
The property is situated with 14 hectares on the South side of the Douro, adjacent to the Tedo River. The production facility was built in 1957, by the same construction team that built the Pinhao Bridge. There was a large renovation project that took place in 1997, in which the six lagares were brought into the modern age so that fermentations could be controlled within. Each of the stone lagares has cold water piping running just below the flooring and normally runs at 6-7 degrees C. These particular lagares are of two sizes and hold about 7 or 11 pipes each (a pipe = 550 liters) with a total capacity of 54 pipes.
Vincent and Kay Bouchard (Vincent from the famed Burgundy family) are the owners of this single Quinta endeavor. Tedo's production is 100% foot trodden in lagar, the vines average over 30 years old. They have invested their time and money to renovate this historic property that dates back about 250 years. Tedo has been making VP since 1995 and also has a lineup of LBVs dating back to 1994. I did not discover Tedo's Ports until early in 2003.
I enjoyed seeing some of the old, braided wild chestnut "cestas" (baskets) that are filled with grapes from the vineyards and taken to be processed. These particular cestas are of two sizes and the smaller ones hold up to 22 kilos, while the larger ones hold approximately 40 kilos of grapes and weigh an additional 8 kilos (nearly 110 pounds in total, for those that don't speak metrics). The men carrying the grapes, oftentimes down very steep dirt paths, must be very sure footed and have incredible endurance to do this every day during the harvest.
Five very low yielding parcels on the property produce between 27 and 30 hectoliters per hectare of handpicked grapes and the depth and concentration of fruit is apparent in the Tedo wines. There is no inoculation that takes place with the Port production, as only natural yeasts are utilized. In fact, Bouchard and Alves believe in using environmentally sound, products and practices in the vineyards and they are amongst the early birds in the Douro to approach vineyard management in this way.
Fermentations can be very speedy with as little as two to three days. This is very different than table wines where the fermentations usually last for weeks or even months. The lower the ripeness and residual sugar of the grapes, the faster the fermentation. In a hot growing season in the Douro like 2003, where the grapes are concentrated and sugars run high, the fermentations can take up to six or seven days.
| | |
| --- | --- |
| Cestas at Tedo | Mario straddling a lagar holding a monkee |
2003 Quanta Terra Douro red 60% Touriga Nacional, 20% Tinta Roriz, 20% Tinta Barroca. Bright purple, almost like a tank sample, it needs 3 years for the overt fruit to meld with the other components. Very fine acidity and moderate tannins provide the backbone for the extreme sweet plum and cassis juice, but the fruit will integrate well as the overall cuvee is in synch. 89 points (10/27/05)
1997 Quinta do Tedo Douro red 2000 liters produced and it is still in wood, tasted from cask, with light ruby/pink coloration. There is a dominant raspberry nuance with a bit too much oak and a charred note. This Tedo offers spicy juice with lots of fresh berry flavors and a light-medium body. There is a slight tawny flavor to this wine which is influenced by the oak treatment and a gentle but bitter finish that is a bit clipped and shows too much spirit. Out of balance at this time and hopefully it will come together in years to come. 84 points (10/27/05)
Quinta do Tedo Finest Reserve Port - from 25 year old vines , this cuvee is blended with 18 different grape types. Crimson color, with bright notes of strawberry and vanilla from the French oak utilized. This is an ultra-sweet young ruby Port with overt ripe red berry juice. It's simple but tasty and readily approachable. 86 points (10/27/05)
1999 Quinta do Tedo LBV Port - medium ruby color. A medicinal and spirituous nose with red fruits and bright floral notes. On the palate, it delivers lightness to the mouth feel with sweet plum fruit that shows a lively tannic structure. It's smooth and provides generous length to the finish. 87 points (10/27/05)
2000 Quinta do Tedo LBV Port - Dark magenta hue. Plum and Pomegranate aromas are intriguing and I enjoyed the nose here that is imbued with a touch of spice. Light-medium body, intense ripe, tooth-tweaking sweetness but fortunately it has plenty of acidity to carry the RS here. Darker berry profile than all wines and Ports tasted so far at Tedo. This shows greater mid-palate intensity than the '99 and is more to my liking. A very fine and persistent aftertaste supported by a nice smooth texture. 90 points (10/27/05)
2000 Quinta do Tedo Vintage Port - Dark ruby with an ethereal fresh floral fragrance and a weird, distinctly plastic note that mars the elegance. This is a medium weight, fruit forward style of VP, bolstered by brawny tannins and a very long finish that hints at some spirit and slight bitterness. It is actually better than it sounds here. 88 points (10/27/05)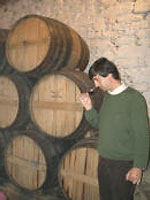 Tedo's Jorge Alves
2000 Quinta do Tedo "Savedre" Vintage Port
- Dark garnet nearly opaque appearance. There is a lush strawberry note and a similar ethylene note to this 2000 as well. It offers up ripe and juicy dark cherry and a generous dose of sweet grenadine syrup. I liked this as much as the Tedo SQVP but the tannins are slightly more pronounced and the spirit on the finish detracts from the overall pleasure at this point. I can not predict if this will integrate and lose some of the heat.
87 points
(10/27/05)
2003 Quinta do Tedo Vintage Port - Nearly full opacity with very dark ruby-purple color. Red berry, mocha and rose petals deliver a wonderful aromatic profile. I enjoyed the lush and round mouthfeel with tannins that were much less gripping than the cask sample I remember fondly. Medium body and a very long and delineated finish with waves of chocolate. 92+ points (10/27/05)
We had an outstanding meal and were all hungry after the train ride and hour of barrel tasting, (those wines are not reported here). What a fun afternoon visit and it was nice to walk though the vineyards and touch the schistous soil. We also hiked through the garden where most of the vegetables had recently been picked, some for our lunch. There was a fantastic view of Niepoort's Quinta de Napoles which was just below Tedo and closer to the river. Although this is an up and coming property, the owner Vincent Bouchard is very involved in improving the overall quality of the product and splits time with his cooperage business in Napa Valley.
Quinta do Noval:
It was getting a bit late and we stopped into our lodgings to freshen up before dinner & Ports at the esteemed Quinta do Noval. It was great to see my friend Rute upon our arrival. She was as charming as ever and in good spirits considering it was drizzling pretty hard. We took a nice tour of the property and saw not only the winemaking facility but also the vineyards. We did not have much time as it was growing dark and with the weather not cooperating, our time in the Nacional Vineyard was much shorter than we had hoped, but we did manage to touch the hallowed ground. Admittedly, it was more special the first time ... but it was still very cool to be standing on that hallowed ground.
Of the 210 hectares, (1 hectare = 2.5 acres) 140 are planted to vine. There is still plenty of land around Noval and when looking at Noval's property from across the valley, it is a sight to behold. The whitewashed markers and the huge Quinta do Noval sign make this a landmark not to be missed.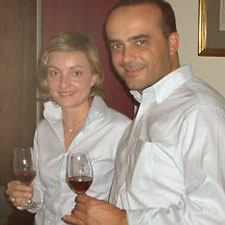 Rute and Mario at Noval
On to the wines. We had a fun 2003 tasting of the three Noval vintage Ports before heading to dinner:
2003 Quinta do Noval Vintage Port - in some vintages, Nacional juice can be added into the regular Noval to provide greater density and complexity to the Port. Opaque ruby purple hue. This was a just opened bottle and did not have time to show its greatness, as the nose was extremely reticent with just a hint of herbs and pepper poking through. It was fun to try this right from the get go, with massive, ripe cassis, dark cherry and blackberry flavors literally attacking the palate and crushing it with tannins that arrive later in the game. Viscous in the mouth and it delivered an everlasting finish. A blockbuster of a young VP with a great half century+ guaranteed for this stellar effort. 95+ points (10/27/05 - decanting in advance would have added points)
2003 Quinta do Noval Silval Vintage Port - less than 1000 cases produced. Fresh fragrant violets, mocha and red berries waft out of the glass. The nose is much more enjoyable from this bottle than the regular Noval. Soft, sweet blueberries and anise with moderate level of tannin and a fine finish. Not as tannic as I remember from the cask sample and mostly approachable on this particular tasting. 92 points (10/27/05)
2003 Quinta do Noval Nacional Vintage Port - The grapes from 6,000 ungrafted vines and six varietals were blended to make up the 225 cases of this outstanding VP. Bright blackberry fruit, silky chocolate and viscous overall, this would have been so much better had it been decanted hours earlier. A bit tight, especially the nose. Souzao and Amarela are in here too. 96+ points (10/27/05)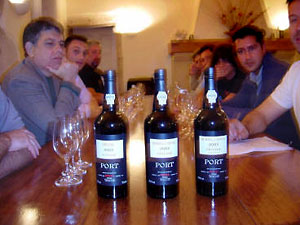 2003 Novals before dinner
1994 Quinta do Noval Nacional Vintage Port
- This became a guessing game and I believed it was the 1994 Quinta do Noval, but was almost positive that it was not the Nacional. First of all it was not as dense and chewy as the '94 Nacionals I have had on four prior occasions. Out of the kitchen comes a very nice surprise, Mr. and Mrs. Christian Seely have just arrived from Bordeaux. Christian had not heard our guesses and for very similar reasons (the biggest of which ... this bottle was opened only a short while before we tasted it). Nonetheless, a very polished Port with great potential. It is almost "unfair" to rate this bottle, but ...
97+ points
(10/27/05)
Christian was in a fun-loving mood, and he generously opened the next three bottles which sated our thirst on this particular evening. What a great surprise to have him join our group!
1962 Quinta do Noval Nacional Vintage Port - I have had this wine on several occasions and IMHO, have always considered it a mediocre Nacional. This was the first bottle of the '62 to show me a different picture. Light to medium ruby in color with a bricking meniscus, the nose showed beautifully with strawberry and licorice dominating the aromas but with highlights of sweet cedar and vanilla that added a nice seasoning. Smooth and delicate on the palate this was a textural delight. Very refined and offering up an extremely long, decadent finish. It's at peak now. 92 points (10/27/05)
1962 Quinta do Noval Crusted Port - In the USA, we don't have the opportunity to drink any old "Crusted Ports" and this was certainly the oldest example I have ever tried. It was a great wine to compare to the Nacional. Let's just say that my guess was WAY off, never suspecting a Crusted to be tossed into the mix. This was still quite lively and provided developed aromas of prunes, caramel and cocoa powder. The palate was lighter in body than the Nacional, but still lots of delicate plum and fig flavors and fully resolved and round tannins. A gentle and tasty Port that showed class. 89 points (10/27/05)
1937 Quinta do Noval Colheita Port - I got a kick when one of the guys in our group guessed a "1931 Nacional" and I kept my nose and eyes in the glass. I was not sure if this was a VP from the 19th century or an old Colheita, as the tertiary nuances were excellent. I am glad I have some in the cellar! Raisins and butterscotch with a backdrop of hazelnuts delivered a scintillating nose that was even better than the gorgeous palate. The liquid caramel and pralines on the palate were quite fine and the finish was awesome and complex but only medium in length. Great juice! 95 points (10/27/05)
One fun factoid we learned, was that the 2001 Quinta do Noval Silval Vintage Port possesses a good amount of declassified Quinta do Noval grapes in the final Silval blend, which resulted in not only a fabulous Port, but a great bargain.
It is always a great time when visiting the legendary Quinta do Noval and experiencing their outstanding hospitality provided by the incredibly well-versed staff. Standing in the Nacional vineyard for the first time, is one memory that will linger a lifetime, even for the most jaded of wine travelers. As much as I love drinking the Ports of Noval, visiting the Quinta itself, is even better and that is saying a lot!
Quinta da Vista Alegre:
Another morning had broken and we were off to explore a property that is still unknown in the USA marketplace, although distributed to 21 other nations. Their largest market is Quebec, Canada and Angola is not far behind. Vista Alegre is the crown jewel amongst a handful of vineyards and three Quintas that make up the company VALLEGRE, which was established in 1973. Quinta da Vista Alegre currently has 55 hectares planted (25 more ha at their other two Quintas) and is situated on the North bank of the Douro, just outside of Pinhão. In the past the grapes had been sold to Ferreira, Ramos Pinto and Taylor which had purchased some old Tawnies.
Miguel Martins (congratulations on your new twins!) took us on a wild ride in a jeep through some very steep terrain (the top of their vineyard was at about 1500 feet above the river bank), where the fall foliage was breathtaking and the vineyard still had some grapes hanging even though the harvest was completed a couple of weeks earlier. We had a chance to explore a number of different grape types, see some incredible granite outcroppings, learn more about the schistous soil and take pictures of the colorful vineyard with splendid river vistas below the steep terraces.
| | |
| --- | --- |
| Vallegre's Miguel Martins | Vista Alegre Ports |
Vista Alegre along with Valle Longo (the latter of which is in close proximity to Quinta do Tedo) makes up the two main releases of Vallegre, but they have others such as Ceremony and Porto Cabral in their portfolio. Their production capacity is just shy of 70,000 cases but currently they are producing a total of 2,000 cases of Port. Their first Vintage Port was in 1994, which is not a bad vintage to start out with. They maintain very large stocks of 30 and 40 year old Tawny Port, although the company started in 1973, they possess vines from a century ago that are still productive.
We went back to the tasting room and were treated to a wide assortment of bottled Ports:
1988 Vista Alegre LBV Port - This is the oldest bottling and a Traditional style of LBV, bottled in 1994, which basically means that it was not filtered and needs decanting. Cranberry in color with a pink meniscus, it offers floral and anise notes and a touch of spirit. The medium-body weight played well with a very smooth initial approach. Offering plum and red fruits it is a very tasty LBV and a nice way to begin our exploration into the Alegre Ports. The finish was exceptionally long and showed a touch of heat. 90 points (10/28/05)
1995 Vista Alegre LBV Port - It's another Traditional bottling of LBV which took place in 2000. The color is a very dark ruby red and fully opaque Port, with spicy Touriga Nacional dominating here with cassis and mocha aromatics. This is one of the more memorable LBVs I have had on the trip and shows both balance and outstanding textural pleasure. Although it is medium bodied, the smooth mouthfeel and nearly perfect aftertaste make this an extraordinary find. Great overall symmetry! 5,000 cases produced. 92+ points (10/28/05)
1999 Vista Alegre LBV Port - Considerably smaller production with only 900 cases produced. Opaque ruby-purplish hue. Cranberry, grenadine syrup and a chocolate note round off the nose. This is far less refined than the '95 and a bit rustic if not coarse. There is an herbaceous note here that was intriguing but not altogether pleasant, yet the blackberry fruit and ultra-long finish made up for it. 88 points (10/28/05)
1996 Vista Alegre Vintage Port - From Vallegre's 2nd declaration (after the '94) this Single Quinta Vintage Port was a solid entry that was 100% foot trodden in lagares. Very dark in color with earthy elements and a spicy note. Initially very tasty on approach, there's a stemmy quality that combines with some might ripe tannins to offer moderated pleasure on the finish. 87 points (10/28/05)
2003 Vista Alegre Vintage Port - This was the Port I had been waiting to try. Due to some confusion at Newark International Airport last July, my cask samples never reached me and therefore I was only able to include their Valle Longo in my "forecast of 2003s". Pure purple opaque juice. Light floral scents dominated by violets and a spicy essence, this VP did not keep its youth a secret. This Alegre offers a medium body along with a smooth texture, harmonious boysenberry & blueberry flavors and a drop of alcohol that sneaks in early. It has a well-woven structure and should be a fine SQVP to be cellared for 15-20 years. Very enjoyable finish. 91+ points (10/28/05)
n/v Vista Alegre Old White Port - I love experiences like this, finding wines that I'd never see in the market place. This White Port is a blend of juice from 1966 and 10 year old white Port. It is aged in wood for at least 20 years old, but this specific cuvee averaged 25 years old. The color was similar to iced tea with a medium amber hue with an orange tinge. The nose was fantastic and had I not known, I'd have guessed it to be a Boal Madeira with roasted chestnuts and complex butterscotch aromas. There was a delicacy to this wine with a light to medium body and silky smooth in the mouth. Swirling showed the huge glycerin in this wine and upon first sip the vibrant acidity made itself known against the multi layers of flavor with pralines, tropical nectar and liquid caramel. The aftertaste was simply dazzling and my notes stated, "It will finish next year". One of the most unique wines of the entire trip so far! 95 points (10/28/05)
Vista Alegre 30 Year Old Tawny Port - I was surprised to find a touch of ruby color in this otherwise tawny colored Port. Exotic essence of maple syrup, citrus peel and laden with spice that is followed by a drop of spirit on the nose. Full-bodied and elegant this is a sinfully dense, velvety and viscous glass of toffee, flan and caramel. Sound decadent? This bottle was grabbed off of the active bottling line right in front of us. Lots of finesse here, wow, a complete and utterly fabulous 30 year old bottling! The complex finish is indescribable and more akin to a mind blowing Terrantez. 94 points (10/28/05)
We tasted a few other wines, but these were the ones that best represented the tasting. A fine casual sit down tasting like this in the morning with a fresh palate is always so enjoyable. The Tawny was a fine way to finish off an excellent visit to Vista Alegre, a property that is producing a broad range of Ports, from well-situated vineyards. Finding undiscovered gems like this, made our journey all the more worthwhile.
Royal Oporto - Quinta das Carvalhas:
Real Companhia Velha
It was nice to catch up with Jerry Luper once again and to see his progress at Royal Oporto. Jerry is a brilliant winemaker who also is very savvy in the vineyard as well. After all, coming from Napa Valley where he helped to cement the names Diamond Creek, Chateau Montelena and Freemark Abbey in the minds of American wine lovers, (to name just a few), Jerry has little left to prove. Nonetheless, he and his wife Carolee moved to the Douro in 1994 after falling in love with the area many visits ago. Luper began as a consultant at Royal Oporto, making his first wine there in 1996. He was quickly promoted to Technical Director and now is responsible for the Douro wines as well as Port production. The production of table wines (utilizing Port grape varietals) began in 1989, and really took off once Jerry came on board.
In my opinion, Royal Oporto has never been a name associated with top quality Vintage Ports and is best known for Colheita and Tawny Port production. Jerry is out to change the fortunes of Royal Oporto which owns an incredible amount of vineyard land in the Douro. They also own four distinct Quintas throughout the Douro: Quinta das Carvalhas, Quinta de Sidrô, Quinta dos Aciprestes and Quinta do Casal da Granja. If anyone can bring excellence to their Vintage Ports, Mr. Luper has the skill and will to do so.
If you remember the recent article in the last FTLOP newsletter, on the 250th Anniversary of the Douro's demarcation, it was the Marques de Pombal who founded this company and one of the early Feitoria (granite markers that demarcated the Douro) from 1758 still stands. Therefore, the history of this company is forever intertwined with that of the Port industry.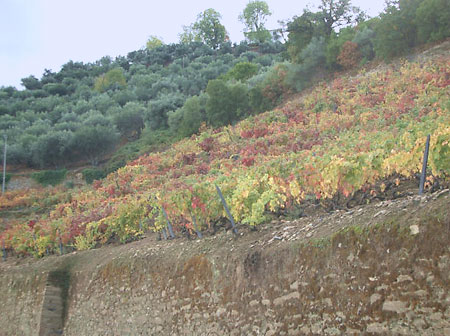 Autumn vineyard at Carvalhas
Royal Oporto makes a very broad lineup of wines nowadays. Here was our opportunity to try some before and during lunch:
2002 Quinta de Cidrô Chardonnay Reserva Trás-os-Montes, Portugal - A £5 bottling of which to its credit was barrel fermented and was fruit forward and a bit too vanilla laden for my liking, but certainly offered a good QPR. Lemon and almond notes upfront lead to a palate filled with oak. 80 points (10/28/05)
2001 Porca de Murça Reserva Douro red - Opaque dark purple color with smoky notes bolstered by ripe prune and chocolate fragrances. It sits for one year in French and American oak. Drying fruit and overtly ripe tannins persist on the finish. Approx. 8500 cases produced. 83 points (10/28/05)
2003 Quinta dos Aciprestes Douro red - Opaque dark ruby color. Dense, dark berry profile with a touch of herbs. Somewhat simple although this is a gentle food wine and when it has another year or two to integrate, will offer more pleasure. 84 points (10/28/05)
2001 Evel "Grande Escolha" Douro red - 85% Touriga Nacional, 15% Touriga Franca. This brand name has been around for about 80 years. Raspberry and smoky cherry notes with a unique camp fire aroma. Dusty plum and prune flavors are supported by a pleasantly smooth mouthfeel and a long, fruit laden finish. 90 points (10/28/05)
2000 Quinta das Carvalhas Vintage Port - Inky black and fully opaque appearance. Floral notes with some pepper and spice. Loganberry and cassis flavors with a touch of cocoa powder, this delivers a huge tannic finish and lacks much on the mid-palate. 100% foot trodden in lagar and there were some grapes from 80 year old vines used in the blend (NO Touriga Nacional). 87 points (10/28/05)
1997 Quinta das Carvalhas Vintage Port - Fine fragrance of figs, anise and tar. This is far more approachable than the 2000, with a nice round mouthfeel and flavors of cassis and licorice with an unrecognizable spice element. Good length to the tannic finish. More depth to this wine and overall it provided better drinking now. 89 points (10/28/05)
1953 Royal Oporto Colheita Port - Depicting a gorgeous orange sunset color. A complex mélange of fresh apricots, unblanched almonds and vanilla beans provide a nose worth keeping in the glass for a few minutes. The palate pleasing peach, pralines and apricots present perfectly poised balance between fruit and acidity with an intricate finish which offers hints of marzipan and brown sugar. This Colheita is a stunning dessert wine and was a great way to end our lunch with Jerry and Royal Oporto. 94 points (10/28/05)
Quinta do Crasto:
Visiting "The Douro Boys" is always a pleasure and on this trip our stop took us to Quinta do Crasto. Our group was in for a real surprise as we would not only have the chance to try some of Portugal's finest table wines but also to learn from Francisco Olazabal (owner of Quinta do Vale Meão) and Miguel Roquette (Sales & Marketing Director and the son of Crasto's owner, Jorge Roquette). Although I have known both gentlemen for several years, this would be my first visit to the esteemed Quinta do Crasto and I could not wait to see it.
I have enjoyed the stunning view of this property from across the river, as Crasto sits majestically on an outcropping high above the Douro River. It is located just a few miles West of Pinhão and maybe half way to Régua, and it is one crazy, memorable and beautiful meandering drive to get there. By helicopter or boat this would be a breeze.
Crasto is a historic property dating back nearly four hundred years with a sign at the front gate inscribed 1615. Unfortunately we arrived at dusk and our views were obscured by impending darkness. What a great excuse to visit Crasto again in the future. I have heard about the beauty of this property from several friends who had visited the Roquette family. In fact, it should be noted that this Quinta has been family owned and operated since the 1800s. I could barely see the "famous" pool which numerous friends have told me about. Next time!
There has been a great influx of investments made in Crasto and Miguel was very proud when showing us the high-tech facilities that were completed recently in the current phase of construction, with more development already planned for. But it is not only the adega (winery) that has received the facelift and new equipment. Lots of attention has been spent in the vineyards as well, with replanting and new plantings which have received tremendous recognition not only for their Ports, but more so, Quinta do Crasto's fabulous stable of Douro red wines.
We were fortunate to have many of the Douro Boys wines included in this tasting. Since they all take turns traveling around the globe and promoting their own wines, but do so collaboratively as well, (a fantastic cooperative marketing effort) there is almost always someone at "home" to meet with invited guests. This is just one way that smaller independent producers have joined forces to be able to compete with some of the larger Portuguese and British family enterprises.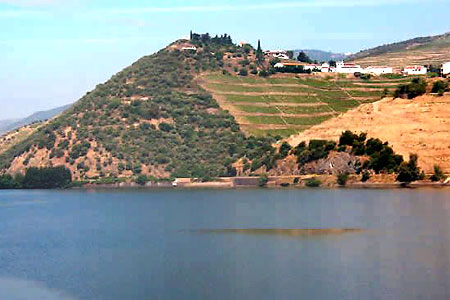 The beauty of Crasto (Photo © by Mario Ferreira)
Quinta do Crasto is uniquely situated on the North shore of the Douro with 70 hectares of typically terraced vineyards that possess a Southern solar exposure and all of which are rated "A" by the IVDP (Port and Douro Wine Institute) and therefore have a generous "beneficio" (IVDP's regulated annual production quota for each vineyard). The old vineyards comprising field blends have low yielding vines dating back at least seventy years, (ranging up to ninety years old). There are also newer "vinha ao alta" plantings done in "patamares" (vertical rows that are planted significantly wider than what is found in typically steep, horizontally terraced vineyards and they're easier to farm).
We were told that Miguel's father Jorge Roquette pioneered the regimen of vertical planting in the very early 1980s. Jorge also decided to plant the 5 key Port grapes segregated by variety, rather than continue cultivating field blends. These are just a couple of the viticultural innovations which have supported Crasto's success with single cultivar Douro wines which are all the rage; although some of their single vineyard wines have become equally celebrated. Their two prized vineyards, Vinha Maria Teresa and Vinha da Ponte (the latter vineyard was planted in 1910, the former just a few years later) are producing world class red wines only in years where the wines are deemed excellent. This is not all that different actually, from Vintage Port "declarations." The grapes are foot trodden in lagares, just like Port too.
A few other intriguing facts about Quinta do Crasto:
Quinta do Crasto was one of the very first Quintas to produce Single Quinta Vintage Port.
Crasto previously sold grapes to Ferreira (who owned the property two centuries earlier), until laws changed with the Act of May 7th 1986, which allowed producers from the Douro to market and ship their wines from the Douro instead of Vila Nova de Gaia.
Along with some of the single grape Douro red s like the highly rated 2001 Quinta do Crasto Touriga Nacional, these single vineyard designated wines have achieved "cult" status in Portugal and are literally impossible to find in country. Prices on current release (2003) of their two single vineyard wines are in the USD $100-$125 range and even a decade ago, this would have been unthinkable for Crasto or any non-fortified wine in the country, not just the Douro.
Until the 2001 Quinta do Crasto Touriga Nacional gained a score of 96 points by the Wine Spectator, the highest score ever given to a Portuguese red table wine was the 2000 Quinta do Crasto Vinha da Ponte (WS 95 points).
The winemaking team of Susana Esteban and Dominic Morris are responsible for the production of the Douro red s. They are also involved with the Port production which is overseen by Technical Director, Tomas Roquette (Miguel's brother).
After touring the entire immaculate production facility, it was time to get down to some serious tasting. My tasting notes are somewhat abbreviated due to the quantity of wines presented before dinner. First we had a nice sampling of Douro reds from various "Douro Boys" properties and then we had some Ports before and after a wonderfully prepared dinner.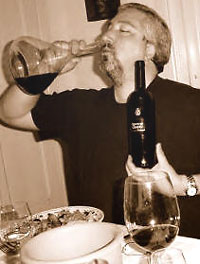 Decanted perfectly for Roy (photo © by Mario Ferreira)
Douro reds
2003 Quinta do Crasto Douro red - Dark ruby with spicy violet and floral aromas. Made from grapes of young vines. In need of a few years in the cellar as it is a bit tight. Tasty, simple plum fruit and moderate tannins with good length to the finish. Clean and fresh. 90 points (10/28/05)
2003 Quinta do Crasto Reserva Vinhas Velhas Douro red - The vine age of this wine averages nearly 60 years old. Big, bold, dark cherry and plum flavors that offer greater depth than the regular bottling. A nice touch of mocha adds to the delicious finish and overall it has good long term potential! It could've used some more time in decanter. $38 btl./4,000 cases produced. 92+ points (10/28/05)
2003 Quinta do Crasto Tinta Roriz Douro red - 100% tasty Tinta Roriz. Deeply extracted, smoky, earthy and dark berry profile with a touch of vanilla. The oak shows prominently on the palate and slightly overshadows the bright blackberry fruit. Excellent mouthfeel and if time provides integration, this may turn out quite nicely. 450 cases produced. 89 points (10/28/05)
2001 Quinta do Crasto Touriga Nacional Douro red - Ok, now I understand what all the fuss is all about. Thanks Miguel for breaking this out in time for dinner! OMG, this is in perfect harmony now but is still so very young. Spicy, pepper, plum and concentrated red berry flavors. Well-knit acidity and even handed tannins are in synch with the boisterous fruit here. I was pleased to be able to drink this with food and spend well over an hour with this stunning bulls-eye. I can only imagine what this will be like in a decade. I love my '96 Touriga now and this young, is way better already. 95+ points (10/28/05)
2003 Quinta do Crasto Touriga Nacional Douro red - 22 year old vine average. Very spicy, with tar and a pine/herbal essence. Tasty smoky plum flavors meld well here and reminds me of a bigger version of the 1996 at the same stage, without the monster tannins of that wine. Solid structure and built to last. I like it. 667 cases produced. 92+ points (10/28/05)
2004 Quinta do Crasto Cask Sample Touriga Nacional Douro red - Inky purple, massive and muscular yet still approachable due to round tannins. Far more tame and approachable than expected. A solid dose of oak here but the bright purple fruits are up to the task. N/R (10/28/05)
2003 Quinta do Crasto Vinha Maria Teresa Douro red - Approx. 30 grapes make up this field blend from this outstanding parcel with 90 year old vines. Chewy, dense and incredibly rich black fruit profile, with a generous mouthfeel. I'd love a case of this in the cellar. Intense and complex infant deserving of at least five years in the cellar before revisiting. Drink in a decade from now for maximum pleasure. 542 cases produced. 93+ points (10/28/05)
2003 Quinta do Crasto Vinha do Ponte Douro red - Close to 100 year old vines provide a fully opaque, inky monster of a wine. A blend of 22 grapes make up this single vineyard designated beauty. Spicy and earthy with a gorgeous fresh berry pie aroma. A massive wine at this point, yet it is generous on the palate with vibrant fruit and a multi-layered, persistent and tannic finish. Sexy! 242 cases produced. 94+ points (10/28/05)
2003 Quinta do Vale Dona Maria Douro red - Vibrant dark ruby color. Ripe black cherry and vanilla scents are heady. Rich dark plum and chocolate on the palate with massive tannins and fine length offer great promise in a few years when this is ready to drink. Very enjoyable now, but those tannins pack a wallop. 91 points (10/28/05)
2003 Quinta do Vale Meão Meandro Douro red - To be fair, this was only bottled in July. The four grape varieties were vinified separately and come from vines grown in 3 distinct soil types. Aged in neutral barrels. Floral notes, with tar, cedar and black fruits. Chewy and dense with unforgiving tannins. It is hard to assess at this point and I'd like to revisit this after it has been in the bottle a while longer. 90 points (10/28/05)
2003 Quinta do Vale Meão Douro red - Inky purple and fully opaque. Tight initially with great promise as it opens in the glass. I wish I had more time with this baby. Full-bodied and excellent structure here. A massive wine with sweet, ripe blackberries and astringent tannins. This is a succulent youngster with finesse, a point balance at this early stage. Just a superlative effort from Meão! 2,333 cases produced. 94+ points (10/28/05)
2003 Quinta do Vallado Douro red - 80% Touriga Franca/20% Touriga Nacional make up this blend from the Cima Corgo. Bright red fruits and very approachable for such a youngster. Somewhat simple but quite enjoyable, with a wonderful aftertaste. Drink now or cellar for a few years. 87 points (10/28/05)
2003 Quinta do Vallado Reserva Douro red - Vines average 60 years for this wine that offers more oomph. Rose petals, cinnamon and anise aromas. A bit of oak upon entry but plenty of juicy, tart red cherry and plum fruit. Slightly under ripe. Powerful and full throttle tannins will mellow and allow the Vallado to be more enjoyable a few years from now. 89 points (10/28/05)
2003 Quinta do Vallado Tinta Roriz Douro red - Possibly the best Tinta Roriz wine I have had. Wow! Big bright strawberry nose with hints of cocoa powder. It delivers vibrant, ripe bing cherry flavors supported by some spicy licorice. Cheeky tannins and an otherwise nice mouthfeel to this infant. What I like most is the expressive purity of fruit. Delicious! 93 points (10/28/05)
2004 Niepoort Cask Sample Charme Douro red - Lovely strawberry, earthy and vanilla aromas. Fresh, soft and approachable and almost like a Pinot Noir. So easy to drink now that there is no reason to wait for it to be bottled. Fabulous! N/R (10/28/05)
Vintage Ports
2003 Quinta do Vale Dona Maria Vintage Port - Dark and delicious. Fragrant grenadine and cherry. An impressive Dona Maria and it is nice to revisit this as the cask sample was ultra-tannic. Sweet plum and brimming with blackcurrant that is almost jammy, yet so well balanced and voluptuous. Cheeky drying tannins are hard to ignore and this is going to be a long lived wine without any question. What a difference three months have made! 93 points (10/28/05)
2003 Quinta do Vale Meão Vintage Port - My first time trying this one. 50% Touriga Nacional, 40% Touriga Franca and 10% Tinta Roriz, 100% in lagar. As dark as VP get. The nose offers up strawberry, bittersweet chocolate and a bit too much alcohol. I doubt this had enough time in decanter. Full-bodied, exhibiting red berry fruit and espresso with drying, chalky tannins that are not overpowering. What a nice long finish and overall a well-made Meão, which I like more than the 2000 (cask sample) VP. 92 points (10/28/05)
2001 Quinta do Vale Meão Vintage Port - Inky color. A stylish Port in a medium-bodied somewhat subdued style, especially after the big 2003. It offers cassis, sweet boysenberry and licorice that is prominent on the gentle yet long aftertaste. Very approachable and I'd drink this while waiting for the '03 to cellar properly 90 points (10/28/05)
2003 Quinta do Crasto Vintage Port - Corked N/R (10/28/05)
1987 Quinta do Crasto Vintage Port - I am a fan of the '87 vintage and have a few favorites. This is a very good example of how this unheralded vintage can produce fine VPs. Cranberry in color with a light pink meniscus, not one of the more extracted examples. Nonetheless, the nose provides spicy cinnamon with strawberry accents. Medium-bodied and impressively smooth on the palate with fully resolved tannins. It is a gentle and tasty Port that is ready to drink now. The finish is very long but the spirituous whack on the aftertaste was a bit of a distraction. 91 points (10/28/05)
1987 Niepoort Colheita Port - Ruby centric color with an edge that fades to pink. Lacks the development of a typical Niepoort Colheita, but then again, this is just a baby. Its strong point is its silky palate presence. A bit simple today but it does have the structure to keep going a long ways in the bottle. Delicious caramel and toffee flavors on the finish. 92+ points (10/28/05)
1970 Quinta do Crasto Colheita Port - This was a real treat as it has never been commercially released (actually I never knew of Colheitas produced by Crasto). Aged like a 70 year old wine. A great aromatic mélange of Pekoe tea and toasted almonds with a touch of alcohol showing. Full-bodied and providing the pleasure of a much older wine. Expansive on the palate, gentle and sumptuous. A gorgeous smooth and silky mouthfeel with liquid butterscotch on the never ending aftertaste. I can still taste it. Some heat detracts a point or two, but this is one heck of a way to finish the evening. 94 points (10/28/05)
Our group was overwhelmed by an amazing day and array of Douro wines and Ports. We had a ton of fun and learned volumes about some excellent properties. It was going to be a long ride back to our lodging. It was time to say goodnight to our hosts and as I type, the fond memory of that very special "first" evening at Quinta do Crasto remains. Thanks Miguel and Francisco!
Quinta do Portal:
It had been two years since I last visited with Portal's proprietor, Pedro Branco and his unassuming winemaker Paulo Coutinho. This dynamic duo has put together a great success story and made quite a splash in the past five years. Like Quinta do Crasto, this is an independent, family-owned venture with a long history of grape growing and lots of early success producing Ports for their own company. The Branco family has been producing table wines since 1986 and a variety of Ports under the Quinta do Portal label since 1994.
When Mario R. Ferreira was first organizing Port tastings throughout the USA for the Port Wine Institute; I met Pedro (February 2002), when the IVDP "road show" came to Seattle. I will never forget my first sip of 1999 Quinta do Portal Vintage Port. Not only was it my first taste of Portal, but my first sip of any '99 VP. It is still one of my favorite Vintage Ports made by this house and definitely at the apex of that under-appreciated vintage. From that tasting and a few others in Seattle, London and at Q. d Portal during the following year, I'd like to think I played a small part in introducing this fine producer to Port lovers in the USA (and elsewhere), since Portal was not yet distributed here at the time.
The Brancos' own four Quintas and have about 100 hectares of vineyards already planted, with lots of prime acreage suited for future growth. Their family has owned Quinta dos Muros since the late 1800s and they still use the old stone lagares there. But Quinta do Portal is their primary property, with state-of-the-art production, tasting and beautiful guest facilities. It is here that tastings take place and the large main building is situated on a peaceful and breathtaking piece of land, surrounded by vines as far as the eye can see.
The Quinta of Quinta do Portal began in 1994, but in its past life it was called Quinta Casal de Celeirós. An amazing and little known story that I have researched is that this property was the only one in the entire Douro region that was not affected by Phylloxera! How that louse missed this particular parcel of vineyards is a matter of lore and only the owner at that time, Sr. Arnaldo Alves de Sousa knows the truth. But it is said that he contacted a French chemist (M.H. Joulie) circa 1880, and followed the steps of the "chemical analysis" he received. Whether or not that was what worked or divine intervention, we'll never really know. But the fact remains the same.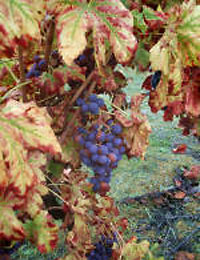 Left hanging
Another fun factoid is that Celeirós was one of the very earliest Quintas to employ women to tread grapes in the lagares. Record of this goes back to the author Henry Vizetelly, who penned (in the latter part of the 1800s): "The young women skillfully gathered their garments up around them. When all was duly adjusted they sprang into the lagar, and, delighted with their task, danced for a time among the grapes with the frenzy if not the grace of a troop of wild Bacchanals. The sight was certainly amusing, although the proceeding was, perhaps, not exactly a decorous one."
Before the Branco family came to rescue this property, the grapes were used by Sandeman (throughout the 1960s - 1980s), who disposed of the buildings in 1985 and land in 1991. The Quinta had fallen on bad times and into disrepair and was used for a time as a school and local parish meeting hall. The vineyards however, never stopped producing. When Pedro Mansilha Branco and his family took over, there was a lot of hard work to be done and money to be invested. Today, Quinta do Portal is one of the growing numbers of family-owned, Single Quinta wine businesses that is flourishing in the Douro. The future is bright and their table wines and Ports continue to improve.
Here are the majority of wines that we were presented by Pedro and Paulo:
N/V Quinta do Portal Moscatel do Douro - Straw color with light, fresh aromas of apple and seckle pears. Simple, clean and refreshing with bracing acidity and underlying earth and slate. 17% alcohol but it tastes lighter. 85 points (10/29/05)
1996 Quinta do Portal Moscatel do Douro - The Moscatel grapes come Favaios, a small village at the North end of the Pinhão Valley, well-known for growing excellent Moscatel grapes. Intriguing orange/tawny color. Serves up a sexy nose of apricots and orange marmalade. This is a smooth operator with a rich mouthfeel, plenty of acid to keep the ripe white peaches and apricot fruit in check, and it's fun to roll around in the mouth. This would be a great summer quaffer! 89 points (10/29/05)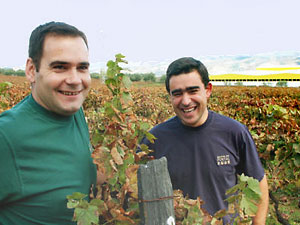 Portal's Oenologist Paulo Coutinho with Vineyard Manager Miguel Sousa
1994 Quinta do Portal Colheita Port
- This Colheita is still a baby although from the appearance, you'd never guess '94. Exotic Asian spice, orange peel and fresh geraniums deliver complexity to the nose. A light-medium body, smooth and well-structured but lacking the evolution of secondary nuances. It does provide a very enjoyable and long aftertaste. Cellar for a decade and see what happens.
90 points
(10/29/05)
Quinta do Portal 10 Year Old Tawny Port - Tea color with a light tawny edge. One of the better 10 year old Tawnies I have had on the trip. Delicate and light weight with almond and sweet hazelnut flavors, elegant and ponderous. Solid acidity and generous on the finish, this is one Tawny to seek out. 92 points (10/29/05)
Quinta do Portal 20 Year Old Tawny Port - Amber color with a yellowish rim. Spice, citrus peel and roasted nuts provide a heady scent with a touch of spirit. Gentle candied walnuts and caramel are bolstered by a light orange nuance which adds the complexity to the elegant, dry and nutty finish. 91 points (10/29/05)
1994 Quinta do Portal Traditional LBV Port - Light touch of TCA N/R (10/29/05)
1995 Quinta do Portal Traditional LBV Port - Medium ruby in color. Fine aromas of lightly toasted nuts and caramel which I found odd (but pleasant) for a young LBV. In fact the '95 had distinctly secondary characteristics which had me baffled. Regardless, just based on what was in the glass -- almonds and toffee with a long finish, this was an atypical but very tasty wine. 92 points (10/29/05)
1996 Quinta do Portal Traditional LBV Port - Very dark ruby color. This has usually been one of my favorite Portal LBVs and I have rated this as high as 93 points in the past. This bottle delivered spicy dark berry flavors with a licorice note and a bit of spirit. The texture was coarser than I remember and the alcohol stood out which marred the finish. I need to try this again from another bottle! 85 points (10/29/05)
2000 Quinta do Portal Traditional LBV Port - Cranberry color. Now we're talking. Ripe, dominant plum and spice are enticing on the nose. The palate shows power and class, with cassis and blackberry fruit in a medium-bodied wine with a solid core of acidity and a touch of spirit on the otherwise delicious finish. 90 points (10/29/05)
2001 Quinta do Portal Traditional LBV Port (cask sample) - Opaque and inky. Carnations and pure grape essence are explosive and fun. Full-bodied and smooth as can be. Blackberry profile with power and finesse. Quite approachable now but will be even better once released. Excellent potential here. 92+ points (10/29/05)
2003 Quinta do Portal Traditional LBV Port (cask sample) - Fresh cut floral fragrance with violets and raspberry dancing in the glass. Juicy, bright plums and pure boysenberry fruit is delicious and the vibrant acidity lends a hand. The tannins take over and dominate in the mouth. This is going to be a huge LBV and one to seek out by the case. It will take some time to lose the baby fat though and it will be interesting to see if it does so by the time it is released. 93 points (10/29/05)
2004 Quinta do Portal Traditional LBV Port (cask sample) - Big, bright and bold dark berry centric LBV, with intensity and punishing tannins today. This is so massive it could almost pass for a Vintage Port cask sample. This pushes the envelope and it will be a great find around 2010. 93+ points (10/29/05)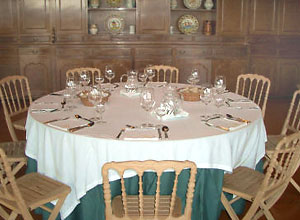 Lunch at Portal
1995 Quinta do Portal Vintage Port
- It is nice to see how much this VP has improved in a few years. It was a bit hot and had some unpleasantness last time. But with a decade in the bottle, this has settled down nicely and the sweet, vibrant dark cherry fruit and chocolate are battling with ripe, chewy tannins that don't quit. Revisit in another five years and this should be staring to come into its own. Enjoyable today but will reward patience with resolved tannins.
90+ points
(10/29/05)
1999 Quinta do Portal Vintage Port - This is still my favorite Portal from their earlier vintages. One of our guests was blown away by this '99 and I just smiled. Round, viscous, exquisite structurally, extraordinarily smooth on the mouthfeel. It just keeps getting better every time I drink it. I did not spit a drop! 94+ points (10/29/05)
2000 Quinta do Portal Vintage Port - Opaque purple hue. Plum and purple fruit aromas. Full-bodied, yet soft and very approachable, with a delicious cassis, cedar and raspberry profile. The oak stands out a bit, which I have not noted before and the tannins are chewy but these both show up on the long and juicy finish. 92+ points (10/29/05)
2003 Quinta do Portal Vintage Port - I enjoyed this even more than the cask sample. Our group was in agreement that this was the best wine on the table. Fabulous! Massive and structured like an armored tank. The juicy almost jammy dark berry fruit and acidity kept my salivary glands in overdrive. Excellent mouthfeel up front and then the tannins kick in and take control. A concentrated, powerful wine with even greater upside potential for the long haul. One of the top young Vintage Ports I've had on our trip. If you are over 50, buy the 1999 instead! 96+ points (10/29/05)
2003 Quinta do Portal Portal + Vintage Port - Black as coal. This is more feminine and even approachable at this point. It was a tannic cask sample so it was nice to see it flesh out a bit. Expansive blueberry and boysenberry fruit that is a showing well right now. The tannins are still present late in the game but this should be ready to drink in 15-20 years, unlike its big brother above. 93+ points (10/29/05)
2005 Quinta do Portal Vintage Port (cask sample) - Impenetrable and I can't use the word "color" for the appearance of this wine. It is like a black mirror. Violets and raspberry aromas are ripe and sweet. The flavor profile is more purple with plums and grenadine that is sweet and unctuous at this stage. The tannins clubbed me into submission. Another monster in the making! N/R (10/29/05)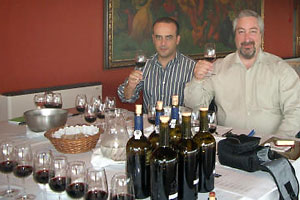 Mario (left) and Roy at Portal
It is always a distinct pleasure to visit Quinta do Portal and my sincere appreciation to Pedro and Paulo for their hospitality. Taking part in a comprehensive tasting like this, directly after breakfast ... had me starving for lunch. I could not get that 2003 VP out of my head the entire drive back to Oporto and I still need to find a case of the '99 Portal. Time to check winesearcher.com! I know that our group was every bit as enthralled by this tasting, as it would be our last ... except for dinner back in Oporto, where we had a very special surprise planned for our grand finale.
I'd first like to thank Mario for making this trip such an incredibly fun time. He never lost his fine sense of humor. For the folks that joined us, I know you had a wonderful time and I hope some of you will post your first hand experiences and tasting notes on FTLOP.
Now that I have completed my travelogue of nearly sixty pages, including a few hundred tasting notes, I can look forward to our upcoming trips during the harvest. If you'd like to have more information, please have a look at www.fortheloveofport.com
© copyright April 2006
Words About Port index page
<!- Page Contents End Here ->