The Colheita, Garrafeira and Vintage Ports of Niepoort
Article and photos © copyright 2004 by Roy Hersh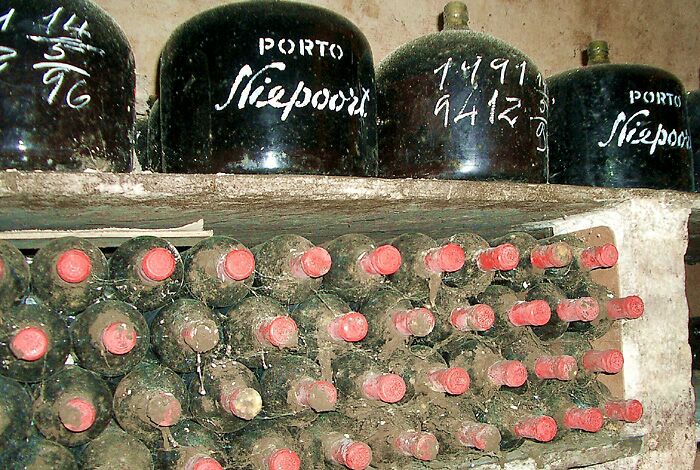 Niepoort's Lodge in Vila Nova de Gaia
The opportunity to enjoy a late spring weekend tasting of fine and rare wines made the trek to Florida well worthwhile. Upon disembarking from the plane in Miami, the 40 degree temperature differential was immediately apparent. With constant sun, a rarity in the Pacific Northwest at this time of the year, this American oasis felt like another country. More important, I was headed to my favorite wine event of the year, along with my brother and a close knit group of wine lovers that periodically get together for a weekend's worth of total wine immersion. I was looking forward to trying many exceptional wines, but in truth, it was the last tasting of the weekend, Ports by Dirk van der Niepoort, which I was most excited about.
The fun begins with a Friday night bash which is always billed as an "once-in-a-lifetime" wine tasting. We're never disappointed. Commencing again on Saturday morning, "wine at 9" is met with anticipation and energy ... by most. During the next eight hours, there are three stunning, vertical tastings of 15-20 vintages apiece, followed by a formal wine dinner prepared by a celebrity chef, with specially selected wines to match each course. On Sunday morning, there is one more tasting for those that can peel their eyes open and figure out how to operate the elevator. Sunday's affair has always been reserved for a memorable Burgundy vertical or dessert wine extravaganza and this year was no exception.
The weekend wine warriors who attend this annual Floridian fiesta have successfully developed the stamina and focus required to survive such an onslaught of fabulous wines. These elaborate one-of-a-kind wine weekends are paneled by the winemakers and/or owners of the world's best wine properties. Special guests of honor have included Michael Broadbent, Robert Parker, Jancis Robinson, Matt Kramer, Serena Sutcliffe and Clive Coates amongst the luminaries.
The founder, Dr. Robert Maliner, is one of America's foremost wine collectors and his "connections" around the world are legendary. "Dr. Bob," as we fondly refer to him, passed on the baton a couple of years ago to Arlette and Robert Cataldo. They have done an exceptional job and have not missed a single beat. In my humble opinion, this remains the best annual wine weekend held in the USA, period.
This year's star-studded lineup included names like Roumier, Egon Muller, Chateau Palmer and the finest offerings of the vineyard Richebourg. Knowing that Port maestro Dirk van der Niepoort was scheduled to attend was, at least for me, the icing on the cake. Dirk offered a deep vertical tasting of mostly old Colheitas, a pair of Garrafeiras (explained later) and a handful of great Vintage Ports, including a pair of 2003 component cask samples. Since most great Port tastings emphasize Vintage Ports, the Niepoort theme was a welcomed departure and a tremendous opportunity to try wines that are very difficult to obtain.
We had old and scarce vintages like 1900. To put one of the Niepoort Colheita Ports we tasted into historical perspective, the grapes were picked just two months after the US Civil War's Battle of Gettysburg, from the exalted Port vintage of 1863. What was great about this tasting was the depth of the knowledge of the audience and the very thought provoking questions that were being asked of Mr. Niepoort. Dirk's easygoing style, along with his inviting and open interaction with the audience, was most appreciated by all. This was one fun morning!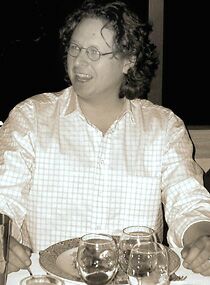 Dirk van der Niepoort
Please bear with me while I digress and provide some background and insight into the man behind the wines. Dirk van der Niepoort is Dutch by heritage, and I've had the distinct privilege to spend some time with him in recent years in Portugal, Canada and on both coasts of the US. Getting to know this affable, well-traveled, extremely bright, and in some ways controversial, man has been an enriching and inspiring experience. I listened intently as Dirk spoke of new viticultural ventures and explorations with Pinot Noir (or at least the Douro Valley's version of it), as well as improvements that are currently in progress in the Douro region and his properties. Dirk knows Port, but he has a global perspective (and collection) when it comes to wine and has tasted and visited an impressive number of wine regions around the world.
It was also great to hear about and taste Niepoort's progress with his dry white and especially his red wines, which are at the forefront of the Douro's premium red table wine revolution. I have tasted these on several occasions ... the Niepoort Redoma white and red as well as his amazing Betuta from various vintages. This weekend offered the opportunity to try something new to me, Niepoort Charme which is 100% foot trodden in lagar (stems included) and is every bit the equal of Niepoort's sensational Betuta, which has risen to the apex of the Douro red wine movement. Despite the brilliance of the Betuta, in fact, I liked the, which are so precious to him and his family. I have seen these demijohns Charme just a bit better.
It was good to learn that the tradition of the lagar is something near and dear to Dirk, and about the importance of the demijohns on their perch in the rustic cellar situated in Niepoort's Lodge in Vila Nova de Gaia. They are worthy of shelf space in a museum, which in a way, is exactly what the Niepoort Lodge's wine cellar is. It was a privilege to gaze at the ancient glass demijohns (explanation to follow) that are lining the wall with wines from a variety of vintages from the 19th and early 20th centuries.

Dirk worked with his father Rolf, for many years, and under his father's tutelage, he became an avid young apprentice. He was devoted to the wines and vineyards of the Douro, artisan blending techniques, and the finer nuances that distinguish great Port from the rest. Niepoort is not one to change his own winemaking or blending philosophy just to please wine journalists or critics. He is true to his own instincts, regardless of those whose opinions may differ.
Dirk's main emphasis is on creating wines with a focused sense of balance. Many writers use the word "freshness" when describing his style, but that word has been utilized in just about every article about Dirk. I believe it is the impeccable equilibrium and grace though, that is his significant point of difference in every bottle of table wine and Port on which he places his name. What more needs to be added? Solely, Dirk's passion.
Back to the Port tasting now, and the specific wines of the Niepoort lineup, which will follow in a moment. Greatness starts in the vineyard and Dirk has avidly sought to purchase properties in recent times, since his ancestors never did. His three properties are going to be the backbone of all his fortified Ports as well as his red and white table wines. Some possess old vines that reach 120 years of age. He still purchases grapes from respected farmers, but once his new plantings reach fruition, Niepoort will rely more on his own grapes.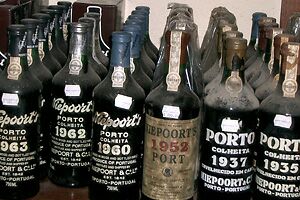 Niepoort Bottles in Shop
In Vila Nova de Gaia, the wine is not just left in the cellar to mature. It is nurtured, and Dirk makes sure to top off his Colheita and Garrafeira Port with the wines from the exact same vintage (to make up that which is lost to evaporation, a.k.a. "the angel's share.") There are others that take shortcuts, but Dirk is focused on quality, regardless of cost.
Now, let me explain exactly what Garrafeira and Colheita styles of Port are, as these wines were a big part of the tasting.
Garrafeira Port - This is a very rare style of Port and many Port lovers have never even heard of it; even fewer have ever tasted one. Literally the word garrafeira (pronounced: gah-rah-FAY-ruh) translates to bottle cellar, private wine cellar or bottle rack in Portuguese. Do not confuse this with the word garrafeira you may find on your typical table wine in Portugal. In that scenario the word "garrafeira" typifies a Reserve wine, but has nothing to do with Port.
Garrafeira is an elegant style of Port made from the grapes of a single harvest, like a Colheita and therefore has a vintage date on the bottle. But "garrafeira" is its own special category. Dirk said that today, Niepoort is the only producer still making this category of Port. Otherwise, I have only read of Ferreira and Real Companhia Velha (Royal Oporto) having ever made garrafeira Ports.
After aging in wood for three to six years the wine is transferred to glass demijohns ("bon bons") which can vary (in the Niepoort Lodge) from seven to eleven liters apiece, and continues aging in glass. This type of aging adds a unique character known as "cheiro has garrafa" (translates to: savour or essence of the bottle) which is derived from prolonged direct contact with the glass demijohns. Further aging in the demijohns, sometimes for well over 50 years; helps to produce a seamless, smooth Port that is delicate, fresh and possesses great finesse.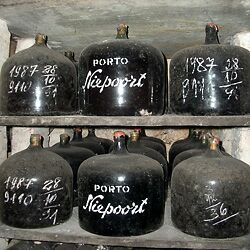 A couple of Niepoort's Famed Demijohns
Port oxidizes far more slowly in glass than in wood. There is no definition of what a garrafeira Port is to taste like, (the IVDP does not even define it) but it is easiest to think in terms of a combination of the silkiness of an oxidative tawny style of Colheita with the opulence of Vintage Port which is reductive, as a bottle-aged wine, for lack of a more apt distinction.
Dirk's great grandfather obtained these extremely rare demijohns during the late 19th century but they were produced in Flensburg, Germany ca. 1780 and it has been suggested they were possibly used for the storage of beer. There are nearly 200 of them that line one huge wall in the Niepoort cellar in Gaia. The wine is then decanted from the demijohns, removing the sediment and then is bottled into 750 ml bottles. They are then left to age in the Lodge until ready for sale. Just to show how historically rare these Ports really are, Niepoort's Garrafeiras were produced only eight times of which I am aware: in 1931, 1933, 1940, 1948, 1950, 1952, 1967 and 1977.
Colheita - (pronounced Coal-yAte-a) is pure and simply put, a Tawny Port where all grapes are from one harvest. In Portuguese, the word "Colheita" actually means "harvest" and can be construed therefore to mean vintage as well. The wine has to mature in cask for at least 7 years by law, but 8 years is not uncommon and the wine may actually spend as many as 50 or more years maturing in wood. It is essential that the bottling year of the Colheita is clearly stated on either the front or back label of the bottle, along with the words "matured in wood" or "aged in cask." These are further clues that the bottle is not a Vintage Port. Caveat: the wines must be of outstanding quality going into the bottle because aging alone, will not make a decent wine great.
The marketplace has normally been very small for Colheita. Until the past decade, rarely was this style of Port found outside of Portugal where wood-aged Ports are market favorites. It has been gaining popularity here in the United States since the latter half of the 1990s and a key market is Holland, where lots of Colheita Port is consumed. They may come on the market more frequently than vintage Port, yet there is less Colheita produced than Vintage Port (Colheitas = less than 1% of all Port produced and VP = approximately 2%).
Conversely, Colheitas in general are less expensive than Vintage Ports from the same year, but there are some very special and rare Colheitas which can cost a small fortune and more than their VP counterparts. Each new release must be approved by the Port Wine Institute before it can be exported. Niepoort Colheitas are reputed to be soft, elegant and to have a smoky character. Although I have not been around when Colheitas have been bottled young, it is my opinion that the Colheitas which are not fined or filtered do improve in the bottle. Some Port experts do not think that Colheitas improve in the bottle, but Dirk van der Niepoort, the contrarian, does. One would find it is impossible to disagree after tasting his wines
Some bottlings can be found where the British Shippers have called this style "Reserve Port" or "Port of the Vintage", instead of Colheita. These limited bottlings should not be confused with Vintage Port, even though the label is vintage dated. Many wine novices nevertheless think of "Reserve" in the typical connotation used for domestic wines in America and elsewhere. Someday the nomenclature of "Reserve" will be addressed by the wine powers that be. In the USA, a Reserve really has no legal status and is more of a marketing ploy to suggest a greater level of quality. Do not be fooled, albeit there are some wineries that do put their higher quality juice into reserves. Some of the best known producers of Colheita besides Niepoort, are Kopke, Burmester, Quinta do Noval, Offley Forrester, Rocha, Calem, and Barros.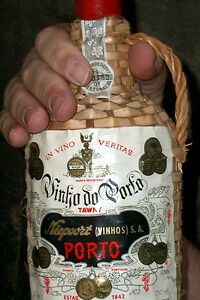 An old Niepoort in hand
For those that have persevered to this point, thank you for bearing with me. Here now are the tasting notes:
1987 Niepoort Vintage Port - medium-dark ruby color, offering violets in a very fragrant floral bouquet, with mostly sweet red berry flavors and a distinct spicy character. Showing good potential for aging from this under appreciated vintage. There were a small number of very well made wines in this year. This is certainly a VP that can be enjoyed in its youth and will also be drinking well over the next fifteen to twenty years. Not a huge wine but very well balanced and it shows minimalist intervention and a fine finish. 92 pts.
1987 Niepoort Colheita - showing butterscotch color, sweet and somewhat simple now but will age well for the long haul; as it really is too young to have expected it to have developed the great nuances that are typically depicted by Niepoort's older Colheitas. It is smooth and very silky with great aromas of pralines and caramelized sugar. The textural pleasure is impressive for this young of a Colheita. The '87 has fine well-knit structure and will get much better and provide further complexity to the already lengthy finish. Buy now and cellar, as this will reward patience. It was a rare treat to compare a Colheita and VP from the same producer, from an identical vintage. 94 pts.
2000 Niepoort Secundum Vintage Port - extremely dark purplish-ruby showing its youth with herbal notes and providing vibrant, purity of boysenberry and blueberry flavors with a touch of spice. This is a very masculine, powerful, yet approachable wine with ripe tannins. It is not a "second label" of Niepoort regardless of the name Secundum. It was Dirk's idea to make a VP that can be consumed now or while collectors wait for their "classic Niepoort's to age in the cellar. I believe this well-balanced Secundum will age for 15-30 years and be at its berry best ca. 2020, The vigor and length are highlighted on the flavor filled finish. 92 pts.
2001 Niepoort Secundum Vintage Port - I have enjoyed the 1999 and 2000 Secundum VPs, but this is even a darker inky purplish black colored VP. It possesses riper fruit, possibly the best of the trio ... and this is still just a toddler. The 2001 version shows somewhat fat and incredibly fresh with overt, puckering tannins. It provides deeply concentrated, sweet blue and blackberry fruit with a hint of anise. Deeply concentrated with a well interwoven acid attack and showing more subdued tannins then its 2000 predecessor. It is still quite primary in nature, and like a cask sample it delivers in-your-face fruit but manages to show the underlying structure. It can certainly be enjoyed now but two more years will help this to sort out some of its baby fat. My favorite Secundum to date. If you are new to collecting Vintage Port, this is a "Roy's recommendation." 93 pts.
2000 Niepoort Vintage Port - although this is even sweeter than the Secundum, it is a very different type of Vintage Port. This Niepoort is quite a dark crimson color that only begins to show the greatness of this wine which was mostly foot trodden in lagar. I love watching the development here and have tasted it every six months since it was bottled. Presently a bit closed but not yet fully shut down, it is a massive and unctuous Port with puckering tannins that will provide great grip for your grandchildren's drinking pleasure. It offers surprising complexity given it's youth and its greatness comes from deft balance every bit as much as from the dark berry flavor profile. It is still my favorite VP of the entire 2000 vintage and will eventually take its rightful place alongside legendary Niepoort VPs such as 1927 and 1945. I scratch my head and wonder how many of the Port pundits missed this one. This Port will cellar for at least five decades, and is certainly one of the 3 greatest wines from the Niepoort stable in the past century! 97+ points today.
1994 Niepoort Colheita - bottled 2003 - burgundy color with some orange-bricking on the rim. This is still pretty primary and showing lots of ripe, yet softer red fruit flavors and will be a fantastic Colheita in time. The tawny and nutty characters will develop in 5-10 years and continue to gain in complexity for decades. This may be the youngest Colheita I have ever tried and I would like to try this again down the road a little bit (especially alongside the '94 Niepoort VP). Obviously, the grapes came from a great vintage and that can only add to the future of this wine. 93 pts.
1988 Niepoort Colheita - bottled 2002 - Compared to the 1987 the 1988 fell a bit short for me. It does not show the focused structure nor complexity of the '87 Colheita and although tasty, the 1988 is just a simple Colheita and I would opt for the wine from the previous vintage. 86 pts.
1979 Niepoort Colheita - I lost most of my notes on this wine while typing on the return flight after the tasting. It was bottled in 2003. Possessing vibrant and subtle dried yellow and red fruits, with a tantalizing candied nutty nuance on the finish. N/R due to loss of the balance of my TN. I guess I will just have to try it again.
1977 Niepoort Garrafeira - the 1977 is still a mostly dark reddish-brown and showing the signs of a more tawny color, although unlike most Ports, the color of Garrafeira does not matter according to Dirk. In contrast to a Colheita the Garrafeira style of Port (translates literally to bottle cellar, in Portuguese) it ages 3-6 years in wood, then it is transferred to glass demijohns that hold between seven and eleven liters of Niepoort (large bottles, depicted in the accompanying photos taken less than a year ago) that were produced during the 18th century. These distinctive bottles are precious and priceless today. According to Niepoort, they are the only firm making Garrafeira Port today. The 1977 will be bottled soon then released in about a decade's time, to allow them to resettle after going from demijohn to bottle. Dirk was very generous and what we tasted was bottled specifically for this event. This garrafeira shows great potential for such a young version. Even though shipped well in advance, this 1977 has the typical "bottle sickness" that a Garrafeira can show.... which like Brettanomyces, can be a unique, if not desirable quality. The nose offered a slightly salty, high-toned Verdelho Madeira-like aromatic profile, What I liked most about this Port was the idiosyncratic flavors and layers of complexity. Although many detected VA in this wine, the oxidative notes will disappear in time, (prior to release) and will provide an even finer, and uniquely Niepoort style of Port. It will certainly be worthy of purchasing it on release. 94 pts.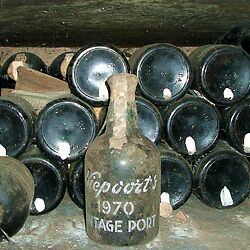 A 1970 youngster
1970 Niepoort Vintage Port - initially, upon opening this wine the color is a very brilliant orange-tawny hue. This dramatically changes when decanted for a number of hours. It becomes a generous medium ruby color with an orange rim. This VP was not part of the formal tasting, but was included as dessert at Saturday night's excellent wine dinner. Additionally, I had a few glasses of this rich and lively wine at varying times during the weekend as it is not found easily in the USA. I only had it once before, while in Portugal at a dinner with the Niepoort family. The 1970 has some lush cherry fruit and mocha lingers on the finish. This is an evolved 1970, yet is still quite vibrant and atypical in comparison to some of the other great names from this exquisite vintage. Other tasters found this to be more youthful than I did. I enjoyed its development and complexity and put it in the top 6 wines of the exalted '70 vintage. Dirk's father Rolf was the winemaker and he should be very proud of this wonderful VP. 95 pts.
1962 Niepoort Colheita - This wine spent 40 years in pipe, (large oak casks) so it is no surprise that it appears orange in color with a showing of ruby only in the meniscus. Aromatically, the 1962 is a nicely nuanced and very expressive Port. I enjoyed the sweet almond and caramel notes that emanated from the glass which were lively and refreshing. Although I did like this wine, it fell short for me in terms of body and texture, as it was very light in weight and the finish was simpler and slightly short and did not measure up to many of the finer Niepoort wines we tasted this morning. 85 pts.
1952 Niepoort Garrafeira - bottled 1974 - light tinges of ruby in the heart of this wine that mostly showed well-evolved color. Initially there was a minty note that I did not detect in any other wine today, with a gentle dose of VA showing that will delight Madeira lovers. It shows what a properly aged Garrafeira can achieve, with concentrated flavors and good length on the finish. In comparing the two Garrafeiras side-by-side, although still not even ready for prime time, I believe the promise of the 1977 significantly outshines this Port. That speaks volumes about the younger wine and does not detract from my appreciation of this one. 91 pts.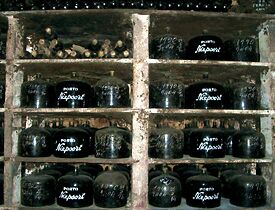 Garrafeira in Demijohns
1934 Niepoort Colheita - bottled 1972 - caramel color and showing intensity of fruit and a touch of VA that adds character to this wine. I loved this Colheita and to generalize, of my top 5 Colheita Ports of all time (three of which are Niepoort) the vintages are all from the same decade: 1934, 1935, 1938 and two from 1937. Anyway, this Niepoort shows tangy acidity from the reduction and also provides added complex layers of sweet hazelnut, butterscotch and toffee flavors that just swirl around the mouth providing a luscious, textural and hedonistic high. The finish on this '34 is incredible, as it shows a slightly dry and nutty Madeira-like, warm and silky aftertaste. This is one of the finer and most memorable Colheitas I have drunk. 97 pts.
1900 Niepoort Colheita - bottled 1972 - Aromas are nutty with some slight VA and roasted nut and dates. Some prune and figgy flavors and some pure vanilla extract on the delicate finish. This Colheita offers a great deal of structure and the off-dry, zesty sweetness of a Verdelho. Layers of complexity rush over the palate with delightfully smooth juice and yet it is still such a vibrant wine considering its age. I wish I could wake up to this Port every morning. 96 pts.
1863 Niepoort Colheita - was bottled for the first time in 1972 into demijohns and then bottled and recorked 3 years ago. It is the oldest Port in the Niepoort lodge and my second time trying it. Coincidentally, I have had five different Ports and Madeiras from this particular vintage. Dark and Mahogany like in color, with such vibrancy that one would never guess this could be over 150 years old. It was produced during the heart of the Civil War (Gettysburg took place that year). I was most impressed by the dense, concentrated fruit but more so by the lively acidity of the wine. This is not a shy, wall flower either. It provides a unique intricacy and tertiary, savory flavors which were quite sweet but had such wonderful nuances of toffee, caramel and a lovely smooth nuttiness. The finish was as decadent as any Colheita or VP I have tasted. A very special wine and an unforgettable experience. For those just learning about older Port, I have had my share of duds from the 1800s too, so just because they are old... certainly does not mean they will be good. I always pay attention to the acidity in these old Ports. 97 pts.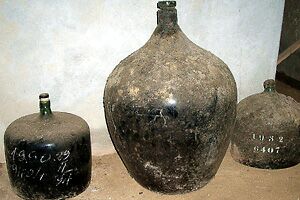 Speaking of old bottles
2003 Cask Samples - Please note that these two barrel samples of Niepoort Port from the 2003 vintage, might be considered for approval at the IVDP (The Port and Douro Wine Institute) as Vintage Port. Due to a very warm growing season, high alcohol and over ripe grapes were prevalent in the vineyards. Sorting was an arduous task and that is why I did not taste the over ripeness here. A large percentage of over ripe or shriveled grapes were removed totally. Dirk thinks this is his best vintage Port ever made. He believes they may eventually be as great as Niepoort's 1945 VP in time. That is a heck of a statement, coming on the heels of the fabulous 2000 VP he made.
1st wine - Grapes are from the Tua River area, not far from Quinta dos Malvedos. Inky black in color with aromas of crushed flowers, especially violets but also cherry and a big whiff of spirit which is to be expected in a Port this young. So very fruit forward, with great concentration of fruit and color. It is showing extremely soft at this point and the tannins are almost imperceptible. With its sweet purity of fruit and soft mouth feel, this is far more approachable than the second wine which is clearly used for the backbone and structure.
2nd wine - This has the big attack with moderate acidity and mouth puckering tannins so pronounced it clearly would be the structural component of the blend. More herbal and spicy aromatically and it is a bit drier with more grape skin flavors and plum. The grapes are from 80 year old trellised vines, grown in smaller parcels, that are field blends. The fruit here is clearly less vibrant than the first cask sample and much more subdued. Dirk did a quick blending of the two and it was clear how well these two fit together.
What an enlightening experience. Dirk's passion shines brightly and the wines reflect the light!
July 2004
Words About Port index page