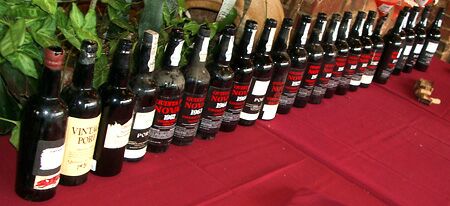 Words About Port
Quintessential Quinta do Noval Nacional
A Retrospective Tasting of 22 Vintages
Article and photos © copyright 2004 by Roy Hersh
It never dawned on me that my quest for one wine, my "holy grail," a wine which I had sought for well over a decade, would lead me to Nashville, Tennessee. Then again, if necessary I would have flown just about anywhere, from Amsterdam to Zimbabwe to sate my search for this particular wine. The bottle is so rare and turns up so infrequently that every time it does; I receive emails from friends who know that I would go to great lengths to obtain a few sips, no less a bottle. A number of years ago when I could barely afford to do so; I offered one collector/acquaintance $2,000 for a well stored bottle. He very politely declined my offer and I believed that my last best hope to obtain a bottle was gone for good. Knowing how few bottles still exist on planet earth, I was nearly ready to accept the fact that I would probably never get the chance to experience the elusive Quinta do Noval Nacional from the legendary 1931 vintage. After all, I had never even seen a bottle in person.
Last December, along came a once-in-a-lifetime invitation to partake in a very deep vertical tasting of Quinta do Noval's Nacional (QdNN) vintage Ports that would include my wine of worship. It did not take me long to jump on the bandwagon as I knew I might never again have a similar opportunity come my way. Flying to Nashville to join a very serious group of wine aficionados and Port lovers sounded great to me. As it turned out, I knew one gent who flew in from Pennsylvania and a pair of others who post on the Mark Squires' wine bulletin board. Additionally, a friend who I only knew from years of posting on AOL's wine message boards, Hoyt Hill, would be handling the Sommelier duties. Tom Black, whom is widely known for his philanthropy and love of wine, was the co-organizer of this event along with Jan Anderson, the Executive Director of l'Ete du Vin. This esteemed organization holds a prestigious annual wine auction and other wine related events, all of which directly benefit the American Cancer Society. It is the 2nd largest wine auction held in the United States, and it supports a great cause! Their website is http://www.nashvillewineauction.com.
What makes the 1931 QdNN so impossible to track down? To begin with, there are only a few dozen bottles spread throughout the world as there were just a bit more than 200 cases originally produced 72 years ago. Additionally, this was the first bottling of Nacional ever sold commercially by Quinta do Noval. Coming on the heels of the Great Depression (and right at the tail end of Prohibition), few bottles ever made their way to the USA except through the auction circuit. Individual collectors that were fortunate enough to come by a bottle, or if extremely lucky a whole case, certainly were not about to let one of their treasured bottles go easily.
The odds of finding ANY bottles of Noval's Nacional sold at retail are about as good as finding Domaine Romanee Conti's La Tache. Finding a 1931 Quinta do Noval Nacional anywhere, is less likely than winning the lottery! To the best of my knowledge there have been fewer than a half dozen of these valuable bottles spotted at auctions around the world during the past decade. A few years ago the 1931 Nacional received a special honor from Wine Spectator magazine. It was ranked as the number two wine, of the top dozen greatest wines of the 20th century. Come on, how rare is it really? James Suckling, the Port authority wrote in the Jan. 31, 1999 issue of the Wine Spectator, in which the aforementioned award was disclosed: "A rare vintage. Christian Seely the current director (of Quinta do Noval) - hasn't yet tasted it. It has remained his life's ambition."
The Historic Quinta do Noval Nacional Vineyard
Although the impetus for my sojourn to Nashville was strictly to try this one wine, admittedly, the prospect to taste 22 vintages of the exalted Nacionals side-by-side had piqued my curiosity. I visited Quinta do Noval in July of 2003 and had a great private tasting which included some rare wines as well as the 1963 and 2000 Nacionals and the 2000 Quinta do Noval regular bottling for comparison sake. Quinta do Noval is a historic property and a beautiful one. It sits atop one of the most picturesque spots in Portugal's rustic Douro River Valley, actually just above a tributary known as the Pinhão River.
Noval is known as a top notch producer of Port as well as for their pristine vineyards and charming Quinta. Serious Port lovers also know it as the home to the famed Nacional vineyard. This specific vineyard site comprises 2.5 hectares (approximately 7 acres) which is located directly in front of the Quinta itself. The grapes come from gnarly old ungrafted vines that are Phylloxera resistant, and they represent what are called "Nacional vines" which gave the vineyard its name. The yields are miniscule and are literally half of those from the rest of Noval's "estate" vineyards. These grapes are individually handpicked and then trodden in granite lagares on the property. When arriving at Quinta do Noval, the very first thing I did was to walk into the middle of the Nacional parcel. I just stood there in quiet euphoria while in the midst of this holy land. It was truly inspiring just to be in this legendary vineyard and it was a very serene and monumental moment. Then, out came the camera!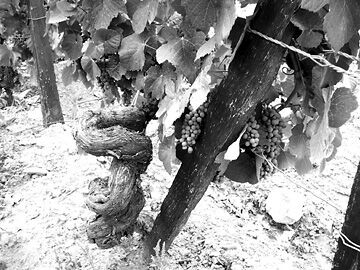 Quinta do Noval's "Nacional" Ungrafted Vines
The following years were declared Nacional vintage years: 2001, 2000, 1999, '97, '96, '94, '91, '89, '87, '85, '83, '82, '80, '78, '75, '70, '67, '66, '64, '63, '62, '60, '58, '55, '50, '47, '45, '42, '34, and '31. I feel very fortunate to have been able to try 22 of these 30 vintages in one sitting. Funny thing is, I did not even notice a spit bucket, but then again, I was not looking either. It is not often that you get this type of opportunity, so why spit, as I knew a taxi would take me directly to the airport. I feel bad for the person next to me who had to put up with my snoring on the airplane!
I was curious to see the order in which these wines were going to be served, not that it really mattered. Hoyt Hill, who was adroitly handling the sommelier duties arrived at Restaurant Zola (http://www.restaurantzola.com) early in the morning and started to decant the wines. I was extremely impressed with the number of old corks that Hoyt had lined up, after extracting them in one piece. Anyone who has ever tried pulling a 30-year-old long cork from a Port bottle knows how difficult this task really is. My surprise came when I was asked to sit at the head table to share insights into the history and wines during the tasting. I was humbled by this honor when I looked around at what I considered to be an extraordinary group of "extreme" collectors, almost all of whom flew in specifically for this event. Thank you Tom!
Each flight of vintage Ports were accompanied by a food course which Debra Paquette, Zola's talented chef created. I wound up consuming the food after each flight but it did not assuage my ability to analyze the wines. Although I would love to gush on, I will get right down to the tasting notes. When is the best time to drink these wines? Below you will find the "legend" to my descriptors of when to drink the wines:
(Drink) = It is not going to get much better than it is right now, so why wait?
(Drink/Hold) = Enjoyable to drink now on a special occasion but will still improve and will age well for at least the next decade.
(Hold) = This is so special that you really should keep this well hidden in your cellar as it will definitely improve for two or more decades.
(Hold/Drink) = Cellaring this wine will see it continue to improve and is recommended, but it is mature enough to be enjoyed without being labeled "infanticide."
All wines are listed in the order in which they were presented at the tasting which began at 11 a.m. (Feb. 7, 2004):
Flight One:
Accompanied by Brie, apple and fig phyllo tart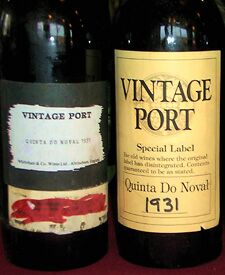 1931 Quinta do Noval (at left) and QdN Nacional Vintage Ports
1958 Quinta do Noval Nacional
- the first wine and the first time, for me ... I like when that happens. Showing a light-pinkish red with a caramel colored rim, the '58 offered a spicy note that complemented the ripe plum aromas. It was unfairly placed next to the 1931s that follow in this flight, but fortunately I was not jumping ahead and gave each wine its due. This is a wine of elegance and had a light body and came from a vintage that was declared by few other Port players. Making fine Ports in less than stellar vintages is one of Nacional's trademarks. The 1958 provided lovely soft and sweet red fruits and surprisingly, some tannins still took hold although they're somewhat demure at this point. The dry and enduring finish portrayed the graceful style of this Nacional. 92 pts. (DRINK)
1931 Quinta do Noval Nacional - before the TN, it is important to mention that the Nacional vines were replanted ca. 1925 and therefore, it was these six year old vines that produced what is considered the GREATEST PORT ever made. So much for having to use old vines for incredible depth of flavor and aging potential. Its provenance and authenticity beyond reproach, this particular bottle came from the cellar of a local collector (thank you John!) who purchased it from the world renowned wine collector Marvin Overton. It is the general consensus among savvy wine collectors, that the 1931 Quinta do Noval Nacional is not labeled as "Nacional" by the winery.
We were told this was a 1931 as was the wine that sat in the next glass too. Only one of them was the true Nacional. I had seen the empty bottle and took many photographs of it. Having had the regular bottling on a few occasions, (most recently May 2003) I knew that the difference might be negligible. Let me say honestly, that on this tasting with my taste buds at their most acutely aware state of readiness, I preferred the regular bottling to the Nacional. Not by much mind you, but I am splitting thin hairs here. At this tasting, the majority of tasters also preferred the '31 Noval to the Nacional.
On to the 1931 QdN Nacional tasting note: This nearly perfect wine showed a nice ruby meniscus with an outer rim possessing an orangeish-brown hue. Bing cherry and brown sugar supported the spice on the nose. Rich and amazing depth of flavors prevailed on this full-bodied wine with overwhelming intensity to the sweetness of the juice. The aftertaste of this wine was generous and persistent. This supported my belief that this is a wine that could live on for a few more decades, seemingly in possession of magical longevity. Was I disappointed that this wine was bested by the regular bottling of 1931 Noval? No way! This for me defined "once-in-a-lifetime" Port experience, and is one that I will always remember. 98 pts. (DRINK/HOLD)
1931 Quinta do Noval - at the end of this flight I found out which was the real McCoy. I actually was very glad to taste these wines side-by-side knowing that only a few people have ever done so. But far more importantly, it allowed me to NOT be swayed, and I solely chose which wine showed better for my senses. Each time I have had it, this has always been the greatest Port I have ever sipped and I am so grateful to have tasted it again here beside the "Holy Grail." It took away any possible hindsight questions that I would have had. This regular bottling received the highest score I have ever given to a VP, as the other times I have tasted it. On this day, it showed the deeper ruby color although only slightly darker than the Nacional. It also possessed spicy cinnamon, ripe plum and a touch of alcohol peaking through, which to me represented its vigor rather than a sign of disjointed spirit. The fruit itself showed brighter and more liveliness than did the above wine, with an iron fisted grip that let you know it was serious and powerful. Both the tannins and excellent acidity stood up to the sublime fruit and although both '31s showed exceptional balance, I did prefer this wine overall. For my palate and experience it's only Port rivals are other bottles of this very same wine. This specific bottle was as close to a PERFECT and flawless Port, as I have ever tasted. 99 pts. (DRINK/HOLD)
How the heck do you follow up a flight like that? Impossible! But on to the next grouping ...
Flight Two:
Accompanied by Tuna l'Orange ~ Walnut tempura orange, smoked onion sauce and currant relish
1960 Quinta do Noval Nacional - fresh looking light ruby that has a tawny outer edge, with lush strawberry, cherry fruit and penetrating anise as well. It has never been considered in the upper tier of Nacionals; nonetheless it showed very well, especially considering the tough act it had to follow. Well-integrated tannins that gently showed they were still around, but were seamlessly interwoven into the sumptuous juice. This 1960 surpassed my expectations and is far and away the best Port I have had from this middling vintage. It received an extra point on this showing for the sheer complexity and length of the finish. 91 pts. (DRINK)
1962 Quinta do Noval Nacional - dark garnet and it fades to a soft and warm reddish-orange on the edge. I have always found this wine to be one of the nicer surprises in the Nacional lineup, but today it was slightly off the mark. Bright boysenberry and chocolate notes were marred by the pervasive alcohol that was an annoyance. This particular bottle depicted a wine that is already at peak and although there was still ample fruit to enjoy, other bottles have shown a bit better and fresher. 88 pts. (DRINK)
1963 Quinta do Noval Nacional - Back into the superlatives with the amazing 1963. This has always held a special place in my own tasting experience and is in my top 5 VPs of all-time and will never leave that prominent position on the Port pedestal. I remember the exact moment in March of 1998 when I had my first taste of this wine. Last July I enjoyed this "legend" at Noval and consumed my share of an entire bottle that was opened for our small group of Port journalists. This VP had a very dark ruby color and was clearly from a perfectly stored bottle. The 1963 is as lithe and graceful as a trapeze artist, and showed what perfection in balance is all about. It is not easy for Port to get much better than this. Sweet, spicy, grapey, mint, big, bold, brash are all apt descriptors. But what struck me most (and I held onto this for well over an hour), was its completeness. It simply showed the awe inspiring integration of each and every component. The aromas danced while the flavors tingled and the finish ... well, it just never did! The acidity level and tannic structure and silky mouthfeel were all essential parts of this phenomenon. I would choose the 1931 over this today though, and did sip them side-by-side too, which was almost unfair given the 32 year age differential. Do you think I loved it? 98 "stingy" points, as I am sure it received 100 from quite a few others. (HOLD/DRINK)
Flight Three:
Accompanied by beet terrine, lamb barley broth and Dijon mascarpone
1964 Quinta do Noval Nacional - I have never been a fan of this particular vintage of Nacional. In tasting it blind, I have never scored this over 89 pts. This morning was no exception. More tawny in color than it should have at this point, as it is still a relatively young Nacional. Yes, it had a hard time following the '63 but I can honestly say that did not influence my judgment here. Medium-bodied and showing more mature notes in both aroma and flavor profile, this wine also showed more alcohol than I normally like to tolerate. The '64 Nacional did provide a good dose of raspberry and other red fruits and I detected a high level of acid present. There was a strong cedar note and dryness present on the rather unimpressive finish. This was the least complex wine, or better put...the simplest wine so far. 85 pts. (DRINK)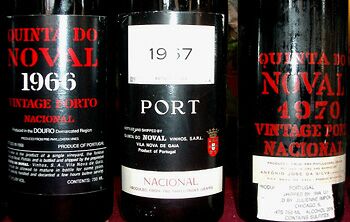 Three Great Vintages of Nacional in a Row
1966 Quinta do Noval Nacional
- just hearing the words, *1966 Nacional* was all it took for me to break into a big grin. It was like a visit from a best friend after not seeing one another for a while. Every single time I drink this wine, I find new reasons to love it. The color was a nice reddish-brick-brown with wild floral aromas that kept my nose in glass for a long time. Plum and mocha also sang to me from within this distinct and enticing VP. Today's love affair was heightened by its captivating mouthfeel which literally had me slurping and chewing this wine for twenty seconds before swallowing it. The flavors were wonderful too and showed some intrigue with orange peel, black cherry and a genteel nuttiness. But this was all about the textural delight, even more than what it delivered once swallowed. Ripe tannins only appeared on the long and complex aftertaste, and not during the earlier rush on the salivary glands. A great bottle, this 1966 is still lively and youthful, with decades of promise ahead. 96 pts. (HOLD/DRINK)
1967 Quinta do Noval Nacional - this has always been my dark horse Nacional and has scored as high as 99 pts. from me in the past, and I was accused by friends of being a "Scrooge" for not going the extra point. Nonetheless, I have always believed that the Spectator and other Port pundits missed the greatness of this particular Nacional. Today, I finally understood how that could be possible. The bottle that was opened today did not live up to the other QdNNs I have had from this vintage. Yes, it was darn good, but it was not as rich in color, as this is usually as dark as any of the great Nacionals from this decade. It also revealed a bit of raw alcohol (which is definitely atypical). Overall, it just did not rock my world the way this Port normally has and I have a nice cache of these. A few people that I have opened this wine for have commented, it was the "greatest vintage Port" they had ever experienced and "did not know Port could deliver this much drinking pleasure." Today it showed dark ruby but was lacking the inky-purplish opacity I am used to seeing. This 1967 revealed blackberry, dusty plums and a wood-driven touch of almond in addition to sweet praline. As always it showed its youthful zest for life and needs another two or more decades to hit its stride. The finish showed its fantastic length, but a touch of atypical VA detracted from its usual greatness. This was a slightly disheartening showing for this wine, which should easily score at least four points higher on a good day. Nonetheless, today is was 94 pts. (HOLD/DRINK)
Flight Four:
Accompanied by ginger goat cheese, roasted butternut squash, pear chutney and balsamic Port sun-dried cherries
1970 Quinta do Noval Nacional - this bottle was spot on and in comparison to the outstanding troika of (1970) Fonseca, Taylor and Graham ... this reminded me what a difference a Nacional can make. This is the stuff that legends are made of and this wine will become one over the next thirty to forty years. I have talked a few friends into investing in bottles of this particular wine for the long haul, it is that great. It showed a youthful dark ruby in color with just the slightest bricking on the edge. After the 1967 I couldn't wait to plunge my beak into this baby as to me, it is the incredible aromatics that make this VP so stupendous, and of course, it does deliver the goods on the palate as well. Plums and smoky cherry notes and memories of my grandfather's pipe tobacco come to mind here. I did not want to take my nose out of the glass. Cherry dominates the palate but there is a distinct cocoa-mocha flavor here. There is also a slight touch of alcohol which is not prevalent enough to detract from the overall pleasure produced on the palate of this promising Port. Round and supple with excellent grip and a spicy cinnamon thread on the huge finish. This wine should easily live on for at least four decades from here. Bravo! 97 pts. (HOLD/DRINK)
1975 Quinta do Noval Nacional - another first for me, I have no memory of ever having this wine before. Light pinkish-red in color, this wine had hints of prime time ripe strawberry and my neighbor mentioned carob which immediately struck home. Unfortunately some raw alcohol appeared on the nose too. What I did find charming in this wine was its elegance and seamless mouthfeel which was decadently velvety. Otherwise, I was a bit under whelmed by this light-bodied Port, that is very sweet and light on the acidity needed to support it. Nacional 1975 should be consumed sooner rather than later as I don't detect any further upside here. 88 pts. (DRINK)
1978 Quinta do Noval Nacional - exhibits a rather light ruby hue and offered a generous nose full of dates, raisins and a roasted coffee note that was most appealing. The flavors showed figs and currants with a backdrop of blueberry that lingered long on the palate. This was a youthful if not truly immature wine that needs lots more time in decanter or better yet, in cellar to reach its fruition. It has a bit of a hollow middle and overall lack of depth that may improve as this wine continues to age. Clearly not a big wine now, but time will tell what it is really made of. From this unheralded vintage I prefer Taylor's Vargellas which is a fantastic wine. This Nacional today is at 86 pts. but the jury has not delivered its final verdict. (DRINK/HOLD
Flight Five:
Accompanied by fiery venison, sweet potato cake stuffed with sun-dried plums, cranberry foie gras butter and espresso mole
1980 Quinta do Noval Nacional - I'm a big fan of this vintage and am rarely disappointed by Ports that I have had with this date on the bottle. Dow and Graham's are two of my favorite 1980 VPs. The Nacional shows a lighter cranberry color and clear rim. This is a wine on its upswing. I enjoyed the minerality and a gentle hint of mint as well, with attractive, ripe blackberry fruit highlights. Someone mentioned "kumquat" but I can neither confirm nor deny the claim, as I have never had one. There was a smoky and woodsy note on the palate that I only noticed in one previous wine above. The 1980 offers a medium-light body but a smooth and enduring finish which does not put this in the top tier of Nacionals. Overall, a good and balanced wine that is enjoyable today even though I believe the solid structure will allow this to improve over the next dozen years. 92 pts. (DRINK/HOLD)
1982 Quinta do Noval Nacional - I have only had this once before and remember not being overly excited. Here it shows light ruby-pink in color with some bricking on the rim. Aromas are the strong point of this wine with subtle mandarin orange and mocha nuances and coffee in the background. The palate is a bit restrained with blueberry, vanilla and a biting coffee note. The aftertaste was somewhat short and overall I was again unimpressed with this particular Nacional, although it was well-balanced and there were no outstanding flaws. 87 pts. (DRINK)
1983 Quinta do Noval Nacional - identical in appearance to the 1982. Otherwise, what a difference a year makes! Currant and cherry aromas swirl in the glass and a hint of vanilla essence adds to the complexity. It was another aromatic delight and a very fine Nacional. I don't understand why this particular vintage of QdNN is overlooked, if not ignored and I don't remember ever seeing it reviewed. Anyway, the '83 shows great structural components with rich and dense flavors led by sweet cherry and jammy strawberry. The delicious flavors are enhanced by gorgeous layers on the complex mid-palate. It has gobs of mouthfilling, mostly resolved tannins and a smooth, viscous richness with a persistent finish. This Nacional is one wonderful wine that exceeded my expectations, as this was my first time trying it. Others in the room also seemed to really like this as well. 96 pts. (HOLD/DRINK)
Flight Six:
Accompanied by duck tart, Lingonberries and apple smoked bacon butter
1985 Quinta do Noval Nacional - this has been one of my favorite young Nacionals in the past. This bottle was not showing as well as it should have. It was quite a bit lighter than usual in terms of its color and lacked the full-bodied style that this wine is known for. Elegant floral and blackberry nose which leads to more black and boysenberry on the palate along with some soft and ripe plum flavors. It is much softer than any other '85 Nacional in memory, and not showing potential for long term cellaring today. Its best feature was the extremely long and delicate chocolate covered raisin finish. Although it lacked its typical verve, it was still an intriguing wine and 92 pts. today. In the past this normally has shown 2-4 points higher and needs more cellar time. (HOLD/DRINK)
1987 Quinta do Noval Nacional - darker color than most of the wines today and the only cloudy wine of the group. Initially it imparted a pretty funky nose but it wasn't corked. It was somewhat oxidized and I wondered if this bottle had possibly seen some seepage or temperature variance. Anyway, It was a light and elegant wine that conveyed some herbs, mint, orange peel and raisined notes. I believe this bottle did not do the wine justice as previous bottles have shown even darker, nearly opaque and overall, considerably bigger. 84 pts. (DRINK)
1991 Quinta do Noval Nacional - rich ruby color that is nearly opaque. It presents notes of strawberry, molasses and others mentioned root beer which I did not really get, but thought was worth noting. This Nacional displays excellent concentration and structure, with medium to full-bodied juice. It possesses young blackberry fruit with a unique balsamic component, and shows its fine balance and some powerful tannins that will allow this wine to age for a few decades. A fine Nacional but not a classic, from an unheralded vintage that has a very youthful essence and lingering finish. 93 pts. (HOLD)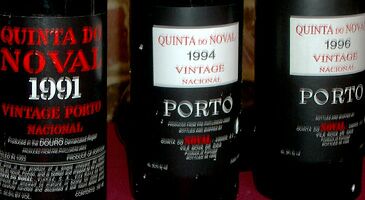 Thank You Nashville!
Quinta do Noval Nacional trivia
- before we get to the last flight, there is a historical nuance that needs to be clarified. In the photograph at right, there are three distinct labels yet the 1994 and 1996 look identical to the naked eye. Unfortunately, the picture is so small here it may be difficult to see the labels closely. Up until the change took place with the 1996 Nacional, almost all previous bottles stated, "Produced from Pre Phylloxera Vines." As a Port historian, I knew that this was not the case but who am I to quibble with this revered Shipper, that has promoted this notion for over a half century. Well someone must have finally taken notice and this was then removed from all future bottlings. This is one of the odd quirks that I have debated with many a Port collector. I would love to hear from anyone who reads this that can explain who is responsible, or how the change came to be!
Flight Seven:
Accompanied by blue cheese stuffed dates, pear almond tort and chocolate truffle
1994 Quinta do Noval Nacional - unquestionably the greatest Nacional since 1963. Deep, dark and opaque in appearance and it offers up freshly treaded grapes, orange peel perfume and just brewed cappuccino. This is a monumental Nacional that should live on to the 22nd century ... and it is this generation's equivalent of the mystical 1931 QdNN and in time may become as legendary. This wine shows such density and intensity, and at the same time extraordinary balance as well. The mouthfeel is silky smooth and for a wine with a decade of age, it is remarkably unevolved. This wine is so powerful yet approachable and it just stays on the palate for so long, I can't say it had an actual "finish". Simply a masterpiece! This rivaled the 1931 regular Quinta do Noval as the greatest wine tasted today (although the age difference makes them impossible to compare), and in my opinion was the best of all Nacionals tasted! I enjoy hanging out on limbs, and I loved the 1994 which deservedly scored 99 pts. (HOLD: for one of life's VERY special celebrations).
1996 Quinta do Noval Nacional - this was my 2nd time trying this wine. A few years ago, I had this just after tasting the 1996 Quinta do Vesuvio and I could not fathom how this late-ripening vintage was overlooked. I guess the answer is that 1997s were also in tank and were clearly considered the better vintage. Anyway, this Nacional showed a beautiful purplish-black hue. Delightful flavors of earthy black truffles and boysenberry that crushed my palate in waves of generous fruit. There are semi-soft yet mouthfilling tannins that make sure you are paying attention. Overall, this wine should develop nicely in time and may join the ranks of all-stars. 94 pts. (HOLD)
1997 Quinta do Noval Nacional - dark purplish-ruby colored wine with blackberry, minerals and anise aromas that tantalize the nose. This is one excellent Nacional with great depth and concentrated fruit. It provides intense, racy, full-bodied and sweet blueberry with cassis flavors and chocolate undertones. The grip shows the power within, even though this has a smooth and superb finish. I would love to have this side-by-side with the incredible Niepoort from the same vintage. 96 pts. (HOLD)
2000 Quinta do Noval Nacional - I first tasted this wine at Quinta do Noval last summer, alongside the regular bottling of 2000 Noval, and did not find much of a gap between them. This wine exhibits inky jet black with a vibrant purple rim. What a great nose of violets and cherry aromas with a touch of pepper and vanilla. It is a massive, "in-your-face VP" with spicy berry and ultra sweet raisin flavors that just explode on the palate. The tannins rush in a second later. This will be one of the legends like '63 or '94 and I can't wait to taste this and watch its evolution in the future. Don't open one for at least a decade or two, as curiosity is not required. Trust me here! 98 pts. (HOLD or bequeath to your grandchildren)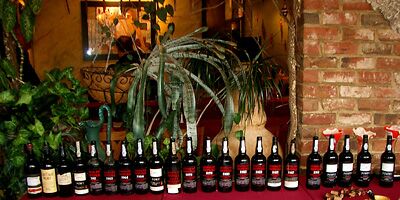 A Remarkable Lineup
Epilogue:
Nacional makes some of the most extracted, expressive and expensive of all Vintage Ports.
The venerable Quinta do Noval Nacional's hit and miss ratio is spotty overall when looking at the 30% of wines that scored below say, 92 pts. It seems that in the past fifteen years there has been some significant improvements made and Nacional is back on track, making excellent VPs.
That said, the heights they are capable of hitting is pretty remarkable, to say the least.
Nacional's greatest period of performance was 1963-1970, with only the 1964 disappointing.
A close second to the earlier great period is 1994-2000 and clearly Nacional enjoys AXA and Christian Seely's leadership.
I want to try the 1931 Nacional at least one more time before I leave this planet and I hope that Mr. Seely also gets his wish to try it at least once, if he hasn't yet.
If anybody asks what to get me for my next birthday present, just tell them a bottle of 1963 or 1994 Nacional, as I will never tire of either wine.
The folks in Nashville sure know how to eat and drink very well and welcome outsiders with open arms!
Anybody who goes to Nashville must get to Restaurant Zola and enjoy Chef Deb Paquette's masterful dishes. A+ Her husband Ernie is the GM and runs a great show and is quite wine savvy.
I am pondering this question: whether the cost of one bottle of 2000 Nacional is worth the same as one case of any of the other top 2000 VPs? You decide and let me know.
Last but not least, now that I have tasted the final single greatest Port that was left on my wish list ... what do I do now?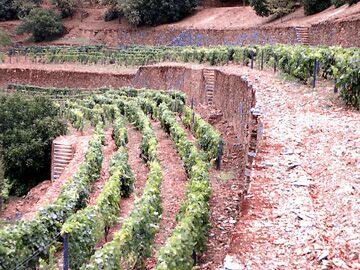 Nacional vineyard
Should you have any comments, questions or suggestions regarding this article or Port wine in general, please feel free to email me at
PortoLover@aol.com
. If you would like to be included on my upcoming Port e-newsletter mailing list, (no charge) please E-mail me your name, city and country.
My special thanks to the folks in Nashville who made this all possible, and also WineLoversPage.com which is the most comprehensive wine web site in existence.
Roy Hersh
Feb. 10, 2004

Words About Port index page