Madeira's Sweet Nectars: Malvazia and Moscatel
Article and photos © 2005 by Roy Hersh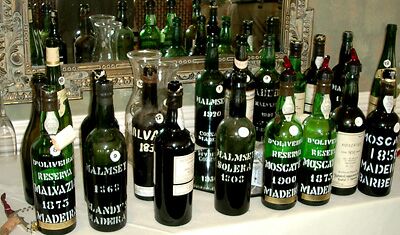 The Madeira lineup for a Sunday afternoon
Nobody ever asks, "So what's your second favorite type of wine?" But if ever faced with that question, my answer would simply be, Madeira. It probably has to do with a Portugal-ophile thing, but more likely it is because I enjoy outstanding fortified dessert wines as much as any dry wine. Of course I thoroughly enjoy the classics, both red and white, but it is the dessert wine category that floats my boat.
Old vintage Madeira is magical, mystical and fortunately, just too darn expensive to drink on a frequent basis. If it was more available and affordable, the great old bottles from this sub-tropical, volcanic island paradise, which is Madeira, would be next to extinct. What I love most about Madeira, is the sensual depth along with the ambrosial aromas and flavors.
Many fine examples of older Madeira simply offer the most complex, long lasting thrill-ride of a finish of any wine made. A bold statement from this Port lover who also happens to love aged Sauternes, Eiswein, Tokaji, Australian stickies and others that tip the residual sugar scale. I liken experiencing a fine Madeira to a well-played game of chess, as both are cerebral and provoke great moments of meditation.
I have never had the good fortune to visit the island of Madeira but hope to rectify that predicament in the not too distant future. The island itself ranges less than 300 square miles and is topped off by a mountain that rises 6,000 feet above sea level. It is known for having some of the most rugged terrain imaginable for growing grapes, which like Port in the Douro River Valley, is planted on very steep terraces. The famous Madeira "Levadas" (irrigation conduits) were first built in the 1500s and feed the island's 500 acres of vineyards. The Levadas are a testament to man's ingenuity and engineering feats, as these simplistic aqueducts serpentine 1500 miles, to provide water for the vineyards, fruit orchards and hydroelectric plants.
For this tasting, I flew from Seattle to Pittsburgh to join a small group of very serious Madeira lovers from the Eastern half of the US. Our hosts Jim and Elaine Israel handled the countless logistics that went into a full weekend of food and wine events. But it all culminated with a fabulous lineup of Malvasia and Moscatel from Madeira, going back in time to 1808. World renowned Madeira collector Dr. Robert Maliner and his wife Veronica showed up for this event, as did Mannie Berk, Proprietor of The Rare Wine Co. (http://www.rarewineco.com), who led Sunday's Madeira tasting (and provided some of the historical insight, used with permission, below). In total, there was a combined bottle age of 2,248 years, with an average per bottle age of 132 years.
Liquid gold
One clarification I would like to make before proceeding: Malmsey is the old British term for the Portuguese Malvazia grape. The alternative spelling, Malvasia is the English language version of it, but all three refer to the same sweet, noble grape. Moscatel (Muscat grape) is a rarity from the old days of making Madeira from this cultivar. It is almost never used any more as farmers are able to get more money by selling them for table grapes rather than wine grapes. I am sure you are curious as to which wines were explored, so without further ado, here are my tasting notes on each of the Madeiras served on 10/24/04:
1920 Cossart-Gordon Malmsey - Of course we were going to start out with the youngest wine of the night, a mere 84 years old. This wine has become a legend and is arguably the best example of Malmsey produced during the 20th century. The Malvasia Candida grapes used to make this wine were grown at sea level (where these Malvasia Candida grapes once thrived) on an outcropping shelf lying directly beneath a steep vertical cliff. This cultivar was extinct as of the mid-20th century. A few years ago, one single vine of the Candida was discovered in a patch of cactus. The 1920 Cossart-Gordon shows a light maple color, mild and engrossing VA, dry tea, toffee and sweet caramel aromas. Big, bold, balanced and elegant. Plenty of acid and an incredibly long and lively finish with a touch of butterscotch. This wine will outlive my grandchildren (my daughter just turned two years old). 97 pts.

1906 Oscar Acciaioly Malmsey - Acciaioly once a popular name in Madeira circles was established in the 1500s when their family emigrated from Florence, Italy. Their key market was initially Russia and later on Scandinavia, but their business has been defunct for almost a half century. The greatest Madeira I have ever tasted came from this producer, the 1802 Terrantez by Acciaioly … which I will never forget (it sells for $1,650 today in the UK). It was one of the greatest wines I have ever experienced. The 1906 Malmsey has a light gold, straw color which is atypical for Madeira of this age. There was a powerful vanilla extract note along with a touch of coffee. Although the wine was very sweet, it was almost cloying, as there was a distinct lack of acidity which showed flabbiness rarely encountered in Madeira. 80 pts.

1901 Adegas de Torreão Vinhos Malvasia - At one time Torreão was a well known producer which produced a wide selection of Madeira, but it seems they disappeared from the map ca. 1999 and are out of business. I have not been able to trace where their few remaining casks were sold at the time of their closing. In fact, I had almost no luck in researching this producer. The good news is that this wine was quite appealing and delicious. It showed a dark walnut color with enticing hazelnut, sea saltiness, toasty and smoky aromas. The flavors were much dryer than I expected from the nose, and were reminiscent of a fine Sercial. Although I enjoyed this wine, there was searing acidity which threw this slightly out of balance. Nonetheless, it was a rather tasty and drier style of Madeira with a lingering finish. 93 pts.

1900 Barbeito Malvasia - I was glad to revisit this memorable Madeira which was the wine being consumed when I asked my then fiancée, to marry me. Mario Barbeito de Vasconcelos purchased six small casks of this Malvasia in 1944 and kept them in his home cellar. Since the wine was not topped off, much of it went towards the "angel's share" but what was left was concentrated and delicious. This particular wine was bottled from cask in October 1997. Coffee color with yellow rim, sea saltiness, crème brulee, and a nice dose of VA. Medium body and elegant with lighter amount of acidity yet smooth and seemingly in perfect form and balance. Excellent caramelized sugar with a sweet finish that holds onto the palate for quite awhile. 95 pts.

1886 Barbeito Malvasia - This wine was unearthed in the Alfonso family cellar at the turn of the 21st century after having spent a long life in demi-john. It was bottled about two years ago. Lighter maple color with a slight yellowish/green on the rim, powerful attack of acidity and pleasant VA, although this is not for the meek. I really enjoyed this Malvasia which offered up gobs of toffee, chocolate and buttery flavors that resembled a liquid Tootsie Roll. Like the candy, the end of this glass left me wanting more. The aftertaste of this wine was remarkable. 94 pts.

1880 Blandy's Malmsey - Molasses color with a yellow edge, this Blandy's spent lots of time in demi-john and gained plenty of complexity. Rich, thick and unctuous on the palate with coffee and sweet toffee flavors with a drying yet sweet and exquisite aftertaste. In addition to the fullness of this wine, the mouth feel was voluptuous and soft and fun to languish over the tongue. To me, this would have benefited with more time in a decanter. I loved this Madeira and hope to be fortunate enough to try it again someday in the future. Although 124 years old, I would call this wine extremely youthful in its overall palate presence. 96 pts.

1875 Barbeito Malvasia - If historical perspective is needed, this wine was produced the same year the very first Kentucky Derby race ("Run for the Roses") was held. As much as I have enjoyed this wine in the past, I have always appreciated the D'Oliveira version of this wine, considerably more. It originates from a special plot of ungrafted vines that have survived to this point. Dark brown color with a yellowish/green tinge on the edge. Orange peel and a distinct coffee note on the nose. Sweet and luscious with enough lively, citrus-tangy acidity to keep it from being cloying. Delicate for a Malvasia, with a mid-length and drying finish. Somewhat simple yet still, most enjoyable. 92 pts.

1875 D'Oliveira Malvasia - The D'Oliveira family operation is almost 185 years old. It is hard to believe that this incredible wine came from grapes that were grown during the height of Phylloxera's attack on the vineyards of this island. Medium-dark cola color. Whatever the difference in price between these two 1875s, it pays to upgrade to the D'Oliveira version, as it is one of the most compelling examples of Malvasia you will ever experience. This bottle's juice was even more expressive than the one I loved in April of last year. Caramel and semi-sweet toffee show up on the beguiling nose and the texture here is rich and generous with a velvety mouth feel. This is all about finesse and the complexity and fantastic depth on the finish keep one pondering long after the last sip. This D'Oliveira (consistently) offers one of the greatest finishes of any wine I have tasted. 97 pts.

1868 Blandy's Malmsey - I have never tasted this wine before and although I was looking forward to this experience, I was a bit disappointed by this Malmsey. Light on the nose with apricots and marmalade nuances, as much as I enjoyed the aromatics the palate just could not stand the test of time. There was some slight funk but no one thought this was corked. The fruit had faded considerably and the acidity was lacking too. There was a very smoky element to this Madeira and I am sure that there was some defect here, but no one was able to put their finger on it. So I will just chalk it up to a bad bottle and politely refrain from scoring it. N/R

1836 Oscar Acciaioly Malmsey - When the Acciaioly family closed their business in the 1950s they sold their remaining stocks to Barbeito. This wine was amongst that lot and it was bottled between 1989 and 1995. Maple syrup in color with a yellow rim, delivering a lovely nose of dried fruit, cocoa powder and smoky chestnuts. I wish that Madeira from this producer was easier to find, as I have prized Acciaioly bottlings in the past. This was no exception. I loved the roasted coffee and candied nut flavors this wine offered up. There was a smoky nuance that came across on both the nose and flavor profiles of this Malmsey that was terrific and a bit unusual too. The mouth feel was filled with rich and succulently soft juice. The finish had great persistence, bolstered by the seamless transition from mid-palate waves of flavor to the coconut that prevailed on the aftertaste. If only I could find this for less than the $850 range in which it trades, I'd be thrilled. It is another excellent Acciaioly to put in the memory banks. 95 pts.

What a pair!

1834 Barbeito Malvasia - The reason this wine keeps turning up is that there were modest sized stocks of it that Mario Barbeito purchased, and over the years Barbeito bottled just enough to release to satisfy some of the market. I may no longer get excited about trying this Malvasia after having tasted it now a dozen times, yet it never disappoints. This Barbeito provides just the right balance of sweetness and acidity with the essence of beef bouillon, stewed prune and walnut aromas. The 1834 offers a complex mélange of praline, caramel and fig flavors on its palate dance, which offers a seductively slow finish. 93 pts.

1830 Quinto do Serrado Malmsey - This estate was one of the key players in all of Madeira in the 1700s and 1800s, as their vineyard sites were perfectly located on the South shore of the Island. The Serrado from this vintage was stored in demijohns until the 1980s, and Rare Wine made a fantastic purchase of the remaining bottles in the mid-1990s. Please look closely at the picture of this bottle. Instead of stenciling that has been used for ages, this bottle was actually hand painted and is a true rarity. The only other time I have had the 1830, I felt extremely privileged to drink such a legendary wine such as this. This is truly one of the most celebrated and rare Madeiras and one of the very few I have ever had from this producer. In 2003, I had a bottle of the 1827 Quinta do Serrado Bual which was a wonderful treat, but I liked this 1830, even better. It shows a dark black tea like color with a beautiful amber hue on the edge. What a nose, depicting butterscotch, burned sugar and caramel that really was incredible. As much as I loved nosing this beauty in the glass, it was even more expressive on the palate. In possession of thick and almost syrupy viscosity, it had plenty of acid to keep things focused. I was most impressed by the velvety caramel and sweet hazelnut nuances along with the concentration and structure which showed the greatness of this wine, with layer upon layer of unctuous nectar. The complexity was not lost after the mind blowing mid-palate, as this delivered a wonderfully rich and intense finish. For my palate, it was clearly the greatest Madeira of the tasting. 98 pts. Wow!

1808 Blandy's Malmsey (Solera) - Not a Vintage Madeira, but made in the time honored and traditional Solera method. Also from this vintage, the legendary Cossart-Gordon 1808 Solera is not easy to find, but has received glowing comments and write ups. I have not had that one yet, but this Blandy's version was pretty spectacular. Iced tea color with orange/yellow rim, very smoky essence with a roasted espresso and overcooked, if not charred caramel note along with a hint of nutmeg spice. I would absolutely love to spend a night or two with a bottle of this Malmsey someday. The laser focused Madeira here conveys intense and intricately woven flavors of bittersweet chocolate, coffee and molasses which are bolstered by tangy acidity. Seamless, smooth and mouth coating with a very soft and seductive texture. I am running out of superlatives, yet this wine finishes like a refined, epic novel. 96 pts.

1900 D'Oliveira Moscatel - Dark coffee color with a yellow/greenish edge. Lacks the depth of aromatics of the 1900 Barbeito Malvasia, but still offers fragrant fig and mocha notes. This followed two incredible glasses of Malmsey and could not size up to their footprints. As expected, a sweeter profile with just enough acidity to provide proper balance. Although it delivered all of the essentials, it lacked verve and the elaborate characteristics shown by the majority of the other wines above. I know that it is considered one of the great wines from this renowned vintage, but this bottle didn't do it for me. I did enjoy the graceful mocha and butterscotch flavors of this Moscatel and the aftertaste offered medium length, with chocolate on the aftertaste. 90 pts.

1875 D'Oliveira Moscatel - How often does one get to try three distinct wines from a single vintage that is nearly 130 years old and was made during the midst of Phylloxera? It looked like Coca Cola without the carbonation. A pleasant dose of VA, the integrated kind I enjoy in fine Madeira, accompanied aromas of some sea salt, orange peel and toasted hazelnuts. A powerful wine that is somewhat simple on the palate, and offers classically sweet Moscatel juice. This 1875 still manages to reach the finish line, but ran in the middle of today's illustrious pack. Its main shortcoming is the lack of focus, yet it is redeemed by its elegance on the palate and exceedingly fine flavors and length on the finish. 93 pts.

A rarity indeed!

1870 Velho Moscatel - On the front label, it states, " Only 120 bottles in existence. This is bottle (handwritten) #79." From this fine vintage, I have only had the good fortune to try one other Madeira, the 1870 San Martinho Verdelho which was a light and absolutely delicious wine brought to a fun gathering at my home, by Richard Mayson (no stranger to Madeira!). But the Velho Moscatel is no slouch either. It was produced just two years before Phylloxera started to ravage the island. The actual producer is unknown today, and as you may have guessed, "Velho" means old in Portuguese. In fact, it is a heavy weight contender with significant depth and is a viscous palate pleaser. The aromas were earthy and sweet with dark chocolate, black truffles and golden raisins leaping out of the glass. Of the four Moscatels we tasted, this was clearly the champion. The luxurious tongue tingling tastes of toffee, sweet dates and candied almonds brought waves of flavor to the scintillating mid-palate. I have a tough time picking out my favorite component of this wine, it is just that good. From the finely interwoven acidity to the near perfect balance to the lip smacking finish, this Moscatel is simply stunning. 96 pts.

1856 Barbeito Moscatel - A pre-Phylloxera vintage that came at a time when overall production of Madeira on the island was painfully small due to the arrival of oidium (vine mildew which attacks grapes) in 1852. Dark caramel colored with a distinct yellow rim. I have had Vintage Ports from this vintage, but never any Madeira that I can remember. This struck me as a very different wine stylistically than the other Moscatels above. It offers less complexity than the others and is considerably less sweet. Not that I mind dry Madeira with Sercial or Verdelho grapes, but this is supposedly one of the sweetest grapes to be used for Madeira. If I did not know better, I would swear this was a Sercial. It had some of that sea saltiness that I love in Sercial and a hint of dried apricots, but fell short on the finish. I am not so sure that this bottle was showing its best and maybe it needed more time in the decanter. 84 pts.
As a curiosity, Madeira #18 was brought by Mannie Berk (The Rare Wine Co.). It was the non-vintage, New York Malmsey "Historical Series" Special Reserve. This series of bottlings is a proprietary release of different Madeira grapes produced for Burke, by Barbeito. These bottles of Madeira run approximately $40 each and the Malmsey features a blend of 40-60 year old wine. I enjoyed it although to try to compare or contrast it to the ancient wines above, would not be doing this wine justice. Just as an interesting Madeira factoid (actually a regulation): in order to use the specific cultivar's name on a bottle of Madeira, 85% of the blend must be from that specific variety of grape. In the case of the New York Malmsey, there is somewhere between 10-15% of the fine Tinta Negra Mole grape blended in with the Malmsey, which adds greater complexity.
Epilogue:
The overall quality of the Madeira at this tasting was sublime and was well worth the 5,000-plus mile round trip. Kudos goes to Jim and Elaine, Dr. Bob and of course Mannie, for making this one of the greatest and oldest lineups of sweet Madeira, ever to take place. This was my first visit to Pittsburgh and I was very pleasantly surprised by the charm of the city and the quaint neighborhoods of the suburbs. It was a pleasure to meet some of the local wine lovers from the PA and Ohio area, during the course of the weekend's three events. I look forward to visiting again, to further explore more of the city and surrounds, and share some more wine and fine dining experiences. I will not soon forget that sensational feast at the Nemacolin Woodlands Resort, that Chef Brad Kelly orchestrated.
| | |
| --- | --- |
| Dr. Robert Maliner and Mannie Berk | Our gallant host, Jim Israel |
If you would like to receive my (free) e-Newsletter, FOR THE LOVE OF PORT, please email me at PortoLover@aol.com and provide your first and last name, as well as your city, state or province and country of residence. The newsletter is currently sent to Port (and Madeira) enthusiasts in 36 countries.
Wishing you all a wonderful and healthy 2005!
Jan. 1, 2005
Words About Port index page