My trip to Portugal
© 2005 by Frédérick Blais
Meet Frédérick Blais
Frédérick Blais is a 26-year-old French-Canadian who lives in Montreal and is a great fan of Port. "Over 70 percent of Quebec's Port drinking is made over the quality Port - Reserve, LBV, aged tawnys, Vintage," he says. "It was only a question of time before I was introduced to that nectar. It all started when I was around 11, when I was playing a cribbage game with family members. My uncle, who has a nice cellar, opened a bottle of what I think today might be a Barros 1985. I immediately fell in love with that powerful, sweet, jammy explosion. I kept talking about how much I loved that Port. So on my 18th birthday (legal drinking age) my brother gave me a bottle of Taylor's 10 years old tawny. Since then I was buying myself a new bottle every 2 or 3 months. When I bought an Offley 1982 vintage late in 1999 it was the start of something new. I rediscovered Vintage Port for the second time and from that on, I started reading, collecting and drinking Port on a regulary basis." We're delighted to have Frédérick share with us this report of his recent wine-exploring trip to Portugal.
Five years have passed since my interest in Port began. During the last 3 years, it only got stronger by reading, tasting and making great encounters with Port enthusiasts. The next step was to fulfill a 2 week trip to Portugal and a walk in the Douro. So I went there with a friend, my sister and her boyfriend. I had to make compromises, since they are not all as passionate as I am. I managed to pass 2 days in Oporto and 1 day in the Douro.
Today I will tell you about my trip as a Port enthusiast but also as a visitor in Port country, because you may go there one day, and just like me, you will not pass the major part of your time visiting Oporto and the Douro. You´ll be agreeably surprised to witness the beauty and the richness of the country. More than just explaining my itinerary, I will indicate at the same time the good places to eat and the stores to find your precious bottles.
We took-off from Montreal on July 19th around midnight to get to Oporto around 14h after stopping by Lisbon. You have to add 5 hours from Eastern Time (New York). On the first day we got to our house in Viana do Castelo. I have the benefit that my brother-in-law is Portuguese, so we had a house and a car for our entire trip!
After buying some food and other useful things, we started touring. We were able to admire the city of Viana from the height of the marvellous Santa Luzia basilica. Behind it there is a sumptuous "posada" where, from what I heard, you can lodge for 120 euros.
Oporto in sight
The next day, Tuesday July the 2 lodges (pictured above) stand. I would say that the Port houses that you can visit are almost all grouped together in a 5 km circle. If you want to escape the traffic, just park your car in front of the Ferreira lodges, there is a two storey car park there. It won´t cost you more than 6 euros for an entire day.
Our first stop was at lodges, she explained to us why Port is so unique, and the philosophy of the company for wine production. The 3 primary reasons why the Port is so unique to the Douro valley are: the schist (soil) in which the vines are planted, the hot and dry climate of the summer due to an isolation from the Atlantic influence made by two mountain chains and also the use of indigenous grapes.
The philosophy and ethics of Taylor is quite simple: quality first. When you are considered the finest house of Port, you just can´t put your brand on a bottle that doesn´t meet the company quality standard. When I asked her about the decision to declare 1992 instead of 1991 for their classic vintage like many others did, even if 1992 was the celebration of their 3 old vines of Vargellas (vinha velha). What is so special about this particular port made from these vines is that they are over 75 years old and are on north facing slopes. It is so hot in the Douro superior that the grapes are able to obtain perfect maturity. Since 1995 Taylor has produced this special Single Quinta Port even in the declared years like 1997 and 2000. To end the visit, our host told us that 2003 should be another unanimous declaration from the Port houses.
At Taylor, we had time to do a little shopping. There is a boutique near the main lodges where prices are less than what I can find in Quebec and also less or equal to what you can find elsewhere in Portugal. I bought a bottle of Quinta de Vargellas 2002 olive oil for only 3, 5 euros and it was selling for 10 at the duty free. I already regret not having bought more; it is really good with a special spicy after taste.
Already lunch time, Taylor has a restaurant on its site, but we decided to head for the streets where we found many small restaurants with traditional foods near the river.
After the meal, it was time to visit Ferreira and Graham. The visit at the Ferreira lodges was great, interesting and instructive. We learned the foundation of the company and also the impact of Antonia Adelaide Ferreira in the advancement of viticulture in the Douro region. After the visit of the lodges, a tasting of their white Port and Tawny ended it. If you wonder what the emblem of Ferreira means, an ostrich with a horseshoe in it´s mouth, the ostrich never walks backward and the horseshoe is for luck, which served them well so far.
Now heading for Graham, here the welcome was appropriate but the visit short and uninspiring. My sister and step brother did it 2 years ago and they told me that it was far better. This time the guide was not at its best doing it in French. The tasting was complete with their white, tawny 10 years and LBV.
After these two visits, we wished to visit Nacionals 2-3 times less expensive than those in the boutiques you´ll find elsewhere in the country.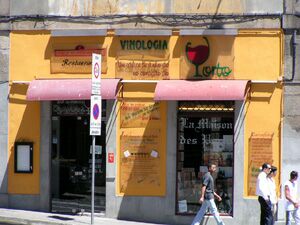 We are now leaving Gaia and getting across to Oporto to do some wine shopping, find a restaurant and take some pictures of Gaia before the sunset. In Oporto like anywhere else in Portugal, most of the places where they sold wines are small groceries. There are many in Oporto along the streets near the river, you need to watch the prices from place to place to find good deals. Watch for old bottles sold at high prices to fool tourists, like an old vintage character I saw at more than 100 euros. At Gaia the best prices are directly at the producers boutiques except for Graham where the prices are inflated. Don´t shop at the boutiques near the river; most of the prices are the double of those sold at the producers.
Walking through the streets of Oporto, I discovered a surprise me with a superb white Port from Quinta Romaneira and also a great Golden White 1952 from Dalva, the only house to produce vintage white Port he told me.

Douro ... Very hot!
After a full day visiting the lodges, another great day was ahead of us. The wakeup call was early, 6h3 scenery. Before taking the road, don´t forget to bring a map, check your brakes and the air conditioning system, in mid-late July 35 Celsius is reached quite early!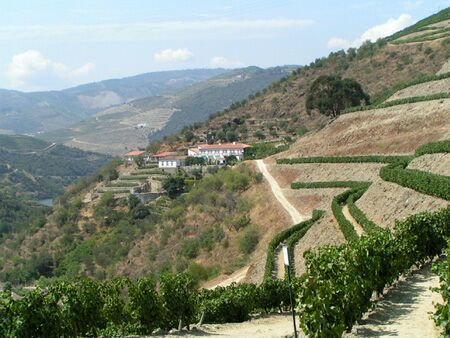 Our first stop in the Douro was at Madame Rute Monteiro. A tasting and a visit of the quinta and vineyards over 3h30 was a pure treat. We received a briefing on Noval history since its foundation until its acquisition by Axa in 1993. An interesting fact to notice is that Axa decide to put back the original logo of Noval on the Bottle: the crow, replacing the quinta logo. The significance of the crow comes from their gathering each year on a big pine tree for more than 200 years near the quinta. We could sense that Noval is very traditionalist in the way to produce Port. The traditional method of treading the grapes with bare feet is used for all their quality Ports, LBVs, Old Tawny, Colheita and of course the Vintages. It is more costly to do it this way, but in the end, from their point of view, it is the only way to get a perfect extraction from the grapes components.
After visiting the lodges, a tasting of 8 products was organised. The 2 Nacional parcel and bring back a little souvenir. Really this visit was amazing and it will stand for a long time in my memories.
For diner, there is no restaurant or groceries in Pinhao, we had to drive north to find a small village which I forgotten the name of. There, we found a street with a sumptuous fountain crossing its middle through palm trees and with restaurants on its right.
It is so hot, and there is a drought now in Portugal, at 13h it must be at least 4 vineyard. It was explaining to us the history of Fonseca, the vineyards of Panascal, the grape variety characteristics and how Port was produce. It is really well explained and the scenery again is so breathtaking. When we came back to the quinta after this 15 minutes walk, Port was served for tasting but all is in our mind is to drink the small glass of water that also comes with it, any small effort at this time of the day dehydrates you so much.
On our way back, we took some pictures of the vineyards and the river. You have to stop at Pinhao to stare at the beautiful azulejos ( canvas made on ceramic ) at the train station. Then the final stop before heading back to Viana was to take some pictures of Quinta do Noval from the other side of the river. It is an interesting fact that often the best place to take breathtaking scenery pictures is from a stopping place on the side of a small road.
22 July
This day was devoted to the beach, so we headed to Vigo, Spain. Happily, we stopped at Valança in Portugal, a few minutes from the Spainish borders. There we found a very nice wine shop with many interesting bottles. Vigo is the biggest Port in Spain. The city is almost an island, from one side the port, the other beaches. In the town centre, the 2 main streets are full of people looking for restaurants, boutiques and bars.
23 July

The day was spent at Viana. Each Friday there is a fair near the town centre. Merchants erect stalls and big tents to sell their handicraft, brand cloth imitations and food. It is interesting to find souvenirs at bargain prices. Then we walked trough the small streets of the town centre, they are full of boutiques and good small typical restaurants.
24 July
We are now leaving Viana and going south for 4 days. Our first stop is Coimbra to visit Batalha near the city of Leira. This is an architecture marvel! The gothic style monastery was built over more than a century. You really need to stop by and visit; take your time, it is really huge. Then we continue our way south to Costa da Caparica, 15 min south of Lisbon to find our hotel room. Then we go to Lisbon to find a really good restaurant. There are two good restaurants near the navigator´s monument. After this good supper, the road back home was more difficult. Costa da Caparica is very active by night, we got stuck in the traffic, and finding a parking space was not an easy job. It is full of bars, terraces and boutiques in the streets at night.
25 July
We get back to Lisbon to visit it, not to miss the huge Geronimo monastery, another magnificent architectural marvel. We visit it by day, and come back to it at night to admire its large fountain in its color symphony. Facing the monastery, near the river, we can admire the forest of black oak. It is with the bark of these trees that the cork is made.
26 July
Our hotel is situated at Montechoro, a small town mostly of hotels and restaurants, 5 min from Albufeira. Nothing typical to Portugal, only neon restaurants, snack bars, fast food: a big disappointment. Money generated from tourism is most important here. In the morning we went to the Albufeira´s beach, it is excessively hot, at noon the beach is almost empty. The beach is superb; the water is hot but refreshing if you step 15 feet into the sea. If you have a scuba diving kit, bring it. I was able to observe 3 species of fish, some in scholes and also an octopus. Before the end of the day, we quit the beach to make some shopping in the small streets of the city and to eat. There are a lot of wine shops in the streets, on almost every corner. Now it is time to go back to the north, destination Cascais.

27 July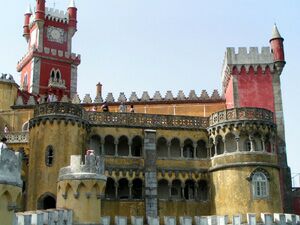 We took the morning and early afternoon off to relax at the side of the pool at our Cascais hotel. The brakes on the car needed to be repair; surely the Douro visit is mostly responsible for this. Everything fixed, we got back on schedule and went to Sintra. There we could admire two other great architectural achievements, Palacio Real and Pena palace (pictured at right). The Obidos. We stopped there for supper and to have a look inside the city´s walls. The castle was converted into a posada, you can sleep and eat inside it. We returned to Viana late in the night.
28 July
A day off that came right in time. We did some shopping at the mall and made at stop at the grocery. We also found another nice wine shop in a small street.
29 July
Finally back to Oporto and Gaia. We took the time to visit two basilicas in Oporto, San Sebastian and Sao Francisco. The first one was closed to visitors, but we could take some nice pictures of Gaia from a high point. Sao Francisco is magnificent, in the chapel there is more than 4 Offley, during an interesting tour of the lodges, we learned of the efforts that Baron of Forrester made in the Douro region. He was the first to create a map of the region.
30 July
A quiet day, we went to Soajo, north of Viana do Castelo to visit the family of my brother in law. We were received with a superb BBQ of pork chops and roasted chicken. Before going there, we stop by a small river where the water is crystal clear, a great place to relax.
31 July
We head back to Vigo for a last day on the beach before going back to Canada. Unfortunately it was another cloudy day in Spain. We then left the beach to do some shopping in the streets where we had seen some nice things. Beware, most of the shop close at 15h during the weekend.
1st August
The last day before our departure, it is so sad, there are so much things to see and to visit. We decided to go to Braga to visit 5 senses stairs. Superb gardens all around, the inside of the church is also really nice. In front of the church the 5 senses stairs is worth being walked through. After each flight of stairs, is a fountain representing one of the 5 senses plus statues representing many important biblical characters.
And this is it, the end of our trip. Portugal may be a small country, but it is full of magnificent places to visit. It has a rich culture, breath taking scenery and of course the vineyards! Two weeks is not even close to being enough. I´ll finish by leaving quick tasting notes and impressions on the wine I´ve sampled, the best places I have visited, the places to find nice wine shop and the hotel where I lodged myself.

Annexes :
WINE SHOPS :
To do any shopping, watch the opening and closing time of the boutiques. In Spain, as in Portugal, most of the shops close for dinner from 12h to 14h. Also during the weekend, the hours are very irregular, many are closed from 15h. We were tricked in Lisbon on a Sunday afternoon, everything was closed, and it was even hard to find a restaurant. If you cross to Spain, don´t forget to add 1 hour to your clock.
Viana do Costelo:
Many interesting wine shops, but watch for the storing conditions, some are not adequate.
I would recommend these 2:
Perola da China, on a street corner in the center of Viana do Costelo.
Tel. 258822586
Garrafeira do Martins: Just one corner separates this and the preceding shop. An interesting selection of Vintages, but most interesting is the table wine variety.
Av dos Combatentes, 248
Tel. 258823887
Porto/Gaia: The best offers are often directly at the Port companies. Some groceries may have interesting bottles. Most often the prices are too high. There are two places that are worth stopping by on the Sao Joano Street. Do not miss Vino Logia, a Port bar where you´ll find interesting Port to taste.
Valença: Only one boutique where you definiely have to stop by. The most impressive Vintage selection I have seen. In the basement, there is also a great selection of table wine and you can taste some products.
Garrafeira Vasco da Gama
Tel. 251823315
Sintra: Just in front of the Palacio, there is Bar Do Binho. Some prices are too high, others are reasonable. You have to shop carefully in this tourist place but you could find some precious bottles. Avoid the wine shop 2 doors along from this one as it is selling their products two to three times too expensive, even if there is a no taxsign on the door.
Albufeira : In this Algarve city, there are lots of wine shops. Even if there are more tourists than Sintra, prices are reasonable but choice is smaller. We saw some nice old Colheitas though.
Vigo (Espagne) : In Vigo, Casa Samaniego holds a nice selection of Spanish wine at good prices. You can taste wine with adequate glasses!
Tel. 986434174
HOTELS:
We had the chance to stay in a house in Portugal, so very few experiences in hotels.
Albufeira : Montechoro Hotel at 85 euros was very cheep for what we had, a very good deal. From the hotel, a 5 minutes car ride gives you access to many beaches; there a lot of places to park near the beaches.
Cascais : We stayed at the Citadela hotel of Cascais for 80 euros. A big gap for 5 euros compared to the Montechoro hotel, still the place is clean and the comfort average. There must be better.
Costa Caparica: The hotel Praia do Sol was charging 58 euros. The price is correct since you only had to walk 5 minutes to have access to 2 beaches but I would not have stayed two nights in this hotel.
THE WINE TASTED:
In the 2 weeks I was in Portugal, I had the opportunity to taste many Ports, and some dry wines; here are those I would recommend.
White Ports :
Most of the Port houses were giving us their white to taste while we visited them. My favourite was Quinta Romaniera Fine White tasted at Vino Logio. We can also mention Graham´s fine White, Offley Lagrima and Ramos Pinto semi-dry, the were all easy drinker. A special mention to Dalva Golden White 1952 which is in it´s own class.
The Tawny :
Most of the time during our visits we were able to taste a Tawny without any age indication, most of the time they are aged 3 years in casks. I wouldn´t really recommend one, these are Ports you need to drink slightly chilled, which was not often the case. For the aged Tawny, I would recommend without hesitation all the Noval´s. Their 40 years just surprised me with the finesse it was deploying with an after taste of more than a minute. The Graham 10 years old is also very good, but a good step behind Noval.
The Colheita :
Of course, I have to talk about the Noval 1974 which was sublime, but the biggest surprise came from the 1984 Quinta do Romaneira which was quite light on the attack but it had such a powerfull finale!
The LBV :
The two best I tasted were the Niepoort 1999 well ahead Quinta do Tedo 1997
The Vintages :
I only had the chance to taste the Silval 2000 from Noval which was excellent. It is beginning to close, it was less floral and flashy than when I tasted it last year, now showing more black fruits and firm spicy structure. In my opinion, it is with Poças, the two best quality price ratios Port from the 2000 Vintage.
The dry wines :
A nice experience was to find a Redoma 1996 from Niepoort. At full maturity but without any sign of fatigue, the color is still of an intense ruby. The nose still shows young fruits but tertiary flavours begin to emerge. The mouth is smooth, on black fruits. The finale shows some tannin with woods notes.
Frédérick Blais
p.s. Thanks to Derek Turnbull helping me translating from French version.
February 2005
Words About Port index page