VinItaly 2008
Article and photos © by Tom Hyland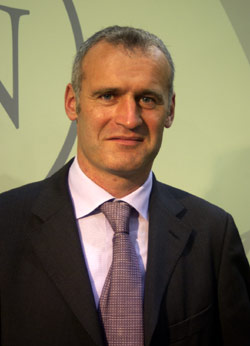 Willi Sturz, winemaker, Cantina Tramin, Alto Adige (He made some of the finest 2007 whites including the blend Stoan). Photo © 2008 by Tom Hyland
I have just returned from VinItaly, the massive wine fair held each year in early April in Verona. Making your way through this five-day event is always a challenge no matter how often you've been there (this was my fourth visit). So while you make appointments and have a general plan as to how best to taste as many wines as you can, your itinerary changes frequently, as you discover the wines of a producer you didn't even think about. Add to that the fact that you do this amidst tens of thousands of people in a dozen buildings spread out over the fair grounds and you have a recipe for one wild ride, indeed!
I tasted more than 250 wines in five days, which is not a huge total for me in Italy, but usually, I taste wines in a controlled environment, often in a room with a private table under ideal lighting conditions and with relative quiet. That serenity is nowhere to be found at VinItaly; if you don't like crowds, don't attend, but then there is a certain energy you get at the fair and it pushes you to sample even more wines each day. Besides, where else could you go to taste such a wide variety of Italian wines? In one pavilion, you're tasting Tuscan or Piemontese reds and in another, you're enjoying the latest releases from Sicily, Alto Adige or Friuli. So despite the noise and traffic, an Italian wine lover such as myself always looks forward to the treasures VinItaly holds.
I'd like to focus on some of the wine types that most impressed me at the fair; some of the wines mentioned in the article were among the best I tried, but I'd also like to focus on some trends I noticed at the fair along with assessments of new vintages.
Most producers tasted out their 2007 whites. This is an excellent vintage, with the wines displaying lively acidity and particularly bright fruit. Many of these wines had literally been bottled just a week or two earlier, so clearly these were wines that needed a bit of time, but were impressive nonethless. Many 2006 whites that had just been released were also available for tasting and this is another first-rate vintage, especially from Friuli and Alto Adige.
Among the best producers of whites from these two vintages were Livio Felluga and Bastianich from Friuli and Elena Walch and Cantina Tramin from neighboring Alto Adige. These two cool northern regions consistently produce excellent whites wines with great fruit intensity, healthy acidity and structure for aging. If you only think of Italy for its red wines, I invite you to try the whites from these regions (as well as the charming whites from Campania in the south) as examples of how white wines can excel.
The 2007 Livio Felluga Friulano (the grape formerly known as Tocai Friulano) was the best of this producer's whites from this vintage; pear and tropical fruit aromas are its highlights along with its richness on the palate. The producer's signature white Terre Alte from the 2006 vintage (a blend of Friulano, Pinot Bianco and Sauvignon) is another success; there are complex aromas of Bosc pear and geranium and the wine's structure should ensure 5-7 years of aging potential. Terre Alte is one of Italy's finest whites and the 2006 is another fine achievement.
The 2006 Vespa Bianco from Bastianich (this is the Friulian winery of famed New York restaurateur Joseph Bastianich) is another of Italy's most renowned whites. This blend of Sauvignon (Blanc), Chardonnay and Picolit has plenty of body with beautiful pear and pineapple aromas and a lengthy finish. I sampled the 2001 version as a comparison; the wine tasted remarkably fresh and is a testament to the aging potential of Friulian whites.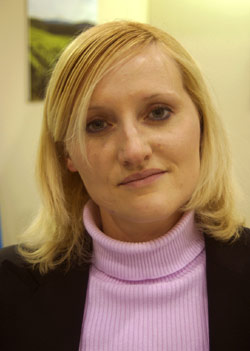 Elisabetta Polencic, Isidoro Polencic estate, Friuli. (This winery made two outstanding whites in 2007) Photo © 2008 by Tom Hyland
A winery that produced a most impressive range of whites from 2007 is Isidoro Polencic, a veteran Friulian producer from the Collio district. I was not familiar with this estate, but after reading several positive reviews in some of the leading Italian wine publications, I was intrigued. I am very glad I did try the wines, as I found two exceptional bottlings from 2007: the Friulano with its ripe pear and sweet pea aromas and beautiful structure and the oustanding Sauvignon that offers fragrant aromas of bell pepper and fennel and great depth of fruit. Both wines are structured for 3-5 years of aging. I love discovering small, regional producers such as this as they are represent the true soul of Italian viticulture. While the wines of Isidoro Polencic are available in a few states, consumers on the East Coast will have the best chance of finding them, as they are imported by Premium Brands of Forest Hills, NY.
From Alto Adige, Elena Walch sampled out her 2006 and 2007 whites and showed why her estate is among the finest in this area. Her 2007 Pinot Grigio from their Castel Ringbrg estate is the best I've tried from them in some time; there are neat flavors of applesauce and cinnamon and very good fruit persistence and a lengthy finish. The story here, however, is the 2006 Beyond the Clouds, which is a blend that is primarily Chardonnay with a few other local varieties. This features gorgeous aromas of pear and golden apple with hints of custard and caramel thrown into the mix. Full on the palate, this has a long finish with tons of fruit and notes of yellow spice on the finish. Lest anyone think this is a flabby Chardonnay that is a flash in the pan, think again, as this wine maintains its Alto Adige roots with its striking acidity and lightly herbal notes. This was clearly one of the two or three best white wines I tasted at the fair.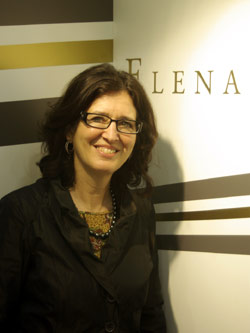 Elena Walch, owner of her eponymous estate in Alto Adige. (Her 2006 wine, Beyond the Clouds, is one of the finest white wines in Italy). Photo © 2008 by Tom Hyland
Another candidate for the best white I tasted at VinItaly is the bottling known as Stoan from Cantina Tramin, an exceptional cooperative winery in Alto Adige. This is a blend of Chardonnay, Pinot Bianco, Sauvignon and Gewurztraminer that has been exceptionally assembled by winemaker Willi Sturz; this is a richly flavored white with aromas of golden apple, quince and lime and has a big finish with great fruit persistence. Look for this to be at its best in 5-7 years. The best-known white from this producer is the Nussbaumer Gewurztraminer, arguably the finest example of this variety in Italy; I tasted the 2007 that shows great potential, but is much too young. The 2006 version that I tasted afterwards is much more advanced with its classic aromas of lychee, herbal tea and yellow roses; this is an exceptional wine that compares favorably with the best versions of this grape from anywhere in the world and would pair well with a variety of foods ranging from Oriental cuisine (especially pork) to roast goose or turkey.
I think that Campania is the most underrated region in Italy for white wines; evidence of that was found in the 2007 Mastroberardino Greco di Tufo "Nova Serra" a crisp, complex white ideal for shellfish and the 2007 Vinosia Fiano di Avellino, a slightly richer white with fragrant lemon and yellow flower aromas meant for boldly textured seafood and white meats. My two favorite Campanian whites were the amazingly concentrated 2006 Villa Diamante Fiano di Avellino "Vigna di Congregazione", as perfect a Fiano di Avellino as I've ever had (unfortunately, this wine is only available in Italy due to its small production) and the 2006 Marisa Cuomo Fior d'Uva, a blend of indigenous varieties from the Amalfi Coast: Fenile, Ginestra and Ripoli. This has explosive aromas of golden poppies, hyacinth and lemon with gorgeous texture and a long finish with a distinct minerality. This is one of Italy's greatest whites each year, in my opinion. (A small amount is imported by Livio Panebianco in New York.)
Other recommended whites included the 2006 La Cappuccina "San Brizio" and the 2006 Ca' Rugate "Monte Alto", two barrel-fermented and aged versions of Soave that are quite stylish and display great restraint with oak. The 2007 Roero Arneis "Renesio" from Malvira, with its rich mid-palate and beautiful aromas of pear and hyacinth, is one of the best examples of this variety I've ever tasted. Finally, for a white wine with a few years of age, the 2004 Tenuta Niccolai Vernaccia di San Gimignano is a fine example of how this wine can emerge as more than a simple quaffer.
For red wines, the big news at VinItaly was the premiere of the 2004 Barolos. This particular vintage has been a great success for virtually every wine region in Italy, from the beautifully structured Nero d'Avolas of Sicily to the richly flavored Vino Nobile di Montepulcianos from Tuscany. After seven successful vintages in the Barolo area, producers dealt with a difficult 2002 vintage that was ruined in some towns by hailstorms. Many producers did not make a 2002 Barolo and for those that did, the wines are pleasant, though much lighter than usual. Just the opposite for the 2003 Barolos, from a terribly hot growing season that yielded alcoholic, tannic wines that display little in the way of finesse.
So the ideal, cool temperatures in 2004 in the area meant a long growing season that brought about grapes with great aromatics. Having tried a few dozen of these wines at the fair, I can honestly state that I can't remember Barolos that have so much fruit intensity in the nose and on the palate. This is a classic vintage and is in the opinion of several winemakers I spoke with, "the finest vintage in the last 20 years."
As usual, I'll have a Barolo (and Barbaresco issue) for the subscribers to my newsletter. As this is a paid subscription newsletter, I will not give detailed notes here, but I will pass on the word that many producers have outdone themselves for 2004, especially Aldo Conterno from Monforte d'Alba and Fontanafredda from Serralunga d'Alba. In fact, the 2004 "La Villa" Barolo from Fontanafredda from a vineyard in the town of Barolo, is the finest bottling of this wine I've ever tasted. If you would like to learn more about the 2004 Barolos, click on the email link found at the bottom of this page for information on subscribing to my newsletter. Over the coming months, I will publish both a special issue on the new Barolos as well as one on the finest wines I tried at VinItaly this year.
Staying in Piemonte, there were plenty of excellent bottlings of Barbera I tasted, most from the 2005 vintage. This is an excellent vintage that is a touch lighter than 2004, but one that emphasizes fresh fruit and the grape's characteristic high acidity. The bottlings from Vietti (Scarrone) and Braida di Giacomo Bologna (Bricco della Bigotta) are first-rate as you would expect, but for me the finest Barbera I tasted was the 2005 "Fides" from Pio Cesare. While the other two producers excel at a riper style of Barbera, Cesare aims at a more traditional style with lively acidity and a distinct, herbal finish. This has great concentration of fruit and a long finish and is really a classic example of traditional Barbera. What a fine match this would be for everything from grilled eggplant to roast lamb or lighter game. The wine is imported nationally by Maisons Marques & Domaines and should be available soon (the current release in the US is the excellent 2004 vintage).
From Tuscany, some very impressive Chianti Classicos from 2005, including the Castello di Cacchiano and the Rocca di Montegrossi. Both wines have bright fruit and fine acidity, as this is a vintage that doesn't overpower you, but rather charms you with its delicious cherry fruit and cleansing acidity. Incidentally, the estates are owned by two brothers, Giovanni Ricasoli Firidolfi of Cacchiano and Marco of Montegrossi. Their cousin is Francesco Ricasoli of Castello di Brolio fame (the 2004 bottling of his signature red is sublime), so there must be a pretty good gene pool here - or maybe it's something in the water in this southern part of Chianti Classico.
Lodovico Aninori of Ornellaia fame, showed two red wines from his new venture called Tenuta di Biserno, from an estate near Bolgheri on Tuscany's west coast. The 2006 Insoglio is a big spicy blend of Cabernet Franc, Merlot and Syrah that will be at is best in 5-7 years, while the 2005 Il Pino is a gorgeous mix of Merlot and Cabernet Franc that is ultra smooth with plenty of that ripe black fruit the wines from this area are known for. This is so delicious now, but it will reward a decade of cellaring (these wines are imported nationally by Wilson-Daniels).
From Sicily, Planeta is always an inspired choice - the 2006 Syrah is among the finest this estate has produced to date and of course, the 2005 Santa Cecilia, a 100% Nero d'Avola that bursts with black cherry and plum fruit. The 2004 Duca Enrico from Duca di Salaparuta, another 100% Nero d'Avola, is another great success. It's interesting to try these latter two wines together, as the Planeta has a softer, rounder finish while the Duca di Salaprauta offering has slightly higher acidity and more of a spicy, herbal finish. Both wines are quite special, so your preference will probably depend on the style you prefer or the foods that will accompany these wines.
Finally, I want to mention the high standards realized by Feudi di San Gregorio of Campania. This is the producer that shook things up in the south, crafting boldly flavored, very ripe whites and reds that put the ancient varietals of this territory in a new light. Several years ago, Merlot joined the roster of wines here in a powerful red known as Patrimo and today Feudi di San Gregorio is respected as one of Italy's most innovative and quality driven wineries.
Their wines shown at this year's VinItaly were a remarkable mix, beginning with the sparkling wines known as Dubl, produced in collaboration with the great Champagne house, Jacques Selosse. These are beautifully made sparkling wines made in the classic method, but not with Chardonnay or Pinot Noir; rather local Campanian varieties such as Aglianico, Falanghina and now Greco are the ingredients of these three sensual sparklers. All three are quite good; the Aglianico with its deep strawberry color and deep cherry fruit and dry finish was my favorite.
The speciality whites from 2007 showed extremely well this year, especially the Cutizzi, a boldly stated Greco di Tufo with fascinating aromas of lemon oil and chamomile. A new wine named Serrocielo (roughty translated as "where the sky closes") is a single vineyard Falanghina, a bit of a rarity. The wine displays the usual lemon and green apple aromas with striking acidity and has lovely texture. The Pietracalda, a Fiano di Avellino produced from grapes harvested about seven to ten days later than normal, offers lovely aromas of apricot, honey and white peach supported by layers of flavor and a very long finish- superb!
The reds are of course, quite distinctive here and the 2005 bottling of Serpico is another success. This is 100% Aglianico that cannot be labeled as Taurasi - Campania's most celebrated red wine type - as it is not aged according to minimum requirements, but it is no less enjoyable than that famous offering. There are spot on aromas of ripe black cherry, licorice and hints of vanilla with rich fruit depth and a big finish. A bit astringent now, this will be at its best in another 7-10 years; the 1999 version, which was opened for me (a nice gesture, indeed) shows the elegance and complexity this wine can achieve with almost a decade of patience. (The wines of Feudi di San Gregorio are imported nationally by Palm Bay Imports.)
For the excellent quality of its remarkable range of sparkling, white and red wines, Feudi di San Gregorio joins Aldo Conterno, with its superbly styled Barolos, as the wineries that impressed me the most at this year's VinItaly.
April 2008
To contact Tom Hyland, visit his Website, "Learn Italian Wines," www.learnitalianwines.com or write him at thwinewriter@comcast.net